Pat Allen: It's official -- the head nod is being replaced by a session attendee lifting up a smart phone to snap a picture of a slide.
Brooke's Note: If social media has an Achilles heel, it is the electronic postmaster's ability to send useful content through its pipes. So many pipes, so few good curators of information and even fewer people willing to engage in sharing. Morningstar has the opposite problem. It has mighty data and analytical content but not necessarily a good idea of how to make it live large in the parallel universe known as social media. Pat Allen has witnessed Morningstar continue to learn by experience in this realm, at least at its annual conference. Marketing remains something that asset managers and asset custodians do and RIAs talk about doing. Pat, who here liberally makes reference to her own marketing consultancy and some clients in the context of a marketer blogging about marketing, chronicles what appears to be some observable and documentable breakthroughs at last week's event. I disagree with one of her postulates: "An event is about the exchange of ideas." True enough to a point. But I'd say it's more about an exchange of emotions that can be encapsulated due to the presence of brands, people, information, pitches and peer-to-peer and consumer-to-vendor conversations all in one roiling cauldron. Can all that be captured, condensed and sent out to achieve new life in the Twitter sphere? Yes, according to Pat, and increasingly so year by year.
When Sallie Krawcheck spoke last week at the Morningstar Investment Conference in Chicago, she made comments about wage inequality between men and women. See: At Morningstar, Sallie Krawcheck blasts her own [presumably ex-] financial advisor — and herself. See: At Morningstar, Sallie Krawcheck blasts her own [presumably ex-] financial advisor — and herself.
One attendee, Blane Warrene, tweeted wonderment about why pay has yet to be leveled and another attendee commented back, again using Twitter, that the problem encompassed the advisors making snide comments at his table.
Krawcheck was speaking to advisors and the advisors are speaking to one another — a social media moment that, as the numbers show, is not an isolated occurrence. In all, the conference elicited more than 4,600 tweets from more than 750 different tweeters. See: Sallie Krawcheck talks tough — and with disarming openness — online about the glass ceiling and lip gloss.
In another example of interactivity, advisors raised smartphones, tablets and iPhones to snap shots of the more memorable slides projected onto the session stages — taking pictures of the information. Even a few years ago, people merely watched, perhaps with pen and paper and there was no sense of capturing information as presented or reacting to it in real-time.
Limited OMG factor
Still, an industry conference remains a place at which industry participants come out from behind their desks and laptops and mingle, and where luminaries such as Mario Gabelli navigate the exhibit hall within easy reach of mere mortals.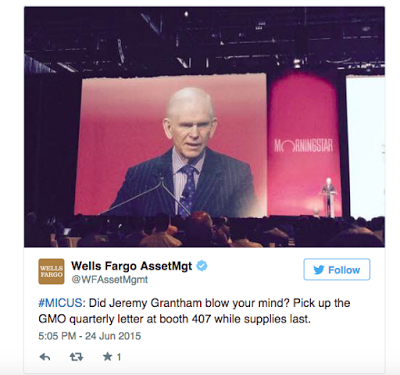 Wells Fargo and MFS were paying
attention to the general sessions while
simultaneously pursuing their goals to drive
booth traffic. Well played.
Specifically, this year's Morningstar conference, held in Chicago June 24-27, didn't produce the OMG factor of Bill Gross in sunglasses, as happened last June and that reverberated for the rest of 2014. See: At Morningstar, PIMCO CIO and CEO preach collective manager brainpower but individual manager accountability as post-Bill Gross formula.
But as someone who watches life through a marketing filter that increasingly includes social media, I could see that the pioneering social media efforts from previous years achieved a payoff in 2015. See: As mutual fund wholesaler economics get squeezed, mutual fund CMOs find best new friend — online advertising.
Whole lot of tweeting going on
Asset managers continue to sharpen their use of the #MICUS hash tag. Wells Fargo and MFS were clearly paying attention to the general sessions while simultaneously pursuing their goals to drive booth traffic. Well played.
Twitter is the back channel but this year for the first time, Morningstar displayed tweets on the big screen in between general sessions. Even more reason to give your conference tweets some oomph.
Now including LinkedIn
The #MICUS focus centers on Twitter, which makes sense because that's where most of the conversation takes place. But a few asset managers also brought Morningstar into their LinkedIn posts. See: After LinkedIn's stock retreats, LinkedIn CEO hosts NYC event with Merrill's Thiel, Allianz's El-Erian, BNY's Hassell and a robo-panel.
In addition to live tweeting from its @Vanguard_FA account, Vanguard created a LinkedIn update about what others tweeted from a product manager's Morningstar appearance.
And — one almost never sees this — a Calamos LinkedIn update quoted the comments of another asset manager, PIMCO, on active management while linking to a Calamos piece.
The app as a content repository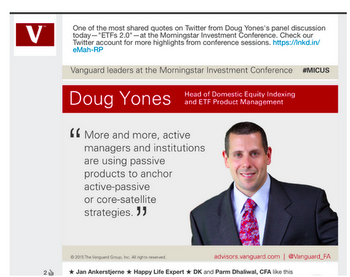 In addition to live tweeting from
its Vanguard account, Vanguard created a
LinkedIn update about what others tweeted
from a product manager's Morningstar appearance.

It's official—the head nod is being replaced by a session attendee lifting up a smart phone to snap a picture of a slide. Is there a better compliment for a presenter?
But maybe this too will go by the wayside. Although not explicitly promoted this year, Morningstar is starting to use its browser-based app more as a go-to place for content—slides, white papers, links, etc., according to Leslie. She calls the app a "resource repository for attendees."
Attendees don't need to strain to take a photo of a slide if their event app contains a link to the entire presentation. And, tweeters can just take a screenshot of what's on their phones. More to the point for mutual fund and ETF marketers, this is another means of distributing your content.
The Morningstar app event listing for the general session featuring J.P. Morgan's David Kelly also included a link to the slides to the J.P. Morgan deck.
But this year a link to an asset manager document was uncommon. Typically, the event listings linked to a Morningstar deck associated with the breakout sessions (featuring representatives from multiple firms). A PIMCO general session listing linked to Morningstar's June 2015 analysis of PIMCO.
The Social Media Center comes into its own
A few years ago, the Social Media Center was an oasis occupying an impressive amount of real estate in the otherwise bustling exhibit hall. I used to enjoy shooting the breeze with Blane Warrene and crew, only occasionally interrupted by financial advisor attendees. Most seemed to speed up as they passed.
Up Periscope
I looked forward to the conference as an opportunity to experiment with Periscope, an app released this year that enables a user to live stream or "broadcast" to Twitter.
Where better to use Periscope than to live stream what's happening at an event? That's what I thought prior to the start of the conference and that's what I continue to think, despite a fairly rough go of testing it myself.
My experience illustrates the hazards of working with new platforms. I was using Periscope for Android, which was released in late May. Things can go wrong or at least not as expected, and that can be discomforting in a professional setting when the value of the communication is that it's live. Luckily, this was all for my own experimentation and no animals or clients were harmed.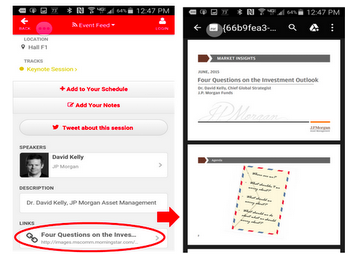 Morningstar app event listing for the
general session included a link to
the slides to the JP Morgan
deck.
My vision as I took to the exhibit hall first thing Thursday morning was to start periscoping in the hopes that others would follow and interact with my account. (Because Periscope offers only a follower search, I even added #MICUS to my Twitter account profile just in case someone was searching for #MICUS Periscopes.)
Assuming all the correct settings are turned on, account followers are notified when a broadcast is live. They can interact with the broadcaster to comment, ask questions or send a little love in the form of a stream of hearts. This is so new, I wasn't expecting a gang to pile in, but I was hoping there'd be some interest.
Prior to Thursday, I'd tested everything I could—streaming and talking and walking. Also, I came packing a sophisticated live-streaming camera aid that you may also recognize as a selfie stick (but aimed outward).
The value of Periscope is the live stream. But I wanted to save what I'd created so I'd tested the autosave to Camera Roll feature, too. The sound levels, available bandwidth and overall energy of the exhibit hall that morning all were things that couldn't have been tested ahead of time.
Live streaming
As one of my first "scopes," I created a 16-minute video during which I walked the hall, taking time to show each booth. In my wildest dreams, I was providing a service for the stay-at-home marketer who might want to check out his or her own firm's booth or get a feel for the Hall layout in general—in real-time!
In fact, this happened—Natixis' John Refford spotted me periscoping, sent a request via the chat note within the app to see a live stream of the Natixis booth and the team. So, I created a special live stream just for him. It worked. Sweet.
I wish I could show you both of those videos but for some reason I can't. The videos were saved, I can watch them as a replay within Periscope and on my phone. But despite repeated efforts to download them in a variety of ways, these videos won't budge. There's barely an online user community to reach out to, and I'm still waiting to hear from Periscope's support.
Two videos are able to be accessed, and their quality will likely reassure you that you're not missing much not seeing the other two videos. There's a lot of pixilation, the audio and video are out of sync at times, and the lighting and the volume are not great.
If all I wanted was to create a video to show later, my camera on my phone would have done a much better job. Periscope offers the promise of both showing a stream live (and I had higher quality expectations) and saving that stream to use later.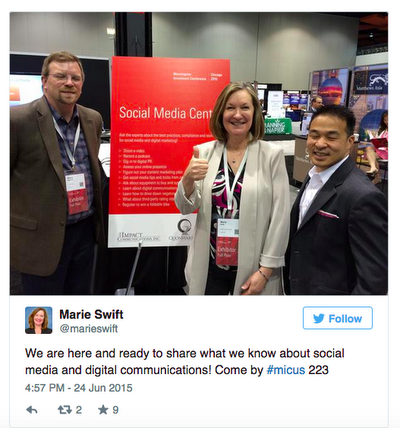 Marie Swift tweets away from the
Morningstar conference.
Booth bait
The first video shows MainStay's virtual greeter, which was easily the most innovative booth traffic-driver (my tweet referred to it as booth bait) at the conference this year. MainStay is two for two for producing the exhibit hall's top head-turner, following an equally innovative campaign last year.
MainStay's director of social media, Frank Ranu, explains how the lifelike motion-sensitive greeter uses a few opening lines to draw attendees in to watch brief video clips.
Phone on a stick
T. Rowe Price was one of a few firms that seem to have devoted their booth space to their apps (J.P. Morgan Funds being another). I wandered into the booth and found myself talking to Darrell M. Riley, of T Rowe's Asset Allocation Group. We'd planned on doing a demo, but the demonstration iPad happened to be low on battery at that very moment (the heartbreak of live). Darrell smoothly segued into an explanation of the MarketScene app strategy. See: Bill Winterberg outlines the potential benefits and shortcomings of the Apple iPad for advisors.
Later, I just had to chuckle about what I put these two gentlemen through. The exhibit hall was dotted with professional lighting and video setups, and it was their luck to be visited by a woman waving a dinky phone on a stick, asking them to talk to it. Oh and to remember, "Everything is going out live to Twitter!" They were sports.
I encourage you and your teams to research Periscope—and vertical video in general—yourselves. There are lots of possible applications for a live stream and it could be awesome. As with all other platforms you don't control, just remember to limit your dependency/exposure and have a Plan B communication method ready.
Pat Allen is the principal in Rock The Boat Marketing, a Chicago-based consulting boutique specializing in helping investment product manufacturers (mutual funds and ETFs), distributors and providers extend, optimize and measure what they do on the Web.
---
Related Moves
February 28, 2020 – 11:09 PM
---
---
---
Mentioned in this article:
---
---
---