Tech boss Victor Fetter claimed LPL had effected 1,500 improvements in its technology this year, many regarding its tee-up of ClientWorks.
Brooke's Note: LPL never stops changing. Even the faces never seem to be the same. But there is also a sense that stagnancy is all but nonexistent even as it battles to make an old-line IBD into a New Age B-to-B servicer of RIAs, IBD reps, OSJs and 401(k) advisors. With that seems to come a high level of transparency. The days when reporters would be carefully herded around at LPL's conference like Iranian physicists at an American nuclear plant are over — executive access is all the rage. It's almost as if LPL is bounding ahead so fast that its executives don't have time to make up corporate speak for what they're doing. Are advisors appreciating this improved authenticity? If the tsunami of them that turned out for three days of LPL-ness during a month better known for lying on the beach is any indicator, the answer is yes.
It's challenging to stand out in a field of 100 sponsors flying their standards and displaying their wares on a floor the size of a Boeing factory.
At last week's Focus conference at the Boston Convention Center, LPL Financial tipped the scales in its favor with its home court advantage, shelling out several hundred thousand dollars to host its annual conference for 7,000 attendees, including 4,000 advisors in Boston.
With Mark Casady, LPL's CEO, crackling with entrepreneurial energy and the confidence of a man with 14,000 advisors under his associated leadership, the thumb was firmly on the scale.
But the ROI per marketing-dollar-spent went to a dark horse from Baltimore — Legg Mason. The Charm City money manager and broker ran an unparalleled offensive by running a de facto candy store. There were lollipop racks and over a dozen glass jars filled with many varieties of sweets faithfully refilled out of bulk cardboard boxes whenever supplies ran low. Like kids in, well, a candy store, attendees could scoop as much into their Legg Mason-branded plastic bags as they wanted. It was the busiest sponsor booth at the conference — at times so busy Legg Mason's booth-tending wholesalers had to completely vacate their booth to avoid being crushed by the mob. The company says it gave away over 1,500 pounds of candy during the conference. See: CEOs of BNY Mellon, Lincoln Financial and Legg Mason are stubbornly glum on Pershing INSITE panel.
We're listening
Life has been bittersweet for the country's largest independent broker-dealer, LPL since becoming a publicly traded company in November 2010. The IPO was coup and a source of pride to the whole industry of independent advice supporters. Still, in the ensuing years LPL faced criticism from its advisors, never mind regulators, that it was too focused on growing at the expense of improving the business. Casady owned this need for change in a September 2013 Wall Street Journal profile
Since then he has been orchestrating a turnaround to pull the company out of its "messy middle," as he put it in Focus's first general session. The firm is more than 90% of the way toward the end of the middle, he added. See: LPL will launch third-party robo for advisors and eliminate some fees.
In speeches and in interviews afterwards, LPL executives stressed that listening to advisors and responding to feedback were crucial to LPL's business going forward. LPL takes this mission so seriously that president of Institution Services and Focus emcee Andy Kalbaugh explained that the general sessions had been redesigned with a low, protruding circular stage, the better to symbolize the company's intention to reach out to advisors.
"It's a little more personal and I want to make sure that comes across," he said.
Backlog-busters
Casady, taking the stumpy stage directly after Kalbaugh on Monday morning, laid out the progress LPL had made in its strategic overhaul. He said LPL has focused on revamping three areas: technology, risk management and service. According to Casady, the first two are almost completed after doubling the size of LPL's risk management and compliance departments and spending big bucks on technology, including almost $100 million on data centers alone.
Now LPL is focused on improving its service — especially its backlog-plagued phone service centers.
Casady had good news to report on LPL's regulatory enforcement front, saying the company was close to seeing its last enforcement actions, after which it could finally get out of the headlines. And he also had high praise for new CFO Matthew Audette, whom he pointed out in the audience. See: LPL poaches E*TRADE's CFO and turnaround specialist as its chief financial officer.
Goose and gander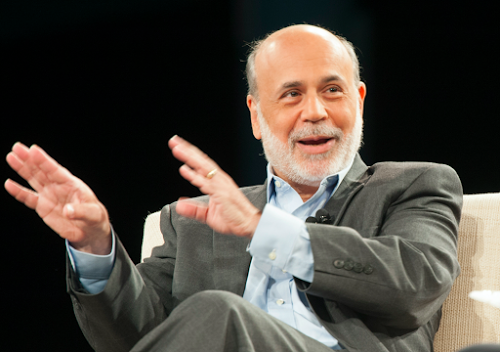 Hall & Oates and Bernanke appeared
live on stage — in separate
acts.
Casady exhibited the most emotion in his short discussion of the Department of Labor's proposed fiduciary regulations, whose best interest contract exemption imposes additional compliance burdens, forbids advisors from charging commissions outside of certain circumstances and bans non-traded REITS and private placements entirely from retirement accounts. See: Why exactly DOL's latest action is so shocking to so many brokers — and even ERISA lawyers — despite years of warnings.
"There needs to be changes in this regulation, and it needs to be significant," Casady told the crowd, while conceding that the firm and its advisors are facing a tough regulatory future no matter what the outcome.
"What won't change is the environment we're in. It's going to be difficult for some time."
It was tough talk from LPL's chief executive, and anyone who heard it wouldn't believe LPL had actually come out in support of the Department of Labor's proposed regulations in April and had raised the possibility of dropping out of the Financial Services Institute over that organization's strident opposition. See: LPL reconsiders FSI as it drops out of its board, offers own DOL stand and hires own lobbyist.
Staffers at LPL's government relations booth gave no comment on Casady's remarks. A stapled FAQ handout explained that it would be "nearly impossible" for the firm to comply with the requirements as they're currently written, but also said LPL was nonetheless happy with the DOL's broader efforts.
"We are very supportive of the best interest standard and of increased transparency and disclosures," ready the FAQ. "We'll continue advocating for a rule that embraces these concepts while preserving access to financial services and products for all investors."
Please sir…
LPL is taking the stance that as a company it will come out ahead as a result of these new regulations even if life gets more difficult for some of its advisors.
Casady told Wealth Management last month that "What we've said on the Hill and to the DOL is that we're a scaled player, a large player, in this industry, and we'd love more regulation. It drives out smaller competitors. We wouldn't suggest that's healthy for competition when they create rules that will be very tough for smaller firms to comply with. Yet as a business matter, we don't mind it so much because it likely means there will be players that go out of business that can't withstand this level of cost, and their advisors will be available to move."
LPL is already moving to position itself as the most attractive place for these breakaways. LPL executives say the IRA-custodial-fee eliminations announced by Casady on Monday were in direct response to the uncertainty created by the DOL proposals and make the firm even more competitive across the market.
These fee eliminations were originally announced by LPL's president Dan Arnold in a speech that followed Casady's and was the conference's real headline-grabber. He announced LPL would be starting a robo-advising pilot program and axing several platform fees. RIABiz caught up with Arnold afterwards to "ferret out more details.:See
1,500 and counting
Tuesday's general session executive speech was presented by LPL chief technology officer Victor Fetter. He hewed to the theme laid out by Arnold and Casady the day before, hammering home LPL's dedication to improving its services via advisor feedback. So far, Fetter said, LPL's has already made 1,500 improvements in technology this year, many of which include BranchNet replacement, ClientWorks. See: Victor Fetter turns his guns on LPL's thorniest software challenge — 21st century performance reporting.
"ClientWorks is the amalgamation of all the solutions we've been working on," he said.
ClientWorks is currently in expanded pilot mode with 300 advisor users, and judging by the quote snippets in Fetter's presentation from current users, those 1,500 changes can't come too soon. Fetter says improvements include mobile and tablet connectivity, more intelligent searching capabilities, improved filters and greater automation. The robo-automation of money management division is still in the works.
Coming soon for pilot users are more trading capabilities, better compliance features, and deeper integration with CRM systems.
Redtail Technology, a major CRM provider to LPL, seemed to be everywhere. Fetter's tech team in LPL's Charlotte, N.C. office is releasing an update of ClientWorks every two weeks.
Guinea pigs wanted
LPL was taking names of advisors at Focus who wanted access to ClientWorks now, with the condition that they evaluate it. Currently there is no date for a full, company-wide release of ClientWorks; Fetter says LPL will continue to slowly expand availability until every advisor has it. He says that the bi-weekly updates will continue after it is released. See: Review: How Redtail got hot fast among RIAs and how it plans to leapfrog itself.
LPL also formally announced its vendor affinity program Tuesday, which brings together over 50 outside vendors on LPL's Resource center. LPL has negotiated discounts with the vendors of between 10% and 80%, with an average discount of 25%.
"What we did through the program was to formalize a loft of the activity that was already taking place," said Fetter in an interview.
LPL had noticed many of its advisors were using companies outside of LPL's ecosystem of vetted and approved thirty-party vendors, which Fetter says led to the current expansion program.
"What we said was, 'how can we make things easier for them?'"
Say it with flowers
The vendor affinity program includes traditional broker-dealer partners in performance reporting, CRM, and financial planning software, alongside new-to-LPL firms like Orion Advisors Services and a diverse group of consumer businesses including Staples, Avis, and the "customer appreciation" companies Tiffany & Co. and ProFlowers.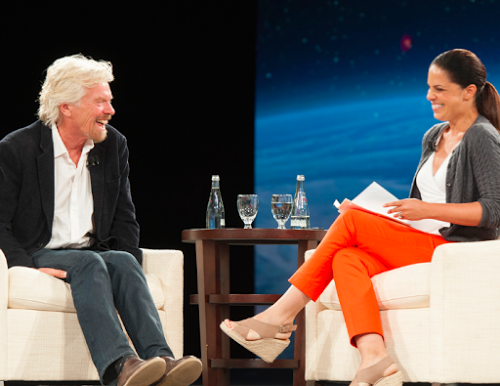 Richard Branson seemed a little off
his game.
"Our intention is not to expand the program significantly," said Fetter, adding that LPL chose the best companies in each field to partner with. He said that not all vendors in the program were equal — there would be different levels of integration with LPL's platform with long-time vendors like SalesForce Inc. and eMoney at the core (plus a few newer offerings, according to advisor preferences and feedback, of course).
With the end of the multiyear technology overhaul in sight, Fetter and LPL already have ideas for what to tackle next. As the company moves into late 2016, 2017 and beyond, Fetter says there are opportunities for the firm to do more with mobile computing, as well as making video chat or instant messaging part of the system.
Strangest swag
Of course, not every conference-goer wants to talk business, and LPL brought in a couple stars speakers to give the people their money's worth. Hall & Oates played for the crowd Sunday night, Virgin founder Richard Branson spoke Monday and former Fed chief Ben Bernanke gave an interview Tuesday.
Branson, interviewed by former CNN anchor Soledad O'Brien, appeared to be a little under the weather. Much better was former Fed chairman Ben Bernanke, whose talk was filled with anecdotes about the financial crisis and working with Presidents Bush and Obama. It was a good show, although rumor had it his interview with LPL's Burt White was suspiciously similar to his "interviews" at other conferences earlier this year. See: TD Ameritrade hosts a posh 'billion-dollar club' summit at a seaside Ritz Carlton.
Outside the assembly hall in the exhibit hall more than 100 sponsors tried to catch the attention of the 4,000 advisors in attendance. On the floor or walking the halls between sessions, these sponsors were easily identifiable by their suits and neckties — LPL's male employees and advisors almost universally opting for the casual open-collar look.
On the other end of the spectrum, the award for the strangest sponsor swag went to the temporary tattoos touting LPL's political action committee at the firm's government relations booth and the small, clear, sticky silicon wedges given away at Cedar Capital, whose intended, or unintentional, utility baffled even the staffer in charge of handing them out
"I'm just going to throw them all out tomorrow," he said.
You wouldn't have had to throw away some decent lollipops.
---
---
Mentioned in this article:
---
---
---
LPLost
I can't believe I friggin spent over $2,000 to go watch this dog and pony show. For that kind of money, I probably could have bought my own candy store. The firm could have sent out email bulletins and given us everything we needed to know. Bernanke made some money by "gracing" us with his interview, Branson was mildly entertaining but not stellar, and everything else was just a bunch of rah-rah BS. What a crock of dog rockets. I was hoping to hear how the firm was going to do something to inform the American public that LPL was a great financial firm, but there are apparently no plans to even attempt something like that. At least some of my colleagues got laid. I even had to buy my own drinks. Time to go firm shopping.