Dina DiLorenzo: We are going to have a revenue sharing relationship for a period of time
Brooke's Note: After this article was published, Guggenheim executives offered more details about how this deal was constructed and stressed that this transfer should not be construed as a de facto gift. We agreed to make changes. Guggenheim said there was an aspect of quid pro quo that included HighTower getting managed wealth management assets transferred to it and Guggenheim in return getting an "earn-out" and revenue sharing on HT's wealth management fees in return. Then Guggenheim said it had misspoken in saying "earn-out" and we took the offending terminology out. We reached out to HighTower's public relations group regarding revenue sharing and a spokesperson e-mailed back: "I think there is confusion and would like to sort it out so that you have the most accurate information." After a few hours of trying to get HighTower's interpretation of the characterization of whatever happened here, and e-mailing the PR representative two more times, HighTower's PR group emailed to say that its executives could not discuss the matter because they were all travelling. There is also the issue of Guggenheim saying essentially it is transferring $100 million of assets but HighTower calling it $325 million in its release. We have described what we know as best we can and we will alert you if this version of events evolves.
A $700-million AUM "friends-and-family" RIA formerly owned by mammoth portfolio manager Guggenheim Partners LLC is now a $325-million-AUM unit of HighTower Advisors LLC.
But don't call it a sale or a gift because it's more of a revenue-sharing arrangement, according to Dina DiLorenzo, senior managing director at Guggenheim Partners, who is also global head of the RIA in question, Guggenheim Investment Advisors. Guggenheim is receiving revenue from HighTower from this transaction over a period of time as defined by the terms of the transaction, she said.
"We are going to have a revenue-sharing relationship for a period of time and we are going to continue to use HighTower for a variety of sub-advisory accounts," she says.
DiLorenzo would not offer specifics on the arrangement but she was willing to share some her views about the deal's harmonious provisions for orderly transition for clients and advisors alike. "What I love about this situation is we've had such a wonderful run with our advisory clients and wealth management clients and it's such a small part of our firm. I thought this was not acrimonious at all," DiLorenzo says." We're creating this springboard for our portfolio managers to create their own practice. It was such a nice sunset."
Both the newly migrated RIA's once and current parents — Guggenheim Partners, a $220-billion asset management firm and HighTower, the Chicago-based roll-up with $30 billion of AUM — insist that neither the RIA nor the assets of the RIA were sold per se. Both, however, agree that the unit is now owned by and branded as HighTower. See: How Julian Koski's maverick stock picking method led to a merger with Guggenheim. However, Guggenheim Investment Advisors will still remain and its assets have grown to nearly $1 billion, DiLorenzo says.
No sale
Of the $325 million in assets in Guggenheim's wealth management team about $200 million are invested with strategies in Guggenheim Investment Advisors and about $125 million are invested in other strategies. The $200 million with Guggenheim Investment Advisors will remain there, DiLorenzo explains. She also says that HighTower will continue to pay her firm fees for the use of its alternative platform. HighTower has had a partnership with Guggenheim and its alternative platform since 2011. See: HighTower dangles array of hedge funds to lure breakaways.
The Guggenheim RIA managed more than $295 million in discretionary assets and $409 million in non-discretionary assets as of Dec. 31, 2014, according to its ADV. But DiLorenzo says those assets are now approaching $1 billion. HighTower's ADV states it manages $20 billion but says it is currently at about $30 billion of AUM.
Guggenheim spokesman Anthony Lacavaro explains the arrangement between the two companies:
"HighTower does now own Guggenheim's Investment Advisors' wealth management business. This was a transfer and not a sale. We selected HighTower in large part based on the high-quality service that it delivers for its clients, which we have seen as the firm's provider of alternative strategies solutions. We proactively went looking for a home and found a great fit with HighTower. HighTower will continue to be a client of GIA's for its alternative platform." HighTower has had a tight relationship with Guggenheim since 2011.
Better scale
The win for HighTower is clear enough — a substantial bounty of fee-generating assets. If HighTower were to take an average 1% on $100 million of assets, it would increase revenues by $1 million. Roll-up RIA United Capital Financial Advisers of Newport Beach, Calif. struck a similar deal in March, taking an RIA off the hands of a bank with no sale per se. See: How United Capital's unconventional rolling up of a $2 billion RIA reveals how close the roll-up model is to extinction.
The real issue for Guggenheim is scale, Lacavaro explains in an emailed message.
"If you want to be Morgan Stanley or Merrill Lynch Wealth Management, you have to get more wealth advisors (like buying Smith Barney). That would be a big purchase and not part of our overall strategy. We are still serving as an advisor to several client accounts through funds."
DiLorenzo agrees saying she was convinced HighTower has better scale as a $30 billion wealth management firm than her firm does. "In HighTower we found a firm that had the scale in place and plans to expand.
Up to 2%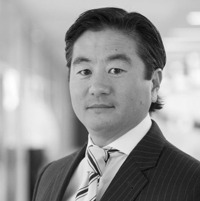 Former wirehouse trader Christopher Shin is
now overseeing Guggenheim Investment Advisors under
the HighTower umbrella.
One question that remains is how many of the Guggenheim proprietary products will remain in place at the RIA. The platform doesn't accept input from outside managers. Guggenheim Investment Advisors, which manages about $1 billion, charges a management fee as high as 2% and, in some cases, performance fees to boot, according to the RIA's ADV. But Lacavaro explains that while the firm can charge up to 2%, it doesn't.
But HighTower is cognizant of these issues and is addressing them properly with a process that includes making a wider array of investments available to clients, according to the company.
"The team oversees the assets for Guggenheim's friends-and-family client base who want to invest in the funds," emailed a HighTower spokesman in response to a question about how HighTower will balance its fiduciary duties with its investments in Guggenheim funds.
"Guggenheim went through an extensive due diligence process and carefully selected HighTower for its sophisticated, open architecture platform in order to give clients more options. HighTower does not have any proprietary products. With HighTower, the team and clients will have access to a full menu of investment solutions," according to a HighTower. See: How a Chicago RIA of PWC origin jumped to $1 billion by lacing its DFA approach with alternative assets.
Escape from the institutional
The deal looks good from Guggenheim Investment Advisors' perspective says Dan Inveen, principal and director of research at FA Insight, a research consultancy in Seattle.
"Guggenheim Investment Advisors is quite small relative to Guggenheim's overall business holdings. Additionally the advisory business, focusing on individuals, appears at odds with the rest of Guggenheim, which is more institutionally focused. For these reasons Hightower could be a more appropriate fit for Guggenheim Investment Advisory, especially given the successful working history of Guggenheim and Hightower," he says. See: HighTower Advisors shows its breadth of appeal by nabbing a 25-year RIA veteran with Moss Adams DNA.
Guggenheim Investment Advisors works with 55 clients according to its ADV. It offers a wrap program run through J.P. Morgan Clearing Corp. whose minimum is about $25 million.
Onboard the mother ship
DiLorenzo is excited about this move and thinks it makes perfect sense for clients, her firm and HighTower as well.
"HighTower is a first-class firm and their trajectory gives our clients an exceptional platform to grow with them," she writes in an email. "That alignment allows us to focus on our leading alternatives investment platform and help advisors create bespoke alternatives solutions from Guggenheim-vetted hedge fund strategies for their clients."
DiLorenzo joined Guggenheim in 2005. She was formerly a partner in the wealth management teams of prominent financial institutions including Smith Barney, UBS and J.P. Morgan. With Guggenheim Investment Advisors leaving the fold, DiLorenzo will remain with the Guggenheim mother ship. See: How Julian Koski's maverick stock picking method led to a merger with Guggenheim.
Hedge fund slingers
HighTower is bringing over two Guggenheim Partners staff to run the division: Christopher Shin and Jeffrey Fulk.
DiLorenzo says this is the perfect opportunity for Shin and Fulk to grow their own business. "We're advocating for that team," she says. "If clients want to go, we'll support them and HighTower will continue to use Guggenheim Investment Advisors for alternative investments."
Shin was part of Guggenheim for nearly six years, serving as head of portfolio management for the multi-family office. Before that, he handled market-structured credit products to hedge fund clients at Goldman Sachs and before that worked at Bear Sterns from 1995 to 2003 where he managed the structured credit derivatives trading desk. Shin began his career trading and managing fixed income assets at Merrill Lynch in 1993.
Fulk was a portfolio manager at Guggenheim Partners from 2012 to 2015. He worked at Signet Capital Management Ltd. from 2006 to 2012 where he co-managed a $100 million global fixed income fund of hedge funds. Before that he worked at Accenture in 2006. Fulk was a PGA professional at Trump National Golf Club from May 2001 to August 2004.
Guggenheim Investment Advisors works with clients that include individuals, trusts, endowments, foundations and other entities, according to its ADV Part 2. Services consist of investment advisory services offered on discretionary or non-discretionary basis including asset allocation, portfolio implementation and monitoring and rebalancing. Recommended investments may include private funds or other products or services that may be offered.
Guggenheim Partners LLC employs more than 2,500 staffers in 20 cities. Alan Schwartz is the executive chairman of Guggenheim and he is a former Bear Stearns chief executive officer who left the wirehouse in 2009.
---
---
Mentioned in this article:
---
---
---