Raymond 'Rocky' Daigle: I am able to read 401(k) plan documents and talk to a plan administrator and know what I mean.
Brooke's Note; If there's an applicable lawyer joke here, I couldn't think of one. These schoolboy chums who became lawyers, perhaps because of the depth of their bond, were able to get out of the difficult land of attorneys while the getting was good. So many lawyers, like stockbrokers, toil in misery in their firms, leading a tortured existence of trying to do right by clients but even better by quotas, billable hours and contingency fees. These advisors are not part of an RIA but they are undergoing a metamorphosis that anyone can find remarkable — including the use of deposition skills to unmask people's financial planning souls.
In your typical breakaway scenario lawyers play the role of spoilers, with those on the corporate team hanging up the departing advisors on real or imagined missteps as the advisors' attorneys shepherd them out the door.
But Commonwealth Financial Network's recent poach of a $350 million team from LPL Financial introduces a new spin on legal professionals in these circumstances — that of poach-ees.
The Waltham, Mass. independent broker-dealer has won a plum team consisting of Walter Bond, Robert Comeaux and Raymond "Rocky" Daigle, three ex-lawyers — and childhood chums — turned advisors who formed CBD Wealth Management in 2004.
The asset haul the Metairie, La. firm brings in tow puts Commonwealth within striking distance of its longtime goal of $1 billion in annualized revenues and is a sign that it has joined the big leagues. See: Commonwealth raises payouts for big advisors and slashes trading commissions.
But it was precisely the independent broker-dealer's ability to act small that won over the three founders of CBD. Back when they joined LPL in 2004, they were enamored with much about the Boston, San Diego and Charlotte, N.C.-based firm. But after 11 years they had the sense that the firm had lost the personal touch with advisors along the way to becoming a giant command center for more than 14,000 of them.
"LPL is a great firm and they are executing on their mission very well. But the firm that existed in 2006 or 2007 is not what exists today. It's grown so much and we were not getting the personal level of attention we were used to," says Daigle. See: Why it took 13 years and one bad Beverly Hills moment for a $92-million AUA advisor to leave LPL for Commonwealth.
'Messy middle'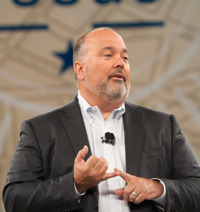 Mark Casady spoke yesterday in his
new style: disarming frankness.
That melody has familiar ring and persists despite LPL's best efforts to rewrite the song. See: The story behind how Raymond James won two big teams from LPL and Wells Fargo in the past couple of weeks.
That turnaround effort is still in process. Just yesterday, Casady and LPL president Dan Arnold addressed 7,000 of its faithful at its Focus conference in Boston to update them on significant changes the company was making, including girding itself against the robo threat, and a rethink of its pricing structure. See: LPL will launch third-party robo for advisors and eliminate some fees.
In his frank address to the troops, Casady acknowledged that the firm was in the "messy middle" of a big overhaul and that after two-and-half years of trying to make changes, LPL has seen a lot of improvement and is almost, but not quite, where its wants to be. Its overhauls of its technology and risk management departments are near completion allowing it to focus more sharply on its final, distilled product: service. See: LPL shows flashes of its new image at Financial Masters 2013.
Regionalizing resources
Since January, Casady has been reviewing service operations with an eye toward improving them. Specifically, he mentioned that call backlogs have been too high and that they're working to bring that down. LPL has nearly 650 employees working in call centers, with 400 of them specifically dedicated to advisors.
Two years into this initiative, it seems LPL still has work to do. But LPL counters that it is hardly a soulless advisor mill considering all its recent evolution and its work creating the de-centralized service and support advisors often prefer.
"At LPL, we focus on making the client experience more personal for all advisors, no matter their size or structure. The large enterprise hybrid model, with local infrastructure to support them, is one way that is achieved," says Brett Weinberg, a spokesman for LPL Financial. See: Why it took 13 years and one bad Beverly Hills moment for a $92-million AUA advisor to leave LPL for Commonwealth. "Over and above that, we regionalize all of our resources. So advisory and business consulting, brokerage and insurance support, even technology support, all have representatives that live and work in their region. They are the personal touch point for advisors so that they have the localized and personalized support that we know is important."
Though the legal route is an unusual path to take to becoming an advisor (at least outside of Boston), Commonwealth has already seen the advantages of pulling talent from places other than the traditional wirehouse farm leagues. See: Could engineers be the answer to the RIA talent shortage?.
"They are one of the most focused, detail-oriented, and well-oiled machines I've ever worked with," says Andrew Daniels, managing principal at Commonwealth in charge of business development, of his new ex-legal team. "The transition team at Commonwealth even told me 'these guys just have it wired real tight.'" See: A Harvard lawyer, a Columbia MBA and an engineer break away from AllianceBernstein private client unit to form an RIA.
Daigle has his own take on the professional benefits a former career in law confers.
"Where it really helps is questioning skills like being able to ask the right question at the right time, and listening skills. I can't tell you how many times I had to take a deposition over the course of my career. You learn how to get people to talk. In our practice, getting clients to talk about why money is important to them, what it's for, and how it plays a role in their lives is very important — and these are a lot of things they've never really thought about."
He continues: "I know how to read things well, too. You're trained as a lawyer to read contracts and find faults in them, so I am able to read 401(k) plan documents and talk to a plan administrator and know what I mean."
CBD Wealth has a small, but growing, 401(k) business. See: The great 401(k)-or-not debate: RIABiz webinar lays out the perils and rewards for RIAs thinking of wading into the fast-moving 401(k) stream.
Schoolyard pals to partners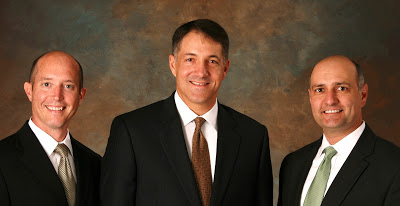 Walter Bond, Rocky Daigle and Robert
Cameaux of CBD Wealth Management met
in eighth grade at Jesuit High
School in New Orleans.
To say that Comeaux, Bond and Daigle — the C, B, and D of CBD Wealth Management — go way back is an understatement. They met in 1979 when they started eighth grade together at Jesuit High School in New Orleans. The three became fast friends and stuck together throughout high school and college, even joining the same fraternity at LSU. After college each earned a law degree: Daigle and Bond from LSU and Comeaux from Loyola University New Orleans.
But as Daigle and Comeaux began practicing law, Bond set off on an alternative route that would eventually bring the three back together. After a short stint in banking, Bond opened up a local Edward Jones office and began working as an advisor. Comeaux joined Bond after three years.
Daigle stuck with law the longest, practicing for eight years at a major firm in downtown New Orleans. The majority of his work dealt with litigation, usually in the healthcare arena, and often meant handling disputes between hospitals and insurance companies.
But in 2001, with three kids, a stay-at-home wife and being only a few months shy of buying into a full partnership, Daigle faced up to the lack of passion he felt about his work and resigned to become an advisor and join his two friends. See: How and why I'm starting an RIA from scratch and what I'm spending to make it happen.
The three did well building their small brand at Edward Jones but broke away to LPL in 2004 after realizing that if they wanted to grow, their business would have to attain a greater degree of independence. See: In tight race, Fidelity and Edward Jones tie for top honors in J.D. Power survey as spiky markets drive down satisfaction scores across the board.
Though the three played with the idea of going fully independent throughout the first half of 2015, Daigle says CBD decided it didn't want to take on a lot of the red-tape and compliance functions associated with becoming an independent RIA. The firm now has eight employees in addition to the three partners.
No legal work
Daigle says there is substantial overlap in the mentality of good lawyers and advisors.
"Lawyers and financial advisors are on a continuum on a lot of levels," he says, citing the need to act as a fiduciary for clients and the assurance of total confidentially.
But the team's pedigree also makes it susceptible to some potentially nasty conflicts of interest, ones Daigle says they know how to spot and work around. CBD's advisors don't handle any kind of legal work for clients, no matter how minor, and recently began to outsource clients with legal needs to an independent attorney in their building, an arrangement, Daigle says, this is "really beneficial to our clients."
"For years we'd tell clients 'you really need to address this will' and you'd see them six months later and ask, 'Did you take care of that will?' and they'd say 'Naw…,'"
Now, whenever CBD spots a thorny legal problem in their client's finances, advisors can walk their clients down the hall and set up an appointment to get it resolved. See: Commonwealth edges out LPL to nab the $1.2 billion retirement firm just down the road.
Get it done mentality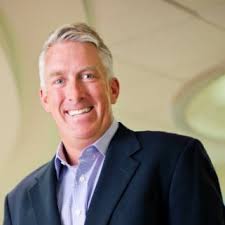 Andrew Daniels: The transition team at
Commonwealth even told me 'these guys
just have it wired real tight.'

Of course, there are downsides to joining a firm ten times smaller than the one you left. What one gains in community might sometimes come at the expense of a less robust operation.
Within their first month, the CBD partners noticed the absence of two features in Commonwealth's account software that they sorely missed from their days at LPL: alerts for systematic withdrawals by clients and the ability to better track cash transfers out of accounts." Their recommendation for an improvement, one of 3,000 Commonwealth receives from its advisors each year, was heard in Waltham. See: Three advisors tell why they fled Securities America for Commonwealth.
"We told them "we can push this up on the development timeline,'" says Daniels.
"I really feel their culture fits well with ours. They have a 'we're just going to take care of it' mentality for clients, which is what we try to do for ours," says " says Daigle.
'Positive people' covenant
Commonwealth's banner recruitment should help the firm reach its $1 billion in revenues, a goal first proposed by founder and chairman Joseph Deitch in the early 2000s. Daniels says the company hopes to reach that watermark later this year but without relaxing its recruiting standards.
"Quality and community are our true guiding principles, and we're not willing to sacrifice these things to grow," says Daniels, "I have a covenant at Commonwealth that I'm only going to bring on positive people. If you're not a good person then the revenue doesn't matter to me."
So far this year, Commonwealth has directly recruited 51 advisors and another 44 advisors have joined existing offices or OSJs.
"We are having a very, very, very good year," says Daniels. Indeed, he says 2015 is poised to be the second-best recruiting year for the firm behind only 2009, when advisors were bailing out of Wall Street in droves.
---
---
---