Gregg Robins: Switzerland needs to stop apologizing for some of the missteps that have occurred and to re-focus attention on its significant advantages in order to rebuild its image.
Brooke's Note: We are fortunate to have a hot-off-press report by Gregg Robins from Zurich on an elite convention entitled: What is the Future for Swiss Private Banking? It addressed what appears a loaded question — and arguably a rhetorical one. How can a future devoid of key value-adds like money laundering and tax dodging be bright? The recent DOJ case involving Julius Baer, with Pictet and others still to come means the past is still present. But the events themselves may be a red herring. People forgive bad incidents and Wall Street is Exhibit A for that. What people, especially the ultra-wealthy who frequent banks in Switzerland, cannot forgive is being improperly taken care of or being availed of technology that is already accessible to them online — even in a free app. They also have limited tolerance for an undifferentiated experience; people want "Swissness" from their Swiss banker like they do from their fine timepiece. The future of Swiss banks and wealth managers will be determined by the degree to which big banks default — or not — to their bad old habits of squeezing short-term margins at the expense of long-term relevancy. There is reason for hope because about 70 people from some of the top Swiss banks, including those making headlines, had some reasonably frank conversations on this topic thanks to WealthBriefing reading the minds of many bankers and clients alike in creating the event. Read on for advances at places like Credit Suisse, where California-style technology is being accorded real respect. Then there are RIAs, Swiss RIAs, like the firm Gregg advises and others that are poised to grab the mantle whether or not the big players of yesteryear move ahead with their plans. Ironically, the venue where this event was held, the venerable five-star Baur au Lac Hotel, which overlooks Lake Zurich, just happens to be the place you saw FIFA officials being hauled out of last month as part of a joint U.S.-Swiss anti-corruption sting operation. For an industry group like Swiss bankers, whose institutions' reputations have been under such fire of late, there could be better optics. But it was no junket, rather a springboard for substantive discussion, whose participants were offered free coffee and croissants along with a fine view — no spa treatments or ice sculptures involved. Still, it was an ideal place to begin discussing what the next phase of Swiss banking might look like. The hotel was even near enough to offices of UBS, Credit Suisse, Julius Baer and the like that executives could dash over for sessions. Swiss bankers, despite the various rumors one may hear, are still busy. The best part for me was doing a Skype call with Gregg while he stood in front of fine architecture and with a backdrop of mountains and the bluest lake. I wanted to put my money in a bank, any bank, placed in such an enchanted setting.
I was pleased to participate in the WealthBriefing Zurich Summit, "What is the Future for Swiss Private Banking?" and commend WealthBriefing for this initiative to address such a critical and topical issue.
The reason the topic is so timely is that Swiss private banking remains in the midst of an important, extended transition. That is clear. What is less clear is what the end destination will look like, and how long it will take to get there — whether the transition is at the beginning of the end, the end of the beginning, or somewhere in between.
The heyday of Swiss private banking, what I have previously referred to as Swiss Wealth 1.0, was driven by bank secrecy and marked by high margins, moderate competition, remote and relatively undemanding clients and attractive returns and prospects for wealth managers. (For more on Swiss Wealth 1.0 see: A former exec of a Swiss private bank offers his insights into the country's wealth management business and what innovations could redefine it.)
The current transition has arisen from the end of the secrecy regime, with corresponding increases in regulation and costs, competitive pressures, lower margins, more informed and demanding clients and, as a result, an outlook that is far less rosy and far less clear than in times past. Switzerland faces real challenges to maintain its reputation as the premier global center for private banking: efforts to remove bank secrecy and ensure Swiss banks comply with a host of information exchange requirements have put them on the defensive, to say the least. Many banks here have reached settlements with the United States, for instance, or are still in ongoing negotiations, and the EU is also introducing wide-ranging information exchange agreements. See: Stock market Euro-trashed: What does it mean for your clients' wealth?.
The M&A flurry
The transition can best be characterized as messy. This is because wealth managers are in the midst of a paradigm shift in their business yet are still clinging to old ways of thinking and operating. Similar resistance, or at least reluctance, to change is evident for Switzerland as a financial center. As market participants attempt to preserve margins in the face of so many changes and pressures, there are a number of consequences that can be seen in the market.
There has been a flurry of M&A activity in Swiss wealth management. Some of the major deals of late include LGT acquiring part of HSBC Group, UBP buying Coutts International and, most recently, Banque Syz & Co. S.A. purchasing RBC's Swiss business.
The motivations behind these deals are easy to understand: sellers are pulling the plug on their Swiss operations in the face of the pressures outlined, and buyers are trying to accelerate growth and bypass the challenges inherent in relying on organic growth to achieve scale. The acquiring banks manage their downside risks through asset-purchase deals (i.e. paying for the clients they onboard) and assume the significant cost-cutting involved to streamline the targets and drive profitability.
While this is all clear enough, there are seldom shortcuts in the wealth management business, where client loyalty and long-term annuity streams are the cornerstones of success. In terms of bankers, the deals have excluded some, and led virtually all to hedge their bets and seek further options in the market, a market that is already oversaturated with recruiters endlessly trying to poach and fill requests.
By "requests," I do not mean "mandates," but rather contingency searches, often with multiple recruiters feeling they have the bank's ear. This is, of course, driven by growth and cost pressures, but the result is damaging to the market and brands of the banks — many quite prominent ones — and unsettling to bankers in a business that depends so heavily on continuity, consistency and a long-term approach. In the absence of clear strategies to address the future, it is hardly evident what the right choices are for bankers, or what their roles should be in their current or future organizations.
The forgotten client
The uptick in M&A activity has only highlighted the degree to which clients have been forgotten in the business here. Clients matter, of course, in terms of their assets which pay the bills, and there are certainly client-focused individuals in the market at all levels. But I am referring more broadly to institutional reactions and responses to the current pressures, and the deals we have seen. See: Babson Capital's Brigitte Posch travels to Russia with an entourage and comes away with an insider's view of the investment landscape.
In M&A deals, for instance, clients learn at a certain point that their bank is considering selling its business, at which point they are "sounded out" by their bankers on potential alternatives. They read and hear about potential buyers, some of which may sound acceptable, even desirable, and others not.
The crux of it, though, is that clients are being packaged like collections of valuables, and placed for sale as bidders inspect the lots. Even after the sale, assuming the client is pleased with the bank and banker, it appears many need to re-paper their accounts to re-open them in the new bank, which can be an administrative nuisance, at best.
But deals aside, in the day-to-day business the client experience has been uneven at best.
A recent report by ScorpioPartnership called the FutureWealth Report 2015: The Art and Science of Relationship Management surveyed more than 3,000 private clients, albeit not only in Switzerland, and found that some two-thirds would remain with their existing bank in the event their banker left. While clients hailed this as a show of loyalty to their existing banks, another interpretation might be that it is rather a sign that clients are not convinced the experience will be any different elsewhere — something that may be true or simply reflect the inability of the banker to make the case for it. See: BNP Paribas — dominator of the UHNW market in France — taps ex-Silver Bridge chief for ultrahigh-net-worth assault on US.
Client experience?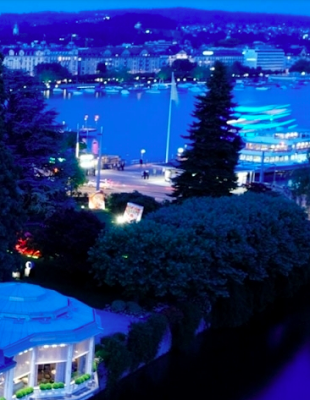 The summit took place at the
Baur au Lac overlooking Lake Zurich.

This interpretation is bolstered by additional findings in the report that show, in general, high satisfaction levels of clients with their existing bankers, whom they would still mostly not follow to a new organization. Preferences aside, switching banks can be quite cumbersome in administrative terms and time consuming, which can be a major disincentive as well to move.
At the WealthBriefing Summit, Mark Miles, European Head of Wealth Management at McLagan, said, "The U.S. players are just far more rigorous at mapping and understanding impacts of client experience." (Scorpio Partnership is part of the McLagan group of companies.)
The need for increased attention to the client experience is the clear sense one gets anecdotally in the market when discussing this issue. Organizations are putting in place client experience (CX) heads, though there seems little evidence that they are empowering them with the clout needed to drive the process. Business heads have to deliver new assets and new bankers: their first priority is short-term results, not the softer, more long-term focus on changing the client experience.
Further, if we honestly look at banks' decision-making in terms of the involvement of client-facing people in key decisions, the client voice on agendas, and so on, we find a disproportionate amount of time devoted to other matters. It is not surprising, therefore, to see shortcuts undertaken to buy assets and improve business metrics rather than to address the underlying issues. The more immediate link between improved client experience and asset gathering is not being made and capitalized on to the extent it should be.
Given cost and margin pressures associated with the transition, technology investment in innovation has lagged. This large topic warrants a full exposition, but we can focus here on two areas in particular as symptomatic.
The first is the need for improvement of internal systems that enable bankers to serve their clients effectively and efficiently, including consolidation, performance management, and communication tools. This issue is well-captured and summarized in a recent research report from WealthBriefing entitled, "Help Or Hindrance? The Link Between Technology Provision And Advisor Productivity."
"if we were to reduce the findings of this study to one key point it would arguably be simply that many advisors don't feel their firm's technology set-up is fit for purpose. Some six out of ten advisors don't feel that their institution's technology platform is particularly useful in terms of helping them support existing clients and win new ones, and a quarter actively think that it is poor in this regard," it reads. See: GenSpring offshoot poaches four more as it re-imagines the service model for UHNW families.
While the research also surveys clients outside of Switzerland, the findings are clearly in line with the issue Swiss wealth managers face.
But second, and in addition to the core system elements many bankers have found lacking, there has also been a lag in moving forward with online banking. A.T. Kearney's survey, "Banking in a Digital World": https://www.atkearney.com/paper/-/asset_publisher/dVxv4Hz2h8bS/content/banking-in-a-digital-world/10192, analyzed and ranked countries in terms of their "digital readiness." Countries were analyzed along four dimensions: bank capabilities, market dynamics, customer behaviors, and regulatory environment. These dimensions were combined together to form a composite "Digital Banking Readiness Index," and here Switzerland fell into only the second tier of countries classified as "undecided," in terms of holding on to traditions or going for new experience, as opposed to those "committed" to digital banking. See: Dissecting the pathology of UHNW wealth managers who want brand building without marketing.
Swiss wealth 2.0
Further, when we look at the components of the index, we learn something interesting: The indecisive approach in Switzerland seems out of step with client needs.
The report summarizes this as:
"[Swiss Bank] customers seem to be more ready for digital banking than most of their banks are, as seen by comparing customer behaviors with banking capabilities….The attractive Swiss financial sector with its high concentration among the leading banks could quickly evolve into a target for more digital-savvy players. Or, one of the leading banks could make a significant move into digital, forcing the remaining players to quickly follow." See: How a software-flummoxed ex-Merrill Lynch private banker set up shop, invented his own dashboard and is selling it to top RIAs.
It seems that at least one of the major players is making a significant move in the digital arena, addressed in the next section.
Switzerland and its wealth managers hold the potential to reclaim the initiative and transition successfully. In order to do so, there must be a general recognition that a problem exists, and that the transition issues and corresponding actions are not delivering what clients want, but are rather holding Switzerland back.
There needs to be a renewed focus on Switzerland's image and value proposition, and on adaptability and innovation — areas that have been challenging given the risk-averse nature of Swiss banking.
Image and value proposition
There was a lively discussion at the Summit around the attributes Switzerland possesses as a premier center for wealth management. The focus was on its rich history and tradition, political stability, safety, and its accuracy and attention to detail. There was also a sense that Switzerland needs to be more proactive in promoting these and other attributes, with recognition that recent times have seen it more in reactive mode to a variety of issues and events.
In my view, Switzerland needs to stop apologizing for some of the missteps that have occurred and to refocus attention on its significant advantages in order to rebuild its image. It needs to assert positively that it is open for business and has the right combination of ingredients to keep its dominant position. See: The 8 things I learned about Lloyd Blankfein at the SIFMA confab when he was grilled by Politico.
A question was raised at the summit on the lessons we can learn from the Swiss watch industry, a sector that has also experienced some challenges. The Swiss visionary watch executive, Jean-Claude Biver, addresses the image issue well in relation to the potential appeal of the Apple Watch:
"There is no interest in the Swiss high-end and prestige-brand companies to create, produce and sell watches whose values will likely vastly decrease over a short period of time, and which one day will not be repairable. That's contrary to the Swiss concept, which is more about the creation of "eternity in a box."
While a watch is different from a long-term wealth management relationship, the principle that there is deep, centuries-old tradition and expertise evokes a parallel. The essence of Swiss wealth must be to present an image imbued with a sense of purpose. This concept of purpose is well-articulated by the leadership guru, Simon Sinek, who challenges businesses to explain the "why" in what they do, based on the cause or belief that inspires it.
Switzerland's answer to this question must be rooted in its long-standing position and pedigree in guiding and stewarding a significant portion of the world's offshore wealth across generations.
But that is the beginning, not the end of what Switzerland needs to do. Image matters, and getting off the defensive will help a lot. In addition to image, however, Switzerland also must address the evolving range of client needs and put in place the right infrastructure to support them. The imperative that clients demand today is professionalism and value-added advice, as opposed to the more traditional relationship management and product recommendations. See: Smelling blood on Wall Street, genteel family offices are using the 'S' word, study shows.
Adapt or die
I noted earlier that the United States is more advanced in measuring and focusing on the client experience in wealth management. I would argue, further, that the United States is about a decade ahead of Switzerland in terms of some of the key elements of the wealth business infrastructure. These elements include technology, both digital banking and the internal systems and integration capabilities mentioned earlier; the concept and practice of fiduciary responsibility; the culture and mechanisms of financial planning; the development of a robust independent and professional advisor sector; and the overall focus on digital bank and delivery channels. See: Regulatory Wire: Advisor groups long have pushed for the fiduciary standard; because of the Goldman Sachs case, they may get what they asked for, and more.
If Switzerland invested in and upgraded both its image and its infrastructure, it would offer a much more compelling and competitive proposition to wealth managers and clients alike. It was noted at the Summit that, in contrast to Switzerland, other financial centers send trade missions and have promotional agencies, such as Jersey and Singapore.
In the keynote presentation at the summit, Daniel Aghdami of DART Talent & Executive Search, advocated bankers need for "flexibility" to be successful going forward.
I would take this a bit further and suggest that it is "adaptability" that is essential to progress. Adaptability implies not only being open to different approaches, but also being able and willing to see how to tailor them to the changing environment for maximum success. Adaptability presents challenges in Switzerland as change is not embraced in the way it is elsewhere because risk aversion is prevalent in the Swiss approach.
Risk aversion and the desire for gradual change have clearly contributed to the prolonged transition to Swiss Wealth 2.0. Those bankers and banking leaders that embrace change and readily adapt will clearly fare best as the messy transition ends and the new paradigm develops. In the case of M&A, for example, the deals will wind down and the remaining players will need to offer the kind of client experience that will retain their clients and lead further growth.
This shift cannot happen fast enough. There was broad agreement at the summit that many clients are now better informed on markets and their financial lives than the bankers that serve them. Unless the system can catch up, these clients will feel underserved and will look elsewhere for guidance. One key reason for clients' growing sophistication is technology, and it is also a key element in Swiss Wealth 2.0.
Innovation directions
Switzerland clearly needs to upgrade its infrastructure and embrace digital banking. It seems highly likely the correct path will be a hybrid one, combining expert advice and cutting-edge technology to enable maximum flexibility in how the advice is offered. This approach is very much the one outlined in the McKinsey report, The Virtual Financial Advisor: Delivering Personalized Advice in the Digital Age..
We were fortunate at the summit to learn about the innovative directions of Credit Suisse, directly from Holger Spielberg, a German native and successful Silicon Valley entrepreneur of almost two decades, who was lured to the bank to be part of the leadership charting a new client experience with technology. He was the only one wearing sneakers at the Summit as well. What struck me most about the Credit Suisse approach was the buy-in and participation from the top management of the bank, and the degree to which business and technology are fused in terms of location, people and budget. See: Why an Apple, Oracle and Credit Suisse veteran started again as an RIA.
But while the organizational structure is innovative, and clearly backed with significant resources, it is the business approach that is most novel and impressive. The goal is to analyze deeply the client experience with a view to what future clients will demand.
To this end, select large clients are included in the project team itself to offer insights and recommendations. One important feature of the approach is to link clients to one another so that they can compare notes on their experiences and performance. The aim here is to promote maximum transparency and push bankers to raise the overall standard for clients.
While Credit Suisse clearly has the resources and strength to undertake such an ambitious approach, this model could be adopted by many other organizations, though they may rely more on outsourced solutions that are less bespoke.
Why Swiss banking still matters
There are a number of reasons why professionals in the U.S. wealth management world should care about the transition to Swiss Wealth 2.0.
Switzerland holds about a third of the world's offshore wealth and can provide a robust platform to diversify into international markets, especially the emerging markets, Swiss custody being particularly sound in that regard. Clients and advisors alike would be well advised to consider their international exposures to assess potential avenues. See: On strength of $1.4 billion of AUM and 90 RIA clients, Betterment raises $60 million of VC funding as it looks to disrupt RIA custody.
I also see clear potential for key providers in technology, financial planning and client experience solutions to provide know-how and experience to organizations in Switzerland. This could help a lot on the infrastructure side, and could help accelerate the transition process.
That said, the Swiss need to act on the image issue and take strides to correct it. If both strands can come together, Switzerland will be a formidable jurisdiction going forward and its banks and other wealth managers will benefit and improve their offerings. But the biggest beneficiaries from Swiss Wealth 2.0 may well be the clients, who will benefit from a much more professional and engaging client experience. See: Behind the PR man's curtain: how RIAs can successfully deal with the media.
Gregg S. Robins, a native New Yorker and longtime Swiss resident, is a business and thought leader in wealth management. He is currently a strategic advisor to Pilotage Private Wealth, a leading, SEC-registered independent wealth manager in Switzerland that manages $750 million. His previous experience includes Citigroup, UBP, and most recently UBS, with leadership roles and executive committee positions. He was a recognized professor at New York University's Leonard N. Stern School of Business and lectures and writes frequently on wealth management issues. Comments welcome — robinsgregg@gmail.com.
---
---
Anne Liebgott - Where Americans are Welcome
There are over 40 forward-thinking, Swiss SEC-registered investment advisers welcoming American clients in the US and abroad with compliant wealth management solutions. They can be found on the new Swiss platform "Where Americans are Welcome" at americanswelcome.ch