News, Vision & Voice for the Advisory Community
Tom Bradley is cobbling together Amerivest and its $11 billion AUM adding iRebal and Morningstar and tasking engineers with bringing the robo aspects of the site up to snuff
July 2, 2015 — 7:02 PM UTC by Lisa Shidler
Brooke's Note: TD Ameritrade may take some heat for unveiling its second Bradley-concocted direct play for clients in need of financial advice but its hard to see a dramatic downside. RIAs may grumble but grumbles aren't deal-breakers. See: With Tom Bradley heading a new high-net-worth effort, TD Ameritrade will compete with RIAs, at least obliquely. Other firms like Schwab and Vanguard, with huge RIA businesses, are pulling out the stops with retail offerings of virtual advice in accordance with the McKinsey script. TD is even asserting that its new robo will be a net gain for RIAs because it'll end up with more assets to refer. That's hard to envision based on what we hear from RIAs about referral flow from Schwab branches, both pre- and post-Schwab Private Client. Still, although RIAs rarely move assets wholesale from one custodian to another, TD will need to be mindful that its now-giant RIA custody business really began to take off as Schwab bought U.S. Trust and made other forays into higher-end advice like Schwab Private Client, which now manages about $65 billion. TD's 15-year-old we-will-never-compete-with-you message did not demand any complex explanations. Advisors responded over time by funneling assets in its direction.
With Morningstar Inc. as investment manager and iRebal as its de facto Intel Inside, TD Ameritrade Holding Inc. is making a bid to become the biggest, most profitable robo-advisor by year's end — and maybe it already is.
The Omaha, Neb.-based firm is going to take its RIA, Amerivest Investment Management LLC, which currently manages more than $11 billion, and replace its relatively discount brokerage-era user interface with one that screams robo. Amerivest's assets were at $9.6 billion Dec. 1. 2014 and spread across 84,000 accounts, according to its ADV. Amerivest offers pre-set portfolios; the average account is $115,000. Morningstar consults on the firm's asset lineup.
Tom Bradley, TD Ameritrade's Jersey City, N.J.-based president of retail, has two aces in the hole here. One is the considerable revenue enjoyed by Amerivest 1.0, which charges a relatively jaw-dropping 80 to 90 basis points — triple the industry mark of about 30 basis points. If, indeed, TD Ameritrade is commanding those fees on its managed Amerivest assets then its revenues are already in the $100 million ballpark.
And, TD can expect even more revenues given that TD Ameritrade, as in the case of Schwab's new retail robo, will sweep Amerivest assets into its bank to earn additional interest rate revenues. See: Schwab tells the SEC its robo-advisor has a 30 basis-point fee and big-time cash allocations held by Schwab Bank.
Work in progress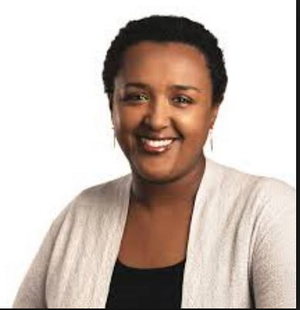 Lule Demmissie: We are enhancing a
broader client experience that will include
both digital and human element.
But Joel Bruckenstein, producer of the T3 conferences, wonders if Amerivest's fees will be judged too steep, its services too limited and its web interface too basic as TD climbs into the arena with more established, purpose-built robo-advisors. Amerivest also has a relatively high investment minimum at $25,000.
Bradley maintains that Amerivest is worth the extra money.
"The portfolios are much more sophisticated than what you're seeing from any other robo. Morningstar picks the portfolios and they do a very nice job for us. We're building that digital guidance that goes along with Amerivest." See: After Schwab robo launch, Trizic phones leap off the hook as Wall Street brokers and bankers come calling — and VCs write checks.
He continues: "I think the average fee is 90 basis points roughly and we don't intend to change that. We intend to keep that where it is. The key difference between us and most of the others is ours is backed by people. We have an Amerivest service team that these folks can call into and have a conversation."
Human touch
Bruckenstein wrote about TD's new venture in March at its Elite Advisors Summit. Bruckenstein quoted Fred Tomczyk, president and chief executive of TD Ameritrade, as saying that TD's effort would be more like Vanguard than startup robo Betterment in that Vanguard's effort has an advisor component. See: Vanguard Group, set to gather $300 billion in 2015, is crushing it on every level but could it succumb to its own success?.
Responding to Bruckenstein's criticism about Amerivest's underwhelming website, Bradley says that aspect of the offering will improve before the formal launch.
That effort has been ongoing for some time, according to Lule Demmissie, managing director of retirement at TD Ameritrade.
"We have been working for some time — ahead of any announcements by competitors on that front — on plans to enhance our digital guidance offering for self-directed, retail investors. Those plans are currently in progress." See: What exactly are robo-advisors, why did they steal the 2014 show and what will a 2015 repeat take?
Sweep stakes
Another issue that could spark industry push-back is Amerivest's policy of sweeping assets into TD's bank to help generate assets — a policy for which the Charles Schwab Corp. caught flack. See: For sub-$500k accounts, Schwab is sweeping RIA client cash into its bank, pumping up corporate profits.
"An insured deposit account remains our default for cash sweep in client accounts at TD Ameritrade," says Demmissie. "This offers our clients the benefit of FDIC protection and a yield similar to that of a money market fund."
Demmissie also points out that Morningstar is picking the strategies rather than TD Ameritrade.

TD is giving its RIA's bare-bones
homepage a facelift — and a
new name — in advance of
its scheduled early-2016 launch.
"The asset allocation strategy for the portfolios recommended through Amerivest is managed by a third party, Morningstar Associates, not TD Ameritrade. The funds selected for the portfolios must adhere to specific selection criteria set by that organization. Clients do not pay commissions on trades placed through Amerivest. It's a fee-based service."
Amerivest uses institutional share classes insofar as the asset manager provides access to them. "In the event the fund has some expenditure, we've priced the product so that we can rebate the client accordingly," Demmissie says.
iRebal boost
TD plans to enhance the refurbished Amerivest with the rebalancing tools of San Diego-based iRebal in order to manage client assets in a tax-efficient manner with an eye toward tax-loss harvesting.
"For customization, iRebal would allow us to further customize portfolios for clients. In this model, Morningstar is advising Amerivest both on the asset allocation and the security selection. iRebal is a capability that allows us to have more options and features for our clients," says Demmissie. See: Tech Review: iRebal thrives after TD Ameritrade acquisition.
Referral funnel
That question of how big a threat robo-advisors pose to classic RIAs has been dissected in industry publications and blogs ( See: Thoughts on 'robo-advisors' served cold, compliments of Kitces and Waymire) and argued ad infinitum on panels at industry conferences. ( See: New marching orders issued at TD Ameritrade's conference in San Diego: Don't join'em, beat'em!)
Industry leaders have tried to position robo-advisors as a complement to RIAs instead of an existential threat. Bradley agrees with that take and doesn't see this offering as competing with RIAs, reasoning that most mass-affluent individuals don't have an RIA.
But he suspects RIAs will get referrals down the road from Amerivest. "We think a lot of folks at Amerivest will grow up and grow into sophisticated clients with more complicated situations and this will result in more business to Advisor Direct," Bradley says. (Advisor Direct is TD Ameritrade's advisor referral network.).See: How one firm is supposedly cracking the lead generation code to the tune of 50,000 advisors supplied — by, for now, not trying to create referrals.
Demmissie agrees: "It has been and remains our view that a stronger Amerivest program makes for a stronger Advisor Direct program, and enhancing our client experience in that regard is an important step in delivering on that strategy. RIAs are still the solution for people with more complex needs and a higher net worth who need ongoing, personalized advice," she writes in an e-mail.
Bradley credits Amerivest's rapid growth to its flesh-and-blood advisors. "We involved human beings," Bradley wryly explained on the robo panel with Mike Sha of San Francisco-based SigFig Wealth Management LLC and New York-based Betterment's Jon Stein at the CEO Summit back in March.
Demmissie says: "Our plans will incorporate some of the features that investors have come to expect from the robo-advisors. However, we believe our strategy is more holistic in that we are enhancing a broader client experience that will include both digital and human element."
---
Mentioned in this article:
---
---
Share your thoughts and opinions with the author or other readers.
Stephen Wnks said:
July 8, 2015 — 3:59 PM UTC
Cerulli tells us that b/d managed portfolios out perform the broker's ability to pick stocks which in concert with the SEC's concern about the ongoing viability and continuity of advisors (necessary for fulfillment of ongoing fiduciary duty), argues for large scale advisory services.
TDA's entry into that space is the industry's first attempt at institutionalizing large scale institutionalized support for advisory services and ultimately professional standing. We still have a long way to go, but it is a start worthy of encouragement. The missing links of (1) expert authenticated prudent process and (2) a more modern approach to portfolio construction that assures continuous, comprehensive counsel; will re-price and transform the industry in the consumer's best interest as demonstrated by our top private trust banks at the top of the advisory services food chain.
SCW
Stephen Winks
---
---