Jeffrey Gundlach's game of brinksmanship with Morningstar goes way back.
Brooke's Note: Back in the 1980s when I lived in Boston I belonged to a squash club that had an intramural tournament with winners at levels A through D. When the squash pro, Ray, awarded the C tournament award to the same fellow for the fifth year in a row, he deadpanned: "There's a good reason John keeps winning the C tournament; he's actually a B player." As I read this article, I can't help but think that Morningstar has similar concerns about DoubleLine and its monarch, Jeffrey Gundlach — that perhaps he keeps winning in the vanilla bond mutual fund arena because he actually runs his portfolios as a very deep-chocolate hedge fund manager. Bill Gross leveled a similar charge against PIMCO in his most recent writing. If Gundlach has a side to the story that goes beyond what can be dug up in old press reports, we weren't able to get it. As we researched this article, we received the same non-response to a request for information or explanation. It's the kind of non-response, with the kind of presumed rationale, we would expect to receive from a … a hedge fund manager.
After years of increasingly acrid relations between Morningstar Inc. and DoubleLine's bond maestro Jeffrey Gundlach, the mutual fund rater yesterday acidly specified some of its burning concerns related to DoubleLine's Total Return Bond fund.
"We have contacted DoubleLine on numerous occasions in an effort to do our due diligence on the firm's investment process and portfolio construction," wrote Morningstar senior analyst Sarah Bush in her annual review of the famous fund.
"As the firm has become more established, we've also sought more information about succession planning and risk controls. DoubleLine has refused or ignored these requests, and the firm's public filings and communications do not provide sufficient information to issue a rating. As a result, the fund carries the Not Ratable designation."
On Tuesday, in anticipation of Morningstar's annual review of the fund, the Wall Street Journal added to the substantial body of industry coverage of the feud saying CEO and chief investment officer of Los Angeles-based DoubleLine Capital was locked in a protracted stare-down with an unlikely foe, Morningstar Inc..
Too sophisticated?
This marks the fourth year that the celebrated Wall Street bond manager has thumbed his nose at the Midwestern researchers and let his performance do all the talking. The refusal of DoubleLine, with $63.6 billion under management and $46.3 billion in its flagship Total Return fund (DBLNX), to cooperate with the powerful data company is highly unusual in the mutual fund business and the standoff between the two powerhouses raises questions about both of them. See: Why I respectfully reject the harsh take on unconstrained bond funds expressed by Google and LPL co-authors .
Gundlach seems to be taking the stance that his investing methods are too sophisticated to be rated by Morningstar.
Having none of it, Morningstar is letting the world know that Gundlach, by its estimation, is obscuring the most vital information a long-term investor needs in evaluating not only a mutual fund but also the company and people who run it. Bush refers to DoubleLine's unwillingness to supply information on investment process, portfolio construction, succession planning and risk controls. In other words, just how much of the good Gundlach performance can be attributed to replicable processes versus so-far-so-good derring-do and what happens when or if Gundlach himself, an apparent investing maestro, is no longer orchestrating the investments?
The Gundlach approach is nothing new, according to Jeff McClure, leader of The Personal Wealth Coach, an RIA in Salado, Texas with $120 million of AUM.
"Saying that Morningstar doesn't understand bond investing reminds me of the charges by Janus that Morningstar didn't understand growth stock investing," he says. See: How Janus CEO Richard Weil's Bill Gross hire completes the PIMCO-ization of the Denver equity shop.
But such defiance, McClure adds, is something an RIA needs to be wary of. "Using either some form of "high-yield" or leverage creates higher returns. It also increases the risk, but the risk goes up much faster than the returns, so an exotic, higher yielding and performing bond fund is by definition one that is taking additional risk, and perhaps a lot of additional risk.
"Morningstar got cross wise with some of the more aggressive stock fund managers in 2000 in much this same way. Before that I watched the Michael Milken bond empire come crashing down."
Morningstar has a reputation as an earnest rater of funds and it has no apparent ax to grind with Gundlach — other than for his alleged stonewalling of its analysts.
TCW golden boy
But it's not as if Gundlach — who has rocketed in prominence as Bill Gross's star has fallen — fell off a turnip truck and only started producing good returns on big pools of assets in the Grossian meteor trail.
A specialist in mortgage-backed securities, Jeffrey Gundlach enjoyed Morningstar's good graces throughout his 24-year tenure at the TCW Group. In 2006, Morningstar named him fixed-income fund manager of the year. He began developing a national reputation that, if not equal to that of bond king Bill Gross, certainly pegged him as an heir-apparent. Gundlach correctly predicted the sub-prime mortgage meltdown of 2008 and by 2009 was managing 70%, or about $70 billion, of TCW's assets. When the TCW's chief executive position opened up that year, he pushed hard to be named to the job. See: How RIAs are managing the Bill Gross problem — from firing his old PIMCO fund, to detailed letters to clients to taking a good look at Janus.
Gundlach didn't get the job and subsequently made a $700 million bid to buy TCW, an offer that was declined by parent company Société Générale.

Sarah Bush: DoubleLine has refused or
ignored these requests and the firm's
public filings and communications do not
provide sufficient information to issue a
rating.
It was then that Gundlach began to think seriously about striking out on his own according to Fortune Magazine's March 2010 article, Firing the $70 billion man. Meanwhile, fed up with Gundlach's increasingly irascible behavior and suspecting he was plotting to steal firm trade secrets on his way out, senior executives at TCW began to think seriously about forcing him out.
TCW terminated Gundlach on Dec. 4, 2009, announcing the same day that it was replacing Gundlach by acquiring Metropolitan West Asset Management, a $30 billion AUM fixed-income manager also based in Los Angeles.
Morningstar's senior fixed-income analyst at Morningstar, Eric Jacobson, almost immediately released a favorable analysis of TCW's acquisition of Met West. According to Barron's and FA magazine, the timing of the report lead Gundlach to suspect TCW had been spinning the purchase well before he was fired, and so the rift between Gundlach and Morningstar began.
Vote imbroglio
Subsequent press reports seemingly confirmed an extensive dialogue between an image-conscious TCW and senior Morningstar analysts in advance of Gundlach's termination.
In September 2014, Barron's reported that several Met West "operatives" had flown across the country to meet with Jacobson a few days before Gundlach was fired and that "that same month Morningstar engineered a revote of its Bond Manager of the Year for 2009 after Gundlach won on the first ballot. Loomis Sayles' Daniel Fuss won on the second ballot after Jacobson, via teleconference from his Kansas City home, hinted to voters that Gundlach and his new start-up DoubleLine were going to be hit by some bad news, according to two people on the conference."
Morningstar disputes these assertions.
"[The] Barron's report was incorrect. Gundlach was not voted bond manager of the year for 2009" writes Carling Spelhaug, a spokesperson for the company in an email.
But the Barron's article suggests Morningstar was once singing a different tune.
"Morningstar officials conceded, after some prodding by Barron's, that several Met West operatives had flown from the West Coast to Kansas City to visit Jacobson several days before Gundlach's firing to give him a heads-up on the coming execution. Morningstar says the revote was warranted based on information Jacobson developed from talks with TCW, Met West, and Gundlach."
Asked directly about this apparent contradiction, the Morningstar spokesperson said there were many things that could have affected the final vote including TCW's public comments, Jacobson's meetings with TCW and Gundlach, and Loomis Sayles' terrific fourth quarter performance.
"The bottom line is that things change, and analysts' opinions may have changed at year end for myriad reasons. The voting process is completely anonymous, and our analysts are never told how to vote. The fact that Gundlach didn't finish the year may have been a factor for some analysts," the spokesperson concluded.
Salacious doings alleged
Some believe that the tip Jacobson and Morningstar heard ahead of time was a planned TCW lawsuit against Jeffrey Gundlach, which was filed on Jan. 7, 2010. TCW alleged Gundlach stole trade secrets in his last months at the firm and flagrantly breached company policy. It also described the salacious items investigators had found in Gundlach's TCW office, including marijuana, 70 pornographic magazines and videos, and 12 "sexual devices."
Even by Wall Street standards, the excuse Gundlach offered for the cache was strange.
"Not all of the items are mine," he said.
Gundlach countersued for over $500 million in compensation and the case went to trial. A jury found Gundlach had indeed stolen secrets but also awarded him a portion of his compensation claims. TCW settled out of court with Gundlach in late 2011. See: 9 ways for RIAs to minimize brain drain and secrets seepage in an era of employee mobility.
'Mini revolt'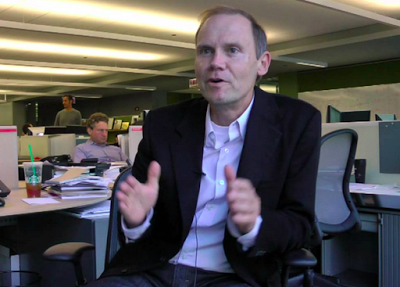 Speaking for Morningstar CEO Joe Mansueto
a spokesperson said: 'We'd like to
open lines of communication, yet the
firm continues to refuse to respond
to requests for information.'
Gundlach and DoubleLine continued to find fault with Morningstar's coverage, however. In the midst of the TCW lawsuit, Morningstar claimed that Gundlach's firm might be the subject of the federal criminal investigation, a misinterpretation by Morningstar of a DoubleLine filing that the rating firm later corrected, the February 2014 FA article says.
Morningstar's next perceived slight came at the end of 2011, when the firm omitted Gundlach from its bond manager of the year short list because it claimed DoubleLine fund's large positions in esoteric and non-agency mortgage-backed securities were boosting performance at too great a risk. This led to a mini revolt on the nominee announcement page's comment section, with the majority of the 50 comments posted expressing discontent over Gundlach's omission. See: What RIAs need to know about the Standard & Poor's downgrade of US debt.
Morningstar's nomination page was corrected later after blogger David Schawel pointed out numerous inaccuracies, and charged Morningstar with "poor analysis and/or biased research." He noted that DoubleLine was performing well not because of but in spite of its non-agency mortgage-backed securities positions that were likely hit by a sector-wide decline in 2011.
And as for the fund's "exotic" holdings, (i.e. inverse floaters, collateralized mortgage obligations, principal-only, inverse interest-only, etc.) Schawel claimed that Gundlach had used roughly the same allocations throughout his tenure are TCW to no objection from Morningstar analysts. Summing up, he argued that the DoubleLine Total Return fund was less risky than other funds nominated by Morningstar.
Though it retracted its statement about Gundlach's non-agency holdings, Morningstar insists Gundlach's "exotic" securities were out of the ordinary throughout his early years at DoubleLine.
"While Gundlach had held so-called esoteric securities (as represented by positions in inverse floaters, interest-only, inverse interest-only, and principal-only bonds) while at TCW, these securities represented a much larger position as a percentage of assets at DoubleLine in 2010 and early 2011," the company says.
Long and winding 'low road'
Morningstar analysts visited DoubleLine headquarters in Spring 2012 on a due diligence trip, but Morningstar says the firm refused to answer any questions following that visit. An analyst for DoubleLine said the decision to sever communication was made after Morningstar spent two years "publishing serial falsehoods and mischaracterizations of DoubleLine and our Total Return Fund."
After two years of this silent treatment, Morningstar gave the DoubleLine Total Return Fund a rating of "not ratable" in July 2014. Relations haven't thawed since then, and the dispute continues to be a black mark on the public record of both companies. Chuck Jaffe, syndicated columnist for MarketWatch, wrote in a December 2014 article that it is a "silly, ugly feud" and that "everyone here has taken the low road."
Asked if it had done anything to ease tensions in the past year, or if Morningstar CEO Joe Mansueto had personally intervened in the matter, a spokesman for Morningstar implied it had made some efforts.
"Our analysts and other executives have made it clear to Mr. Gundlach and others at DoubleLine that we'd like to open lines of communication, yet the firm continues to refuse to respond to requests for information," the spokesman wrote, adding later, "Our analysts have repeatedly said that they'd address any inaccuracies in the written reports, and DoubleLine has not identified any other than the one we've already addressed."
Slight thaw
DoubleLine's Total Return Fund has beat its benchmark each year since its 2010 inception.
And while the company might not have the raw brainpower to analyze the probabilistic implications of the nonexistence of infinity, the company should have the institutional ability to asses DoubleLine's day-to-day doings. Morningstar is one of nine Nationally Recognized Statistical Rating Organizations (NRSROs) alongside S&P, Moody's and Fitch, and specializes in structured credit offerings like Gundlach's favored mortgage-backed securities. And even DoubleLine employees admit a respect for Morningstar's CFA analysts who cover bond funds.
DoubleLine Capital did not respond to request for comment for this article.
Despite the ongoing hostilities, this year's Morningstar report did contain a tiny olive leaf. Yesterday's report on the DoubleLine Total Return bore the headline: "While our initial concerns regarding the fund have faded some, a complete picture remains elusive."
---
Related Moves
February 28, 2020 – 11:09 PM
---
---
---
Mentioned in this article:
---
---
---