News, Vision & Voice for the Advisory Community
The embattled Wellesley, Mass.-based ETF manager filed Chapter 11 to make a sale contingent on transitioning its remaining $5 billion of managed assets
July 10, 2015 — 5:38 PM UTC by Sanders Wommack
Brooke's Note: The Boston Brahmins are coming to the rescue of the Wellesley suburbanites with a ruthlessness that would have made their forbears proud. OK, that's overdramatizing matters. But when a Boston-based executive named Cabot with Harvard and Cambridge credentials is the force behind the rescue of a company with offices in a nondescript office park on Rt.128, it seems a work of fiction. Not that this story needs even an ounce of embellishment to hold the reader's interest. The degree to which the remains of F-Squared are being further picked apart in bankruptcy couldn't be made up. What is ironic is that despite F-Squared's demise as a result of its alleged made-up investment results, buyers still see value in its people and investing methods. At least that is what the new owners are telling the diehard loyalists who still keep assets in F-Squared's care.
As F-Squared founders on the rocks of bankruptcy in the wake of Virtus Investments pulling its plug, two ex-Windhaven executives are tossing the drowning firm a life ring that could pay out $100 million plus, but probably won't.
Citing $15 million in outstanding liabilities, F-Squared Investments filed for Chapter 11 bankruptcy protection Wednesday in the U.S. Bankruptcy Court for the District of Delaware. The company entered bankruptcy to facilitate a sale of its assets to its chief rival, Broadmeadow Capital LLC, a Boston-based ETF portfolio manager. With the acquisition of F-Squared's intellectual property, investment strategies and investment management contracts, Broadmeadow brings together the back-office of one leading ETF portfolio manager, the sales and quantitative research employees of a second, and now the intellectual property of a third.
F-Squared has bled out $17.2 million in legal fees in the past year and a half with firm's directors and officers liability insurance covering only $10 million of the tab. The company still faces astronomical court fees in the years ahead. To cite one example, on June 18, a former employee sued the company and its officers for $1 million for making misleading statements about his stock option grants.
A yet larger potential money suck is F-Squared's commitment to indemnify its former CEO, Howard Present, for legal fees in his own, separate, fight against the SEC. Present did not settle in December alongside F-Squared. The firm's bankruptcy filing noted that Present's legal fees for 2015 alone will approach $10 million.
Present's legal costs for 2016 have not been estimated yet. Currently in its discovery phase, the SEC's case against Present is set to go to trial in 2017. In March, Present proclaimed his innocence in a filing with the U.S. District Court of Massachusetts, arguing he did not intend to deceive anyone and that no one was harmed by his actions. Present is represented by a team of lawyers from two firms: Washington, D.C.-based Williams & Connolly LLP and Foley & Lardner LLP in Boston. See: In reply to SEC, Howard Present blames bad advice for any alleged wrongdoing
Taking on survivors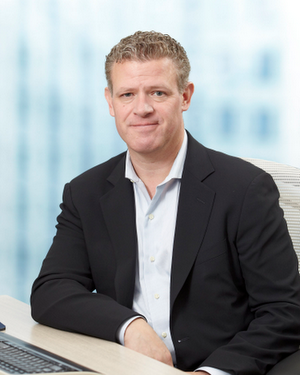 Paul Ingersoll: Our first priority is
to get clients to come over.

"I know this has been, and remains, a difficult process, but speaking for my partner Eric [Biegeleisen] and me, I will do my best to oversee the success of these assets," says David Cabot, CEO of Broadmeadow. Cabot attended Harvard University and worked in Europe for the early part of his career before returning to Boston in 1997. He later became one of the first five employees at Windhaven Investments, which was known then as Windward Investments before Schwab bought it.
According to the deal struck last Friday, F-Squared is selling all of its intellectual property and investment contracts in exchange for $5 million and "earn-out" payments in September 2016 and 2017. The earn-out payments will be calculated based on how much revenue AlphaSector — F-Squared's ill-fated mutual fund — investment contracts generates in the next two years, and are thus difficult to accurately forecast. See: Big brokers take action on F-Squared funds and Virtus shares reel as SEC actions sink in
Dedicated clients
Having acquired F-Squared assets, Broadmeadow must now shoulder the task of convincing spooked clients of their value. Still, Cabot is convinced that F-Squared's quantitative, risk-adjusted strategy has a dedicated client base and good prospects for the future.
"This [risk-centric] approach is the direction that a lot of the market is taking," he says. "Our first priority is to get clients to come over."
But it appears that Broadmeadow is making F-Squared take the hit if those clients turn tail and take the assets with them. The earn-out formula entitles F-Squared to roughly one year's worth of revenue multiplied by between 1 and 1.5 depending on the assets that stay with Broadmeadow. In circumstances where no distress is involved, a manager like F-Squared might sell for a much higher multiple.
If all $5 billion of investor assets move to Broadmeadow — and that's a very big if — and if a 1.5% management fee is assumed, F-Squared's shareholders could earn approximately $100 million. If only $2 billion moves to Broadmeadow, F-Squared would earn around $30 million in payments.
However, Broadmeadow stipulated that it must secure commitments of at least $1 billion of F-Squared assets for the deal to go through. Cabot says the company intends to spend the next several months soliciting clients.
F-Squared shareholders would not be entitled to earn-out payments should AUM drop below $1 billion in the two earn-out periods after the deal closes.
Fluid, ebbing
As it hoists in the foundering F-Squared's cargo, Broadmeadow will also pluck a few human survivors from the wreck — but not its top brass. Broadmeadow will only offer employment to F-Squared's investment managers and client service team.
"We are keeping on the investment professionals and portfolio managers so clients know we have the infrastructure and capability to be able to offer the identical strategy going forward," says Paul Ingersoll, CEO of Broadmeadow Capital's parent company, Chicago-based Cedar Capital LLC.
The $5 billion F-Squared currently oversees is down from $28 billion in September 2014, a drop of more than 80%.
Ingersoll calls the current AUM levels "fluid."
Based on feedback from potential bidders and deteriorating business conditions, F-Squared's board decided to pursue a bankruptcy sale on June 1. The board continued to evaluate bids throughout June as the company wound down its operations. F-Squared began negotiations with Cedar Capital in mid-June but kept its options open.
In fact, during negotiations with Cedar, F-Squared returned to another bidder to see if it was still interested in purchasing its assets. According to F-Squared's filing, the other bidder was still interested but made demands which the company did not accept. See: Virtus bites bullets with F-Squared firing, Dorsey Wright hiring and an admission that it'll likely pay a $5-million-plus SEC settlement.
Three in one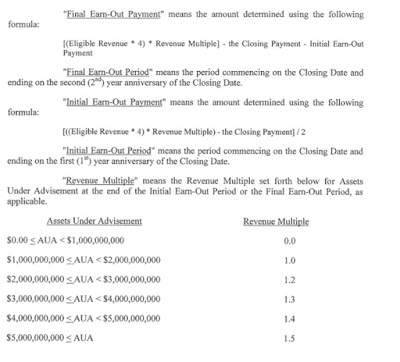 The deal gets exponentially richer as
assets get retained, and vice-versa.
Broadmeadow Capital is a new company founded last year. Cabot was formerly principal and head of institutional sales at Windward Investments, Windhaven's precursor company. See: Schwab closes the Windward Investment Management deal but relinquishes the brand.
Cabot was one of the first five hires at Windward and stayed on through the firm's acquisition by the Charles Schwab Corp. in 2010, after which it became the industry's largest ETF portfolio manager. Cabot left the company in March 2014, just before Windhaven founder and CEO Stephen Cucchicaro resigned. See: With Stephen Cucchiaro out, Liz Ann Sonders takes the Windhaven reins.
Joining Cabot at Broadmeadow is Eric Biegeleisen, Windhaven's former head of research. Broadmeadow registered with the SEC in January 2015 and has seven employees. As of June 30, it reported $15 million in assets under management.
Broadmeadow is a subsidiary of Cedar Capital, the Chicago-based provider of back-office and distribution services for ETF portfolio managers. Cedar essentially provides the same infrastructure that subsidiary Good Harbor Financial LLC has developed for itself over the past eight years.
In addition to heading up Cedar Capital, Ingersoll is also chief executive at Chicago-based Good Harbor, which was until recently the third heavyweight of the ETF portfolio field, with assets slightly trailing F-Squared and Windhaven Investment Management. Terrible performance in 2014 (the firm's Tactical Core U.S. portfolio lost 21% as the S&P 500 gained 14%) led to assets under management shrinking to $2.25 billion in the first quarter of 2015 from $11 billion a year earlier. Good Harbor now has the eighth-largest assets of any ETF portfolio firm. See: Mark Wiedman vows to ETF managers that BlackRock won't compete (directly) in the asset allocation game.
Ingersoll realized that if Good Harbor shifted the trading, compliance, distribution and other back-office functions from its relatively dormant parent company to Cedar's control, it could sell its products and services to other quantitative ETF portfolio managers. He says Cedar has been offering these services to other ETF portfolio managers with quantitative strategies since the beginning of the year. Aside from Good Harbor and Broadmeadow Capital, Cedar now has three other partner firms using its technology: Chicago-based firms RiverNorth Capital Management LLC and Astor Investment Management LLC and Philadelphia-based Innovator Management LLC.
Bankruptcy fallout
F-Squared's bankruptcy comes a little more than six months after the firm settled with the SEC over charges it misrepresented both the performance and the history of its AlphaSector strategies to clients.
According to SEC documents, Present and F-Squared created the initial AlphaSector ETF portfolios in 2007 and 2008 after incorrectly backtesting algorithms so that past, hypothetical performance was inflated by more than 100%. Present and F-Squared then marketed these strategies as representing the real returns of clients going back to April 2001. The fraud was discovered during a routine SEC examination of the firm in July 2013. See:How Howard Present parlayed an intern's algorithm into a small fortune — and when the SEC says he knew of a mega-disconnect
F-Squared settled with the SEC on Dec. 22, 2014, disgorging $30 million in profits and paying a $5 million penalty. Since then, the company has been as tight-lipped as a Soviet apparatchik regarding its goings-on.
In March, F-Squared cut 45 employees from its staff of 162, according to published reports. Investors fled and legal costs soared. There have been several more waves of resignations and lay-offs since. After seven employees were "terminated" this past Tuesday, F-Squared employs only 59.

Eric Biegeleisen was Windhaven's former head
of research, a comforting thought for
F-Squared investors looking for signs of
positive change.
Also in March, F-Squared hired New York-based investment bank PL Advisors to explore its options. At the time, the company still had more than $16 billion in AUM, down significantly from $28 billion in September 2014 but still a hefty amount compared to other ETF portfolio managers and enough to attract serious attention from investors.
$5.7 billion asset loss
Yet asset outflows wouldn't let up. F-Squared lost another $4.3 billion after four major distribution partners — among them Ameriprise Financial — forced advisors and clients to liquidate F-Squared positions at the end of its first quarter this year. TD Ameritrade, meanwhile, took it a step further by refusing to allow retail customers to purchase mutual funds sub-advised by F-Squared. See: SEC denies Freedom of Information request by RIABiz related to Virtus funds as Ameriprise and TD Ameritrade become latest biggies to cut ties
These firms were presumably feeling pressure from their in-house general counsels. On June 17, the Chicago-based securities arbitration law firm Stoltmann Law Offices announced it had filed a FINRA arbitration claim against Wells Fargo Advisors for failing to perform sufficient due diligence on F-Squared and Virtus Investment Partners. See: Big brokers take action on F-Squared funds and Virtus shares reel as SEC actions sink in.
F-Squared and PL Advisors initially believed the firm could survive simply by raising investor capital. That hope that was quashed on May 11 when Virtus Investment Partners dropped the company as a sub-advisor from its popular line of mutual funds, an action that erased $5.7 billion of F-Squared's AUM overnight.
Virtus Investment Partners' extensive knowledge of F-Squared's malfeasance was reported by RIABiz in February. See: Where Virtus stands after F-Squared seemingly led it astray, to mutual benefit
F-Squared's board of directors met shortly after the Virtus firing and decided to scrap plans for a capital raise in favor of liquidation. Interest in an F-Squared without the lucrative mutual fund contract was naturally more muted. Thirty-one outside companies had expressed interest in the firm before Virtus dropped F-Squared; four days later only 13 remained in the bidding. And of that 13, only four would ultimately submit non-binding letters of intent to make an offer by the late-May deadline.
---
---
Share your thoughts and opinions with the author or other readers.
Stephen Winks said:
July 13, 2015 — 5:20 PM UTC
The F-squared technology is brilliant, no one has ever said it does nor work, as it does what it is supposed to do. So the F-squared story is tragic as the F-squared strategy transcends the risk management that can be achieved by individual investment mandates. Windhaven executives are very shrewd in assessing the F-squared application (institutional and retail) as a standalone consideration. Even better, because return is determined by the capital required to acquired to acquire an investment, F-squared becomes an exceptional investment vehicle.
SCW
Stephen Winks
Execo said:
August 26, 2015 — 3:53 PM UTC
I don't know if F-squared is brilliant. I mean, Broadmeadow wants it because it's very similar to the actually brilliant etf sector rotation strategy that they had at Windhaven. And, F2 never really protected on the downside… it was simply rotating into a short UST ETF not actually putting on hedges or anything.
---
---