News, Vision & Voice for the Advisory Community
Doug Hodge and Dan Ivascyn walked a tight rope that left usual skeptics still skeptical
July 1, 2015 — 3:02 AM UTC by Lisa Shidler
Brooke's Note: All that Doug Hodge and Dan Ivascyn had to do as they stood before the Morningstar crowd in Chicago last week was to make them understand a paradox perched on top of a mind bender. The two earnest men strived to show they can perform every bit as well as Bill Gross without being Bill Gross — except in how he generated top-notch investing results. Team Hodge-Ivascyn say they can match or exceed a Bill Gross regime by understanding where they aren't so smart and relying on aggregate brainpower but with the understanding that a trap door will open under their feet if the Bill Belichick method of bond investing starts to look more like that of Rex Ryan — or the end-of-career Bill Gross. That's not crystal clear? Then read Lisa's article. She took meticulous notes, mindful that she had to peel away the layers from what otherwise appeared to be two conventional suit-wearing men from Los Angeles trying to create the optics of a firm whose helmsmen don't need to wear sunglasses indoors. See: Just what damage was done — or not — by Bill Gross ranting in shades. It'll all make perfect sense under her benevolent journalistic stewardship.
If you were a Martian who visited Earth — Chicago to be specific — once a year to attend the Morningstar conference, you might have been stunned by the stark change in how Pacific Investment Management Co. LLC represented itself from one summer to the next.
Last year it was founder Bill Gross ranting in sunglasses manifesting either a fresh sign of his genius or a cry for a giant hook to whisk him from the stage and from his throne. See: Bill Gross's stage antics leave Morningstar conference-goers gobsmacked.
Dissolve to one year later: Two somber, smartly dressed executives — the ostensible replacements for Bill Gross — tried to convince advisors that losing the founder and former chief investment officer of Newport Beach, Calif. firm has been a positive for the firm — but without giving the impression they consider their refreshingly boring bearing to be a suitable substitute for bond management performance that justifies loyalty and good, old-fashioned mutual fund fees.
Committee-based wisdom
"If members of the portfolio management team can generate performance they'll continue to get rewarded at highest levels of our industry. We won't accept underperformance. Ultimately, if you don't perform, you don't have a home at our firm," Dan Ivascyn, PIMCO's chief investment officer and managing director told the 2,000 advisors and other attendees.
OK then.
Yet almost as if Ivascyn, seated alongside Doug Hodge, PIMCO's chief executive and managing director, sensed the collective skepticism beaming from the audience, he created a believable scenario for how lively, creative investing can come from uncharismatic committee members.
Since Gross joined Denver-based Janus Capital Group Inc. last September, PIMCO has bled outflows for nine months straight. Outflows at the flagship PIMCO Total Return fund slowed to $2.7 billion in May, the lowest amount since Gross's departure. PIMCO's assets are at $1.7 trillion, down about 20% from $2.1 trillion in Spring 2013. See: The real Bill Gross story with big help from the Wall Street Journal's reporting.
But there are positive — or at least not negative — indicators, says Michael Herbst, director of fixed income strategies at Chicago-based fund tracker Morningstar Inc.
"We haven't seen leadership departures and we had strong confidence in the team. The part we are keeping an eye on is to see how it evolves going forward. We're watching for outflows and to see how it plays out over the next year or two or three."
In flux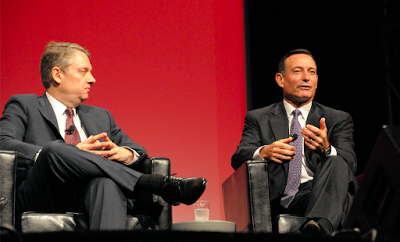 Dan Ivascyn and Doug Hodge, both
decades-long PIMCO veterans, reminisced about what
first attracted them to the firm.

PIMCO's new brass finessed the delicate balancing act of showing reverence for Gross while separating themselves from him. "We had a pivotal moment in our history," Hodge said. "Bill Gross was an iconic investor. He was essentially one of the early architects of the active style of fixed income investing. Bill and PIMCO executed this style with amazing results. In many respects, we owe him all of the accolades which he has deserved." See: The very good news that RIAs can take away from the whole Bill Gross imbroglio.
But he also baldly stated the situation on the ground.
"We recognize that organizational changes over the last 18 months have created that change and anxiety and uncertainty," Hodge said. See: With kid gloves and after great patience, Morningstar yanks gold-level rating on PIMCO Total Return Fund and predicts possible exit of 'tens of billions' in assets.
Wingman Ivascyn made it clear that they're not resting on laurels.
"We're continuing to deliver strong performance and the team is quite strong. We have a lot of newcomers and I'm very confident we'll be able to generate strong results for years to come."
To write its most recent PIMCO report, Morningstar conducted more than three-dozen conversations with senior PIMCO managers and investment staff and paid a two-day due diligence visit to the firm's office.
"We continue to have a cautiously optimistic outlook for PIMCO's future," Morningstar writes in its report. "We're encouraged at the progress the firm's leaders have made in stabilizing the investment team, fortifying the firm's culture and continuing to invest in its research situation. Outflows since Gross's departure have been worse than many had expected. While they have come down significantly so far into the second half of 2015 and we think that there are reasons they may ease later this year, we continue to watch this situation closely."
(Not so) new guys in town
In his speech, Hodge explained point by point how his firm has carried on without Gross, pointing out that the firm had prepared for the eventuality of the septuagenarian's retirement. Hodge shared details about how PIMCO flooded clients with communication after Gross's departure, making sure all clients understood where PIMCO stood.
Since then, Hodge said, "we've instituted some programs to retain key talent which paid off. Importantly, we have delivered on performance and that's the ultimate test. The narrative is all about where we've always lived. It's about the performance and those are the hallmarks of PIMCO."
Hodge and Ivascyn both took time to essentially introduce themselves to the crowd even though each has a long history with PIMCO.
Hodge joined PIMCO in 1989 and served as chief operating officer from 2009 to 2014. Ivascyn has been at PIMCO since 1998 and was named manager of the U.S. fixed income fund manager in 2013.
"When I interviewed with PIMCO, I came away with two takeaways, there was so much mental horsepower and secondly there was always a sense about client focus and there was a quiet confidence and a performance-oriented culture," Hodge said in his speech. "Now, 26 years later, I'm glad I don't have to interview. We have more people and they're much smarter than me and I would be afraid to compete against them. Client focus has remained unbroken."
Ivascyn also described what first impressed him at PIMCO. "After interviewing, it was clear that I wanted to take a shot. It was obviously a performance-driven culture. I had an opportunity to jump right in and begin making a difference very quickly and I've been here ever since."
Active tense
As far as the broader markets are concerned, Hodge anticipates heightened volatility and rising interest rates for the first time in nine years — a trend he says will play to PIMCO's strengths.
"This will be a period which should reward active management."
Ivascyn added: "It's never been a better time for active management and I'm not just saying that because I'm an active manager." See: Has indexing become too popular?.
In its report, Morningstar finds that PIMCO hasn't been passive in its approach to filling the void left by the departure of Bill Gross.
"Yes, the situation is fluid amid continued outflows and investment team still in the formative stages of jelling and reforging its identity. Team stability continues to weigh heavily in our assessment of whether PIMCO can succeed in the future," it reads.
---
Mentioned in this article:
---
---
Share your thoughts and opinions with the author or other readers.
didistutter said:
July 4, 2015 — 8:44 PM UTC
"Yet almost as if Ivascyn, seated alongside Doug Hodge, PIMCO's chief executive and managing director, sensed the collective skepticism beaming from the audience, he created a believable scenario for how lively, creative investing can come from uncharismatic committee members…."
Uncharismatic? Are you still lost in your own ignorance? Doug is an amazing man and Dan is the next (yes, we made him better) Sr. G. Watch and learn.
---
---