News, Vision & Voice for the Advisory Community
Mark Tibergien says Pershing has gotten BNY to chum the RIA waters with loans and anticipates a 'flood' of billion-dollar wirehouse breakaways
June 8, 2015 — 7:34 PM UTC by Guest Columnist Timothy D. Welsh
Brooke's Note: When you are Pershing, you want to show established advisors that you are staying true to your values as a virtual vault with steel walls as thick as those of a 12th century dungeon. But you also have to show you can dance digitally like a child of Google. To see all that done in one place, awkwardly at times, with the mantra 'digital' used as a higher-brow version of 'robo,' you needed to be in Orlando last week, according to some who made the pilgrimage. Whether Pershing can pull off such grand designs of being old and new in one corporate body remains to be seen. But it seems clear that it's operating on a 20-ounce caffeinated beverage with four teaspoons of sugar as it plays catch-up.
Self-described "industrial-strength" technology companies have been slow to join the robo-fracas.
But at the Pershing INSITE conference last week, Pershing and IBM came out of the digital closet together adopting a confessional tone that mixed the old with the new.
"We are a billion-dollar startup inside a $100 billion, 100 year-old firm, and we see a big opportunity to use cognitive technology to make financial advisors better," said Brian Walter, leader of the IBM Watson Group, speaking on a seminal panel on the impact of digital advice on the financial industry.
Walter is aiming to reincarnate IBM Watson — the cognitive computer that laid waste to human "Jeopardy" contestants back in 2011 — as a robo-advisor.
"Over 50% of Watson's projects are now in financial services," said Walter.
Don't call it robo
Joining Walter on stage was the bigger-than-life Bill Harris, former Turbo Tax and PayPal executive and now chief executive of Personal Capital, who gave the inside scoop on how digital technology is changing the industry. See: The steps Personal Capital is taking to win bigger accounts after a year of 100% growth and 95% of them small fish.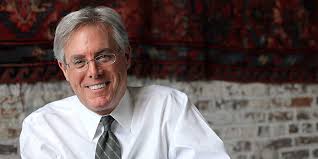 Bill Harris: We provide virtual advice,
not robo advice.
"We provide virtual advice, not robo advice," Harris said, to better define how his RIA is combining both the human and digital to provide a better wealth management experience. Virtual advice is essentially human provided advice, aided by robots, minus the physical human. See: McKinsey: Robo-advisors have a cloudy future but 'virtual advice' delivered by 24-hour super-centers with experts and algorithms will win the day.
"As a result, we need to meet customers where they are, and that is on their phones and tablets," he said.
Marstone robo platform
This theme of digital advice dominated the agenda for three days in Orlando, Fla. at the massive Grand Hyatt during the 16th annual Pershing INSITE conference, in which more than 2,400 attendees from 23 countries across RIA, broker-dealer and bank business lines gathered to hear the latest technology trends.
In keeping with that theme, Jersey City, N.J.-based Pershing LLC unveiled several high-profile initiatives to equip advisors to take advantage of — and defend against — the encroachment of the robo-advisors.
Ram Naggapan, Pershing's chief information officer walked me through the new digital platforms, including ones designed for the new Apple Watch, Big Data analytics and even crypto-currencies, such as Bitcoin. It was impressive.
Front and center in these demos was the robo platform from New York-based Marstone Inc., which will be the first robo system to be integrated into the NetX360 platform.
Founded by former Merrill Lynch advisor Margaret Hartigan, Marstone will make it easier to open accounts online then invest and save. See: Between sessions at INSITE, Pershing execs describe how they'll spell victory in their grand custody merger — and what stands in the way.
"We are not here to disrupt advisors at all and is why we launched into the institutional space first," explained Hartigan. "Marstone will educate investors through design."
Although details of the Marstone service are still being worked out — its pricing, for example — Pershing anticipates that it will be available later this year. The firm plans to bring on additional robo platforms in order to stay competitive with the other big custodians. See: Schwab tells the SEC its robo-advisor has a 30 basis-point fee and big-time cash allocations held by Schwab Bank.
Pershing is the late mover to the robo game among the big RIA custodians with Fidelity Institutional collaborating with Betterment, TD Ameritrade Institutional close to firms like Jemstep and Trizic and Charles Schwab & Co., which launched Schwab Intelligent Portfolios in March.
Going Silicon Valley
But if Pershing is late to the robo-game, it is now thundering in with an all-in approach that reflects where its competitors have succeeded.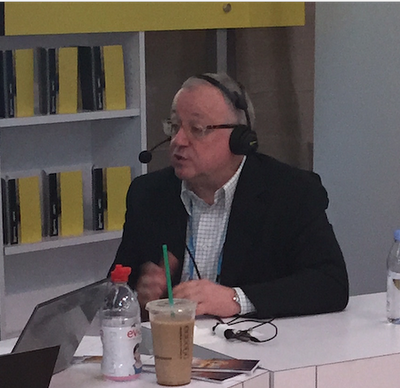 Mark Tibergien: Today firms need to
get to $7 million to $10
million in revenue — roughly $1
billion AUM.
Taking a page out of TD Ameritrade's Veo Open Access movement, Pershing also announced their "API Store" to facilitate third-party technology integrations. It will offer easy access to a comprehensive catalog of API options offered through both BNY Mellon and Pershing that leading technology vendors can tap into in order to facilitate efficiencies in advisor back offices. See: TD Ameritrade showcases what API can do with slick Veo-iRebal harmonization.
Taking a page out of Envestnet's book, Pershing is creating "incubators for innovation" called Innovation Centers in Silicon Valley and India [as well as New Jersey] to "encourage breakthrough type thinking," according to Pershing.
The idea is to advance technology without homogenized experience, said Nagappan, summing up the robo initiative. "The big question firms need to answer is, 'Where do they want to go?' Advisors should think about applying digital strategies to their various client segments in the right way so that they enhance the client experience. That is what counts."
Envestnet also has such centers in Silicon Valley and India. See: Never mind Tamarac, Envestnet is getting RIAs on board with its own stand-alone software.
On the digital practice management front, the other major announcement from Pershing the selection of New York-based "Vestorly Inc."http://www.riabiz.com/d/vestorly, which rob-curates content for advisors, an effort to automate the lead generation process. See: How one firm is supposedly cracking the lead generation code to the tune of 50,000 advisors supplied — by, for now, not trying to create referrals.
Scale inflation
During the conference, I had the chance to sit down with Pershing Advisor Solutions' chief executive Mark Tibergien, who spoke about the success advisors were having with his firm's private banking offerings.
"By combining bank and brokerage custody through the BNY Mellon and Pershing relationships, advisors are able to tap into lines of credit for their clients to avoid potential capital gains taxes when making large purchases and stay invested," Tibergien said.
On the breakaway broker front, Tibergien said that Pershing is seeing larger and larger teams prepare to defect from the wirehouses.
"Today's breakaway is larger and more complex. What will surprise the industry, we think, is the sheer volume of the billion-dollar teams we are seeing getting ready to make the move. While it is still an 'ooze' and not a 'flood,' volumes are definitely up." See: Pershing puts RIA custody on desktop of thousands of IBD reps.
When asked about how advisory firms are changing in terms of scalability, Tibergien answered in terms of revenue.
"Today, firms need to get to $7 million to $10 million in revenue — roughly $1 billion AUM —, have redundancy, a real business structure and be professionally managed. If you have that, then you have real enterprise value."
Orlando notwithstanding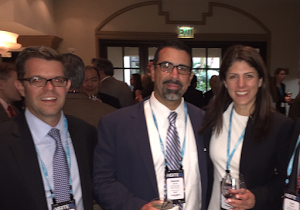 Making the most of Orlando, l.-r.:
Ben Harrison, Gabe Garcia and Kim
Dellarocca.
The rest of the conference featured numerous breakout sessions on practice management topics and a slew of keynote speakers, many of whom have highlighted other custodian conferences this year, such as former Defense Secretary Leon Panetta, former Fed chairman Ben Bernanke, former Secretary of State Madeline Albright and recently retired Yankee shortstop Derek Jeter.
The conference also featured a packed and energetic exhibit hall. Over 170 firms took advantage of the larger venue at the Hyatt to showcase the latest developments in investing, technology and ways to support growing RIA businesses.
Despite the blandness that comes with being in Orlando, attendees were able to find some fun and networking opportunities. Advent Software, Junxure and MoneyGuidePro combined to host a popular evening reception at Tommy Bahamas, where attendees were able to observe the locals while imbibing on pineapple infused drinks.
Pershing hosted a big evening out at the Point of Orlando and Vestorly entertained the crowds with a packed after party at the elegant Capital Grille where conference goers enjoyed high-end spirits while watching the Golden State Warriors win game one of the NBA finals.
To learn more about what went on at the Pershing INSITE conference, check out the many tweets on the #PershingINSITE hashtag on Twitter.
Tim Welsh has advised some of the companies named in this piece including TD Ameritrade and Jemstep.
Timothy D. Welsh, CFP® is president and founder of Nexus Strategy LLC, a leading consulting firm to the wealth management industry, and can be reached at tim@nexus-strategy.com or on Twitter @NexusStrategy.
---
Mentioned in this article:
---
---
Share your thoughts and opinions with the author or other readers.
Stephen Winks said:
June 8, 2015 — 11:08 PM UTC
None of the commentary out of Orlando focused on expert authenticated prudent investment process and advanced technology which generates continuous, comprehensive counsel and give the advisor control over their value proposition, cost structure, margins and professional standing at a lower cost than todays expensive packaged products which by definition can never be individualized by client.
There is no leadership, largely inhibited by the industry's product distribution culture.
The individual consumer must be the focus, not product.
SCW
Stephen Winks
Mark Tibergien said:
June 9, 2015 — 10:43 AM UTC
Steve, what you wrote was the whole point of reframing the discussion as a digital enablement solution not a robo advice offering.
Pershing doesn't serve individual clients directly unlike those retail firms Tim refers to here. We only work with financial intermediaries such as fiduciary advisors. We see the market as divided between digital brokers, digital advisors and digital enablers and find ourselves in that third category thus the reason we don't call it "Robo." In our opinion, the success of any digital offering has to incorporate the wisdom of professional trained advisors and not just focus on investment allocations though we acknowledge there is a market for that. What we have built is an end to end experience for our advisory clients to leverage so that they can effectively compete with the more technology enhanced offerings in the marketplace. What other firms have created are direct competitors to advisors.
---
---