News, Vision & Voice for the Advisory Community
Facebook's former design chief will use millennials as an acid test but she's designing for a broader market
June 5, 2015 — 6:04 PM UTC by Brooke Southall
Brooke's Note: Wealthfront's hire of Kate Aronowitz strikes me as a moment in time for the RIA business. The fact that the company's new head of design is a graduate of an art and design school is cool enough. But that she has already used her artistic talents to help change the Silicon Valley landscape with stops at some of its most esteemed firms including eBay, LinkedIn and Facebook, breaks more ground. Aronowitz advanced Facebook by transcending her core knowledge and managing engineering, consumer and marketing interests in an adroit fashion. Even better, she comes to a Wealthfront that, in the wake of its founder's step-back, is facing fresh challenges from Betterment and Schwab Intelligent Portfolios, firms that are currently in a virtual tie for managed assets. We used to wonder whether robo-advisors would beat human advisors or vice-versa. That issue is at a low simmer as humans realize the limits of the robo-threat. See: McKinsey: Robo-advisors have a cloudy future but 'virtual advice' delivered by 24-hour super-centers with experts and algorithms will win the day. But robo-advisors' epic battles against each other will change the advisory landscape. The variety and level of talent that Aronowitz represents can only heighten the way that players approach the game — with a whole-brained approach that this industry keeps begging for.
Wealthfront Inc. has made a big-time hire just in time to shore up its unofficial mantle as leader of the advice automation movement.
The Palo Alto, Calif.-based 100-employee gorilla of the robo-advice world brought aboard Kate Aronowitz in May, a woman acclaimed for helping transform Facebook into a killer business with $14 billion in revenues. She will report directly to Wealthfront's chief executive Adam Nash.
Aronowitz joins Wealthfront after a motherhood and consulting sabbatical at a time when observers — including the SEC — say that Wealthfront may have ceded its top-dog mantle. There is now an eerie tie in AUM totals among Betterment Inc., Wealthfront and Charles Schwab & Co. when it comes to robo-assets: Schwab now has $2.3 billion of assets under its Schwab Intelligent Portfolios, its robo-RIA, according to the firm. This amount matches the $2.3 billion that Wealthfront shows on its ADV (a Wealthfront spokesperson says AUM is currently at $2.4 billion). That's a hair above Betterment, whose ADV shows $2.2 billion AUM as of a few weeks ago, although Betterment's SEC report likely understates the assets.
Betterment's rate of asset gathering has far surpassed Wealthfront in recent months. On Dec. 8 of last year, Wealthfront's AUM was officially $1.7 billion and Betterment's was only $1 billion. In the intervening six months Betterment has out-gathered Wealthfront by about $700 million of AUM to get to $2.2-billion-plus See: On strength of $1.4 billion of AUM and 90 RIA clients, Betterment raises $60 million of VC funding as it looks to disrupt RIA custody.
Simpler, better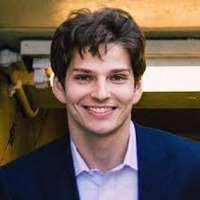 Alexey Sokolin: In Betterment's DNA is
a web product mindset that Apple
is most famously known for —
'What can we take away from
the feature set to make things
simpler while still being great?
Though these firms' offerings — automated portfolios of ETFs — are technically hard to tell apart at first blush, big differences show up on closer observation, according to fellow robo-entrepreneurs.
Betterment's acceleration can be chalked up to an artful combination of engineering and human understanding of investing, according to Alexey Sokolin, chief operating officer of Vanare LLC in New York. "Betterment has been on a consistent mission from the start, which was to build a better and simpler investment service," he says. "In their DNA is a web product mindset that Apple is most famously known for — 'What can we take away from the feature set to make things simpler while still being great?'" See: April Rudin taxis in to Betterment HQ to see how the robo-advisor will fare.
One word: Onboarding
So perhaps Aronowitz was hired to overhaul the design of Wealthfront's site to make it more like Betterment's?
Not likely, according to Will Trout, Houston-based senior analyst for Celent. "I'm thinking that the goal here is not so much redesign of the site, but an attempt to address larger and more strategic goals around product and functionality," he writes in an e-mail.
Functionality is at the heart of Betterment's success, according to its spokesman, Joe Ziemer. Asked about Betterment's edge, he e-mailed one word, "Onboarding."
Trout adds that Betterment's growth may also be largely influenced by its RIA offering, Betterment Institutional, which was launched last year. Betterment does not break out retail and institutional assets.
Nash says Aronowitz was attracted to Wealthfront rather then vice versa.
"Top talent in Silicon Valley join companies for the following reasons — leadership, mission, pace of innovation, focus on the consumer," he wrote in a prepared statement at the time of Aronowitz's hire. "This goes for our recent addition of Kate Aronowitz as vice president of design. Wealthfront looks forward to continuing to lead the [automated investing] category as a focused, mission driven and client-centric company." See: Wealthfront's high-net-worth cat leaps out of the bag — keeping it one robo 'pivot' ahead of Schwab.
But Nash may be downplaying the strategic underpinnings of his hiring decision, according to Trout.
"A hire like Kate Aronowitz doesn't come free," he says. "And I doubt she'd even consider joining Wealthfront if she didn't have a big voice in the firm's strategic direction."
Riche niche
Trout says Wealthfront's most obvious strategic gamble — the one that differentiates it from Schwab and Betterment — is its laser-focus on providing Silicon Valley technology to engineering-minded millennial customers.
"Wealthfront may be reaching some natural saturation point of its niche — the Silicon Valley entrepreneur and engineer," he writes. "Their marketing skews heavily towards that crowd, and as any limited audience, it may have full mindshare there. Schwab is in a different world entirely. It markets to everyone, and because of its scale, it can actually do so successfully." See: Wealthfront responds with force to Schwab CEO's robo announcement.

Will Trout: A hire like Kate
Aronowitz doesn't come free, and I
doubt she'd even consider joining Wealthfront
if she didn't have a big
voice in the firm's strategic direction.

In an RIABiz interview, Aronowitz says that she will not be targeting millennials as an end game so much as using them as an acid test.
"Millennials are the people who try things first. They have a higher bar for design but I don't think you choose one [demographic] or the other."
Silicon Valley and beyond
Meanwhile, Schwab's quick rise to $2.4 billion of robo assets coincides with a demographically agnostic national advertising campaign using television, signage (a reporter saw a big one at SFO) and online means. See: Trade publication critiques the inhumanity of Schwab's robo advertising.
However, it is unclear whether Schwab can attribute much, if any, of its growth to its TV advertising, given that existing clients constitute its best source of growth. See: Schwab grabs astounding $1.5 billion of robo assets in six weeks, but mostly from itself.
Wealthfront's spokeswoman Kate Wauck says that her company's audience is not limited to the Silicon Valley market.
"We've had clients in all 50 states since late 2013 … Our clients are consistent with where millennials are finding success – cities like San Francisco, New York, Washington D.C., Austin, Seattle, Los Angeles, etc. extending beyond Silicon Valley," she writes in an e-mail.
Still, Wealthfront is rolling out its own television advertising. A reporter saw Wealthfront advertising on the Fox television show, The Kelly File. Wealthfront acknowledged the new advertising campaign but wauck declined to say what other networks would carry its commercials.
Design code
Certainly, Aronowitz, a graduate of Savannah's College of Art and Design who happily allows that she cannot write code, has an impressive resume, back story and track record.
An article in Fast Co. published late last year, a Facebook exit interview of sorts, offered tantalizing details about Aronowitz's efforts to monetize Facebook. As director of brand design on Facebook's global creative services team she got the site's top 100 brand advertisers better bang for the buck by better targeting their content to their customers.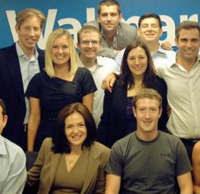 At Facebook, Kate Aronowitz [2nd row,
l.] was a figurative heartbeat from
the Sheryl Sandberg, Mark Zuckerberg throne.

Aronowitz also drove efforts to improve the company's design research function and led a poaching campaign to bring some of Silicon Valley's best designers into Mark Zuckerberg's kingdom, according to the article.
Another hallmark of Aronowitz's Facebook career was to hire designers who knew how to code like engineers.
"I never learned [to code]," Aronowitz told attendees at an event in 2011, according to the Fast Co. article. "But the next person who has my job will." See: Wealthfront responds with force to Schwab CEO's robo announcement.
In the house
Aronowitz is a Wealthfront client but she declines to speak about her experience as one. "No comment," she says, laughing.
She is currently hiring a design team at Wealthfront that will include recent college graduates and veterans. The idea is that design can come to the fore now that Wealthfront knows what its clients respond to.
"We have three years of data about how people interact [with Wealthfront]," says Aronowitz.
She spent her at-liberty time after leaving Facebook consulting for a number of companies, but realized she wanted a real vocational home.
"I love being in-house," she says.
---
Mentioned in this article:
Wealthfront
Portfolio Management System
Top Executive: Andy Rachleff
AdvisorEngine
Financial Planning Software
Top Executive: Rich Cancro
---
---
Share your thoughts and opinions with the author or other readers.
Bill Winterberg said:
June 5, 2015 — 7:14 PM UTC
Just delete the other comment:
CNBC is running Wealthfront ads. Can I get a woooooooo?
<a href="https://youtu.be/w6_q9ospP6A" rel="nofollow">Wealthfront ad: You Don't Need That Guy: Blake</a>
Tracey Gordon said:
June 5, 2015 — 7:44 PM UTC
Now that we have dozens of new robo entrants, the battle for differentiation begins. It's not so much about size, market share, or how many ads you run – it's much more about the look, the feel. And the user experience. Silicon Valley shows the way. Design has a seat at the table. Thanks Steve Jobs.
judy said:
June 5, 2015 — 8:11 PM UTC
why is it surprising that a designer went to design school?!
brooke southall said:
June 5, 2015 — 9:33 PM UTC
Ha.
Not surprising that a designer went to design school.
It was a novel experience to be writing about a design school grad as an advancer of the RIA business.
Brooke
BPM said:
June 5, 2015 — 10:05 PM UTC
I get it – she's good at design and can help differentiate Wealthfront from competitors.
Beyon that, this is a full story in what way again?
ken roe said:
June 8, 2015 — 9:14 PM UTC
I do not see the future of wealth mgmt this way.
Model-based Yes. Robo No.
kenny
Stephen Winks said:
June 8, 2015 — 11:46 PM UTC
The key to doing more with less and simplifying the business and streamlining cost is expert, authenticated (to statute) prudent investment process. Arnowitz has the luxury to be open to a free market client solution in the client's best interest, not a product distribution solution in a conflicted broker/dealer business model. The best interest of the client always prevails. She does not have any conflicts which is a massive advantage. So if she can execute (has the know how), nothing stands in her way in reordering the financial services business with an unprecedented level of investment and administrative counsel at a fraction of the cost of todays conflicted brokerage business model.
SCW
Stephen Winks
Elmer Rich said:
June 9, 2015 — 4:37 PM UTC
The web has been surprisingly unproductive in our industry. My work is exclusively B2B and it hasn't produced anything, let alone considering all the time an money spent. For example, are daily valuation tools for 401ks that much better today than in 2000? Not really.
The following article speaks to some of this an makes sense to me. "Why Has "Social" Failed In Fintech?" — http://techcrunch.com/2015/06/08/why-has-social-failed-in-fintech/
Hey, if ANY design can help – I am all for it. If it can be verified independently with data, of course. But there is this – "A recent analysis of Facebook Ads by Salesforce.com shows Finance ads to have one of the lowest click-through rates at 0.2 percent." If there isn't any traction in retail web tools, not much hope for B2B. Darnit
Mike Byrnes said:
November 11, 2015 — 12:59 AM UTC
I think it is funny that RIABiz has a "I'm not a robot" checkbox, limiting robo advisors from commenting on articles like these.
—Mike Byrnes, President of Byrnes Consulting, LLC, www.byrnesconsulting.com
Bill Winterberg said:
March 18, 2017 — 7:10 PM UTC
brooke southall said:
March 18, 2017 — 9:20 PM UTC
---
---