David Benskin: Basically, I built 50 spreadsheets.
Brooke's Note: One way we find good stories that nobody else writes about is believing that where there is smoke, there is fire. The billowing white stuff in this case came when David Benskin visited RIABiz offices quite a while back with confidence, enthusiasm and a gleam in his eye. But there didn't seem to be a full-blown story, from my jaded viewpoint. But when I heard that Benskin was making hires by the bucket load from some of the best RIA technology firms like eMoney, Black Diamond and others, I imagined the Benskin spark may have ignited. Benskin seems to have helped solve the advisor dilemma of not being able to put all — really all — client holdings in one place without struggles or uprooting of old systems — and for a low price. Aside from a long list of hires came a long list of RIAs using this, and their combined $20 billion. Benskin even claims to be picking off Addepar clients.
One night in February 2011, David Benskin sat in his Merrill Lynch office in Nashville surrounded by boxes filled with records, Photostats, notes from client conversations, financial plans and screenshots.
Overwhelmed by the prospect of sorting out his clients' financial lives in the most non-digital way imaginable, Benskin executed a classic tech RIA maneuver:
"Basically, I built 50 spreadsheets."
It wasn't that Merrill didn't have the top technology available. It did. But the tools that would enable clients to easily see their assets and communicate with their advisors just didn't exist. Even with all the resources of Merrill at his fingertips, Benskin, who was a partner in one of Merrill's private banking investment groups with about 50 families as clients, kept noticing problems in communicating and engaging with clients.
Most glaringly, his high-net-worth clients struggled to understand their holdings because their 401(k)s, brokerage accounts, debt and mortgages all existed in virtually different account universes. And even after the household financial data made it onto a spreadsheet heap, it wasn't easy to share the stack with advisors or lawyers or other family members.
Hip-deep in paper, Benskin conceived what proved to be a career-transforming thought:
"There's gotta to be a better way."
Aggregator of aggregators
Benskin, 38, began his professional life at Merrill as a 23 year-old. But by 2011, he had a shared sense of futility with clients that had been building since the 2008 crash as Merrill Lynch itself struggled for life before its bailout by Bank of America. "People wanted to know: Am I OK?" See: Merrill Lynch brokers brace for sweeping comp changes as Sallie Krawcheck departs BoA and takes her advocacy with her.
He decided that he could not only build a better system but also sell it to fellow advisors beset with the same problem. See: The population of high net worth individuals is growing again, at fastest rate in four years.
From there, events moved quickly. Later that month, Benskin left Merrill to become founder and chief executive of Wealth Access Inc in Nashville.
By January 2012, Benskin had a prototype dashboard that pulled together client assets from all over and allowed an advisor to run simple reports and engage with the client through a clean digital portal. "People have called us an aggregator of aggregators," he says.
Pressing need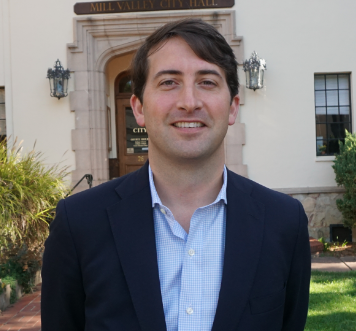 When David Benskin, pictured in front
of Mill Valley town hall, visited
RIABiz last year, he was still
a Tennessee guitar picker to our
vetting staff.
Benskin's faith in his new method seems to have been justified. Wealth Access now has 100 RIA clients — including blue-chip brands like Canterbury Consulting and Sequoia Financial Group, $20 billion of overseen assets and 20 employees, many of whom were poached from top competitors. He has become a regular at RIA events and has won respect from top vendors.
"I think they're going to do great things," says Eric Clarke, president of Orion Advisor Services, LLC. Clarke adds that RIAs likes the way Wealth Access allows a client to self-opt to show portions of their private balance sheet previously unseen by the advisors. "It's a super-simple product; it's almost Mint.com."
Benskin started by building the dashboard for the end consumer and found he could get them to pay $100 to use his tool. That's when he knew the prototype would succeed with advisors.
The result is an open code, mobile platform that allows advisors to embrace the digital future without necessarily having to move off their desktop-based Advent Software or Morningstar Inc., and without giving up their current performance reporting and financial planning platforms.
"The other platforms, while attempting to try and build Wealth Access capabilities, all recognize the superior platform we have today and that is why they are all integrating with Wealth Access," says Benskin. "Advisors need this capability now, not five years down the road." See: McKinsey: Robo-advisors have a cloudy future but 'virtual advice' delivered by 24-hour super-centers with experts and algorithms will win the day.
New faces
In order to keep Wealth Access growing and independent in the face of the increasing competition, Benskin has hired seven senior executives in the last year from Black Diamond, Schwab, and eMoney. See: Black Diamond partners with MoneyGuidePro to create a turnkey product.
Ellen Smith left Conshohocken, Pa.-based eMoney in October to become vice president of sales at Wealth Access. She says lots of companies are trying to gain a foothold in the client engagement portal niche but for those companies it's an add-on or part of a larger sale they're trying to make to the advisors.
"This is all we do. This is what we focus on," says Smith. See: In a T3 teeming with deals, eMoney's Edmond Walters owned Dallas.
Benskin also hired Doug McPhail in March as director of sales engineering. McPhail began his career at the Charles Schwab Corp. Inc. as a trading analyst and worked as a consultant at Black Diamond.
In May, Benskin tapped Paul Polese as vice president of business development. Polese came from Envestnet, where he was the director of investment advisory solutions.
Will Cooper, who left Black Diamond last August, is now vice president of operations.
Brian Semitekol, from Shareholder Insite Inc., came aboard as the new chief financial officer in May
Kanchana Chalia and Jeff Norris were technology-side hires, bringing the staff up to 20.
The new recruits are spread out around the country, based in New York, Dallas, Tampa, St. Louis and, of course, Nashville. The next geographical focus for the company is Colorado and the Western regions, says Benskin, who says he made the key hires with company revenue, not investor funding.
Dashboard lite?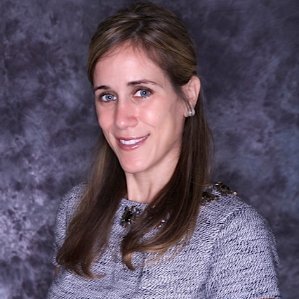 Ellen Smith: This is all we
do. This is what we focus
on.
Wealth Access aggregates all of a client's assets — including those held under other advisors — from private equity to real estate holdings. The system can then run simple reports and let advisors communicate with their clients via an easy-to-use portal. It integrates with Black Diamond, MoneyGuidePro, Redtail Technology, and other performance reporting and financial planning programs. It is completely mobile on "any device, anywhere, any time," says Benskin.
Benskin is up against a glutted market with many of the big players adding on or developing their own portals. Recently, Fidelity Investments acquired eMoney Envestnet Inc. purchased of Finance Logix and Black Diamond is working on a soon-to-be-released advisor dashboard. See: Envestnet acquires Finance Logix on heels of Upside.
That could be a problem for Wealth Access, says Dave Welling, senior vice president of Jacksonville, Fla.-based Black Diamond, who observes that despite a plethora of new digital dashboards, not all of them can deliver the level of detail that advisors need. There is "a proliferation of portals out there," he says, which, while they look good, don't really have the substance to back up their claims. See: Peter Hess delivers Advent Direct specifics at AdventConnect as Dave Welling wows with Black Diamond's cloud advance.
"When [such dashboards] tries to get that depth it becomes a house of cards," Welling says.
Benskin counters that's simply not the case with his system, which pulls in alternative investments, credit cards and real estate transactions via Zillow, and allows users to report fractional ownership when it comes to large family trusts and entities.
"The other platforms are built for the lowest common denominator to make them work. Not Wealth Access."
Accessing the competition
Wealth Access has raised $4.5 million in two different rounds from investors including Joe Maxwell, former chief executive of Investment Scorecard in Nashville. Chris Haley, the former chief financial officer and general counsel of Black Diamond, is now a board member as well as an investor.
Killer perk
Benskin says his portal's most potent value-add lies in its ability to show all the assets of multi-generational, high-net-worth families — even those that might be held with another advisor. See: How RIAs can compete with super-RIAs, robo-RIAs and the 'phono'- and faux-RIA market of 2015 and beyond.
Frank Tamplin, managing partner at the Atlanta (Ga.) Capital Group, says some of his clients keep some of their assets at another firm.
"This can be a competitive advantage," he says.
Instead of charging a percentage of an advisor's AUM, Wealth Access charges a flat fee based on complexity and the number of advisors that are going to use the dashboard. For a firm of 100 or so clients and a handful of advisors, it amounts to about $6,000 a year.
"If you're going to charge a percentage off assets being reported, then the incentive is to not put all your assets on the platform," says Benskin.
That fee includes all aggregation and basic reporting services and a service team that helps each end client to onboard all of their accounts, making sure the less tech-savvy client understands how it all works. Benskin calls the service "relatively inexpensive." In terms of what they're hearing from advisors, "price is not an issue for us."
Smith, who moved to Wealth Access to advance her career without bucking the bureaucracy of Fidelity Investments, which recently bought eMoney, agrees. See: What to make of Fidelity Investments paying $250 million out of the blue for eMoney.
She says advisors like the Wealth Access portal so much that they're contacting her instead of the other way around. "It pretty much sells itself."
Sharing with the heirs
Frank Tamplin, managing partner of Atlanta (Ga.) Capital Group took an initial meeting with the Wealth Access team only because a friend of a colleague suggested it but came away mightily impressed.
"We were blown away."
Atlanta Capital currently has about 50 of its clients on Wealth Access and is adding more. Tamplin says it doesn't necessarily fit the bill for clients with simple portfolios, but it does make sense for the more complex pictures. He says his clients love its clarity and ease of use. Advisors can also tailor what information various family members see. For example, the head of a multi-generational, high-net-worth family can choose to show his or her kids their portion of assets — or not.
Tamplin adds that Wealth Access's concierge service is helpful for less tech-savvy or older clients. See: Family Office Exchange is betting that RIAs and the ultra-affluent can't get enough of each other.
Atlanta Capital uses Black Diamond for its reporting and clears through Fidelity Institutional Wealth Services and Schwab Advisor Services.
More portals, more problems
Black Diamond's Welling uses the dashboards of Personal Capital Inc. and Mint.com and has noticed problems that repeatedly popped on these platforms. Intra-account moving of funds, for example, can cause balance sheet problems. For instance, moving $100,000 from a checking account to an advisor-managed account could show up as $100,000 spent and $100,000 deposited on most digital aggregation platforms, which isn't accurate and can cause problems down the road. See: How one 'robo-advisor' got $25 billion on its platform with a Mint.com mindset, 401(k) friendliness, a merger and 16 years of work.
"The more information you put in front of people, the more questions they're going to ask," he says. "Advisors are struggling with trying to have a digital experience that supports the depth of questions they're getting."
Black Diamond's parent firm, Advent Software and Wealth Access "have some shared clients," says Welling. For advisors on Advent APX or Axys, Wealth Access is a good way for those clients to tap into the digital revolution without getting too revolutionary. There are also, he says, "a handful" of Black Diamond clients who wanted to try the Wealth Access platform.
"They do a few things we don't do. We do a few things they don't do," he says.
After launching its investor-facing platform in March, Black Diamond has 110 firms using it and is now ready to roll out its own advisor portal. Welling is confident enough in Black Diamond's offering — that it will have the depth and accuracy that advisors want along with a smooth digital experience — that he's comfortable throwing some shade in the direction of Wealth Access.
"People have become excited about what David and his team [and others] are doing, but then they realize it doesn't have the depth they need," Welling says. See: How SS&C muscle might be just what the Black Diamond and Advent Software doctor ordered.
Last of the independents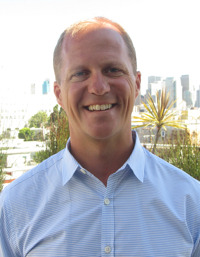 Dave Welling: People have become excited
about what David and his team
are doing, and others, but then
they realize it doesn't have the
depth they need.
Benskin, unsurprisingly, takes issue with point of view, saying there's a reason that the advisors on his platform are not only sticking around but are actually adding more clients to it. The $20 billion on Wealth Access doesn't come close to representing the full AUM of the advisors using it, he says. Much of Wealth Access's growth is a result of firms that like what they're seeing and are getting more of their clients to use it.
An appealing selling point for Wealth Access is the firm's solo status, says Smith.
"Wealth Access is pretty much the only independent option out there for client portal technology."
"We're the last man standing that is truly independent and open," Benskin adds. "Other platforms are playing catch-up, while we are already innovating here and will always stay one step ahead because this is all that we are focused on."
Taking on Addepar
As an example, Benskin cites Silicon Valley-based Addepar Inc., which he allows is doing amazing things with its client reporting portal and dashboard. And yet, he says, Wealth Access is winning over some of its customers. See: Addepar means to be the only technology platform RIAs will ever need — and has MIT minds and PayPal money to back it up.
Benskin argues that if advisors want complex data analysis, then it might make sense to go with Addepar. But Addepar doesn't yet have a thoroughly mobile app so if an advisor simply wants to pull everything in from a client and build out a whole balance sheet that can be easily viewed, it makes sense to go with Wealth Access.
To illustrate his point, Benskin cites a $15 billion RIA in Newport Beach, Calif., which he declines to name, that looked at Wealth Access and Addepar and ended up going with Wealth Access for about seven of its families. See: After one year of 'eight-fold' growth, Addepar rotates Karen White out and an ex-SAP exec in.
Addepar's vice president of product, Joel Beal, counters that his firm provides "robust, scalable, and customizable reporting," which is "one of Addepar's core strengths." See: Addepar lays out world-fixing vision and rolls out upgrades at swanky The Battery event in San Francisco.
He continues: "Addepar allows advisors to quickly and accurately delve into the details of transactions, exposures, and performance across all asset classes, currencies, and ownership structures. Addepar's mission is to bring modern technology to the investment management industry."
Info on the go
If all the players can agree on one thing, it's that clients expect more from their advisors these days, expecting them to be digital, mobile and quick. And this is especially true if advisors hope to connect with the younger generation in these high-net-worth families. See: After Schwab robo launch, Trizic phones leap off the hook as Wall Street brokers and bankers come calling — and VCs write checks.
"People want to be able to sit in the back of a cab and call their advisor and ask if they can take a trip, instead of waiting for them to run a report," says Benskin.
He's hoping when they're sitting in the back of that cab, it'll be Wealth Access they're looking at.
---
---
Mentioned in this article:
Addepar
Portfolio Management System
Top Executive: Eric Poirier
---
---
---