News, Vision & Voice for the Advisory Community
SigFig's Mike Sha talked Bank of the West, Motif's Hardeep called start-ups 'features' and the five-year number jumped to $2 trillion
June 22, 2015 — 4:02 PM UTC by Guest Columnist Alexey Sokolin
Brooke's Note: Here is a small sampling from this tidbit rich article by Lex Sokolin: "A.T. Kearney projects a loss of $8 billion in industry revenue from low robo-advisor fees, and another potential $7 billion due to traditional firms repricing their wealth management clients to match the new market normal." This is a big-picture comment that reflects the scope of this event and the ability of our esteemed and watchful guest writer to miss not a beat.
If the $2 trillion in assets to flow into robo-advisors in the next five years, the majority will go into existing financial institutions, says Mike Sha, chief executive of SigFig. SigFig is a robo-advisor that directly competes with those financial institutions, claiming to oversee $350 billion in assets through data aggregation and analytics. Its assets under management are much lower, about $70 million, according to its ADV, and the 25 basis-point fee on managed accounts is how the firm makes money.
Sha is on stage at the In|Vest 2015 Wealth Management conference, where startups and Wall Street mix for the first time, sizing each other up and negotiating the robo-advisor opportunity. The conference took place in New York last week at the Hilton Midtown.
One reason Sha may see existing financial institutions as winners may relate to who sits opposite him — namely John Bahnken, senior executive vice president, Bank of the West. He discloses that Bank of the West is evaluating SigFig for technology collaboration. Just like its partnership with software company Scivantage for online trading, the bank is considering SigFig for online wealth. See: Why Mike Sha has a 2015 goal of $1 trillion in robo-assets for SigFig and where Marissa Mayer fits in.
And like many of the executives from traditional financial firms at the conference, Bahnken believes in the "augmented" advisor, one enabled by technology to serve more clients, process more accounts, and deliver more holistic advice through data aggregation.
We hear a similar point of view from Doug Fritz, chief technology officer of First Republic and Mark Jordahl, president of US Bancorp Wealth Management. See: McKinsey: Robo-advisors have a cloudy future but 'virtual advice' delivered by 24-hour super-centers with experts and algorithms will win the day.
Third inning — already?
It is 2015, and we are seeing third inning of robo-advice.
At first, robo-advisors aimed to disrupt financial advisors and threatened massive consumer adoption, especially Betterment, Wealthfront and others like FutureAdvisor.
In the second inning, the private-label technologies emerged helping RIAs launch their own robo-advisors — including: Upside, Trizic and NestEgg Wealth, which, full disclosure, I founded. See: Envestnet acquires Finance Logix on heels of Upside.

US Bancorp's Mark Jordahl believes, with
other legacy firm execs, that the
'augmented' advisor is the future.
And now, traditional firms and technology companies are focusing on how to transition existing assets into a new paradigm, benefitting from the reach of banks and the tech stacks built in NYC and Silicon Valley. Mergers and partnerships in the middle market are leading the way in defining that product offering Envestnet, Vanare/NestEgg, Orion.
The largest wirehouses — Merrill Lynch and Citi Private Bank, as well as those with UHNW brands — are watching startups and working on in-house solutions.
Two well-known New York Fintech venture capitalists, Matt Harris (Bain Capital Ventures) and Gareth Jones (Fintech Collective) discuss this trend on another In|Vest panel.
Harris advises financial institutions to explore partnerships with robo-advisor companies instead of trying to launch them internally, because it is less costly and more likely to be successful. Both Harris and Jones see the M&A in the space as "bolt-ons" i.e. "evolution but not revolution" for traditional firms. Adding the technology overlay of a robo-advisor to an existing service model will allow large firms to extend their services. Charles Schwab & Co. is one large firm that has chosen not to do things the Bain way, building and launching its own robo. See: Schwab's robo for RIAs is set to launch in next 10 days, to delight of online forerunners.
But the San Francisco advice giant may be an exception. Trizic has reported big banks sniffing around its offering. See: After Schwab robo launch, Trizic phones leap off the hook as Wall Street brokers and bankers come calling — and VCs write checks.
LearnVest's upward rumor revision
Motif's founder Hardeep Walia semi-sacrilegiously states a more polarizing view. See: The two big moves Motif is making as Goldman Sachs and J.P. Morgan invest part of new $35-million raise. The Microsoft alumnus describes robo-advisors are "features" masquerading as companies, making them faux disruptors.
Still, snapping up a red-ink-bleeding robo as a bolt-on buy is no fire sale proposition: when Jones mentions LearnVest's rumored $250 million exit, Harris adds that the rumor is closer to $350 million. That value reflects not current revenues or EBITDA, but the efficiencies created by a robo-advisor model applied to a firm like Northwestern Mutual at scale. See: The real reasons Northwestern Mutual paid a reported $250 million for LearnVest.
The $2 trillion robo stretch goal mentioned by SigFig's Sha is a projection prepared by A.T. Kearney. The consulting firm bases its projection on how ETFs grew up in the United States.
The good news, it adds, is that robo-advisors have more awareness and adoption than ETFs during their inception phase. Kearney further predicts that market penetration into wealth management by robo-advisor services will increase from the current 0.5% to 5.6% over the next five years. Adoption will be a function of price, simplicity and investment expertise, fueled by a healthy dose of marketing and account aggregation. See: Startup firm bets its ETF research technology can cut out the middle man for advisors.
A.T. Kearney sees E*Trade and Scottrade, where mass-affluent clients are using the self-directed product of online investing, robo-advisors as the happy asset-poaching grounds of Online wealth management, however, provides advice to clients and is a better fit for the behavioral delegators. Another consultant, McKinsey, named E*TRADE as a victor in the coming "virtual" advice wars. See: McKinsey: Robo-advisors have a cloudy future but 'virtual advice' delivered by 24-hour super-centers with experts and algorithms will win the day.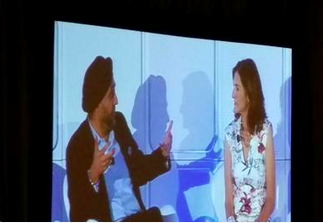 Motif's Hardeep Walia offered the polarizing
view that robo-advisors are 'features' masquerading
as companies
Unbundling…what?
This implies that Wells Fargo, Edward Jones and other financial advisory firms are less likely to see asset losses as their armies of human advisors keep assets down on the farm. However, they will indirectly experience robos, by fee compression. In total, A.T. Kearney projects a loss of $8 billion in industry revenue from low robo-advisor fees, and another potential $7 billion due to traditional firms repricing their wealth management clients to match the new market normal.
Revenue compression for a traditional financial advisor is estimated to be 30% in five years. In order to combat this trend, advisors should unbundle their services — investment management to be commoditized and separated from financial and estate planning.
How successful this unbundling will be remains to be seen. Many advisors were skeptical that robo-advisors could handle investment management, and now that the robos shown that they can, advisors are skeptical that the robos can handle financial planning and relationship management.
FutureAdvisor, a Silicon Valley robo-advisor, dives deep into the detail of how its algorithms predict when a client needs to have a touchpoint. The technology measures the time by a user spent on each page, scrolling speed and other interactions in order to use regressions that predict at-risk clients. An e-mail from the CIO follows shortly.
At another panel, Betterment's Jon Stein and Fidelity's David Canter discuss the partnership of their firms. Stein mentions that Betterment has 94,000 clients and $2.3 billion of AUM, with a service model of 10,000 clients (or about $250 million) per service rep. He also describes how the firm is focusing on goal-based planning across different time horizons, and that its largest account is $10 million, with several above the $1 million mark. If Stein and Bo Lu of FutureAdvisor are right, there will not be much left to unbundle.
Betterment was the only robo named to the Financial Times 300 Top RIAs, as of June 22, 2015.
Partner up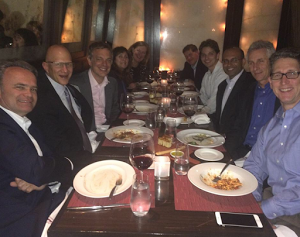 Marie Swift, rear left, organized a
dinner that included the author Alexey
Sokolin, pictured second from far end
on right and Rich Cancro, his
Vanare partner, on the middle left.
Simon Roy and Deborah Fox are
also among the diners.
Though there are a few executives with controversial views at In|Vest—that fiduciary relationships cannot be replaced by a robo-advisor, or that all of J.P. Morgan will be eaten by software within the next 10 years—most attendees are trending to the middle. See: JP Morgan gets a 39-page blasting of its corroded culture and ground lost to Silicon Valley robos — authored by its CEO Jamie Dimon.
Technology firms are shifting focus from business-to-consumer initiatives that require brand building, toward collaboration with traditional branded financial firms on enhancing the existing advisor relationships. My firm Vanare focuses on exactly this type of partnership, helping advisors with their traditional wealth management platform and a private label robo-advisor in a single technology solution.
From the other side, financial firms have woken up to the innovation of the robo-advisor movement. They recognize the emotional resonance of customer-centric design and product development with clients. As a result, many are looking to partner with, acquire or learn from their younger counterparts. See: Orion and Jemstep form first big marriage of non-robo and robo software — at advisor behest — to create RIA e-commerce.
No better time than the present.
Alexey Sokolin (Lex) is a partner and chief operating officer of Vanare. He oversees product innovation and design, and manages the company's ongoing business development. Mr. Sokolin was previously founder and chief executive of NestEgg Wealth, a next-generation technology company and RIA that pioneered online wealth management in partnership with financial advisors, reaching new customers in a scalable way by algorithmically automating financial advice online. NestEgg Wealth was acquired by Vanare in 2014. Vanare is a next-generation wealth management platform for investment advisors to help grow their business. To learn more about Vanare, visit: www.vanare.com, or contact us at: info@vanare.com.
---
Mentioned in this article:
---
---
Share your thoughts and opinions with the author or other readers.
Stephen Winks said:
June 23, 2015 — 5:54 PM UTC
Motif's Hardeep Walia observation that "robos are features masquerading as companies" is profound, as like the brokerage business, there is not expert authenticated (back to statute) prudent investment process that simplifies and establishes professional standing in advisory services. Until the brokerage world embraces professional standing and fiduciary duty in advisory services it leaves a path of vulnerability for robo advisors to afford an unprecedented level of investment and administrative counsel (beyond that which is humanly possible to process) at a fraction of the cost.
The brokerage industry must embrace fiduciary duty and robo advice or run the risk of (1) acting counter to the investors best interest (2) with an inferior and outdated value proposition that is (3) far more expensive than the robo assisted RIA alternatives.
SCW
Stephen Winks
Libby said:
June 26, 2015 — 1:31 PM UTC
It seems to me that all comments about Robo-advisors is about fees, nothing about return. It seems to me that those investors who focus just on fees will get what they deserve. The Vanguard S&P 500 index fund is the largest fund in the country mainly because investors choose to invest in this fund because fees are extremely low. They fail to look at other funds. Example. Invest $10,000 in Vanguard S&P and $10,000 into American Funds Growth Fund of America on 8/31//1976. The GFA will charge 5.75% upfront fee plus 0.66% annual fees. Vanguard charges 0% upfront fee and 0.17% annual management fee. What intelligent individual would pass up this deal! What idiot would pay a fee!!!! As we can see the GFA is way more expensive than Vanguard, so the average and not so average investors who can't think beyond just fees will invest that $10,000 into the Vanguard fund ( as evidenced by how large that fund is). Fast forward, now that $10,000 as of 6/25/2015 in the Vanguard fund is $583,319. But the GFA is $1,676,296. Even on a 10 year rolling average the GFA will beat the Vanguard 70% of the time….all these investors could have had much more net worth in their portfolio if they took a second to think!!!! But that is the problem with this country…It is not just about fees…
---
---