McKinsey: Robo-advisors have a cloudy future but 'virtual advice' delivered by 24-hour super-centers with experts and algorithms will win the day
Using ChinaTrust's 'Air Financial Advisor' and Itau's 'Personalite' service, Schwab -- even E*TRADE -- as examples, the global consultant says the future will splinter 'digital' and 'automated'
McKinsey & Co. might not know everything but its office location map shows it is omnipresent.
---
BPM
I suspect Bo's views will be closer to the truth than those of the McKinsey report. Technology is going to move much quicker than the public generally perceives in this space, and people are going to adopt it at scale. As human advisors, it's always most comfortable to believe that the client desires and needs a relationship with another human being – yet I suspect convenience and cost will again win the day.
The "advisor killer" of the robo-sphere is going to be when new business models are launched that really only scale in the digital space and can't be applied profitably by human advisors.
Stephen Winks
The intellectual Capital behind Robo Advice is notoriously weak, the banks and broker/dealers have the capital but not the will or the necessary entrepreneurial drive to create/innovate. The objective of " continuous, comprehensive counsel" required by statute, is the essence of virtual advice. The brokerage and banking industry for many, many reasons do not have the DNA to be effective. Thus a well capitalized, highly entrepreneurial non-bank, non- brokerage is required to reorder and re-price the entire financial services industry around expert authenticated advice. This requires more highly skilled advisors who know how to utilize advanced prudent processes and technology that gives them control over their value proposition, cost structure, margins and professional standing. This is an anathema to existing business models which is why banks and brokerages will not be effective at advancing innovation and an extremely high level of counsel at far lower cost. This is a classic business school case (Clayton Christensen, Harvard) of the most common mistake made by industry's facing industry redefining innovation. Banks and brokerages are looking at innovation in the context of their existing business model when a new business model is in order. Let's hope the US establishes global market leadership before more enlightened financial centers like London, Singapore, Hong Kong find ways to better serve the investing public. Remember, at the end of this year London will require brokers to acknowledge they are either acting as brokers or advisors. At the moment US regulators and the brokerage lobby can not discern the difference at great peril to the health of the industry in disregard to the best interest of the US investing public.
SCW
Stephen Winks
Shane
Great article, Brooke. Even though the technology is disruptive and moving quickly, robo-advisors and traditional financial advisors do not necessarily have to be at odds with each other. Hedgeable, a robo-advisor that focuses on risk management, actively looks to partner with advisors and financial planners. More info here: https://www.hedgeable.com/partner
Dave Welling
The takeaway from this for RIAs is not whether the robo model or the virtual advice model will win. It's the undeniable movement that investors want, like and soon will expect a digital experience with their advisors that is as rich, compelling and informative as when they sit in an advisor's office. My advisor is in CA, I live in FL and even if we still lived in CA I am not sure I would want to go to a meeting in my advisor's office just to get clarity on our financial situation. Anyway, who would watch the kids!!? McKinsey appears to think RIAs will pull the ostrich strategy and that will lead to their demise…
"The omission is not an oversight but rather is based on the belief that computerized or "virtual" wealth management encompasses capabilities that an RIA, at least a classic one, does not possess."
Personally I doubt this will happen or that RIAs will be relegated to only providing the white glove service that you "see less and less." The question for RIAs is how should you evolve. They should be thinking about the experience they need to provide in three years… and moving there now. (insert overused Gretzky quote here)
Dave Welling (Advent, Black Diamond)
Elmer Rich III
February 5, 2017 — 8:18 PM
We could use fewer personal opinions and more data, facts and evidence - even from McKinsey and the consulting firms. Ask your doctors, anecdotes and personal experience aren't much professional use. "Without data, you are just promoting your personal opinions."
---
Related Moves
October 29, 2022 at 12:02 AM
---
---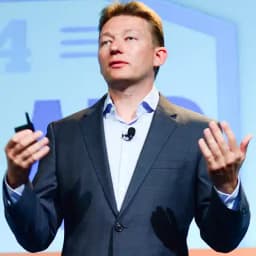 September 10, 2019 at 10:52 PM
---
---
Mentioned in this article:
AdvisorEngine
Financial Planning Software
Top Executive: Rich Cancro
---
---