News, Vision & Voice for the Advisory Community
The Advent CEO says his firm, under SS&C ownership, will consider buying CRM, financial planning and rebalancing firms
June 18, 2015 — 2:45 PM UTC by Guest Columnist Timothy Welsh
Brooke's Note: Advent Software has always been the consummate rugged individualist type. Not only was nobody going to own Advent, but it wasn't all that hungry to own anybody else. It sees collaboration the way an introvert regards a hard liquor cocktail party. All that is changing radically as Advent readies for life as an SS&C minion. It's collaborating with a vengeance as it lays the groundwork for rolling up a bunch of sister firms for Black Diamond. Advent even hosted a robo panel at its national conference this week. This is looking like an all-guns-blazing company and Tim Welsh captures it all with high-level interviews and keen listening skills in Las Vegas.
Advent Software was the monster of the RIA software business for decades until Tamarac Inc. and Orion Advisor Services, LLC began to offer serious competition in the last few years.
Now, the San Francisco-based firm's chief executive, Peter Hess, is showing renewed swagger as he prepares to play offense after completing the sale of Advent to SS&C Technologies Inc.
"You will see us building out and potentially buying more pieces of the tech stack for advisors, such as CRM, financial planning, rebalancing — all of the key integrations that advisors are looking for in a complete platform," he said in an interview during the AdventConnect 2015 conference at the luxurious Wynn Las Vegas. Windsor, Conn.-based SS&C president Norm Boulanger was also present at the interview.
This pledge to "build out" comes amid an already major effort at Advent's Black Diamond subsidiary in Jacksonville, Fla. to create a bundled product anchored by MoneyGuidePro with a bi-directional dashboard.
SS&C's chief executive, Bill Stone, and Boulanger joined Hess and Advent founder and board chair Stephanie DiMarco on a keynote panel to talk about the benefits of the combined companies — and to demonstrate SS&C's vast experience in rolling up software firms. See: How SS&C muscle might be just what the Black Diamond and Advent Software doctor ordered.
"We've made over 40 acquisitions in our history and this one is by far the largest and is all about a growth strategy," said Stone.
'Very valuable business'
DiMarco credited her ultimate willingness to become another feather in the SS&C cap to a confluence of factors.
"While we've talked about it many times, the acquisition didn't make sense to us in the past because we believed we could do a better job on our own and control our destiny," she said. "But when we looked at it from the lens of our clients, shareholders and employees, the breadth of services we could offer, on top of the acquisition premium, and it all came together." See: SS&C buys Advent for the Geneva crown jewels so what happens to Black Diamond and Advent Axys?.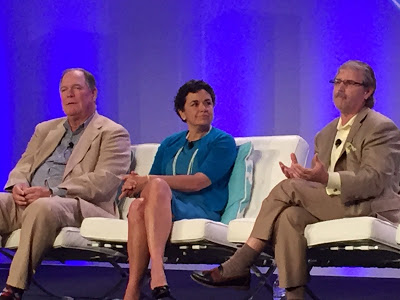 Stephanie DiMarco [flanked by Bill Stone
and Norm Boulanger]: We looked at
it from the lens of our
clients, shareholders and employees, the breadth
of services we could offer, on
top of the acquisition premium, and
it all came together.
While Advent commanded a "premium" price from DiMarco's standpoint, the numbers involved in the deal also pleased Stone.
"I live in a 90-day world and to me it's all about 'how's those numbers coming?'" Stone said about his management style and reasons for pursuing the merger.
"Plus, Black Diamond is a very valuable business." See: Can the new Envestnet-Tamarac Godzilla take on the Advent-Black Diamond King Kong?.
Nothing but Blue Sky
The big product and platform news coming out of the Advent Connect conference was the launch of "BD3" or the latest iteration of Black Diamond's very popular Blue Sky software performance reporting platform that launched Black Diamond onto the industry's main stage several years ago. See: Black Diamond green lights beta testing of BlueSky.
Blue Sky used to be about customizing the user interface to provide more dynamic reporting and mobile. This time, it is all about the client and advisor experience with some powerful new workflow automation tools designed to engage clients, as well as streamlining and simplifying the many aspects of managing a client's total financial situation.
Vital LInk
Black Diamond is also attacking the technology integration problem with the launch of Black Diamond Link.
Link is designed to deliver a bi-directional, workflow-oriented integrations between Black Diamond and financial planning, CRM, analytics and presentation systems in a bundle that is easy to purchase, implement and use, according to Dave Welling, senior vice president and general manager of Black Diamond, See: Black Diamond partners with MoneyGuidePro to create a turnkey product.
"Currently, there is a proliferation of portals and dashboards out there and it is tough for advisors to make sense of them," he explained in an interview. "The key question for advisors to ask is, 'Does your dashboard have depth?'"
Welling went on to point out many examples of integrations and bundles that don't work properly and require advisors to manually make adjustments unless the applications are native.
Cool crowd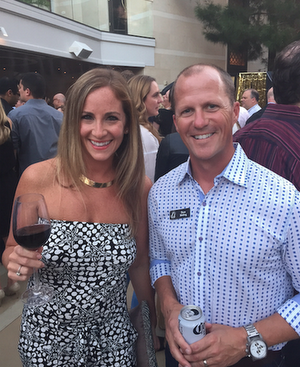 Dave Welling [with Advent marketing director
Amanda Diamondstein-Cieplinska]: The key question for
advisors to ask is: Does your
dashboard have depth?
Welling was a popular figure at the conference and could usually be seen with a crowd of four to six advisors following him around, entourage-style, looking to learn the latest.
While Welling was doing his best rock star impersonation, Hess allowed that all the action was keeping his dopamine levels high.
"This business is addictive," he said in his opening remarks. "I love this business so much, that after 20 years of trying to fulfill our vision, we're still not there. It keeps me coming back for more." See: Black Diamond blows the lid off asset growth in Dave Welling's first year in charge.
Hess candidly addressed a question about Advent Direct, Advent's way of pulling desktop-bound data into the cloud for Advent users wanting to keep Axys and APX systems. He was fairly direct in saying that the project had been rethought and delayed with hopes of a better outcome. See: Two years in, Advent Software gives itself a Sept. 30 deadline to release the middleware that will draw Axys users into the Cloud.
"We have decided to take a step back to take two steps forward. We are re-architecting the data model, and hope to scale it up for the end of this year."
He added: "The one thing we know is to never force anyone to switch accounting systems. As a result, Advent Direct is designed to enable existing Advent users to have a more competitive offering if that is what they want, or to help them move to Black Diamond See: Peter Hess delivers Advent Direct specifics at AdventConnect as Dave Welling wows with Black Diamond's cloud advance.
Justify your fee
Hess's parting thoughts addressed the rise of robo-advisors.
"Advisors are going to have to justify their 100 basis points fee and that is why we are empowering and enhancing Black Diamond to provide that outstanding client experience," he said. "Robo is definitely a different business model and it will take a while for clients and advisors to get comfortable with it. Ultimately it is a personal relationship, and that is never going to go away." See: McKinsey: Robo-advisors have a cloudy future but 'virtual advice' delivered by 24-hour super-centers with experts and algorithms will win the day.
In further deference to the investments automation revolution, AdventConnect featured a high-profile panel of Steve Lockshin of Betterment Institutional, Mike Sha from SigFig, Matt Weiner of Wela, and lone human advisor Michael Lee, chief operating officer of LourdMurray. Welling moderated a lively discussion on the state of advisor adoption.
"We're pretty much already there on our own through e-signatures, forms-filling software and automated workflow processes that can send completed new accounts to our custodian, Fidelity Institutional Wealth Services," Lee said when asked why his firm hasn't gone robo yet. "It all comes down to time, and we just haven't had enough of it,"
Sha observed that robos follow the RIA lead of being individual snowflakes in many of their particulars. "This has never been an industry that is one size fits all. Robos are not, and won't be, for everyone." See: Six ways that human advisors kick robo-advisor butt.
Not just for the masses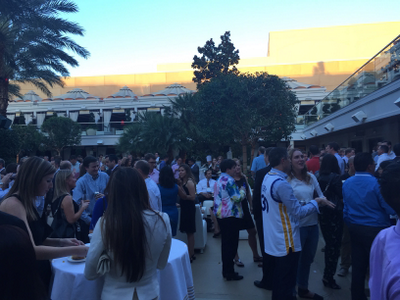 Conference-goers watched hometown Golden State Warriors
close out LeBron James and his
Cavaliers at the Advent XS party.

All panelists were eager to dispel the myth that robos are just for low-asset millennials.
"Our median account size is $450,000 and age is 42," said Weiner.
In the role of self-described "industry-agitator," Lockshin had even more dynamic data. "In my RIA, we use Betterment Institutional and some of these people have $50 million, so that idea [of robo as solely a mass-affluent play] is definitely a distraction." See: Wealthfront's high-net-worth cat leaps out of the bag — keeping it one robo 'pivot' ahead of Schwab.
On the technology trends front, popular analyst and speaker Darrin Courtney, executive advisor of CEB TowerGroup, provided his annual "Top Tech Trends" for wealth management in a packed session. Courtney detailed the latest aspects of technology investment by wealth management executives, and it came as no surprise that the impact of digital and mobile computing were the top focus areas along with workflow tools, content management systems, client reporting platforms, financial planning capabilities, account aggregation and client portals.
"We are seeing goals-based planning come out as the lead trend which is great for clients, however, the bad news for advisors is that their tools are way behind the curve in making it happen on an ongoing basis," Courtney said. See: A crucial question for HNW clients: What is money for – and what should advisors do in response to the answer?.
NBA excitement
Of course, being in Las Vegas opens up a slew of networking and entertainment options for conference organizers and vendors. Black Diamond put on an elegant reception and dinner the first evening at the Country Club steak house, adjacent to the famous Wynn Golf Club.
Advent, as the uber conference host, took the top prize for a high-energy evening event at the XS nightclub at the sister hotel to the Wynn, the Encore. Attendees enjoyed popular dance music, fine dining on multiple buffet items, all while watching the hometown Golden State Warriors close out LeBron James and his Cavaliers to win their first NBA title in 40 years.
To learn more about what went on at the AdventConnect conference, check out the many tweets on the #AdventConnect hashtag on Twitter.
Disclosure: Welsh has consulted with Black Diamond and Advent Software.
Timothy D. Welsh, CFP® is President and founder of Nexus Strategy LLC. a leading consulting firm to the wealth management industry, and can be reached at tim@nexus-strategy.com or on Twitter @NexusStrategy.
---
Mentioned in this article:
---
---
Share your thoughts and opinions with the author or other readers.
Stephen Winks said:
June 19, 2015 — 3:20 PM UTC
The technology is great but the elephant in the room is the absence of institutional users that put technological advances in the context of expert authenticated prudent process which simplifies expert advisory services in the best interests of the investing public. The missing link is an institutional user that actually assumes fiduciary responsibility and liability in its advisory services support.
Jamie Dimon, CEO of the largest financial services firm in the US counsels the industry, that it has to become politically expedient to ask and resolve advisory services questions in the best interest of the investing public. John Theil of Merrill agrees. A Supreme Court Ruling and a Presidential Executive Order support brokers being held to the traditional understanding of fiduciary duty yet the Brokerage Lobby denies the "retail Investor" (who need the most help) the same consumer protections accorded to all other investors. So, whose job is it to support the fiduciary duties of the broker? Broker/dealers reframe from fiduciary duty and technologist can only play a narrow role to the extent of their technical expertise allows.
This is the question of our time. Will the industry start asking and resolving advisory services questions in the best interest of the investing public or will a higher level of responsibility and ongoing responsibility for recommendations be achieved through technology independent of a brokerage model, that frustrates innovation in the consumer's best interest?
Is the brokerage industry so myopic (self serving) to understand the best interest of the investing public always prevails in a free market. Even if the brokerage lobby controls Congress at the expense of the investing public, is it a wise choice? Technology has a major role to play in advancing the consumer's best interest and the health of the financial services industry.
SCW
Stephen Winks
---
---