Matthew Audette: The firm's entrepreneurial outlook and strong track record of growing market share and attracting new business provides an ideal opportunity.
Brooke's Note: LPL's Mark Casady continues to run his company with the throttle wide open and if LPL fails to make the evolutionary leap from IBD to more general supporter of advice talent it won't be for lack of juice. Casady's hire of Victor Fetter from Dell, his willingness to question the Financial Services Institute and embrace the Labor Department's progressive stance, and his good-mouthing of RIAs are all examples of a successful strategy. This power hire of an E-TRADE talent fits the pattern. It must have required much more to make it happen than a willingness to write a big check.
LPL Financial announced today that is has hired Matthew Audette, formerly an executive vice president and chief financial officer at E*TRADE Financial Corp., as its chief financial officer, according to LPL and reporting in a Wall Street Journal article (subscription only).
Audette is replacing Dan Arnold, who vacated the CFO seat at the largest independent broker-dealer this spring to became the firm's president when Robert Moore announced he was leaving the Boston-, Charlotte, N.C.-, and San Diego-based firm. See: Robert Moore walks from LPL Financial president role for new gig, but Dan Arnold softens the blow by filling the void.
Shares of LPL Financial spiked} on the news, up $1.49 or 3.5% as of midday Tuesday.
Worst of times
Audette will report directly to San Diego-based Mark Casady, LPL chairman and chief executive — but not just for the bean-counter-related purposes typically associated with CFOs.
Audette "has seen the best of times and the worst of times as a CFO," Casady told the Wall Street Journal, "and that makes him incredibly valuable to a company like LPL."
Indeed, in 2007 New York-based E*TRADE became dramatically overexposed to mortgages as its acquisition, Telebank, began to crumble, leaving its customers liable for more than $27 billion. That balance has since been whittled down to about $6 billion and E*TRADE has finally cut the cord between its bank and brokerage, giving the brokerage a brighter future. See: E*TRADE unwinds its RIA roll-up, and a giant RIA rises in the Boston burbs.
LPL executives clearly like the fact that Audette took a key role in digging E*TRADE out of that hole and highlights his skills as a turnaround specialist.
"In recent years, he helped orchestrate the firm's recovery—leading the company in its efforts to execute on a financial and capital plan. His track record has garnered the commitment of shareholders, the respect of the industry, and praise from his peers and the media alike," an LPL release states.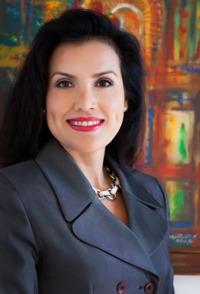 Cecile Munoz: This is not only
a significant hire, but a significant
statement LPL is making to the
marketplace as to the talent represented
in its leadership.
In fact, Audette's successful ability to steer E*TRADE in the right direction means he's a strong leader and significant hire for LPL, says Cecile Munoz, president of U.S. Executive Search and Consulting in Los Angeles.
"Audette's experience with an entrepreneurial, publicly traded company as it navigated the various inflection points throughout its business cycle, pre- and post-market downturn, give him a unique and important perspective. As LPL's senior-most finance executive he brings great expertise to the leadership team. This is not only a significant hire, but a significant statement LPL is making to the marketplace as to the talent represented in its leadership," she writes in an e-mail.
Still, E*Trade is valued at about 1.4 times its net assets, far less than TD Ameritrade ratio of 4.2 and the Charles Schwab Corp.'s of 3.6. Neither TD nor Schwab are hamstrung by a legacy loan business as E*Trade has been.
LPL Financial has seen some tough times itself, as any casual reader of InvestmentNews will attest, with fines being levied for compliance transgressions as growth outran the company's ability to keep its activity within the firm under ever-tightening rules. See: An LPL super-client hits 'pause' on recruiting after an SEC inquiry and LPL is playing a parental role.
However, the company has boldly embraced growth through changes that amount to a preemptive strike at turnaround. These efforts include the servicing of new business models including RIAs, hybrid RIAs and offices of supervisory jurisdiction. See: LPL Financial tells its faithful in San Diego that a fuller-service, more dependent model will get corporate support.
Move to San Diego
Audette, 41, will from New York to San Diego with a start date of Sept. 28. His employment as an officer at E*TRADE ends on June 15, but he remains an employee of the firm until July 31. He will take the remaining time to relocate, said an LPL spokesman. LPL's acting chief financial officer, Tom Lux, will work alongside Audette during the transition period.
Audette earned compensation of $2.2 million for E*TRADE in 2014, according to Bloomberg.
"Matt is an expert in capital allocation and is a leader in creating organizational efficiency, which will be invaluable as LPL enhances its client experience and continues its growth trajectory," said Casady, in a statement.
Wells woes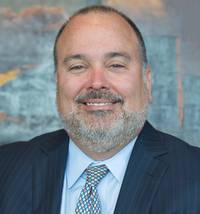 Mark Casady: Matt is an expert
in capital allocation and is a
leader in creating organizational efficiency.
E*TRADE announced today that its chief risk officer, Michael Pizzi, will take over the finance department starting June 15. E*TRADE's stock has risen about 45% over the past 12 months due to regulators' recent approval of its capital plan and expectation that interest rates will rise later this year.
But E*TRADE, which received a Wells notice, has also faced some regulatory issues and FINRA is looking into E*TRADE's trading and execution practices. See: What ex-E*TRADE CEO Mitchell Caplan says emboldened him to lead an $83 million management coup of Jefferson National.
Audette has said his departure had nothing to do with the notice and that he felt comfortable with E*Trade's financial situation, according to published reports.
LPL has had its own regulatory struggles, which made it crucial that it hire a chief financial officer with experience in steering a company through tougher times, Casady told the Wall Street Journal.
'Entrepreneurial outlook'
Audette joined E*TRADE in 2000, following its acquisition of Telebank, an online bank, where he served as controller in the capital markets department.
During his 16 years with E*TRADE, Audette was instrumental in forming the firm's finance department and was a principal player in the growth of the franchise, overseeing a variety of corporate transactions and capital activities.
He began his career with KPMG in Washington, D.C. in its financial services practice. Audette graduated from Virginia Polytechnic Institute and State University-Pamplin College of Business in 1997 with a Bachelor's of Science in accounting.
Audette cites LPL's entrepreneurial bent as a reason he is willing to leave a bigger brand name and move cross-country.
"It is an ideal fit for me as I strongly believe in LPL's independent model as well as its values and mission of providing objective financial advice. In addition, the firm's entrepreneurial outlook and strong track record of growing market share and attracting new business provides an ideal opportunity for me to play a key role within a great organization." See: How LPL used its RIA love and long OSJ leash to lure Wells Fargo's $550-million FiNet team in Louisiana.
LPL and its affiliates have 3,352 employees.
---
Related Moves
August 19, 2020 – 2:18 AM
---
October 5, 2018 – 7:40 PM
---
---
Mentioned in this article:
---
---
---
brooke southall
Steve Winks of SrConsultant.com sent along this comment while our comment section was down yesterday:
The question in achieving scale in advisory services is will Matt Audette be given the latitude to execute, not from Mark Casaday but from brokers/advisors in the field who resist chance even for the better. Remember RBC Dain hired one guy with no support as a means to address their capabilities in advisory services. He lasted 9 months.