News, Vision & Voice for the Advisory Community
The loose theme was millennials, the takeaway was nada and a panel of female industry execs stole the show
May 8, 2015 — 7:56 PM UTC by Dina Hampton
Brooke's Note: One of the things that impressed me when I visited FutureAdvisor the other day was that no mention was made of reinventing financial advice in terms of what one generation or another wants. See: FutureAdvisor responds to Schwab's market entry with a truly free offer and big backing from Fidelity and TD Ameritrade. The thinking — oddly iconoclastic in this day and age — is that a great new advice methodology will have universal appeal. It was with that appreciation that RIABiz, in the person of our NYC-based editor, Dina Hampton, went to a truly star-studded conference with views of Central Park's budding buttonwood trees. Could any insight be gained from a conference that largely sees the advancement of the financial advisory business through a marketing lens? I think you'll agree after reading this piece — not so much.
Anyone who expected LinkedIn's chief executive to use yesterday's FinanceConnect conference to address the firm's 20% stock swoon last week was disappointed.
Instead, Jeff Weiner became the latest in a long line of executives to create a support group of sorts for fellow executives seeking marketing wisdom related to millennials, whom they associate with refrigerators raids at home and bringing them coffee at work.
The big shot quotient was over the top at Thursday's one-day do at Time Warner Center overlooking Central Park, with Mohamed El-Erian leading the charge and executives from Merrill Lynch, BNY Mellon, Morgan Stanley and a few marquee robos close behind. Mountain View, Calif.-based LinkedIn attracted 275 mostly marketing operatives from major financial services firms.
Scary journeys
Here's the received wisdom about this elusive but prized demographic: They are "authentic" and "mobile." They love "journeys" but want immediate results. They prize "agility" and "disruption." They get and give their opinions and make decisions online. They don't want to talk to advisors but are in real need of financial advice. They have a high tolerance for, and even welcome, a degree of "creepiness" — i.e. the harvesting of their online information — so long as they perceive they're getting something in return. They are socially conscious and fear debt more than they covet wealth. See: A New York Times article gets real on the topic of marketing to millennials.
Two more things: They'll be coming into some money in the next decades — three trillion dollars by some estimates — and 70% of them say they'd hypothetically be just fine doing their banking and investing through Google, Facebook or some other social media site, according to a LinkedIn survey.
It might have been going too far to say, as one marketer did, that the key to winning millennial hearts and minds is to "take scary journeys and make them Disney World simple."
But just moments before Whole Foods announced its plans to sprinkle the country with special "millennial" stores there seemed to be broad regard for this statement: See: One woman's journey from Whole Foods to Edelman Financial.
"Solve the millennials and you solve everything."
T-junction ahead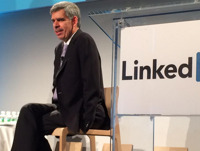 Mohamed El-Erian: Wealth inequality is at
horrific levels. Inequality undermines opportunity.
It's a marketing mantra that has created its own momentum. See: Dissecting the pathology of UHNW wealth managers who want brand building without marketing.
Wedged in between bite-sized discussions of What Millennials Want, headliners delivered state of the union and industry dispatches.
When Mohamed El-Erian, chief economic advisor at Allianz, appeared at last year's FinanceConnect, he had just left PIMCO where he shared CIO duties with longtime colleague Bill Gross, who is currently at Janus. See: The real Bill Gross story with big help from the Wall Street Journal's reporting.
Despite the split, El-Erian still seems to share Gross's glass-is-almost-empty view of the economy.
Turned out in a sharp suit — in contrast to the rumpled no-tie look favored by men in the audience — El-Erian seemed to channel presidential hopeful Bernie Sanders' concerns that money hoarding by the top 1% could unmoor the just-recovering world economy.
"Wealth inequality is at horrific levels. Inequality undermines opportunity," he said. See: One RIA in Seattle confronts Occupy Wall Street and writes a tough-love letter.
When the Fed starts to taper off its simulative policies — El-Erian predicts that will begin in September — the economy will reach a T-junction and one of two things will happen: companies will continue grow on their own and innovation will do the rest or stock prices will take a dive and everything will come to a halt.
El-Erian delivered his own fiscal prescriptions in an ascending scale of controversy: clean up tax system loopholes; fix hedge fund interest rates; boost the minimum wage; put inheritance tax on the table; and real tax reform.
Private equity, he opined, is a force for good and is picking up the slack of a diminished broker-dealer industry. "PE can buy good companies at good prices — newer nimbler companies." See: The 19 ways private equity has juiced up the RIA business and how it's working out.
If you're reading this…
Weiner was up next for a quick plug of his company, which now has 350 million job posting profiles on the site, and he delivered digital-age advice to legacy financial services companies:
"Be brutally honest. You're on top because you've executed a strategy. But if you haven't cannibalized your business then you need to." Similarly: "If you're reacting to change in the industry it's probably too late."
On May 1, Weiner told Wall Street analysts that his firm's results suffered because it is spending more money to make money.
"We're accelerating R&D headcount hired to work on our monetized products. In Q1, these investments required operational transitions that will be impacting our results through the middle of this year." See: Advisor Tested: How LinkedIn can truly build your business and not just feed your ego.
Prime directive
I expected The Chief Influencers' Roundtable with Gerald Hassell, chairman and chief executive of The Bank of New York Mellon Corp. and John Thiel, head of Merrill Lynch Wealth Management, to be the day's biggest draw given the top-of-the-bill names and the prime after-lunch spot.
But it turned out to be a quick and somewhat perfunctory rundown on how to hire millennials — especially engineers — with plenty of robo references and name checks of millennials, socially conscious, teamwork among silos, and don't let regulatory guardrails inhibit you thrown in for good measure. See: 10 top ways to use social media without courting regulatory trouble.
Thiel and Hassell immediately established their digital-age cred by mentioning their millennial children — an almost uniform practice by the day's speakers. They reaffirmed that we're no longer in a "Mad Men" world in which the producer tells the consumer what they want.
"Project to future employees [how your company] is good for society, other than profit for the firm — the cool things [it does]for society and financial markets. It's a good lure for college kids," said Hassell.
To retain those millennials, make sure the company's values align with those of their employees, said Thiel. See: Merrill Lynch makes bold moves to train new recruits for an RIA-centric future.
One workaround involves partnering with other companies to develop APIs to achieve the critical speed-to-market factor millennials demand.
"Clients must have this," said Thiel. "Clients are tired of waiting. They want answers quickly." See: Eric Clarke rolls the API dice by posting Orion software's code online.
Both executives ruefully acknowledged the constricting effect of regulatory "guardrails" on their legacy firms — a problem that the open-road startups haven't encountered yet in a serious way.
Those guardrails, while irksome to the firm, must be a non-factor for the client. "They are important but shouldn't hit them," said Thiel, and shouldn't distract from "following where the clients are going." See: A Merrill Lynch trainee shares what it's really like to be part of the firm's revamped, more RIA-like training program.
Most wanted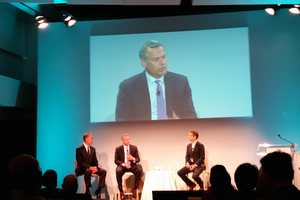 John Thiel [l.] with Gerald Hassell:
Clients are tired of waiting. They
want answers quickly.
There were two women's panels on the program; one by design, the other, not. See: The big impression Mark Tibergien and his reverse mentor, Kayla Flaten, 25, made on me over a Manhattan lunch.
The first session got down to brass millennial tacks as marketing chiefs from investment firms including TD Ameritrade, Oppenheimer Funds and Citi, delivered an intelligence briefing of post-Gen Xers with special attention to the chupacabra of them all: the affluent millennial.
The almost all-woman panel (an analyst from Cap Gemini was the lone male) assembled a behavioral model of these 18- to 34-year-olds with $100,000 or more in assets:
They've lived all their lives on social networks, and the group-thought therein factors into into their life decisions. As a result, they're open — to an alarming degree — to getting their financial advice from social media brands they most trust like Facebook and Google.
As a group that has been mining source material online all their lives, affluent millennials prefer to do their own spadework when it comes to research — so providing educational grist is key.
Affluent millennials are optimistic: Eighty-four percent of them believe the American Dream still exists and is within their reach — unlike their gloomier Gen X elders, LinkedIn says. (Their idea of the American Dream, however, has evolved beyond the McMansion, SUV and patio gas-fired BBQ.)
They are willing to postpone gratification in order to meet their goals — at least on the financial front.
International incident
The other women's panel — Women in Finance: A New Paradigm for Success — featured London-based Amanda Rendle, global head of marketing for HSBC commercial banking and global markets; Caroline Guillaumin, head of worldwide corporate communications for Société Générale; and Allison Bennett, chief marketing officer of business for JPMorgan Chase & Co.
The women hit the usual salient points about the importance of diversity on the corporate end and the need for sufficient "Leaning In" on the part of female corporate-ladder climbers.
The internationally clashing cultures of the panel, however, gave rise to a spirited exchange.
When the moderator brought up regulation as a remedy to gender discrimination, Rendle and Bennett recoiled, but Société Générale's Guillaumin demurred, saying French law required a 40% complement of women on the executive committees of financial services companies.
The moderator wondered whether such a policy could "backfire," i.e. engender talk that those women got there "through connections."
Guillaumin started to assent but caught herself up short and exclaimed: "But personally, I just don't care!"
It drew the one spontaneous round of applause of the day from the mostly female audience. See: A Harvard MBA takes her team from a $3-billion Boston RIA to join a $29-billion RIA based in Baltimore.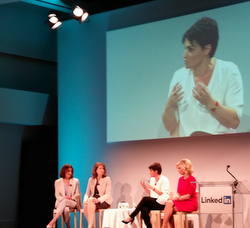 Caroline Guillaumin [2nd from r.] with
Amanda Rendle [l.] and Allison Bennett:
Personally, I just don't care!
One-stop elevator speeches
A speed-dating quality attached to the panels throughout the day resulting in a time compression issue for the afternoon showdown between the robos and the legacy players. See: Bill Crager: I've got your back against the attack of the killer robo-advisors.
Perhaps it was the scant 30 minutes allotted to Mandell Crawley of Morgan Stanley, Hardeep Walia of Motif Investing, Eli Broverman of Betterment,
Rachel Perkel of Wells Fargo and Mark Murray from BT Financial Group to make their cases, but no fireworks were forthcoming.
Perkel frankly acknowledged the limitations that sheer size confers on Wells Fargo, one of the country's largest banks and the third-largest wealth management firm.
"It's hard to innovate."
In a not-so-tacit acknowledgment of the power of the RIA model, she said that one way Wells Fargo is responding is by pairing up "tried and true" broker-dealers with non-commission advisors to help capture millennial assets. See: How a clique of industry vets plan to revive the swooning IBD space — and why industry watchers don't like their chances.
Broverman new world
Eli Broverman, the little-seen co-founder and chief operating officer of Betterment Inc., is a lawyer by training who designed and implemented Betterment's regulatory structure, and, in addition to marketing duties, oversees securities law compliance and directs its trade management process.
He spoke with Utopian zeal about the democratizing effect of the robos.
"What you once did for UHNW clients you can now do for folks with $100,000."
Motif Investing's Walia offered a nod to some of the legacy players' powerful, if belated, entrance into B to C digital investing and noted with some apprehension that Motif and other robos are growing at such a rate as to attract regulatory notice.
"It's like 'The Empire Strikes Back. Not everyone will survive." See: Schwab grabs astounding $1.5 billion of robo assets in six weeks, but mostly from itself.
Case in point: he recently got an invitation from FINRA praising Motif's new and novel company and asking it to join.
Walia's reaction: "Uh oh."
Why a Morgan Stanley exec uses Personal Capital
Morgan Stanley's Crawley said his firm has no eyes for a consumer-directed robo, but is instead arming its financial advisors with digital tools.
Crawley also admitted to using a robo — and to add insult to injury, a rival of Betterment and Motif.
"I use Personal Capital," he said, calling it "easy and transparent." See: The steps Personal Capital is taking to win bigger accounts after a year of 100% growth and 95% of them small fish.
Walia stated decisively that fee compression for non robos will accelerate and that the 1% flat fee for advisors — or any fee at all for that matter — is, or soon will be, history. See: Why Joe Duran believes that classic RIA firms face extinction.
And yet, he acknowledged a high hurdle for the robos to clear: providing truly individually tailored investment advice.
"We're not there yet," said Crawley.
---
---
Share your thoughts and opinions with the author or other readers.
Paul said:
May 8, 2015 — 10:34 PM UTC
Now that was an interesting read. Lots of things to think about. Love the attention to marketing to millennials. Very useful.
Some years ago there was a prediction that Wire Houses would become extinct considering that they were operating with an old mindset and business model. And yet here we are in 2015 and they are still thriving. What gives?
Same can be said for the ETF revolution making Mutual Funds obsolete. And yet mutual fund companies like American are thriving. What gives?
Ok now after reading this article I have come to a conclusion. The people making these predictions stand to gain if what they say happens. In a Big Way !!
So this is it for me. I have seen and read all I need to, to realize this is utter and complete bunk.
My last post about this . But let me if I may. It is my humble opinion that this publication is getting lured in just as the folks that are making these prediction want it to. I think you are getting played.
Best
Paul
Stephen Winks said:
May 11, 2015 — 9:22 PM UTC
Paul,
The business model is changing because it has to contend with the convergence of a range of market forces in the free market. The universal truth is, in a free market, the best interests of the consumer always prevails. We all know presently brokers are not supported to acknowledge and fulfill their fiduciary duties in the consumer's best interest. They are expensive and do not have a support mechanism to know whether they are adding value or not, even if they did. This averts fiduciary liability but also makes it impossible to add value. The brokers lack of accountability for recommendations and their having no ongoing responsibilities to act in the client's best interest, renders the broker inauthentic and has destroyed the trust and confidence of the investing public. The truth positive test for innovation is in a free market, are there young enterprising advisors who will offer an unprecedented level of investment and administrative counsel at a far lower cost than a broker? That model already exists. There are young advisors emerging that are building multi-billion dollar advisory practices from scratch, regardless who they are competing with, especially major firms. The early adopters are the only proof you need to know that the predictions of innovation are not a "bunch of bunk".
SCW
Stephen Winks
---
---