After LinkedIn's stock retreats, LinkedIn CEO hosts NYC event with Merrill's Thiel, Allianz's El-Erian, BNY's Hassell and a robo-panel
The loose theme was millennials, the takeaway was nada and a panel of female industry execs stole the show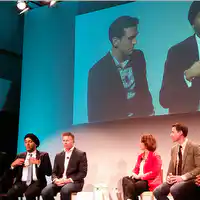 Major league Wall Street firms grapple with the millennial conundrum.
---
Paul
Now that was an interesting read. Lots of things to think about. Love the attention to marketing to millennials. Very useful.
Some years ago there was a prediction that Wire Houses would become extinct considering that they were operating with an old mindset and business model. And yet here we are in 2015 and they are still thriving. What gives?
Same can be said for the ETF revolution making Mutual Funds obsolete. And yet mutual fund companies like American are thriving. What gives?
Ok now after reading this article I have come to a conclusion. The people making these predictions stand to gain if what they say happens. In a Big Way !!
So this is it for me. I have seen and read all I need to, to realize this is utter and complete bunk.
My last post about this . But let me if I may. It is my humble opinion that this publication is getting lured in just as the folks that are making these prediction want it to. I think you are getting played.
Best
Paul
Stephen Winks
Paul,
The business model is changing because it has to contend with the convergence of a range of market forces in the free market. The universal truth is, in a free market, the best interests of the consumer always prevails. We all know presently brokers are not supported to acknowledge and fulfill their fiduciary duties in the consumer's best interest. They are expensive and do not have a support mechanism to know whether they are adding value or not, even if they did. This averts fiduciary liability but also makes it impossible to add value. The brokers lack of accountability for recommendations and their having no ongoing responsibilities to act in the client's best interest, renders the broker inauthentic and has destroyed the trust and confidence of the investing public. The truth positive test for innovation is in a free market, are there young enterprising advisors who will offer an unprecedented level of investment and administrative counsel at a far lower cost than a broker? That model already exists. There are young advisors emerging that are building multi-billion dollar advisory practices from scratch, regardless who they are competing with, especially major firms. The early adopters are the only proof you need to know that the predictions of innovation are not a "bunch of bunk".
SCW
Stephen Winks
---