Steve Lockshin: If you are charging 1% for asset allocation and security selection, then you are dead.
When it comes to robo-advisors, there is plenty of talk and plenty of red flags. There's also, unfortunately, plenty of failure to react to the changing software of the rapidly evolving business model of financial advice, according to Steve Lockshin, chief executive of AdvicePeriod and a partner in Betterment Institutional.
"Every conference I go to seems to have a 'rise of the robos' content angle, however it isn't the rise of the robos, but really the rise of the discussion of robos. No one is really doing anything — the assets are tiny. The industry seems to think that nothing is broken, there hasn't been fee compression yet and life is good. But that's what Kodak thought when digital photography emerged on the scene and they were bankrupt within five years." See: Thoughts on 'robo-advisors' served cold, compliments of Kitces and Waymire.
Given the desensitized nature of their RIA audience, other top industry types were determined to make their words heard at the Finance Logix conference last week at the Bellagio Hotel and Casino on the Vegas strip — an event that attracted about 50 RIA and broker-dealer executives.
Charles Goldman, former head of the RIAs at Schwab and Fidelity, hit the third rail running.
"Investors need help, yet, we as an industry are like the Republican Party, only focusing on a narrow segment [of rich, educated white people]," said the head of AssetMark Inc., a leading TAMP. See: Charles Goldman speaks from the CEO Summit hotel about what he didn't see coming at AssetMark and how it changed his life.
The purpose-driven advisor
It starts with a 70% haircut on fees.
"Robo platforms have re-priced portfolio management fees from 100 basis points to about 30, therefore advisors have to provide added value to justify their fees and be able to run a sustainable business," Goldman said. See: Envestnet buys baby robo-advisor to add 'last mile' to its grown-up platform.
To address how advisors can add value, AssetMark is launching an advisor training and technology program through Finance Logix, headquartered in Tucson, Ariz.
Delivering some much-needed good news was CEB Tower Group principal Darren Courtney, who reported that the financial planning model is having a big impact on the revenues and profitability of many firms. Citing data points from his recent research, Courtney presented compelling evidence that this strategic approach was paying off.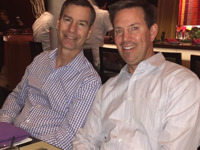 Charles Goldman [l., with Dan Skiles]:
Investors need help yet we as
an industry are like the Republican
Party, only focusing on a narrow
segment.
"Clients with financial plans increase assets with their advisor by 107% and increase their referrals by 52%," Courtney said. See: Joe Duran tries out novel financial planning strategy on himself and his wife.
The rest of the conference consisted of practice management discussions led by former Moss Adams consultants Philip Palaveev and Rebecca Pomering. A small group of sponsors on hand included TD Ameritrade, Laserfiche, Redtail Technology, LaserApp and Ebix.
52 million-member AAA
Perhaps the biggest proof of the growing ubiquity of robo-advisors was a panel composed of non-financial firms that are rolling out their own robo offerings.
The most interesting case study was the 52 million-member AAA automobile club, which is now branching into financial services with a robo offering provided by Finance Logix.
Retirement journalist Robert Powell posed the obvious question to the panel: If organizations like AAA are entering wealth management to monetize their customer base, can data-rich Internet giants like Google, Facebook and Amazon be far behind? See: Gathering assets with long tails: Exactly how RIAs of any size can market with the big boys with 'Google Love'.
The unanimous answer: No.
Touchy-feely
To drive his message home, Lockshin, a congenitally clean-cut, coat-and-tie guy, took to the stage in jeans and a newly grown beard to deliver this stark warning:
"If you are charging 1% for asset allocation and security selection, then you are dead."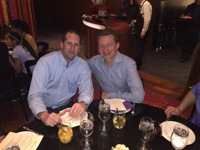 Chris Vallely of TDA and Oleg
Tishkevich, who hosted multiple receptions in
his massive Bellagio suite.
From there, Lockshin only doubled down on his Cassandra-like predictions.
"Advisors are the problem in adopting this new technology, not investors …. Once investors realize that firms through complexity and obfuscation have been putting up a toll booth on a free highway, they will revolt in droves." See: Thoughts on 'robo-advisors' served cold, compliments of Kitces and Waymire.
The hope for the future of advice, he said, centers on connecting with clients emotionally rather than in traditional modes of performance reporting and industry jargon.
"The advisor of the future will be the Compassionate Advisor. Let the machines solve the math problems and advisors can add value working with their clients on an emotional level." See: Financial advisors cross the CFP's ethical line when they play psychotherapist, study says.
'Death spiral'
Joel Bruckenstein, producer of the T3 conferences, tempered those fears with an example of a non-robo-advisor capitalizing on robo technology.
"One of the big appeals of the robo platforms are the ability to generate leads for advisors," he said, mentioning the windfall of momentum for Stronghold Financial's robo efforts after the firm was mentioned in Tony Robbins' latest book. See: Swamped by Tony Robbins' referrals, Ajay Gupta launches national venture with Jemstep and United Capital as notable partners.
"It's all about the client experience and advisors are way behind consumers when it comes to adopting technology. In reality, it is more fun to work with a robo than it is to work with human advisors because [your client portals show] you haven't embraced these new technologies."
This resistance to change that has plagued the industry could prove fatal, said Bruckenstein.
"For many firms, they will go into a death spiral because they have an aging book of business, haven't built relationships with the kids or spouses of their existing clients and as a result, their pipelines dry up and there is no business value left." See: How one boomer put faith in stockbrokers, trusted more in himself and retired rich enough.
Boxed Out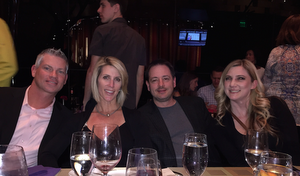 Matt Matrisian of AssetMark, Dana Anspach
of Sensible Money, James Simos of
Infinity and Leslie Forte of Laserapp
at the Aria.
It was quite the weekend in Las Vegas as conference attendees dodged the thousands of boxing fans in town for the Manny Pacquiao-Floyd Mayweather fight at the MGM Grand. The average fan was a cross-section of America: big, loud and enthusiastic, as opposed to the cooler RIA set in their jeans and blazers.
The MGM Grand blocked all pay-per-view in Las Vegas, so if you wanted to see the fight you had to buy tickets (some running into the six figures) or attend a big watch party like the one at Bellagio, which, like the fight itself, was sold out way in advance.
Oleg Tishkevich, chief executive of Finance Logix, played host at multiple receptions held in his massive suite at the Bellagio and at a dinner at the Aria hotel across the street. See: Finance Logix makes a splashy bid for RIA business with its inaugural conference in Las Vegas.
To learn more about what went on at the Finance Logix industry conference, check out the many tweets on the #FL2015 hashtag on Twitter.
Disclosure: Welsh has consulted with several of the companies, including Finance Logix, mentioned in this article.
Timothy D. Welsh, CFP® is President and founder of Nexus Strategy LLC, a leading consulting firm to the wealth management industry, and can be reached at tim@nexus-strategy.com or on Twitter @NexusStrategy.
---
---
Mentioned in this article:
---
---
---
Brooke
Varun,
Your point gets made over and over. It may be right.
But it'll really come down to whether robo-clients can stomach losses that mirror
the broad averages. Robos invest in index funds.
It might also depend on what commentary these robos prepare and how they distribute it. It
seems possible they may be savvier than classic RIAs in managing this task.
When things get really, really, really bad, it could get tougher, though investors keep getting
more sophisticated and the little guy has been known to keep his or her cool.
Brooke
Varun Hemraj
Great all the noise of Robo Advisors. Every Finance Journalist,Blogger writes about them talking about how it is changing the Industry, the one main thing missing from the article is the performance numbers. Client eventually will look at performance numbers and if they are bad it does not matter what fees is charged.
We are still in a bull market and the real challenge for Robo Advisors will come in a downcycle.
Paul
I have been advising through three Bull Markets and Two Bears. I have come to realize when the market is frothy things like dot coms and Robo advisors sprout and flourish. The above two comments have been more sanguine than I will be here.
We will have another Bear. It is inevitable. I do not wish for it as they are difficult to say the least. But mark my words. When the Bear comes he will be hungry after a long hibernation. The first meals he will eat will be Robo Advisors. They will not last through the first year of an extended Bear Market.
I am frankly surprised at all the attention paid to them here. It is as if there is literally nothing else happening in the RIA world. Can we get to talking about some other salient topics possibly? And in case you are wondering I and when I will take Robo seriously? When they garner some real assets. Until then? Nothing but chatter and sensationalism.
Paul