News, Vision & Voice for the Advisory Community
The M&A firm's event is about zzzzzzuccession planning but the event got un-boring fast when the two CEOs spoke their minds
May 19, 2015 — 8:08 PM UTC by Guest Columnist Joe Anthony
Brooke's Note: This isn't the first time that Joe Anthony has pitched in from Philadelphia and the PR expert always goes with a reporter's eye. He also puts up with us making the final product a little edgier and less diplomatic than his original. Thank you, Joe.
Paul Lally and Dan Kreuter founded Gladstone Associates to advise advisors who want to grow inorganically, but in year's past, Gladstone's annual conference has had a decidedly organic, classroom feel — until this year.
Long a no-frills affair held at the modest Cira Centre in Philadelphia, the event with its 140-some attendees made the leap to Philly's Four Seasons, an upscale venue as likely to host celebrities passing through town as deal-minded advisors. And for advisors traveling from near and far hoping to hear some four-star commentary to match their surroundings, the event did not disappoint. See: Enter the deal makers: RIA M&A firms are hiring furiously — even without a deal boom.
One of the more compelling discussions of the day centered around the dialogue between Al Zdenek of Traust Sollus Wealth Management, Dave Giegerich of Paradigm Wealth Management and Andy Putterman of 1812 Park LLC.
First Zdenek plugged Paul Lally and Gladstone for helping him mobilize an effective succession planning process, while Giegerich asserted that the best boost to the efficacy of a succession plan is to assign a third-party to implement the plan. Based on the head nodding in the room, a fair portion of the advisors likely hadn't thought of handing off the implementation phase of their succession plan past the time their own death. See: Why shock-and-awe over low succession planning rates is unhelpful and distasteful.
Everybody happy?

How to succeed: Al Zdenek, Dave
Giegerich and Andy Putterman
But the juiciest tidbit of the entire conference came when Putterman, chief executive of Fortigent, LLC for many of his 17 years there, was put on the spot during the panel's Q&A portion.
Putterman, who successfully sold two businesses in which he was a partner or principal, including the deal to sell Fortigent to LPL Financial in 2013, was asked if he thought the buyers of his two businesses (City National and LPL, respectively) were now happy with their purchases.
"I have to say, and it frustrates me, that [LPL] has not been able to make the most of their acquisition. I would say no, they are likely unhappy," said Putterman, who went on to say that LPL may not have been fully prepared to use what Fortigent had to offer. At the time of the deal's closing, LPL reported having $70 billion of advised assets and 97 clients. LPL recently announced a restructuring of Fortigent at a cost of $9 million, with about half of that going to severance costs associated with 10 severed employees.
Fortigent's former chief investment officer for 16 years, Scott Welch, left Fortigent in August and is now chief investment officer of Dynasty Financial Partners of New York, a company that has overlapping outsource services and target clientele. Welch took the duties of Todd Thomson at Dynasty as the firm strives to manage more of its RIA clients' funds in-house. See: Why quiet co-breakaway of LPL and Ameriprise advisors in Downeast Maine speaks so loudly to Shirl Penney.
Too much equality
Fireworks also occurred when afternoon keynote Brian Hamburger took the stage. The bad news was that the event was behind schedule by the time he spoke and so a big chunk of his time was usurped by the following session.
But Hamburger wasted no time making his points.
The lawyer and leader of MarketCounsel, which has helped numerous advisors and firms migrate from the wirehouse world to independent RIA status, issued a word of caution to RIAs who have been clamoring for rules that would require registered reps to adhere to the same fiduciary standard as independent RIAs.
"The independent advisors are the industry's white knights. Many of them are quick to say that they want reps to be held to the same standard. They need to be careful what they wish for," asserted Hamburger. See: FINRA's regulatory white flag may be a pause before it plays white knight to SEC's cash-starved damsel.
He went on to say that once the fiduciary standard is made uniform, then things like standards for marketing and advertisements would also be made equal, a situation that would challenge RIAs to stand out in the crowd. Also, the regulatory burden associated with promotion "would cramp the creative ways these firms have reached new audiences." See: The RIABiz list of winners and losers in the wake of the SEC's fiduciary study.
Following protocol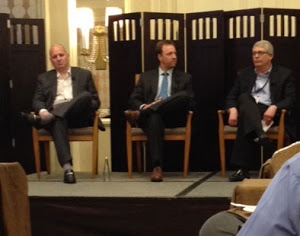 Capital ideas: Jason Carroll, Phil Green
and Mark Torie.
Hamburger's talk unearthed other interesting nuggets:
"If you are not on Twitter, get on Twitter. It can really help with your business continuity efforts when your e-mail or phones are down." Count this as a non-conventional view on the utility of social media. Hamburger detailed how his firm uses Twitter to alert staff and customers of office hours or communication interruptions due to weather, technology issues and other problems. See: How a Twitter 'storm' extended the MarketCounsel Summit from hundreds to thousands of people and showcased the potential of tweets.
Addressing the problem of long-term sustainability of the broker protocol, Hamburger sounded off on the rising possibility that some firms might leave the industry agreement. See: How Schwab failed to block one broker's breakaway and what the legal battle may mean for the future.
"More than 1200 firms are in the broker protocol and most of them are independent advisory firms. The protocol was created by the brokerage community to protect the brokerage community and now they hate it." See: Fewer companies join Protocol as downsides emerge.
Hamburger continued: "The biggest emerging issue in broker recruiting is trade secrets litigation."
Alternatives exposure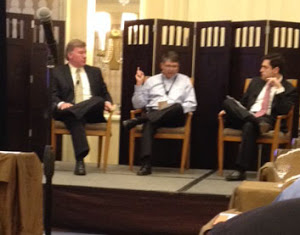 Trust issues: Kevin Maas, Randy Rush
and Jason Barg
Sharing some trade secrets of their own at an earlier panel were Randy Rush of Integrity Bank & Trust, Jason Barg of Lovell Minnick and Kevin Maas of Pohl Consulting. They tackled the concept of weaving trust services into wealth management as a formula for maximizing a firm's value. Maas mentioned that he and his firm are in the process of helping two RIA firms integrate trust services, while Barg said the "stickiness of the assets" at Kanaly Trust was part of the reason why his firm thought of it as a great investment.
Gladstone principal and co-founder Dan Kreuter moderated a panel on alternative investments in which Aequitas Capital's Brian Oliver, Franklin Square's Brady Browe and Circle Squared's Jeff Sica took turns taking shots at liquid alternatives and the '40 Act fund space in general characterizing them as "alts lite." See: How the alternative investments category got bastardized and why that's a shame.
"You are going to become a statistic in this industry" if you don't bring real alternative exposure to your clients, asserted Sica. "If advisors want to swim upstream, they have to think like an endowment and find real wealth-building investments." See: Feeling its oats in post-Genworth life, Altegris does a deal with KKR anchored by a big Merrill Lynch brokerage commitment.
The subtext of this conversation seemed to be: Utilize alternatives in your investment platform for clients in order to boost your overall enterprise value.
But if the Four Season's needed to provide it's own twist, it succeeded. Lunch was Philly cheese steak sandwiches — Four Season's style, laid out in a buffet with heavy silverware and white tablecloths. No complaints from the non-vegetarians at this meaty event.
Joe Anthony is partner and president of financial services at Gregory FCA Communications. His Twitter handle is @joeanthony.
---
Mentioned in this article:
MarketCounsel
Regulatory Attorney, Consulting Firm, Specialized Breakaway Service
Top Executive: Brian Hamburger
---
---
Share your thoughts and opinions with the author or other readers.
---