Brooke Southall, Michael Lock, Megan Carpenter and Jason Lahita : I don't expect to see [Google and Facebook] in heavily regulated businesses, Lock says.
Brooke's Note: I also spoke at this event, mostly answering questions. People wanted to know how to get more news coverage as RIAs. My advice: Be as available to the press as you would be to your mate and err on the side of having a point of view. I was nvited to the event as a skeptic and came away with a greater appreciation of social media. There was much emphasis on smart phones, something I have never owned. But I tweet, Link In and largely consider RIABiz to be a social media itself and I breathe it. So I'm getting there.
Contrary to rumors emanating from some quarters of the advisory community, Google and Facebook are really, really unlikely to take a run at providing robo advice to the masses.
That pronouncement came yesterday from Hearsay Social Inc.'s Michael Lock after an investment advisor at a Pershing Advisor Solutions LLC event in San Francisco asked him whether he believed the two giants would enter the auto-investing market.
Robo investing continues to heat up and as the ubiquitous social media giants become comprehensive repositories of data about us and everything we do. At least 70% of millennials say they'd hypothetically be just fine doing their banking and investing through Google, Facebook or some other social media site, according to a LinkedIn survey. See: Six ways that human advisors kick robo-advisor butt.
h2. Reg shy
The opinion of the president of Hearsay Social is based on his eight-year tenure at Mountain View, Calif.-based Google Inc. where he was a founding executive at Google Enterprise and helped grow the business from its infancy to $1 billion. He was instrumental in launching Google Apps including business versions over Gmail, Google Calendar, Google Docs, Google Drive as well as Google Maps and Google App Engine.
Lock was equivocal in saying that these firms were no more likely to get into financial advice than health care because there core missions are broader and he cemented the point by saying in his former Google life declined to present such an idea to Sergei Brin.
Finally, Lock made the point that Google and Facebook have regulatory-averse cultures.
"I don't expect to see them in heavily regulated businesses," he said.
In fact, Google has made Wealthfront a robo-advisor to its employees. See: Wealthfront's advice is now an employee benefit for Google employees' non-401(k) savings.
Appointment phone calls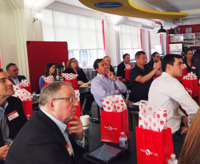 Mark Tibergien was among the listeners
at yesterday's event next to AT&T
Park in San Fran.
Lock tried to provide a handful of takeaway social media points for the assembled RIAs, most of whom are managers of billions of dollars in assets and operate with fairly scant attention to social media and other online interactions. See: 5 ways for RIAs to avoid social media and 'holistic' wealth management overreaches in a share-happy e-world.
He laid the groundwork by saying that Facebook users are doubling their contributed content every year and that the average Facebook user is on the site 15 times a day. He also spoke about the death of the telephone saying a call really should be scheduled online.
Golden rules
Sizing up his aging audience, Lock kept his comments basic, asking advisors to do four things in social media.
1. Make sure to post profiles on major social media and on your website. Make sure the accompanying info is complete. "If somebody puts your name in Google and you don't come up, you don't exist," he says. The good news: Just doing this puts you ahead of most of the advisory community. See: The one act of image-ination RIA's must undertake before debuting on social media.
2. Build a network. Lock cringes when he sees advisors with only a handful of connections on LinkedIn or Twitter. "It's like talking to an empty room."
3. Avail yourself of the rich trove of information flowing in from social media. It's free intelligence. "Look for life events," he said, reminding advisors that clients are receptive to advice at thee junctures.
4. Post your thoughts. But only once the first three tasks are completed. What to post? The maximum percentage of postings related to your business should be 20% of all postings.
---
---
Mentioned in this article:
FiComm Partners
Marketing & Public Relations
Top Executive: Megan Carpenter, CEO
---
---
---
Bill Winterberg
But Kroger is now in the advice business! Yes, that Kroger. The grocery store chain.
Tell them you found out about it on Twitter: <a href="https://twitter.com/BillWinterberg/status/599263183996608512" rel="nofollow">https://twitter.com/BillWinterberg/status/599263183996608512</a>