My trip to Omaha with 40,000 of the Buffett faithful and what questions the Oracle didn't answer
Nuggets of Buffett and Munger wisdom were abundant and provided a window into the Warren succession -- plus plenty of Berky Briefs and Dilly bars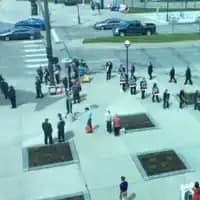 This is not 1950; these are pilots in Omaha picketing the 2015 Berkshire Hathaway annual meeting.
---
---
serenitystocks
Benjamin Graham – also known as The Dean of Wall Street and The Father of Value Investing – was a scholar and financial analyst who mentored legendary investors such as Warren Buffett, William J. Ruane, Irving Kahn and Walter J. Schloss.
Warren Buffett once wrote a detailed article explaining how Graham's record of creating exceptional investors (such as Buffett himself) is unquestionable, and how Graham's principles are everlasting. The article is called "The Superinvestors of Graham-and-Doddsville".
Buffett describes Graham's book – The Intelligent Investor – as "by far the best book about investing ever written" (in its preface).
Graham's first recommended strategy – for casual investors – was to invest in Index stocks.
For more serious investors, Graham recommended three different categories of stocks – Defensive, Enterprising and NCAV – and 17 qualitative and quantitative rules for identifying them.
For advanced investors, Graham described various "special situations".
The first requires almost no analysis, and is easily accomplished today with a good S&P500 Index fund.
The last requires more than the average level of ability and experience. Such stocks are also not amenable to impartial algorithmic analysis, and require a case-specific approach.
But Defensive, Enterprising and NCAV stocks can be reliably detected by today's data-mining software, and offer a great avenue for accurate automated analysis and profitable investment.