News, Vision & Voice for the Advisory Community
Nuggets of Buffett and Munger wisdom were abundant and provided a window into the Warren succession -- plus plenty of Berky Briefs and Dilly bars
May 11, 2015 — 9:30 PM UTC by Guest Columnist Gerri Leder
Brooke's Note: If you travel to Omaha, you might visit Orion Advisor Services, Ron Carson, TD Ameritrade, Securities America or a few other firms with ties to RIAs. See: How Omaha is emerging as the RIA business' center of gravity. Fewer people go there for the "experience." So it is notable that Gerri Leder journeyed from Baltimore on weekend time for an all-business, all-nonsense visit. She is a good observer and writer and graciously chose to share both ridiculous and sublime with us. The sublime is the way that Warren Buffett and his partner, Charlie Munger, interact like two guys who have played bad golf together for 70 years. The ridiculous is all the hoopla that appeals to baser materialistic desires. But the lessons for financial advisors may be as easy to ascertain. At his core, Warren Buffett is a trusted advisor who is able to provide a diversified portfolio of well-chosen stocks and to provide a quantity and quality of communications and handholding that are a requisite in an advisor-investor relationship. It tells you everything you need to know that investors travel from all over the world to be exposed to one of the best at delivering that vanilla enough package.
"Hi, I'm Warren. He's Charlie. He can hear, I can see. We work together."
With that quip, Warren Buffett introduced Charlie Munger and opened the 50th Anniversary Berkshire-Hathaway annual shareholders meeting at the beginning of May. See: 10 insights an RIA software CEO gleaned from Warren Buffett at the Berkshire Hathaway shareholders' meeting.
It set the tone for more than 40,000 shareholders who'd made the annual pilgrimage to Omaha for the event dubbed "Woodstock for Capitalists," swelling the city's population by 10%.
The appeal of value investing is universal. Sujit Jain, a young man who invests in Indian equities for private clients, had traveled all the way from Mumbai to hear the Oracle of Omaha and Munger deliver pungent insights in homespun style amid the distant din of picketers. I also met people — most repeat customers — who had traveled from Indonesia, Japan and Europe.
I come by my affinity to the Buffett philosophy naturally — I started my career at Legg Mason and continued it at the old Alex. Brown. I am a value investor and Warren is king when it comes to finding value in stocks. See: Kevin Tanner's small value-investing RIA is bracing for billions of AUM.
You could argue that all stock-pickers seek value but the difference for self-identified "value investors" is that we try to buy something for less than its intrinsic value. In other words, we try to buy something for less than it's worth. Warren Buffett is known to be better at that divining power than your grandmother at a rummage sale. See: How an Alex. Brown spin-off grew to be a $46 billion RIA and how a Brown Brothers breakaway fits in to its plan for accelerated growth.
Get'cher Berky Boxers here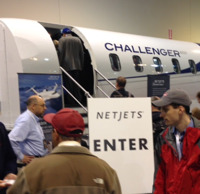 NetJets captured some of the paradoxes
of according-to-Warren value investing
In a reflection of the hoopla that surrounded and compounded the event, the company opened CenturyLink Center's exhibition hall a day early complete with NetJets replica, photo-ops on the Wells Fargo stagecoach and Dilly Bars to snack upon.
The hall was replete with discounted company goods and company mementos for sale — with discounted "merch" for those bearing the requisite shareholder credentials. Commemorative items included a 50th anniversary Berkshire-Hathaway history book, "Berky" boxer shorts and sports bras and body-wear that ran the gamut from Berkshire-branded watches and pendants to diamond-encrusted fine jewelry.
Golden nuggets
I was curious to find out what brings people back, year after year, to what Michael Lipper, the mutual fund analytics king, recently called the "always amusing and occasionally instructive Warren and Charlie show." These are sophisticated investors, families, portfolio managers and investment advisors from around the world — some of whom had camped out the night before to gain entrance to Saturday's shareholders meeting. Original A-share investors have enjoyed a 21.6% compounded annual return over 50 years, a cumulative 1.8 million percent gain. But could investors learn enough in several hours to profit from their perspective?
"His advice is timeless. The way he compares three types of companies in his 1985 shareholder letter is useful in analyzing companies anywhere," Jain said to explain his trip from Bombay to Omaha.
Others returned to get refreshed and re-energized about value investing and pin down Buffett's most current thoughts about the market. Ever wary, he sees macro-forces at work that'll make value investments harder to come by.
"Profits are worth a lot more with 1% to 5% government yields. The question is, how long they will last?" Buffett said. "If rates return to normal, these stock prices will look pretty high."
Buffett defends his operating company management vigorously. He defended NetJet's management as more than 100 pilots picketed outside the convention hall, saying that pilots have several shift options, the most popular of which is seven days on, seven off. What's more, Buffett said, the average salary is $145,000, which he called competitive.
He defended the lending practices of the management of Clayton Homes, which has been accused of predatory lending practices. Buffett believes the company's price point of $70,000 is making home ownership affordable to many families that might not otherwise qualify. "I make no apologies whatsoever for Clayton's lending terms," he said.
Expiring opportunity?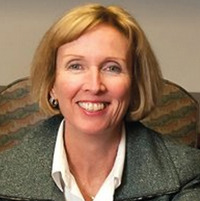 Gerri Leder: These days, an 85-year-old
male like Buffett has good years
in front of him. Even so,
why were the successors missing from
the podium?
Buffett and Munger have a history of espousing integrity and leadership as essential to maintaining a reputation and the brand that it stands for. John Landis, who directed monster hits like "Animal House" and "Blues Brothers," directed the lavish 50th anniversary industrial film created for the meeting. In it, Buffett is shown in 1991 footage testifying under fire in the Salomon Brothers debacle and addressing his employees: "Lose money for the firm, and I will be understanding; lose a shred of reputation for the firm, and I will be ruthless."
Shareholders fret that the annual spectacle will not be the same after Warren and Charlie — or will cease to be at all. It's hard to imagine the 50-plus-year chemistry between the two partners and friends — and that the resulting repartee could be replicated. Some say Charlie talked more this year than ever, and that the two practically finish each other's sentences.
Notably, no Berkshire successors spoke during the central shareholders meeting.
The usually objective pair's blind spot regards succession. These days, an 85-year-old male like Buffett has good years in front of him. Even so, why were the successors missing from the podium?
Berkshire Hathaway has a deep bench of potential successors suggests Buffett. "A CEO should have some understanding of investments, having a dual background is useful. Many of our operating CEOs have both." See: Wanted: New CEO for Edelman Financial whose name is not Ric Edelman.
Extreme mark-up
By Sunday night, pieces of schwag were being offered on eBay at a profit. Some shareholders hawked the $20 history book for as much as $150 (with several listed between $40 and $60) and the $8 Berky Boxers could be had for $25. Earlier in the weekend, two passes into the shareholder meeting — free to shareholders — were going for as much as $65 per ducat.
Shareholders weren't the only ones unsentimentally selling Berkshire-bilia. A five-bedroom house across the street from Buffett's residence, appraised at $850,000 to $900,000, was offered for sale for $2.15 million over the weekend, a 100%-plus premium. The tender: 10 shares/BRK.A, which closed around $215,000 per share on Friday.
"If someone would pay $2 million to have lunch with Warren Buffett, someone might pay that much to live across the street from him," the optimistic owner told the Omaha World-Herald.
Gerri Leder is president of LederMark Communications, an industry marketing strategy and communications consulting firm. Gerri blogs and tweets about marketing of financial advice, wealth and culture. She plans to return to Nebraska to hear more from the Oracle of Omaha.
---
---
Share your thoughts and opinions with the author or other readers.
serenitystocks said:
May 13, 2015 — 5:23 PM UTC
Benjamin Graham – also known as The Dean of Wall Street and The Father of Value Investing – was a scholar and financial analyst who mentored legendary investors such as Warren Buffett, William J. Ruane, Irving Kahn and Walter J. Schloss.
Warren Buffett once wrote a detailed article explaining how Graham's record of creating exceptional investors (such as Buffett himself) is unquestionable, and how Graham's principles are everlasting. The article is called "The Superinvestors of Graham-and-Doddsville".
Buffett describes Graham's book – The Intelligent Investor – as "by far the best book about investing ever written" (in its preface).
Graham's first recommended strategy – for casual investors – was to invest in Index stocks.
For more serious investors, Graham recommended three different categories of stocks – Defensive, Enterprising and NCAV – and 17 qualitative and quantitative rules for identifying them.
For advanced investors, Graham described various "special situations".
The first requires almost no analysis, and is easily accomplished today with a good S&P500 Index fund.
The last requires more than the average level of ability and experience. Such stocks are also not amenable to impartial algorithmic analysis, and require a case-specific approach.
But Defensive, Enterprising and NCAV stocks can be reliably detected by today's data-mining software, and offer a great avenue for accurate automated analysis and profitable investment.
---
---