This father-daughter-son team survived 9/11 but divorced Wall Street altogether 14 years later
The trigger was a demand by Morgan Stanley to sign a bank contract but there was much more that led the practice to LPL OSJ, Private Advisor Group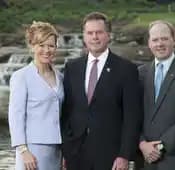 Sara Botkin [with father Les and brother Lester]: We learned that it became a fireable offense to refer clients to other banks.
---
Teresa Vollenweider
Did these folks somehow miss Morgan Stanley CFO Ruth Porat's comment about the bank not penetrating (her word not mine) their so-called clients/customers with enough products? Maybe that will ease up now that she is moving to Silicon Valley—Google. Not!
I only wish that all the so-called clients/customers of these so-called advisors and their so-called firms knew what these greedy grubbers were doing to them. What a travesty of justice.
Gene Chaas, CFA
My gosh, this is nothing new. The formerly innovative Merrill Lynch had similar promotions in the mid 1990's.
Mr RIA
It just makes my stomach turn reading about these brokers and banks. How sad for our country.
---
---
Mentioned in this article:
LPL Financial
RIA-Friendly Broker-Dealer, RIA Welcoming Breakaways, Advisory Firm
Top Executive: Dan Arnold
---
---