News, Vision & Voice for the Advisory Community
Other than a couple of willful eccentricities, the Mountain View-based start-up's engineers earn a 'well done' from our technology maven
April 29, 2015 — 4:30 PM by Nevin Freeman
Brooke's Note: This was the first time in years I've been able to convince Nevin Freeman, the original builder of RIABiz.com, to do a platform review — and even then I relied on some luck. Nevin was dropping a friend off in San Francisco from his Berkeley home at the time of the Addepar demo and my interview with chief executive Eric Poirier last week. Nevin was also curious to see the software up close again, having inspected it two years ago. And, he was fascinated to see what a bunch of A-level developers could do — or not — if given time and budget. Still, I faced one more obstacle in winning Nevin's attention. We had time to either test drive Addepar's software or the latest Tesla, the Addepar event's main lure. The Tesla drive will wait for another day and so we have a few second impressions of Addepar from a web designer who has our utmost confidence.
The second generation of Addepar Inc.'s Silicon Valley tech approach to portfolio management software is extremely well done. Last Tuesday I sat in on Brooke's interview with chief executive Eric Poirer and had the chance to see the software live on Poirier's laptop. Here's what I thought from a tech and design perspective. See: Addepar lays out world-fixing vision and rolls out upgrades at swanky The Battery event in San Francisco.
Color blind
Using Addepar's second-generation software is like using Gmail or a native iPhone app. The lines, buttons, menus, and so on are all in the right place. They're exactly the right size and exactly the right shape. In web design, we call that "pixel perfect," and they nailed it.
The only problem I can see with the interface, which is so clean it looks like it was built by Steve Jobs or even Jony Ive himself, is that it's mostly black and white.
I met the lead designer for Addepar in 2013 when I first looked at the product, and asked him about the aversion to color. He explained that the design team's guiding philosophy is to only add an element to the design if it communicates additive information to the user, a high bar apparently, and so they only used color when that was the case — no need for meaningless hues in a menu bar or a background.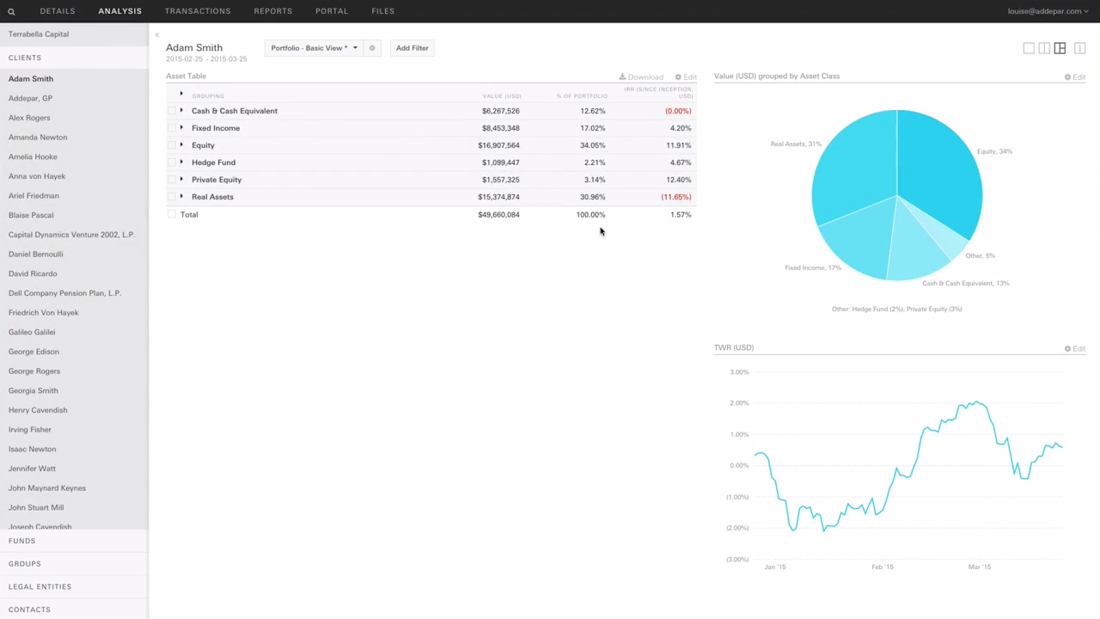 The basic outlines of the Addepar
interface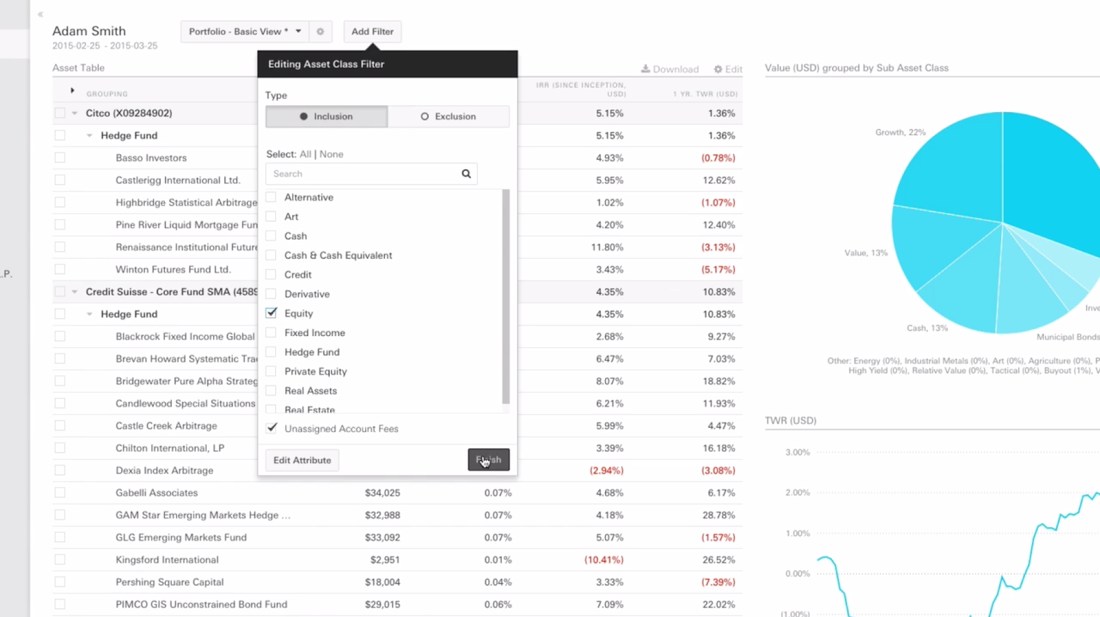 Here's what the asset class filter
looks like.
This new iteration hews to that discipline with never more than a color or two to be observed. I admire their design piety, and I'm not sure I'd trade it for superfluous flair. But for a screen that advisors will look at all day, every day, it hazards the engendering of existential emptiness.
That said, the interface does quietly mirror the branding of the advisor, and has no Addepar branding at all. You can set the "firm color" with two clicks, and then all of the charts and occasional accents that do show up are in color, but only one color, that will match your firm's look. See: Fidelity and TD Ameritrade show new teeth in RIA advertising — albeit with giraffes, and children on summer porches.
Deeply connected
The killer feature of the new version of Addepar is the report generation. It's unbelievably simple to use for what it produces. Indeed, Poirier says that a shortcoming of Addepar 1.0 was that its great reports were harder to mass produce or mass customize. See: Addepar slashes prices, opens up its architecture and shows RIA custodians some love as it confronts market realities.
All this report construction capability runs in a web browser — a testament to the engineering capacity of the Silicon Valley-VC-powered tech approach. It must have taken a large part of their team quite a lot of time and sweat to make this happen. Yes, yes, everyone can make stuff in a web browser and that's not special but not anyone can put report engineering, i.e., these features, on this level on a web browser. In the end, the reports look like they were made by a professional designer but don't demand much technical expertise at all from an advisor.
It reminds me of Microsoft Powerpoint, except that all of the charts and tables you can add to your report are directly connected to your client data. This means you can drag a chart in and it's already showing you a representation of your client's portfolio. If you want it to connect to some other set of data for that client, it's easy to change right there in the interface. This contrasts with other report-making technology I have seen at other firms that relies heavily on templates with customization dependent on contacting the software maker. (I invite competitors to disabuse me of such general notions in the comment section of this article. I have not completed a review of this kind of software for a few years!)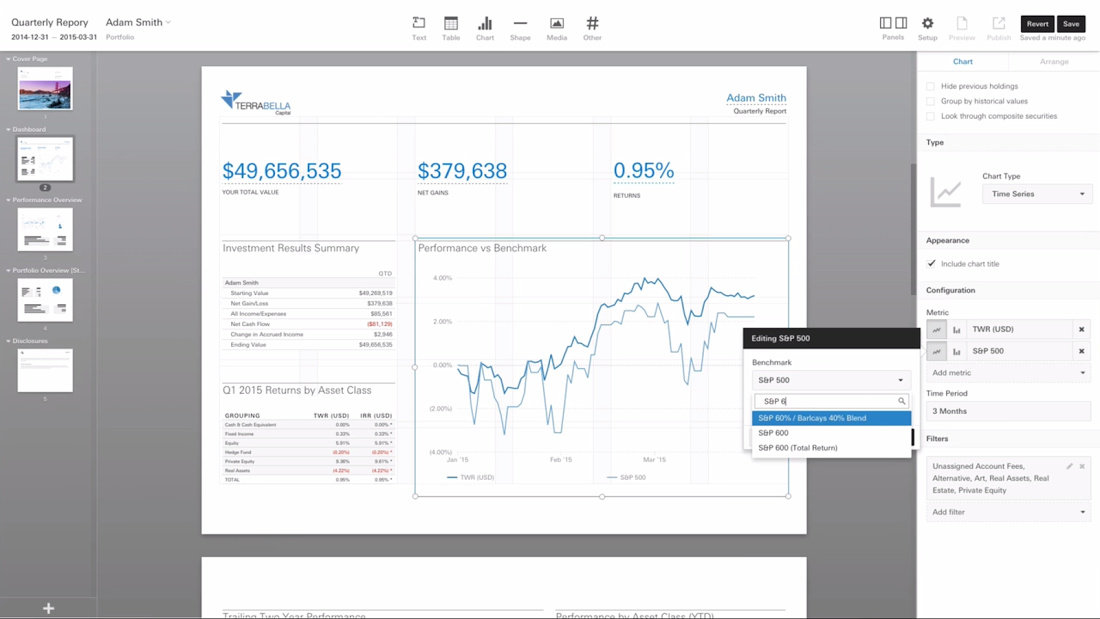 The reports interface
'Dead simple'
The overall workflow of creating reports — starting from templates, creating reports for a whole host of clients at once, editing a report to get it to perfection, and sending the report out to your clients — works just as you'd want it to. You can render PDF versions of reports and have them show up in the portal that your clients sign into from wherever they are. See: How Orion Advisor Services became a mobile device pioneer and how competitors plan to react.
Likewise, the process of setting up what clients may access in their version of the software is dead simple. They can sign in from any browser, including from an iPad. See: Advisor Tested: iPad proves ideal for advisors on-the-go; the surprise is the effect on clients.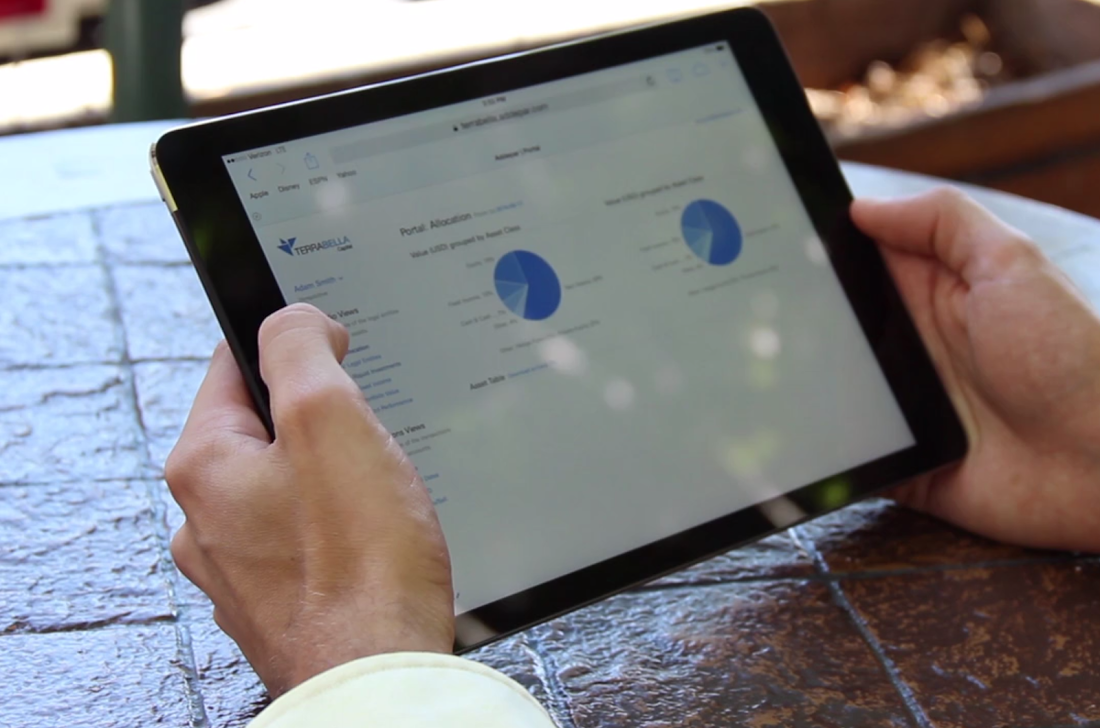 The client portal from an iPad

Sliced many ways
Behind the interface of Addepar is a hard-to-understand piece of technology but arguably the most important one: the "data model." Before you even start writing code for an application like this, you have to figure out the data model — the way you will actually represent information about transactions, holdings, people and how they are all connected, so that the user will be able to slice it from different angles.
Too much information?
Poirier says the data model behind Addepar is responsible for the application's ability to cough up exactly the information that an advisor is looking for in order to answer any question one might ask about a portfolio. See: One RIA's unvarnished views on Advent, Black Diamond, Tamarac, IAS, Orion and Schwab PortfolioCenter after an odyssey of test drives.
He noted that Addepar's functionality is overkill in relation to some advisors' needs, and that it's really meant handle up to the most complex portfolios out there — namely ones loaded to the teeth with various alternative investments, like hedge funds but also art, vineyards and bitcoin. For example, advisors who invest solely in index funds, like a DFA advisor, would likely find Addepar to be more product than they need.
But before we could talk about pricing and more of the gritty details of functionality, Poirier had to go meet the crowd at the event he was hosting. For that info, you'll have to pick up the demo baton and run a lap yourself.
At least the homepage has some color.
---
Related Moves

The tactic by the Mountain View, Calif. firm and Advent co-founder and code avatar Steve Strand comes a decade after Orion, Black Diamond and Tamarac began feasting on the legacy corpses, but Addepar insists meat remains on the bone.
---
---
Mentioned in this article:
Addepar
Portfolio Management System
Top Executive: Eric Poirier
---
---
Share your thoughts and opinions with the author or other readers.
Pete Giza said:
April 30, 2015 — 8:08 PM
Nevi,
Thanks for the review. Addepar 2.0 looks cleaner, simpler. I believe that less is more with interface design. Economy of motion is also big element in successful human appeal. It is a real accomplishment to retain the goal of simplicity of presentation when you hand the wheel over to another driver. As we know "power corrupts and absolute power corrupts absolutely" and the power of WYSIWYG reporting tools are a very sharp two-edged sword.
One the one hand it allows the user to build, within limits, whatever their whimsy. However it takes discipline to keep yourself from respinning the same report 20 times thereby ending up with 20 different versions of the same presentation. Multiply this by N clients, with X accounts, bonds, privates assets, etc., and you have a formula for tremendous complexity rather than the advertised simplicity.
An simplicity can become an issue with a user that is very happy hugging Excel and want to test, twist and analyze what the system they are using is supposed to do for them in the first place. Old habits die hard but Addepar is doing a great job of educating the market that there are a lot of great technology advancements in play in this market. I for one applaud that effort since, selfishly said, it benefits me.
Best,
Pete
Pete Giza | VP Bus Dev | WealthSite Inc | www.wealthsite.com
---
---