Peter Mangan: If you don't become asset custodians, we won't become investment advisors.
Brooke's Note: Don't confuse SSG with SSGA. State Street Global Advisors is part of the custodian to trillions of mostly institutional assets. Shareholders Service Group is run by ex-Jack White and ex-Schwab custody executives who bring a progressive and pure approach to RIA custody. They are almost as quiet as SSGA in their approach to marketing and PR, except when they hold their annual event in San Diego, and they attract a high-quality lot of experts. See: Charles Goldman will give a speech and Shareholders Service Group will make noise in the marketplace. This year SSG's chief executive Peter Mangan stepped up the noise with a bigger event and a bolder taunt at his competitors. It is still not clear just how many assets SSG serves, whether anyone at SSGA has ever heard of SSG or whether Schwab heard the taunt thrown its way, but it is clear that something interesting is brewing in San Diego as it surpasses 1,400 advisors with accounts.
"We'll make a deal with you," said Peter Mangan, chief executive of Shareholders Service Group Inc. in his welcoming remarks at his annual conference for independent RIAs.
"If you don't become asset custodians, we won't become investment advisors."
Shot across bow
"For the past 12 years since we were founded, SSG has always been about the independent RIA," said Mangan. "We are here to serve investment advisors, one of the few custodians dedicated solely to work with you."
Mangan spoke passionately about SSG's mission to support RIAs through SSG's "covenant" to protect the advisor-client relationship, with no interference or competitive poaching into RIAs ability to work and attract client relationships. "Your clients are yours and we are solely committed to support your business."
Mangan went on to provide a refreshing perspective of the absurdity — from advisors' point of view — of the much hyped "money back guarantees" certain custodians (Schwab and TD Ameritrade) by saying, "So, if the S&P is down two consecutive quarters, I get my fees back?" to laughter from the packed crowd. See: How Schwab is calling out wirehouses with its 'accountability' blitz and what collateral effects could hit RIAs.
Young blood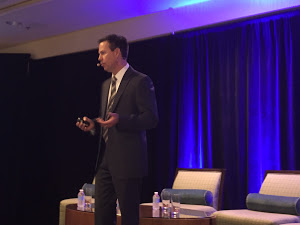 Dan Skiles The average age of
an SSG advisor is 49, and
getting younger every year, comparing extremely
favorable against the industry average of
close to 60.
Over 300 attendees gathered on Coronado Island, up from 200 the year before, along with 30 vendors showing their wares in the exhibit hall. See: A peek inside the rising RIA custodians fighting to overtake the Big Four.
"The average age of an SSG advisor is 49, and getting younger every year, comparing extremely favorable against the industry average of close to 60," said SSG president Dan Skiles, former head of technology for Schwab Advisor Services, emphasizing these themes in his keynote remarks. See: How Schwab's top tech executive for RIAs ended up with a fledgling competitor.
Collecting partners
Skiles went on to highlight the technology initiatives SSG has pursued over the past year to elevate its platform above its competitors.
"Through our many partnerships with leading technology vendors such as Pershing LLC, Black Diamond, Junxure, Wealth Access Inc, Vestorly Inc., TRX and MoneyGuidePro, you have a powerful and complete platform to compete against larger rivals and the Wall Street firms. In fact, the number one source of your new clients is from the full-service brokers."
High hopes
Skiles also touted SSG's recent deal with Advisor Partners to create a low-cost, low-minimum ETF managed accounts with all-in fees of less than 50 basis points that advisors can use to serve smaller clients, target new markets and respond to the robo threat. "We call it robo pricing, with full service support," he said.
Skiles shared the results of a recent advisor survey he had conducted to show what emerging RIAs on the SSG platform are thinking and expecting about the industry and their firms.
"SSG advisors are very optimistic about the growth of their businesses and expect to increase their investments in marketing and technology. From anecdotal answers, many of you expect to double your AUM over the next five years, with many citing the $100 million AUM number as your goal."
Weakest links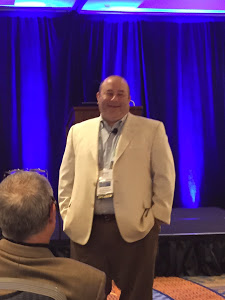 Brian Hamburger: Your cyber security is
only as strong as the dumbest
person in your office
The conference content focused on how to run a better RIA business and attracted A-list industry speakers such as Michael Kitces, Greg Friedman, Bill Winterberg, Jane Beule, Brian Hamburger and more. Beule is a financial planner in Redwood City, Calif. who founded Griffin Black, Inc. in 2001 after starting her career in finance as an analyst with JP Morgan in New York. After attending Harvard Business School, Beule moved to the Bay Area with her husband and began a 20-year career in the technology industry before striking out on her own as an advisor.
Hamburger, head of MarketCounsel in Englewood, N.J., provided an engaging overview of the current compliance and regulatory environment. Issue one on the regulatory rundown for Hamburger was cyber security. "It is a top regulatory focus item. However from our point of view, it is less about technology and more about training because your cyber security is only as strong as the dumbest person in your office." See: Schwab CEO issues 'sincere' apology, reassures on data security and calls attacks a 'fact of life' after website goes down.
Hill in the house
Wrapping up the first full day was an inspirational keynote speech from Andy Hill, a former college basketball player from the famed UCLA dynasty days of coach John Wooden. Hill, a highly recruited guard, went to play for UCLA and Wooden, but due to the quality of talent on those teams, was relegated to the bench.
"I was very bitter and disappointed with Coach," Hill said. "But looking back on my career and success in life, I owe it all to Coach Wooden and his teachings." Hill went on to become a top producer of TV shows at CBS, with hits such as "Walker — Texas Ranger" and "Dr. Quinn — Medicine Woman." These cheesy, early '90's TV shows were top hits and garnered Hill much acclaim and fanfare in the entertainment business. See: A John Wooden disciple makes 13 points to RIAs at NAPFA about how to excel.
Hill reconnected with Wooden later in life to repair their relationship and made a deep connection with Wooden, so much so that the two ended up co-authoring a business leadership book. Although Wooden's "Pyramid of Leadership" was developed in the 1930's and '40's, it still provides excellent insight into leadership development for today's businesses, including the idea that "you have to pat yourself on the back once in a while — otherwise, no one else will."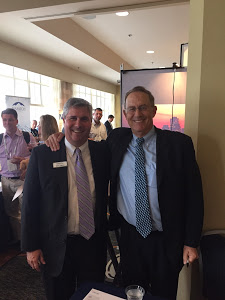 T. Rowe's Steve Larson with Andy
Hill, whose book "Pyramid of Leadership"
is still used today.
Hill spent several hours in the crowded exhibit hall signing books and telling stories, regaling advisors with funny anecdotes about what it was like to hang out with legends like Bill Walton, Kareem Abdul Jabbar and others in the 1970's. "We were all basically hippies, but Coach wouldn't let us hang out with those types, particularly when we went to Berkeley to play Cal," Hill said with a wink.
Small but mighty
Speaking of the exhibit hall, 30 vendors crowded the space and reported excellent traffic and advisor interaction. Despite the fact that the industry perceives SSG advisors as small, all of the vendors I spoke with were very pleased with the deals they completed and the opportunity to target a very focused group of advisors. So much so, that the SSG exhibit hall is now one of the top places to be on the conference circuit.
After-hours activities included a popular reception hosted by Skiles in his "Villa" (an extended suite at the Marriott) with an impressive view of the San Diego skyline, as well as an exclusive offsite dinner hosted by T. Rowe Price, featuring keynote speaker Andy Hill.
To quote one multi-year attendee, Lyman Howard of San Francisco-based Ashfield Capital Partners LLC about the SSG conference, "I look forward to this conference, actually eagerly waiting for it months in advance, as it is the right size and the content is excellent." Howard is the author of: How and why I'm starting an RIA from scratch and what I'm spending to make it happen.
To learn more about what went on at the SSG Conference, check out the many tweets on the #SSG2015 hashtag on Twitter.
Disclosure: Welsh has consulted with Black Diamond and other companies mentioned in this article.
Timothy D. Welsh, CFP® is President and founder of Nexus Strategy, LLC, a leading consulting firm to the wealth management industry, and can be reached at tim@nexus-strategy.com or on Twitter @NexusStrategy.
---
---
Mentioned in this article:
---
---
---
Pete Giza
Tim,
When I was at RedBlack I had the privilege to work with Dan Skiles on a technology partnership. In the end we were able bring advanced software to burgeoning RIA firms. It was a great experience and it was exciting to watch SSG's growth then add it is today. You always knew when you were talking to Dan or Peter that they were serious about their niche and going somewhere. I also had the privilege of attending their first venue which provided an atmosphere of friendship and valuable networking. Congratulations for giving the power to the emerging firm.
Pete Giza | VP Bus Dev | WealthSite Inc
Karyn DeJong
Great article about a terrific conference! SSG delivered a conference packed full of engaging content and valuable networking opportunities. Bill Winterberg added fuel with his 'live from Coronado' approach… and a great time was had by all! One of my favorite conferences just keeps getting better!