News, Vision & Voice for the Advisory Community
RIAs got the '$120-trillion' pitch straight from Joe Lonsdale and Eric Poirer, who say they are unveiling new software that will speak the same language to the Tower of Babel that is the RIA industry
April 23, 2015 — 6:41 PM by Brooke Southall
Brooke's Note: If I ever write a book on the RIA business this Addepar event will likely earn mention. In the who, where and what of technology, data and financial advice, it captured more than its fair share of the future both symbolically and substantively. To me, it was the first party in honor of the RIA business produced by A-level Silicon Valley types. This group believes in a trickle-up theory — making an idea work on a small scale then applying it to a wider world of bigger players. Top-notch RIAs from Robertson Stephens, Iconiq and SV Private Bank, the RIA of Silicon Valley Bank, took the floor to speak on an equal footing with the Mountain View software crowd (more in my next article about the Addepar-RIA connection). The posh The Battery, with its sparse elegance, sits outside of Silicon Valley and on the border of the SF Financial District. It is also brand-spanking new but anchored in a humble historic building. Editor Dina Hampton says it evokes the Groucho Club in London of the 1990s. The business plan of Joe Lonsdale and Eric Poirer is to clone Yale endowment chief's David Swensen's strategy by giving financial advisors the ability to manage alternative investments as a major slice of their portfolio — starting largely with RIAs and family offices. Once that happens, the trickling up can really begin for advisors at a CalPERS-like level in the United States and at a sovereign level worldwide. We've said all along that the RIA business is both a niche and a channel in the narrow sense, but more broadly where all assets will end up. It is a template for the management of all manageable assets the world round.
Addepar Inc. is angling to manage a major chunk of a $120 trillion of assets under management on Earth, including pensions, sovereign countries, private wealth and endowments, by attacking the challenge as a data management problem first and a design and analytics problem at a close second.
That's the Addepar version of thinking I picked up from its chief executive, Eric Poirer, and its founder and chairman, Joe Lonsdale, as they announced improvements to their firm's software at a Tuesday evening event held at the nouveau-clubby The Battery in San Francisco. Top of the list of upgrades was making all the technology accessible on a web browser and making its performance reports far easier to mass-customize.
But what is most impressive really is not really visible.
It's broke; fix it
The Mountain View, Calif.-based firm is positioning itself as the United Nations of a relentlessly Balkanized custodial system — 7,000 banks, brokers and other asset custodians — and thus 7,000 ways of dealing with data, Poirer says. See: Addepar means to be the only technology platform RIAs will ever need — and has MIT minds and PayPal money to back it up.
"Why is finance so broken?" Poirer asks. "You need to make systems that talk to each other. There are 10 or 20 custodians just for a mid-sized RIA. It's just a giant mess." See: A peek inside the rising RIA custodians fighting to overtake the Big Four.
On the chance that any wealth manager remains unmoved by Addepar's attempts at superimposing a lingua franca on tribal dialects, Poirier and Lonsdale are doubling down by delivering a silky, designed-to-the-teeth product that they say cannot be compared to any software in any advisory industry, or any financial software at all, for that matter. Addepar users have already experienced these changes and the event was more of a formal debut. (RIABiz technology reviewer Nevin Freeman accompanied me to interview the two men and witness a demo and came away convinced that, at least superficially, these claims have some merit. Upon seeing the software, he filed this review: See: Nevin Freeman pops the Addepar hood to see what $50 million of coding can do for RIA software.
Robo what?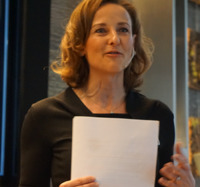 Addepar's chief marketing officer Barbara Holzapfel
joined the company in November.
Underpinning Poirer and Lonsdale's vision about what they can do with $65 million of VC funding and cash flow generated from $300 billion under advisement is a faith in the technology produced by their 130 employees, many of whom are summa cum laude MIT types. Lonsdale's day job is working at Formation 8, the venture capital firm of which he is a founding member.
A second Addepar underpinning is their faith in the ability of financial advisors to continue to rule the wealth management realm, with the corollary that robo-advisors are tragically flawed. The "robo" word never passed the lips of the 100 or so attendees at the Addepar except in response to leading questions from me. Vice president of product Joel Beal was the only one from the Addepar team to make even a whiff of a reference to robo technology during the demonstration of Addepar software before the panel discussion. See: Takeaways from a New York Times article about Addepar. He noted that the Addepar consumer portal will receive some big attention in coming months. Most Addepar focus has fallen on the advisor portal during the past two years so there is some catching up to do.
But advisors come first for Addepar and Lonsdale is adamant that advisors hold an unassailable position in wealth management.
"The idea of disintermendiating advisors I thought was ridiculous," he said, adding that it's necessary to remove impediments that stand between the financial advisor and the delivery of quality advice to clients.
Customer experience
Poirer reinforced that message, saying that trust and relationships are at the center of stewardship of wealth and therefore require direct human intervention. See: How to hold 1,000 hands: Robo CEOs lay out a stark choice for traditional advisors at MarketCounsel Summit.
A CLS Investments study released today shows that 97% of advisors believe that they are under no threat of being usurped by "robots." See: Orion and Jemstep form first big marriage of non-robo and robo software — at advisor behest — to create RIA e-commerce.
But he adds: "Clients want a superior consumer experience — like they would have with Amazon or Zappos — regardless of what they are trying to do, be it buying shoes or planning for their retirement and this is, in part, what the robos provide. Using technology to help create that experience is the inevitability that advisors face."
Innovation? Think small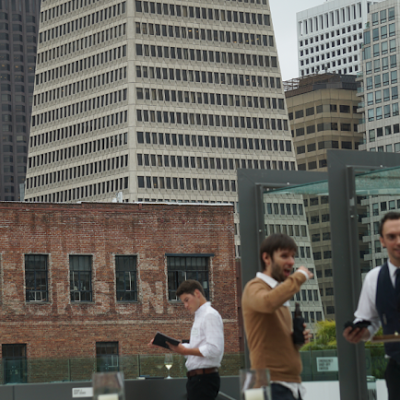 The Battery is at the doorstep
of the San Fran Financial District
in a SOMA-, SoHo-style building.
Lonsdale drew a parallel between what the best advisors are doing for the most sophisticated clients and David Swensen's making the management of the Yale University endowment funds the envy of the financial world. Swensen, he said, has demonstrated that exposing client assets to alternative investments, including hedge funds and private equity, can produce benchmark-busting returns over the long haul. See: The Yale endowment model of investing is not dead.
In an interview before a panel discussion, Poirer allowed that some big players like CalPERS are going the opposite direction toward passive investments — a tacit capitulation to the inordinate challenge of Yale-style investing. See: What I learned from the CalPERS meeting in which the 10 Beliefs were unveiled — and why I came away mystified.
But Addepar's faith in a giant growing pie of alternative investments relates to a meta-observation about how wealth creation — hence the best investment opportunities — occurs in the first place.
"Where do the talented people in my generation want to go? asks Lonsdale, 32, who co-founded data analytics firm Palantir Technologies in 2004 — a firm that venture capitalists recently valued at $15 billion.
"It's small companies. That's where innovation is happening. He adds that Addepar caught on early to that trend as technology puts the little guy on a level playing field with big guys.
"As an investor you need to find out how to be exposed to that and you need intelligence related to value. I'm passionate about helping advisors with that." See: How the RIA business made a dent at the 2014 Finovate conference in San Jose.
All-in-one summary
To reinforce his chairman's point, Poirier added that financial advisors who track alternative investments are using spreadsheets as a primary tool of uncovering value in portfolios that contain alternative investments. "To me, that's really irresponsible." Poirer adds that his firm produces a Holy Grail of sorts — the one-page summary of all a client's holdings, no matter how many asset classes are involved.
Poirier told me that he still speaks with Lonsdale three or four times a day. When I passed that thought along to Lonsdale, he quipped in an interview that it's "probably more like two or three." But both agreed that they are good sounding boards for each other in an ongoing priority tug between long-term and short-term objectives. See: Addepar hires in the direction of revenues — and maybe even an IPO.
"I make a better chairman than a CEO because there are 10 things I want to focus on," said Lonsdale on the panel. See: Addepar hires an Advent talent to help head sales, an ex-Lehman exec as COO and an ex-Merrill Lynch strategist.
Mystery bed
It was not always easy for an RIA reporter to focus in the gentleman's-club-meets-TED-talks setting that is The Battery. My visit started inauspiciously when I raised my camera to take a picture of the posh lobby restaurant. A waiter waved me off, explaining that photos are forbidden. I later got permission to take photos of the event proceedings held on the fourth, top, floor.
I first knew I wasn't in Mill Valley anymore during an hour-long, pre-event interview with Poirier in a room featuring a mammoth four-poster bed surrounded by movie cameras. The purpose of the cameras remained a mystery to all but somebody clarified that the big conference space atop the recently opened The Battery (its website cautions members and visitors to retain the "The") is part of a penthouse suite, hence the sleeping accommodation.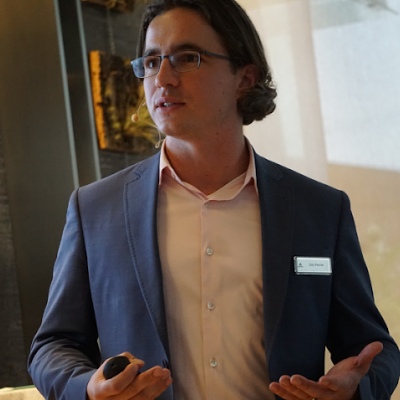 Eric Poirier: To me, that's really
irresponsible.
The adjoining patio took up a half-acre of space and was dotted with potted artichoke plants and commanded views of the Bay Bridge and — right up close —the TransAmerica building. Bill Gates and Jon Chambers, your pied-à-terrace is ready. Never mind Mark Zuckerberg who has his own.
Of Lehman and laymen
Back to the interview. Poirier related that he had started his first technology business — one that performed stress testing of websites — at age 15, and that his first big-time client was eBay. But what really set him on his course to transform financial data was his stint at Lehman Bros. helping clients and in-house traders to analyze bonds. The technology, he says, was so 1980s that "humans were used as middleware." See: Addepar has two new 'grown-up' leaders but the same mantra: double down, triple down then quadruple down on engineering.
I asked Poirier whether Addepar is, in effect, using advisors as middleware for the technology it produces. No. The difference, he says, is that Lehman was using humans to do the low-level bridging work best suited to computers. Addepar is designed to help advisors do what advisors do best — build trust and relationships by piloting a client's wealth, with the assistance of the best radar.
The only bad news about the event was that I never got the test-drive of a Tesla that promised in the invitation. It was my own fault. The organizers put a paper bracelet on your wrist if you expressed interest. Lose the bracelet, you lose out on the drive. I lost mine. How? The bartender clipped it from my wrist when I got a glass of wine.
Speaking of Tesla, Elon Musk got quoted at the event for saying: "If you produce a product that needs an owner's manual then you're already lost."
I liked that.
---
Related Moves

The tactic by the Mountain View, Calif. firm and Advent co-founder and code avatar Steve Strand comes a decade after Orion, Black Diamond and Tamarac began feasting on the legacy corpses, but Addepar insists meat remains on the bone.
---
---
Mentioned in this article:
Addepar
Portfolio Management System
Top Executive: Eric Poirier
---
---
Share your thoughts and opinions with the author or other readers.
Kenny said:
April 23, 2015 — 9:08 PM
Kevin said:
April 24, 2015 — 4:05 AM
---
---