Joe Duran: We think this is the closest example to what Dimensional Fund Advisors does.
Brooke's Note: Entrepreneurs are most fun to watch when they are doing what big firm managers can't — tinkering nimbly. Joe Duran has taken so many plays out of so many books that you need a scorecard to keep track. It's fun to follow. It's enjoying success by reasonable measures. But in editing this article, I encountered a paradox. On the one hand Duran has put the chief creative officer of Starbucks on his board to get close to the embodiment of coffee brand magic. On the other hand, Duran cites DFA as a brand whose success he might most like to emulate in the advisor business. DFA is about as un-Starbucks a brand as I can think of. Does DFA even have an advertising budget? What percentage of Americans have heard of Dimensional Fund Advisors, never mind could explain what makes them tick? These are not insinuating questions. The great truths are paradoxes. Joe, I am just encouraging you to help a marketing novice like me (perhaps in an RIABiz column) reconcile the various facets of brand.
Joe Duran's roll-up model was originally about poaching IBD reps and turning them into a large national RIA. See: Joe Duran explains United Capital's 100% revenue growth to $100 million since 2012 and the firm's complex plan to grow faster.
Now the founder and chief executive of Newport Beach, Calif.-based United Capital Financial Advisers is doing quite the opposite — adding an IBD-like 1099 program and, separately, buying up great big pre-existing RIAs — in a bid to capture some of the mojo of DFA.
"We think this is the closest example to what Dimensional Fund Advisors does," Duran says. See: Dimensional Fund Advisors still has low RIA acceptance rate and stunning growth.
DFA is not a roll-up or broker-dealer but the Austin, Texas-based mutual fund company has created a growth machine that accomplishes similar business objectives by cultivating what many believe is the most loyal group of advisors in the advisor business. Much of that loyalty derives from its training of advisors in Santa Monica, Calif. and making them privy to its secret formula. See: Dimensional's co-CEO tells clients at Monterey event that DFA is changing its Classic-Coke intellectual fund recipe.
Back to school
United Capital has its sights set on duplicating that harvest of loyalty through quality training. But it needs trainees with assets. To that end, its new tack involves affiliating with advisors who advise less than $1 million in annual revenue as independent "1099" contractors as opposed to employees that sell their practices to United Capital.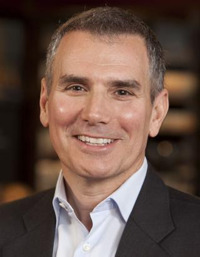 Recruiting Arthur Rubinfeld, Starbucks' brand maestro,
onto the board of directors is
a 'big coup' for United Capital.

"We had a lot of advisors approaching us who had less than $1 million in revenues and less than $100 million in assets," Duran says. "They're not big enough for us to acquire them yet. But they've come to us and asked to use our platform. We're going to give them the 1099 and when they get to the right size of $1 million in revenue, then they can become a full office. It becomes an honor to be here and a privilege."
Creative officer-in-chief
As another enticement to advisors, United Capital seeks to build a brand that is known outside of RIABiz readership. As part of his quest to become a national brand, Duran has tapped the chief creative officer of Starbucks, Arthur Rubinfeld, to join United Capital's board of directors.
"Arthur is helping us with our positioning and now we're thinking about going to market and how do we become an appealing retail brand. He's done an incredible job. This is a huge coup for us. We've been working on bringing him on for two years."
Rubinfeld, who came aboard Starbucks in 1992, left the coffee chain for a while and founded Airvision,a brand and retail development consultancy, in 2002 and its clients include Adidas, Oakley, Microsoft and Omaha Steaks.
Rubin carefully vetted United Capital before signing on.
"He has a very busy schedule and he obviously needs to be convinced that it's a good use of his time," says Duran. "He came down to our executive seminar and spent the full three days looking at what we're doing to ensure he was partnering with the right group."
Brand in hand
Even as United Capital develops a new channel, it is putting two new pins in the map by acquiring a pair of RIA firms with a collective $625 million in assets under management: CS Capital Management Inc. of Indianapolis and PRI Investments Inc. of Chapel Hill, N.C. United Capital has $13 billion in assets under management. See: How United Capital's unconventional rolling up of a $2 billion RIA reveals how close the roll-up model is to extinction.
The United Capital brand has suction with advisors already, he adds.
"This is a national brand and we've already brought in several 1099 advisors. We have brought in $200 million to $300 million in assets and expect it to be more than $1 billion in assets by the end of this year. We've got a huge pipeline." See: HighTower throws open its doors to non-partner firms who want service and/or brand.
But brands and pipelines are imperfect leading indicators. No roll-up has a brand any more gilded than New York-based Cantor Fitzgerald LLP, which is stagnating as it undergoes apparent leadership change, a deal drought and a failure thus far to hit the $5 billion AUM threshold.
On the other hand, another name brand in roll-ups, Beverly Farms, Mass.,-based Affiliated Managers Group Inc. is starting to live up to its brand under John Copeland's leadership. See: AMG is suddenly among the RIA roll-up elite after the Baker Street deal pushes it past $25-billion of AUM.
---
---
Mentioned in this article:
---
---
---
Stephen Winks
United Capital and Starbucks are closed end value propositions, you drink the cool aid and have a singular focus, not a lot of moving parts. It is a great model but only if you are as good a one can possibly be as an advisory support firm. Given the fluidity of advisory services and the inability of broker/dealers to support professional standing, if United Capital materially upgrades its expert authenticated advisory services support it could be world beating in its simplicity, ease of execution, and professional standing (technical competency).
It is the ultimate free market application. They give the consumer what they want demonstrably in the client's best interest relative to expensive conflicted brokers who are not accountable for their recommendations or have interest in the ongoing well being of the consumer, as required by statute. Their advisors simply sell they are doing the right thing while brokers can not and will not do the right thing.
Pretty simple marketing, while the brokerage lobby contemplates its self interest.
SCW
Stephen Winks