Schwab Intelligent Portfolios is now evocatively named 'Blue'
Brooke's Note: It's on and there is much more to know about Schwab's foray into automated, semi-customized portfolios. What jumps out at me, besides replacing the polysyllabic amalgam, Schwab Intelligent Portfolios, with 'Blue', is people. Schwab is availing services to robo-clients, and not just with access to call-center people in the Vanguard-phono mold. People in Schwab branches are poised to help, too. That involvement of helpful folks is a by-the-way detail from Schwab that is more than a little notable.
After promising delivery by March 31, The Charles Schwab Corp. has opened its robo-effort for business, giving it a whimsical, IBM-evoking brand: "Blue."
The San Francisco-based firm announced on Monday that investors can start signing up for Schwab Intelligent Portfolios, which will build portfolios for clients from 54 different ETFs and 27 asset classes to provide investors with personal portfolios.
Starting Tuesday, Schwab will launch an advertising campaign online, in print and on television featuring, "Blue, the personality behind the algorithm that builds and manages the portfolios." To be eligible for automatic rebalancing, investors need $5,000 or more invested. To be eligible for tax-loss harvesting, investors need to invest $50,000 or more.
The official name is still Schwab Intelligent Portfolios but "Blue" is meant to be the personality behind the algorithm and that may hark back to IBM's Big Blue. Over the years, securities analysts nicknamed the IBM computer for its size and common use of the color in its products. Schwab's corporate colors tend to be blue and tan.
"Ultimately, this should be better at giving advice than a human being," says Bill Doyle, an analyst with New York-based Forrester Research Inc. "I think it's interesting that they have created a personality. IBM and Watson decided the same thing." Watson can beat human chess masters. Doyle says his firm was briefed by Schwab last week about Blue but that his firm does not provide any consulting work to Schwab.
Blue tooth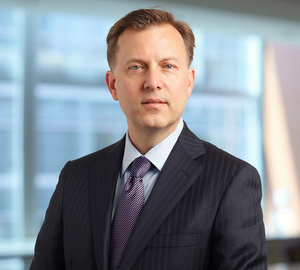 David Koenig will fly co-pilot to
Schwab's 'Blue' algorithm as a relatively
last-minute hire to the robo-subsidiary.
Schwab has also given the Blue algorithm itself some human intervention in the person of David A. Koenig, chief investment strategist at Schwab Wealth Investment Advisory. Koenig, a chartered financial analyst, is a former reporter for the San Francisco Chronicle who was hired away from Russell Investments in February where his title was investment strategist, indexes. He was perhaps the Russell executive most often quoted by the media. See: How Russell is faring since joining the competitive ETF party with an all-star ex-Barclays crew.
Koenig will perform a number of duties robotic and otherwise, according to Schwab spokesman Mike Cianfrocca. "In that role, he helps develop the investment strategy underlying Schwab Intelligent Portfolios and also writes articles, white papers and other types of resources regarding investment strategy, asset allocation, ETF selection, tax loss harvesting, and market and economic topics," he says.
Price war
Using "Blue" for the algorithm is a bold effort to stand out among a variety of Schwab channels vying for investor attention.
"The branding around the new service and the use of Blue is designed to break through the clutter and signal that something different is now available from Schwab," Cianfrocca says. "We think people will relate to the wit and wisdom of Blue, who personifies the algorithm behind Schwab Intelligent Portfolios. Blue is trademarked, yes. The ads will launch tomorrow, so people will be able to see them then."
Schwab is also advertising that there are no advisory fees, commissions or account services fees. Still, the firm had to report otherwise to the SEC. See: Schwab tells the SEC its robo-advisor has a 30 basis-point fee and big-time cash allocations held by Schwab Bank.
Doyle is convinced that this digital arena will feature multiple winners and certainly Schwab's entrance will push down investment management fees.
"Digital investment managers slash the price of managed accounts — and Schwab comes in at the low-water mark. When investors realize that a managed account can be had for free, or a fraction of what they have been paying, they'll push back, and incumbent firms will be forced to lower their fees for portfolio management and active asset management," Doyle adds in his report. See: Fidelity loses some RIA assets over its new DFA/Vanguard fees but other RIAs crunch the numbers and soldier on.
ETF-powered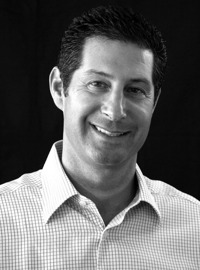 Steve Lockshin: There were a lot
more clicks to sign up then
I'm used to and there's a
lot of words in the signup.
But I don't want to be
in that much cash.
But Schwab is nowhere near the low-water mark, according to Patrick O'Shaughnessy, Raymond James' analyst covering Schwab. He says that Schwab will likely earn revenues of about 75 basis points on its robo-assets.
The O'Shaughnessy determination of 75 basis points being earned in revenues by Schwab is "thin," according to Cianfrocca.
"The assumption of a 75 basis points "cost" is based on a frankly flawed analysis," the Schwab spokeman writes in an email. "For example, that amount is assumed based on a 0% long term return on cash, which we know isn't true. Returns on cash react to a rising interest rate environment quickly. The cash allocation at 15% is also an extreme example and not representative of what most investors profile will suggest. The assumptions seem to be pulled from thin air."
In its disclosures, Schwab allows that it will earn revenues by sweeping cash to a low-interest account at Schwab Bank and through the underlying Schwab ETFs used by the program, or the-third party ETFs that generate fees by trading on ETF OneSource. In addition, Schwab may receive payments from the trading firms and exchanges where ETF trade orders are sent, according to the disclosure. See: 10 reasons why Schwab's move into ETFs may be an even bigger deal than it appears.
As much as 30% of a portfolio's assets could go to cash and there are bank deposit fees. Customers who have tried out the service thus far say in reality about 8% is being pushed to the bank.
Large cash position
Steve Lockshin, chief executive of AdvicePeriod and investor in competitive robo,Betterment, questions the cash allocation in Schwab's account. He signed up on Monday for Blue as a "hyper aggressive" portfolio and the results were that 7% was invested in cash.
"There were a lot more clicks to sign up then I'm used to and there's a lot of words in the signup," he says. "But I don't want to be in that much cash. I listed that I had a 25-year-time horizon and that I can handle volatility.
Lockshin says the long-term costs of sitting in cash add up.
"Let's say my expected return is 10% on an all equity portfolio but for the cash. Schwab is paying the investor 12 basis points on cash. So, basically I'm getting compared to 10% on 7% of my portfolio."
Schwab defends its use of cash as an investment.
"We're not alone in using cash to diversify a portfolio," Cianfrocca writes in an e-mail. "The independent Registered Investment Advisors who custody at Schwab today hold that amount in client cash on average. Many others as well. The BlackRock Global Allocation Fund, for example, one of the largest with more than $50 billion in assets under management, currently has a cash allocation of approximately 15%."
He continues: "Cash is an investment. Look at any Morningstar category and at the set of mutual funds with that category and you'll see cash levels of all sorts."
'Trillion-dollar opportunity'
While Doyle is convinced Schwab has a success on its hands, he doesn't think Schwab will run away with the market.
"My basic thought is this is not the winner takes all. Sometimes, in Silicon Valley there is that mentality that you want to be the lead dog or you won't matter at all and this is not that kind of market at all." See: Can Schwab, six years late to the robo party, 'freeze the market', catch up and blow doors?.
There's no question Schwab is chomping at the bit to grab onto current clients, Doyle says. "I think they're probably licking their chops because 81% of Schwab clients who expressed an early interest weren't being advised."
Schwab puts its market opportunity at $400 billion and Doyle estimates it could be much bigger overall.
"I think it is a trillion dollar opportunity," Doyle says. "The notion of software driven recommendation and algorithm driven by managed accounts is huge. I think there's pent up demand and that we'll see some interesting and strong numbers for the opening of this product."
---
---
Jeff
Don't drink the Kool-Aid. Another example of the "new" diet soft drink or "light" cigarette marketing. To think that investing is nothing more than "forking over" the cash and let someone else or some algorithm will bring us all to investment success is ludicrous. Active particip154ation by the investor is proper and should be expected.
Stephen Winks
March 10, 2015 — 10:09 PM
Interesting and telling comments from Schwab and ROBO Advice detractors. They miss the point that Robo Advice is essential if one is going to render continuous, comprehensive counsel required by statute for fiduciary (professional) standing as it takes the advisor beyond the human three dimensional limitation to reason. [If you wanted to manage the six values of risk, return, tax efficiency, cost structure, liquidity and time for 500 clients, utilizing the ten thousand investment alternatives at your disposal you would have to manage a three billion dimensional equation in real time in order to add value which is not humanly possible].
Schwab Blue and better iterations to follow will change how we invest for the good of the investing public. For those that question investment strategy, everything is relative. How well do they fare in a competitive comparison over time? Schwab Blue might interject a little humility when it comes to performance and ultimately professional standing which is so illusive in todays hyperbole. Wall Street, both brokerages and custodians, might want to wake up—before they are left behind.
SCW
bv
March 10, 2015 — 12:48 AM
Well this is the jump the shark moment for me. Ive been using low cost etf indexes for.years.. now everywhere u turn everybody is doing it… mint..schwab…and many many othe robos out there. "Automatic investing… algorithim investing.. ha ha .. lipstick on pig. Definately time to go active… i see deep value funds and anything non index setting up for a run…. my question… why not just use the ishares allocation etfs… been aro7nd for y years… low cost… it is becoming very crowded
Jack Waymire
An established robo may charge 25 bps + 25 bps of ETF expenses for its services. Schwab charges 75 bps including the ETFs for its services. Schwab bank fees are the frosting on the cake – probably makes its profit model work that much better. It stands to reason brand names can charge higher fees than non-brand names. Since the focus appears to be accounts under $100,000, I guess RIAs are not supposed to be threatened by this service. I wonder what Schwab is disclosing to investors in the fine print? The devil is in the details.
Sonia
Trillion Dollar Opportunity ! Schwab rolled out much awaited platform. Consumers get it for free but Schwab makes 75 bps through other avenues!
Maury
Jack Waymire – Schwab doesn't charge 75 bps, they charge 0 bps + at most 26 bps in the underlying expense ratios of the ETFs. Let's not confuse people.
A Raymond James Analyalyst (Conflict of interest flag there…) wrote a report saying that by having ~15% in cash in, investors are giving up on a 5% return they could have had with that money instead. Thus the OPPORTUNITY COST is 75 bps by his calculation. Never mind that you'd also be taking on more risk.
There is no management fee…
Jeff Spears
One one more thing…you can call us 24/7 with your questions.
Schwab just dropped the mike.
Adam
"I just don't trust Schwab. I don't feel they are a good partner. They do provide some decent services, but so does everybody else," this advisor said.
https://wealthmanagement.com/rias/crowded-out?NL=WM-13&Issue=WM-13_20150306_WM-13_566&sfvc4enews=42&cl=article_1&YM_RID=CPG09000002762903&YM_MID=2143&elqaid=2143&elqat=1&elqTrackId=3d3bd4b8f1a746ce9a2a8a901c1bc4b5