News, Vision & Voice for the Advisory Community
In a business starved for beyond-the-books talent, executives are turning to a largely untapped gender
March 6, 2015 — 8:53 PM UTC by Lisa Shidler
Brooke's Note: The reason you hire women into the men's world of wealth management is to gain translators to that sphinx-like gender, one which never seems to know what it wants. Or so the thinking goes — especially as it sinks that women control way too many unadvised assets. But as the trickle of women hires into the RIA business begins to look more like a gusher, it's clear that hiring decisions have a deeper basis. This story by Lisa Shidler gets at that as the Department of Labor reports today that the unemployment rate hit 5.5% for the first time in forever.
Alex Potts was flipping through a few hundred resumes last year. The chief executive of Loring Ward Group Inc. in San Jose, Calif. was overwhelmed by all the credentials and underwhelmed by the candidates in a hunt for his firm's next chief investment officer.
He needed an investments expert who could intellectually stare down a legend in the field of economics — but that person better also be able to talk modern portfolio theory to mitten-knitting grandmothers and their advisors.
"You've got to be able to go toe-to-toe with Dr. Harry Markowitz but also sit down with an advisor and be compassionate. When you look at that lens, there were very few people who passed the litmus test," Potts says. Loring Ward's board includes Nobel Laureate Markowitz and behavioral finance pioneer Dr. Meir Statmen as well as Joni Clark, Loring Ward's outgoing chief investment officer whose health issues have reduced her work hours.
Finally Potts, whose DFA TAMP manages $12.4 billion, came across the resume of Payel Farasat, 36, which he almost tossed when he saw that her beginnings were as an Ameriprise rep. The Minneapolis-based broker-dealer is known to provide top-flight training but being a broker there isn't usually a bridge position to a CIO role.
Big stuff
But as Potts looked more closely, some details popped. Farasat wasn't just a University of California at Berkeley grad; she enrolled at the age of 16 after coming to the United States from India at 14. The prodigy earned a BA in economics, with a double minor in computer science and business administration while most people are learning algebra.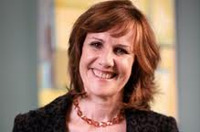 Patricia Farrar-Rivas: We've had different career
paths and remained friends. Whenever I'd
run into her, I'd say: 'whenever
you're ready to join Veris come
talk to us.
Despite Farasat's bookish beginnings, she deliberately eschewed the gilded path afforded branded brainiacs. Farasat chose life as an Ameriprise broker serving the mass affluent — where results, not beta-this and alpha-that, are tangible.
"I needed that experience at Ameriprise," she says. "It taught me how to build a practice from the ground up and how to help individuals and how to advise grandparents and parents. There's a lot of humanity to being an advisor. You become very humble when you have to sit across from clients and manage their life savings. This is big stuff."
Farasat stayed at Ameriprise for seven years and built a book of business before joining San Francisco-based Charles Schwab & Co. in a series of executive roles. Farasat left Schwab three weeks ago to join Loring Ward.
High-caliber hires
"I think the trend of more women coming into the industry is a really positive trend that should only continue by the majority number of women versus men graduating from the universities across the country. Bottom line, we need more qualified folks helping advisors and their clients — men and women," Potts says.
Farasat's hire turned out to be one of three of that caliber in which RIAs brought aboard high-powered women to fill high-profile roles.
Jane Swan, 41, left her job as portfolio manager and vice president for New York-based Northern Trust Corp. after 15 years of managing about $500 million in assets, to join Veris Wealth Partners LLC, an impact investing RIA with about $700 million in San Francisco.
Separately, New York-based Lebenthal Asset Management, the asset management division of Lebenthal Holdings LLC, acquired a minority stake in New York-based AH Lisanti Capital Growth LLC, a New York-based woman-owned RIA with a focus on asset management and small-cap growth. Lebenthal has $2 billion of assets. See: What exactly lured a sparkling Morgan Stanley advisor and $1.2 billion to a retreaded brand name attached to a fledgling RIA.
Doing the math
Taken together, the moves indicate that women are gaining traction in the wealth management arena, says Marie Swift, president and chief executive of Impact Communications Inc..
"As I read through the three announcements I found myself smiling and nodding. At one point, this thought crossed my mind: See, girls really can do math.' While it is always great to see women excel in tough fields, I am never really surprised to learn of accomplishments such as these. Women have been blazing career paths in companies that value analytical abilities and a high level of discipline for as long as I have been a part of the financial services industry." See: Top RIA business executive recruiter chides 180 women gathered in a New York ballroom for second-guessing themselves.
The growth of women in these organizations is exciting, says Marion Asnes, president of the Idea Refinery LLC, who was formerly editor-in-chief of Financial Planning magazine and chief marketing officer of Envestnet Inc..
"The financial industry has not been welcoming to women overall, as evidenced by the findings of the CFP Board's Women's Initiative. It's nice to see some of the ice breaking. Let's hope we continue to hear about women's successes. See: Long the underdogs, female advisors are actually winning in two important categories, a study based on $3.5 trillion of AUM shows.
Asnes adds that it is affirming to know that the firms hiring women have a track record in that area.
"I think it's interesting that all three of these organizations already have women in positions of leadership and are adding to their ranks."
Women-powered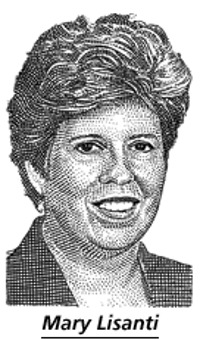 Mary Lisanti: I knew who Alex
was because there aren't many female
CEOs.[Credit: Dow Jones]
Two of these three firms have women serving as chief executive officers.
In 2012, Fortune magazine dubbed Alexandra Lebenthal, 50, the new queen of Wall Street. See: How Frank Campanale's heist, so to speak, of young BNY Mellon Wealth Management stars fits into a bold millennial strategy. Veris also has a female chief executive in Patricia Farrar-Rivas. While Loring Ward's Potts is a male, Farasat is replacing the firm's female chief investment officer, Joni Clark, who is well respected in the industry. See: Dynasty Financial and Black Diamond combine to pick off a big family office helmed by women.
"I think it says a lot about my firm that I'm the second chief investment officer here who is a woman," Farasat says.
Staying woman-owned was important to Mary Lisanti, 58, which is why she agreed to sell a minority interest to Lebenthal, who is the largest single owner in Lebenthal Asset Management, but is not majority owner. That means if Lebenthal were to acquire a majority stake in Lisanti's firm, a woman would no longer be the majority owner. See: What exactly lured a sparkling Morgan Stanley advisor and $1.2 billion to a retreaded Lebenthal brand name attached to a fledgling RIA.
"It was important for me that my business remain woman-owned," Lisanti says. "We're very excited about Lebenthal and I think it's going to really help the firm grow." See: Dynasty Financial and Black Diamond combine to pick off a big family office helmed by women.
Lebenthal would not disclose the percentage of ownership stakes that changed hands in this deal.
AH Lisanti Capital Growth LLC will operate as Lebenthal Lisanti Capital Growth LLC following completion of the transaction. Lisanti, a 35-year-veteran, will remain president of LLCG and she and Alexandra Lebenthal will be on the board of managing members. Lisanti is the firm's largest shareholder.
Growing network
Lisanti and Lebenthal knew of one another before they met.
"I knew who Alex was because there aren't many female CEOs," Lisanti says. Lisanti founded her firm in December 2003 and it manages nearly $290 million in assets. Her firm had been the wealth management arm of the investment bank, Adams Harkness & Hill, but Lisanti became majority owner in 2005. See: How Abby Johnson won the hearts of mega-RIA clients in advance of taking the CEO spot at Fidelity Investments.
Lebenthal is convinced Lisanti's contribution to her company will be significant. "The day she came in and there was a connection there. It was one of those meetings where you really felt this is going to work. I've been vocal about opportunities for women out there," Lebenthal says.
Veris chief Farrar-Rivas has known Swan for 18 years. They worked together at Progressive Asset Management Inc. in Oakland, Calif. and stayed in touch.
"It was a starting ground for both of us," Farrar-Rivas says. "We've had different career paths and remained friends. Whenever I'd run into her, I'd say: 'whenever you're ready to join Veris come talk to us.'"
New direction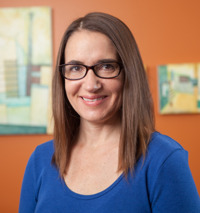 Jane Swan: It's a complete intersection.
Personally, it's aligned with my values
and professionally this set of investment
products that is only available to
investors on a very limited scale
now.
Veris is an impact investing RIA and Farrar-Rivas says the firm is growing about 15% annually. In the past, she acknowledges that investors only imagined a piece of their investment portfolio being used for impact investing, but she now sees more investors that want their entire portfolio in impact investing. See: How Ron Cordes is putting RIA, UBS, billions of dollars and the Congo into the same impact-investing conversation.
Swan is likely to bring over a good chunk of the assets she managed at Northern Trust, Farrar-Rivas says, even though Northern Trust is known for its bread-and-butter style of investing.
"Our firm is very different than Northern Trust but when you have someone like Jane at Northern Trust attracting clients, she already has clients who have this type of mindset. It would be different if she were a more traditional Northern Trust advisor. We understand we're not Northern Trust. Clearly, what we're offering is something her clients are seeking." See: After leaving Northern Trust and later joining HighTower, Margaret Towle departs, cools her heels and lands at Merrill Lynch.
Swan is excited about this change. "The driving force behind my decision is what I'm hearing from consumers about buying organic and recycling and more consumers and investors are asking questions about long-term sustainable investing."
Role models
Swan's clients are interested in sustainable investing and she's excited to give them this opportunity.
"It's a complete intersection. Personally, it's aligned with my values and professionally this set of investment products that is only available to investors on a very limited scale now — we could have an opportunity to introduce more investors and make these strategies available to more investors is very exciting to me personally and professionally." See: Is Merrill Lynch taking its more RIA-like training program another step forward with Racquel Oden's promotion?.
For Farasat, the goal is to show the way as a woman — but not in a way that financial reporters generally hear it explained to them.
"My goal was to be a chief investment officer by the time I was 40. That was my goal," she says. "I ended up having a wonderful opportunity to raise three boys who weren't born to me and I needed to be a female role model to them and show them as they get older how to be supportive partners and supportive dads. My whole goal is to show them a strong female role model. Now, my daughter is two and I needed to do something where she realized the world is full of opportunities for women."
---
---
Share your thoughts and opinions with the author or other readers.
VIRGINIA WILLIS said:
March 7, 2015 — 10:05 PM UTC
I AM INTERESTED IN OBTAINING THE RIA AND CFP. CAN YOU TELL ME HOW THESE ARE OBTAINED?
---
---