Robert Moore leaves LPL after steadying the firm.
Brooke's Note: LPL Financial has had a remarkable number of people leave its fold in the past few years. They tend to make headlines not only because of the stature LPL has in the business of independent advisors but also because many of its long-time execs, including Esther Stearns, Bill Dwyer and Derek Bruton — have achieved semi-legendary status in the industry. Yet LPL with Mark Casady, like the Patriots with Bill Belichick, always seems to land on its feet despite the swirl of personnel changes in the LPL post-IPO era. This big departure of Moore, followed by Dan Arnold immediately stepping in, seems to be following that familiar script. But so many of the past departures have cited Moore as the human place where duties get consolidated to. This departure will truly test Casady's ability to lead and bring along a few Malcolm Butlers.
Robert Moore, the president of LPL Financial, the nation's largest independent broker-dealer, has departed the company and the firm's rising star, Dan Arnold, is taking over as president.
The Boston and San Diego-based firm confirmed the news Tuesday afternoon.
Moore, 53, was brought into LPL in 2008 as chief financial officer in the midst of the financial crisis. See: LPL's Robert Moore makes his next moves — and this time Joan Khoury is out.
In 2012, Moore became chief operating officer. In January 2013, he became president replacing Bill Dwyer when he left the firm. See: LPL's Bill Dwyer decides to call it quits and Robert Moore is taking over his duties. Circumstances around Moore's departure were unclear on Tuesday.
Round trip
LPL said in a statement released this afternoon that Arnold, who was paid $1.37 million in 2013, will assume the role of president effective March 13. Moore, who was paid $1.76 million in 2013, has accepted the position of chief executive of Legal & General Investment Management America Inc., according to LPL's statement. That firm was founded in 2006 to manage fixed income and liability-driven investment products for the U.S. institutional market. LGIMA is based in Chicago and has more than 75 employees. As of Oct. 31, 2014, LGIMA managed over $108 billion in assets.
The move to a Chicago-based firm completes a round trip for the graduate of Northwestern University – Kellogg School of Management who was hired to LPL from Chicago's LaSalle Bank.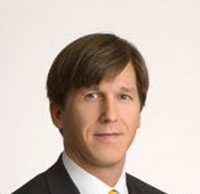 Dan Arnold quickly made an impression
on LPL chairman Mark Casady.
Moore writes in the statement: "I believe deeply in LPL's mission and remain an advocate and friend of the organization. I know that I am leaving a great team in place to move this mission forward. Joining LGMIA is an exceptional opportunity to lead another talented team and to shape the future of a thriving global asset management firm."
New lineup
"We thank Robert for his contributions to LPL and congratulate him on his new role," says Mark Casady, chairman and chief executive of LPL, in the statement. "Leading LGIMA is an exceptional opportunity for Robert and we know he will remain a passionate advocate and friend of LPL. We wish him all the best."
Others at LPL will miss Moore as well.
"Robert has made a huge impact on the organization over the last six years," says John Hyland, co-founder of Morristown, N.J.-based Private Advisor Group. "He has been a passionate caring leader always advocating for the advisor. He is a great guy and a true friend. He will be missed dearly." See: How LPL's biggest branch office added $3.5 billion this year by beating LPL itself with a key service.
With Moore's departure comes an opportunity for Arnold, Casady adds in the statement.
"I am excited that Dan has accepted the role of president. Along with the fiscal discipline that comes from having been CFO, Dan has many years of experience driving revenue growth through a combination of sales, marketing and business development leadership roles. He brings an entrepreneurial mindset that will help us continue to support the success of our advisors and institutions." See: LPL's RIA assets skyrocketed in 2012.
LPL has named Tom Lux as acting chief financial officer while the firm conducts a search for a new CFO. Lux joined LPL in 2009 and has held several posts in LPL's finance organization including executive vice president and chief accounting officer. Previously, Lux held leadership roles with National Financial Services, Wachovia Securities, Everen Securities and Deloitte and Touche.
In addition, LPL announced that it has promoted Andy Kalbaugh to division president for institution services and Bill Morrissey to the position of divisional president for independent advisor services. They will both report to Arnold.
Arnold, rising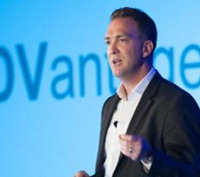 Matthew Enyedi: We're putting air in
the tires.
Arnold took the position of CFO vacated by Moore in 2012. See: What LPL's pick of a new CFO says about how strategic — and RIA oriented — the company plans to be. Arnold, who is nearing 50, joined LPL as part of the of its UVEST purchase.
Industry leaders have described Arnold as "an incredibly smart person" who is "great at integration." The company recently revealed plans to go upmarket by integrating Fortigent, LLC more closely with the core advisor custody and clearing business at LPL. Another young star, Matthew Enyedi, designated RIA chief at LPL, is now overseeing that effort to bring Fortigent reporting to LPL advisors serving mega-clients. See: LPL Financial finds a starting place to bring Fortigent into its mainstream mix.
We're going to drive this farther and faster than anyone thought was possible," Enyedi says. "We're putting air in the tires."
Fortigent is being moved to LPL's Charlotte headquarters from Rockville, Md. and Gary Carrai will lead it. The unit serves 86 firms. "
Arnold is a San Diego resident who, as a native Georgian, roots for the Atlanta Braves. He achieved something of a superstar reputation at LPL due to his part in building up UVEST Financial Services Group Inc. and then monetizing it with a sale to LPL Financial — and for its continued success inside LPL. Arnold was with UVEST from 1996 to 2007. UVEST provides brokerage services to banks, credit unions and the like and had $144 million of revenue and more than 100 employees at the time of sale in March 2011.
Notable departures
Prior to his elevation to president, Arnold reported directly to Mark Casady, LPL chairman and chief executive.
"With extensive experience driving sustained revenue growth and a deep knowledge of our advisors' and institutions' business," says Casady of Arnold in the statement. "I am confident that he will bring a fresh perspective to the support of our clients and a disciplined approach to the growth of LPL's business."
Moore becomes the most recent in a string of notable departures from LPL since its IPO including Esther Stearns, Derek Bruton, Bill Dwyer, Andy Putterman and Joan Khoury. See: LPL's Robert Moore makes his next moves — and this time Joan Khoury is out.
---
---
Mentioned in this article:
Private Advisor Group
Specialized Breakaway Service, RIA-Friendly Broker-Dealer, RIA Serving Other RIAs
Top Executive: RJ Moore, Chief Executive Officer
---
---
---
David Armstrong
He has left to the be the CEO at LEGAL & GENERAL INVESTMENT MANAGEMENT AMERICA (LGIMA) out of Chicago. Great firm and a great opportunity for Robert – congrats to him.