How an iPhone app cut through stilted questioning at Barron's RIA custody panel in Scottsdale
Sterling Shea invited advisors to vote on pressing RIA questions via iPhone -- and they acidly asked Bernie Clark whether Schwab is robo-competing against them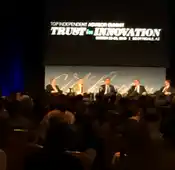 Kings of RIA custody Mark Tibergien. Bob Oros, Tom Nally and Bernie Clark in a panel moderated by Sterling Shea -- and a pesky mobile app
---
---
Mentioned in this article:
---
---
---
Cam Neri
So, Brooke, you see smaller advisors as detritus. That sure doesn't leave me with a warm, fuzzy feeling about how you view the general population of RIAs..
Grant Barger
March 27, 2015 — 10:34 PM
Certain that the author of this article needs no backup for the first comment… I think it is safe to assume that the term "detritus" was most assuredly penned in the vein of The Honorable Judge Smails… et al of the Bushwood crowd from Caddyshack. I believe Spaulding said it best…"Ahoy Polloi!" Thanks for another great article… Well done.