Kings of RIA custody Mark Tibergien. Bob Oros, Tom Nally and Bernie Clark in a panel moderated by Sterling Shea -- and a pesky mobile app
Brooke's Note: What happens in Vegas may stay there but Scottsdale, not so much. With e-mails, cell phones, apps and iPhone cameras at work by spies, dammit, spies on behalf of RIABiz, I can give you a pretty good idea of the happenings of the event that best concentrates the most successful RIA principals and custody chiefs in one air-conditioned building. It was polite conversation until an app gave advisors the shield of anonymity to ask what was truly on their minds.
The Scottsdale Princess is like an oasis surrounded by desert-like conditions but wrapped in an emerald lawn and a lush golf course.
The hotel/resort where Barron's held its annual event for 500 top advisors and their vendors Tuesday and Wednesday of this week is also an oasis for principals of big RIAs; it's an Eden devoid of smaller advisors, hors-d'oeuvres-hoovering journalists and other detritus.
But the downside of polite society and its dearth of strivers and scribblers is a stagnancy that can get old fast. Relieving this potential tedium was Monday's late-day press release by the Charles Schwab Corp. with details about how it will deliver robo services through its 7,000 RIA clients — including an explicit fee of 10 basis points. See: Schwab makes thousands of its RIAs subject to fee for robo-software, allocation of client cash to Schwab Bank.
So multiple attendees of the Barron's event, all of whom begged not to be named for fear of future excommunication say the ultimate RIA stage was set. Tuesday morning's first general session was a panel of all the Big Four custody chiefs. That group included Pershing Advisor Solutions' Mark Tibergien, Fidelity Institutional Wealth Services' Bob Oros, TD Ameritrade's Tom Nally, and Schwab Advisor Services' Bernie Clark.
Pigeon among the cats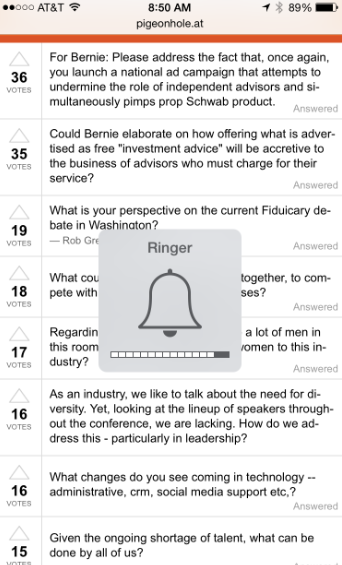 As shown by this Pigeonhole app,
Bernie Clark left the audience begging
for more.
Barron's managing director and head of advisor programs, Sterling Shea, Introduced a wrinkle into the proceedings when he asked the audience to interact with the chiefs using the Pigeonhole app, which allows audience members to aggregate questions and to vote on the ones they most want to hear answered.
The top vote-getter, with 36 votes, was this acidly worded query: "For Bernie: Please address the fact that once again you launch an ad campaign that attempts to undermine the role of independent advisors and simultaneously pimps prop[rietary] Schwab product."
Though Clark addressed some robo concerns early in the session in general terms, advisors were restive as those questions, gaining votes all the while, hung publicly in the air.
Schwab spokesman explained Clark's participation in this way: "We participate on the Barron's custodial panel because we believe in the open exchange of information and industry dialogue," he writes in an e-mail. "The topic of new automated investment advice services is clearly on many people's mind and we felt the discussion was productive and believe that automated investing platforms are something RIAs will be embracing as they position for the future. That's why the launch of Institutional Intelligent Portfolios is so important to us."
Shea says he left the top Pigeonhole questions until the session's very end because he was afraid that the issue would overweight the Q&A in favor of one topic.
"My intention was to have this be a broad-based discussion covering industry and practice-management issues but I did address that question."
Attendees report Clark addressed the question broadly but by no means specifically, leaving the audience hungering for perspective on how Schwab is factoring RIAs into its future. Little else was buzzed about the rest of the event. See: Schwab makes thousands of its RIAs subject to fee for robo-software, allocation of client cash to Schwab Bank.
Two words: Skip Schweiss
RIAs also wanted to know what Schwab is doing in Washington D.C. on their behalf. Tibergien, chief executive of Pershing Advisor solutions, spoke up to say: "Skip Schweiss." It was a rare cross-rival shout out that was accepted as gospel. See: Bernie Clark and Skip Schweiss head to Washington next week to fight on behalf of RIAs in Bachus bill showdown.
Indeed, Schweiss, who heads advocacy efforts for TD Ameritrade have been honored for his work, and also for leading RIA business types on harrowing journeys up mountains. See: How a band of advisor-execs scaled 5,000 sunless feet to the summit of the Half Dome — and the lessons the exploit yields for growing RIAs.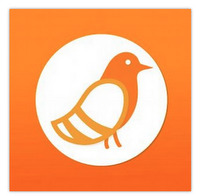 This little Pigeon won't be soon
forgotten by the Barron's faithful.
Our spies say advisors say the shout out upped the audience's respect for both Schweiss and Tibergien.
Nally, chief of TD Ameritrade's RIA custody, commanded the stage, sources say, and displayed a polish that he's been developing since his promotion a few years ago when he replaced Tom Bradley. Oros, who's just taken the reins from Mike Durbin at Fidelity, stayed mostly quiet. "Tom Nally has really matured," a source says. "Bob Oros probably only spoke about 15% of the time."
Elliot Weissbluth, chief executive at HighTower Advisors, got props for his session on "bionic advisors" both for content and for not pushing HighTower. Another speaker, Will Danhoff, vice-president and portfolio manager of the $110-billion Fidelity Contrafund, was chided for being a little Fidelity-centric in his talk. See: Elliot Weissbluth will referee — with a human bias — a debate on robo-advisors starring Joe Duran, John Michel, and Jon Stein.
Pain points
Though robo chatter was ubiquitous, talk about the integration of robo-ware into existing platforms was muted. Advisors were, however, willing to discuss the challenges of winning younger clients, bringing aboard younger advisors and staffing tsuris in general. See: The big impression Mark Tibergien and his reverse mentor, Kayla Flaten, 25, made on me over a Manhattan lunch.
Big advisors in attendance included Ron Carson of Carson Wealth Management, Peak Advisor Alliance and Carson Institutional Alliance; Ric Edelman of Edelman Financial; and Marty Bicknell Mariner Wealth Advisors.
Sources gave the custody chiefs credit for hanging around throughout the event although there were no sightings of Clark, who lives nearby, after his appearance on stage. His lieutenant, Neesha Hathi, did linger.
---
---
Mentioned in this article:
---
---
---
Cam Neri
So, Brooke, you see smaller advisors as detritus. That sure doesn't leave me with a warm, fuzzy feeling about how you view the general population of RIAs..
Grant Barger
March 27, 2015 — 10:34 PM
Certain that the author of this article needs no backup for the first comment… I think it is safe to assume that the term "detritus" was most assuredly penned in the vein of The Honorable Judge Smails… et al of the Bushwood crowd from Caddyshack. I believe Spaulding said it best…"Ahoy Polloi!" Thanks for another great article… Well done.