Chris Daniels [no photo exists online]: It hasn't been done before because it's more of a marketing challenge than a technology challenge.
Brooke's Note: I am a contrarian. That part of me thinks that this EF Hutton venture may be on to something that might one day be called success. Still, the non-contrary part of me wonders how we're to rely on a brand that essentially went down in flames (though it was part of: Shearson Lehman Hutton subsequently) in the 1980s. Add to that a false start represented by Frank Campanale's departure, a pure-product, no-advice approach and its odd road to a Nasdaq listing and you are really blazing some trails and lengthening some odds.
In what has to be one of the quirkiest launches in financial services history, E. F. Hutton has limped back to life as EF Hutton.
The once-mighty stock brokerage brand is now a New York-based website with a homepage featuring the Golden Gate Bridge. The brand known for its "... people listen" advertisements now adorns a website that refers clients to mortgage firms and insurance firms but offers no access to financial advisors, brokers or planners — at least not yet. The plan is to eventually add some.
The launch tops off years of searching for a killer business model to go with the iconic E.F. Hutton brand name. An aborted effort to relaunch the brand in 2012 drew national news coverage thanks to the involvement of Frank Campanale, who has his own personal brand as a grandfather of managed accounts on Wall Street from his time at Smith Barney.
But Campanale moved on in 2013 to become chairman and chief executive of New York-based Lebenthal Wealth Advisors LLC, the boutique brand of Lebenthal & Co. See: Why Frank Campanale put his E.F. Hutton dream aside to join an OSJ.
When contacted for comment, Campanale e-mailed, "I am no longer affiliated with EF Hutton and have no further comments." See: Frank Campanale's E.F. Hutton reboot starts to take shape as ex-Hutton executives sign on.
$116-million name
But armed with an undying belief in the brand — and the power of mighty brands in general — E.F. Hutton alumnus Chris Daniels (it was his first job out of college from 1985 to 1987) is soldiering on, along with Stanley Hutton Rumbough, the grandson of founder E.F. Hutton, and chief financial officer Lance Diamond, who previously served as CFO of Crunch Fitness.
Rumbough will serve as chairman. His biographical squib on the website describes him as a "philanthropist, a collector of fine art and a photographer." Daniels says Rumbough never worked for the original firm but grew up with it. His grandfather, Edward F. Hutton, founded the firm in 1904 and his mother served on its board of directors. In a video on the firm's homepage, Rumbough mentions that he has been "the steward of substantial intergenerational assets." See: What the reincarnation of E.F. Hutton says about the pace at which RIA business is moving.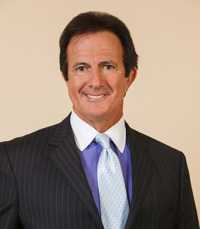 Frank Campanale spearheaded the first attempt
to revive E.F. Hutton in 2012.
He now leads Lebenthal Wealth Advisors.

History notwithstanding, Daniels insists that EF Hutton could stand on its own even without the 110 year-old moniker.
"It hasn't been done before because it's more of a marketing challenge than a technology challenge. You really need a national brand and financial resources."
But the value of the name itself is above rubies — at least $116 million worth of them, according to Daniels. That's the value placed upon the name by a brand-appraisal firm, he says. Daniels declined to name the firm. "Under terms of the engagement, I have to get the firm's consent to disclose it," he says.
The brand was disgorged by Citigroup after the firm borrowed billions from the U.S. government in 2008 and in '09 on the condition that Citigroup release its cash holdings. Daniels says he snatched up the E.F. Hutton name for far more than a token amount that he declines to reveal.
E.F. Hutton's brand is indeed recognizable by those in the right tax bracket. Ninety-five percent of people with more than $250,000 in investable assets know it 94% of the time, according to internal E.F. Hutton research, Daniels says.
Still, the brand is hardly pristine. After becoming a top wirehouse with 19,000 employees, it was brought low by a 1985 scandal involving what the Wall Street Journal called "check-writing to obtain money from hundreds of banks without paying interest." The 1987 stock crash also took a toll and what was left of it sold for just $1 billion to Shearson Lehman later that fall.
Something new
For now, EF Hutton collects flat fees — sources say $25 although Daniels declines comment on the exact fee amount — from providers when a consumer referral is made regardless of whether it is subsequently converted or if the client even speaks to the provider. Daniels says the firm could evolve to an asset-based fee model over time. Consumers pay nothing.
EF Hutton has done with one thing with alacrity: achieve publicly traded status.
The New York-based referral website, is now live inside a publicly traded firm [ticker sign HUTN] on Nasdaq with a market cap north of $48 million based on a share price of 80 cents. Its 60 million shares traded for 65 cents per share today, according to Yahoo! Finance.
This, after getting rolled up by an existing public firm, Twenty-four Seven Ventures Inc. at the end of 2014, which then spun out its own operating assets. The operating entity had revenues of less than $600,000 in 2013, according to the annual report.
Match game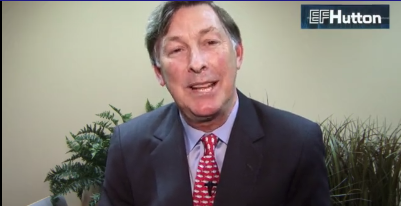 Stanley Hutton Rumbough, grandson of the
firm's original founder, welcomes users to
EFHutton.com, closing with the line John
Houseman made famous: 'When E.F. Hutton
talks, people listen.'
At present, EF Hutton has 200 providers on the site — primarily mortgage or insurance brokers. It offers a premium service of guaranteed introductions. The pool of investors in need of introduction is a large one, says Daniels, who cites an unspecific study showing that three million consumers choose new financial providers each year.
Daniels also sees a wealth of little-guy brokers out there that need exposure. "We're not connecting people to Allstate or Morgan Stanley," he says. "They don't need our help."
Eventually, Daniels sees EFHutton.com as a means for a consumer to find a local provider on a national catch-all website — like an independent insurance agent in St. Louis or a mortgage broker in Atlanta.
But how does EF Hutton assure clients of good providers? "We have data mining tools to do that," he says. "It's not hard if you do that in bulk. The challenge is evaluating the data."
EF Hutton has 40 workers, including sub-contractors and employees, according to Daniels.
Attracting users
Still, EF Hutton is only going so far in its promise to value the quality of providers. "We're not selecting the best providers; we're excluding the ones that are not qualified."
The firm's launch-related press release says: "EF Hutton verifies provider's qualifications and thereby assures satisfaction."
In order to draw providers and consumers to the website — a challenging task, Daniels acknowledges — he's offering a "rewards program" for clients that use service providers in EF Hutton's network.
EFH Group Inc.'s publicly traded shares give the company a bulwark of financial resources. The firm has registered three million shares for a secondary offering, Daniels says. See: Why exactly Dave Loeper and a Smith Barney/E.F Hutton legend are teaming up.
---
---
brooke southall
Yep, typo.
Thanks,
Brooke
SS
March 27, 2015 — 12:51 PM
Hi,
Is "Brooke Southallken" the same writer as "Brooke Southall?"
Is this a typo or a new writer?
Thanks.