David Giantasio: ['Blue' explains its mission] in measured tones that make me believe it would really rather kill all humans!
Brooke's Note: Challenge to the writers of The Bible: Describe Jesus as simultaneously as all man, all God and all ghost. Challenge to Crispin+Porter: Create advertisements that depict Schwab's robo, "Blue" (aka Schwab Intelligent Portfolios) as all robot and all human. AdWeek suggests Schwab may have succeeded all too well in creating ghostly creepiness. Schwab counters that it hit its mark.
AdWeek, the New York-based trade weekly to the advertising industry, is questioning whether the Charles Schwab & Co. animation of its robo-advisor in its national campaign inadvertently displays machine's inhumanity to man.
In Meet Charles Schwab's New Intelligent, Nonhuman Pitchman CP+B builds embodiment of the company's robo-adviser, reporter David Gianatasio pens a wry lead-in to a Q&A with Schwab's chief marketing officer, Jonathan Craig.
"A stylized, British-accented, boxy digital monitor has the starring role," Gianatasio writes. "It floats in the air like some kind of finance drone, explaining its mission—'I am a fully automated investment advisory service. I can help you choose investments, monitor them and rebalance your portfolio'—in soothing, measured tones that make me believe it would really rather kill all humans!'" See: Schwab sings 'Blue' as it rolls out its robo — and phono — functions ahead of deadline, with minimums.

Blue has grown-up humor delivered by
youthful means.
Not at all creepy
Gianatasio's first question gets right to the point by asking why the campaign, overseen by Crispin Porter + Bogusky's executive creative director, Sue Anderson, goes in such an "offbeat direction."
Craig answers that form had to follow function — and, with presumption, 'disruption.'
"We believe that the launch of Schwab Intelligent Portfolios is a large, disruptive move that has the potential to fundamentally change how many Americans invest," he told AdWeek. "We needed a breakthrough campaign idea that reflected the significance of the launch." See: Can Schwab, six years late to the robo party, 'freeze the market', catch up and blow doors?.
Unconvinced, Gianatasio persists. "Do you think people might find it creepy?" he asks.
An unbowed Craig says that Schwab's in-house studies show "Blue" is not going to creep people out because he is smart, and not verbose.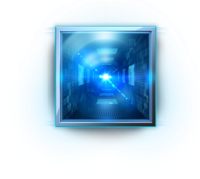 'Blue,' Schwab's robo-advisor avatar, will not
replace Chuck Schwab as the firm's
lead pitch-bot anytime soon.
Son of Hal 9000?
Gianatasio is also struck by the tone of Schwab's first post-Chuck spokesman — a shift from the folksy and avuncular to that of the Geico gecko's
starchy upper-class relative.
Craig allowed that Chuck is the once and likely future voice of Schwab.
"We have used Chuck in our marketing multiple times over the last several years and will likely do so again. He is a huge asset that embodies the values of the firm more than anyone, and he has a unique ability to connect with clients and prospects." See: Charles Schwab will speak and his fellow CEOs will listen.
Gianatasio's narrative suggests that Chuck can't return too soon.
"I understand the client's desire to bring the technology to life, as it were, and give it a personality. But to me, the brokerage bot's calm demeanor and trippy futuristic environs bring to mind 2001: A Space Odyssey's murderous HAL 9000. See: Why I find the term 'robo-advisor' objectionable and unhelpful.
---
---
Dave Grant
Oh please, these 30-second ads are hilarious! Way better than Tommy Lee Jones promising you you'll never run out of money…..
But what are people expecting – a human to introduce a robo-service? How novel that the service introduces itself.
I struggle with the limited thinking of some reporters but yet how creative some ads can get. Let's be honest, the ad industry in American is severely lacking – Schwab Blue even uses a British accent to bring it credibility. (Having one of those myself, I can see their reasoning).
I think it's time for people to lighten up and see what difference Blue can make. But then again "haters gonna hate".
Investor1
The commercials are dumb! It reminds me of something from the 80's. They need a better marketing team at Schwab. I love the idea and the solution, just not the commercials. It doesn't get the point across as to what it is and what it does. Just my opinion.