Howard Present says any blame lies elsewhere.
Brooke's Note: As I continue to read about this cases of F-Squared selling what the SEC has deemed a bill of goods, the thought is always there: didn't a number of people have to sign off on this? The answer based on this Howard Present reply to the SEC is "yes." In fact those signers-off are the ones who should be on the hook for any inconvenience caused investors, according to the Present's view delivered this week to the SEC by his lawyers. But blaming these colleagues has perils, too, says a legal expert because these old work mates may introduce damning information about controls.
Howard Present was led astray by bad advice that made him a victim of an otherwise victimless crime, according to his lawyers.
The founder and former chief executive of Wellesley, Mass.-based F-Squared Investments ran afoul of U.S. securities laws by heeding a series of professionals who gave him bad advice, according to documents filed Monday in the U.S. District Court of Massachusetts by Present's team of seven lawyers.
"Present did not act at any time with scienter [knowledge of wrongdoing] or intent to deceive, manipulate, or defraud investors or anyone else," reads the answer to the SEC complaint. "Mr. Present reasonably relied upon the work, advice, professional judgment, and opinions of others, including but not limited to legal and compliance professionals, upon which Mr. Present was entitled to rely."
Present responded to the allegations on the last day of the 90-day window provided by the Securities and Exchange Commission. See: Big brokers take action on F-Squared funds and Virtus shares reel as SEC actions sink in.
Deflect
The strategy of deflecting blame to others is a questionable one in light of the can of worms it could open, according to Brian Hamburger, chief executive of MarketCounsel
"The defense offered by Present's counsel is not unusual in most respects but takes a risky turn when claiming that it was his former colleagues who were to blame," he says. "It begs the SEC to conduct further inquiry and cause even more disruption at the firm."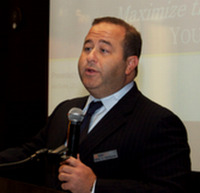 Brian Hamburger: The SEC does not
need to show that he knew
about the problems they allege.
Hamburger adds: "It also is likely to bring about embarrassing testimony [from those former colleagues] about controls or lack thereof which would shield a CEO from knowing what was going on at the firm. The SEC does not need to show that he knew about the problems they allege. Rather, they will probably assert a willful blindness allegation; that he should have known and chose to not inquire about them."
The identity of the professionals Present claimed to have relied upon is unclear. An F-Squared spokesman declined to comment when asked if it was reasonable to assume Present was encouraged in his actions by compliance and legal personnel at F-Squared. See: Following serious questions about how it calculated returns, F-Squared hires a new CEO after the old one leaves.
None harmed
Present's legal team further claims that his actions fall into the no-harm-no-foul category.
"The SEC's requested relief is not supported by the SEC's claims because Mr. Present's alleged conduct did not cause loss or harm to anyone," reads the filing.
F-Squared reached an agreement with the SEC on Dec. 22 to settle its own case for a $5 million fine and the disgorgement of $30 million in ill-gotten gains. The agreement left aside the matter of Present's role in the matter of his potential liability.
But Present, who departed F-Squared in November 2014, is facing SEC charges that he violated multiple sections of the 1940 Advisers Act while he was chief executive. See: Following serious questions about how it calculated returns, F-Squared hires a new CEO after the old one leaves.
In that separate complaint, also filed Dec. 22, the SEC asked the court to compel Present to disgorge ill-gotten gains and to levy a civil penalty against him.
Out of the loop
Present is represented by six attorneys from Washington, D.C.-based Williams & Connolly LLP and one attorney from Boston-based Foley & Lardner LLP. A spokesman for F-Squared did not respond when asked if the firm is helping to finance Present's defense.
Based on his team's recent filing, Present's defense is largely based on the contention that he was left out of the loop on key matters at his own firm. "Mr. Present denies knowing that the composite performance of AlphaSector compiled by F-Squared was based on 'backtested' information," his lawyers claim.
Earlier in the filing, Present's attorneys state that "[Present] and/or one or more F-Squared employees worked to convert information related to Mr. Morton's sector rotation strategy … into an index."
Present's lawyers also deny he ever received warnings about the AlphaSector strategies from the people who helped him invent it. The filing denies that Present met with an F-Squared analyst shortly after the company publicly launched its AlphaSector Index in September 2009 and denies that the analyst tried to explain that the index was incorrectly calculated and had produced extremely inflated returns. See: Where Virtus stands after F-Squared seemingly led it astray, to mutual benefit.
Present's attorneys concede that Present met with the two co-founders of Newfound Research (the company providing F-Squared with its investment algorithm) in July 2013. But the defense team denies SEC claims that these two explained to Present that they had difficulty replicating the AlphaSector index returns, and that Present had then demanded they drop the subject.
Adequate disclosure
The filing also denies SEC claims that Present and F-Squared weren't transparent enough with investors, arguing that "material information alleged to have been omitted was in fact adequately disclosed to and/or otherwise known to investors."
Asked what exactly had been disclosed, and where, lead attorney Brendan Sullivan of William & Connolly LLP declined to elaborate and cited firm policy not to comment on matters in litigation.
Present, who is still listed as chief executive of F-Squared on his LinkedIn page, has demanded a jury trial. The initial scheduling conference for the trial has been set for April 16.
---
Mentioned in this article:
---
---
---
Virtus
December 15, 2017 — 8:07 PM
Jeff Cerutti and John McCormack should both be investigated by the SEC. SEC should piece together when they knew of this fraud, how they continued to push all of the Regional Directors at Virtus to knowingly sell a fake track record, and the SEC should look at those 2 for stock gains if they sold based on insider information which could be insider trading