Glenn Neasham: We couldn't say anything. We just cried. [credit: LifeHealthPro]
Brooke's Note: We understand a book is being written on this topic. You can see why. It's a torturous tale. The latest twist is that Glenn Neasham may be getting a much-needed hand from Fran Tarkenton — perhaps the world's most famous scrambler. The metaphor seems appropriate as Neasham dodges blitzes and rushes, facts be damned, at his reputation.
Glenn Neasham was at working from home on morning of Oct. 8, 2013. As he had been doing constantly since his appeal was argued in court, the 54 year-old father was browsing the California Third District Court of Appeals website, hoping to figure out when his case would be decided. Around 11 a.m., he saw The People vs. Glenn Andrew Neasham had been finally judged and posted online. He collected himself, clicked the link, and then read all the way to the bottom of the first paragraph before coming to the words he'd been hoping to read for months. See: How Glenn Neasham lost his house, was forced to go on food stamps and faces jail time after selling a senior an indexed annuity.
"...Hence, defendant's conviction must be reversed."
Neasham raised his arms in triumph, and let out a yell before calling his attorney to let him know the good news. When it was time to tell his family, the emotions broke through.
"We all just started bawling," Neasham told Insurance New Net in October 2013, "My wife, myself, my mom. We couldn't say anything. We just cried."
It was Glenn Neasham's first real break since he first arrested in 2010, and the first step toward ending his torturous battle with the California's state prosecutors. The case would be resolved unambiguously in his favor four months later when the California Supreme Court declined the attorney general's request to review the decision. That same day, nearly six years after selling an indexed annuity to an elderly client with Alzheimer's-like dementia, Neasham was granted a license to sell insurance again.
The legal world quickly moved past the case; indeed, the California Supreme Court unpublished the decisions citing the bad precedent they set.
The general public however, can't change its mind with the same facility an appeals court can, with all the facts and arguments before it, overturn a lower ruling.
So while the jury that sentenced Neasham to prison initially appeared to be a fluke, it wasn't. As he reentered the insurance business in 2014, the lingering bias of allegedly bilking a sick old lady continued to plague him. See: Is Hartford Financial's market exit a death knell for the annuity crowd or just more Hartford haplessness?.
Background
The ordeal was set in motion in February 2008 when 83-year-old Fran Schuber, accompanied by her boyfriend, met with Neasham to discuss her financial future and to learn how she could earn a better return than her bank certificates of deposit provided. The boyfriend was already a client of Neasham's and had recommended him highly. Neasham walked Schuber through her options, ultimately selecting the Allianz Mastered 10 indexed annuity, which Schuber decided to purchase for $175,000. See: Older investors' complaints deserve — and receive — special scrutiny from regulators.
The trouble started soon after when a bank manager at the Savings Bank of Mendocino noticed Schuber withdrawing that $175,000 from her CD held there. She called Neasham with concerns that Schuber was being unduly influenced by her boyfriend. Neasham investigated he bank manager's concerns, which he partially shared, and resolved that they were unfounded. Even though this man was been listed as a beneficiary of the annuity, Schuber's son (the other logical beneficiary) believed his mother was entitled to make such financial decisions on her own and resisted the suggestion that the they meet to discuss the problem.
Nevertheless, the bank manager raised the alarm and the California insurance regulators and the Lake County district attorney launched a full-scale investigation in the political climate of the post 2008-2009 crash.
On Dec. 14, 2010, police arrested Neasham outside his home in Hidden Valley Lake, California. The basis of the charges were that he sold a complex and inappropriate product to a elderly woman in Schuber who lacked the mental capacity to assess his sale pitch, and that "the terms and conditions of the annuity contract were not in her best financial interest." See: Study: Variable annuity providers show some gains in tackling RIA market.
His PR nightmare began when the California Department of Insurance issued a press release the same day announcing the arrest that included a guilt-presuming quotation. "Insurance agents or brokers who steal from vulnerable seniors will not get away with their shameful tricks," Commissioner Steven Poizner was quoted as saying. "CDI investigators will continue working to track down any unscrupulous agent who preys on California's seniors."
Catastrophic effects

Glenn Neasham and his wife before
the troubles began.
Throughout the investigation, trial and its aftermath, Neasham held his ground, insisting he had done nothing wrong and that Schuber exhibited no signs of the Alzheimer's-like dementia that she had been diagnosed with five years earlier; that she and others had vouched for her mental health; and that she appeared to fully understand the product she bought. It is legal to sell annuities like the one Schuber had purchased to those under age 85.
It also happens that there was no financial loss. The product's investments had increased in value by tens of thousands of dollars by the time Allianz cashed her out in 2012. Neasham pled not guilty and lined up dozens of witness to testify to his character and integrity. Fran Schuber was by then too ill to testify at the trial and passed away soon after.
Neasham was convicted of a felony count of theft from an elderly individual and sentenced to jail in February 2012.
The tide began to turn as soon as the day after the verdict. One of the jurors came forward and alleged that two of the jurors had close relatives with dementia or Alzheimer's and saw Neasham's guilty verdict as "a message to insurance agents that they should be careful who they sell to," according to this juror. This information, plus a recently discovered videotape from 2008 showing Fran Schuber speaking lucidly about her purchase of the annuity, added to the already tenuous case of the state's attorney and led Neasham and his lawyer to feel good about the prospects of an appeal.
But the damage was done. Neasham's annual income plummeted from more than $500,000 in 2007 to $20,000 in 2011 after his arrest, conviction and the loss of his insurance license. The Neasham's lost their home, and the family was forced to turn to public assistance programs to get by.
Long time brewing
Neasham was advised he had no recourse as to the reputational damage he's sustained, and wasn't being eager to rush back into court. After all, the Schuber trial wasn't the first time he'd had to defend himself against trumped-up charges of being unethical.
In 2007, Neasham fired two employees from a small bottled water company he founded. On their way out the door, the ex-employees verbally threatened to destroy his career and proceeded to blast him in anonymous online entries at the RipOffReport.com (among other sites), and to write letters to Allianz, the California Department of Insurance, and the National Ethics Association denouncing him.
"They were saying crazy things; ludicrous, bogus lies," says Neasham, "I was accused of everything short of being a murderer and an adulterer."
See: AIG puts its once-tarnished brand on a small band of obscure insurance brokers — perhaps testing the waters for Royal Alliance and friends.
Neasham countersued for defamation, and when the case went to arbitration, he was awarded a large cash settlement. The matter should have been settled then and there, but he suspects part of the reason that the Department of Insurance and Lake County D.A. investigators in the Schuber case were so tenacious was because of those anonymous letters they had received.
Neasham says investigators called each of his clients, told them they were investigating him, and asked if they had had any reason to complain about his practice. They didn't find anything. See: How Schwab's firing of a small RIA as a client became a three-year legal ordeal
Fighting back
Neasham's appeal of the Schuber ruling began to disentangle him from legal tentacles. The three-judge panel eventually found that prosecutors did not prove that Neasham knew about Schuber's dementia, that the judge's instructions to the jury were highly prejudicial, and that Neasham's larceny conviction was based on insupportable grounds.
"Under the prosecution's theory of this case, merely cashing a check for a person known to suffer from dementia would support a larceny conviction," wrote Associate Justice Stuart Pollak in his ruling.
Despite this scathing review of the prosecution's case, Neasham's pursuers didn't give up trying to send him to jail; the California's attorney general now requested a review of the reversal before the California Supreme Court. This was ultimately denied on Jan. 15, 2014, the same day Neasham was granted a license to sell insurance again.
Struggle to recoup
Today, even though his legal problems are in the rear-view mirror, Neasham is discovering that in today's social environment, a prosecution leaves an indelible stain.
News of the California Supreme Court's reversal of his conviction was carried in the local papers but Neasham says he and his wife continually run into locals who never received word of his exoneration.
That tarnished reputation is making it difficult to rebuild his practice, he says. "I haven't had that many prospects," Neasham says.
After he lost his license, Neasham sold 90% of his book business to a Securities America, Inc. advisor from Sacramento. This advisor didn't offer the most money, but he did promise to take a passive approach to client portfolios and not churn the accounts, which was important to Neasham.
He is back on the seminar circuit, but the response has been underwhelming. The four seminars he's put on thus far have been largely unsuccessful and those prospective clients that do come through his agency's doors have questions about his past conduct. Neasham says that his first two new prospects after his exoneration had both heard about his legal problems, but he was able to demonstrate that the prosecution was unwarranted. Those two prospects became clients.
To supplement the family income, Neasham delivers pizza at night and his wife works part-time. See: Why you may not be adequately covered against lawsuits.
Vikings backup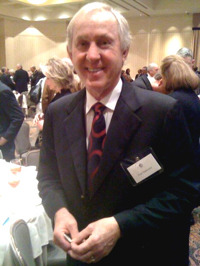 Former Minnesota Vikings quarterback Fran Tarkenton,
who now runs an insurance wholesaler,
is taking Neasham on as a
distributor.
Not only is the public wary the country's most notorious insurance agent, the insurance industry has been slow to forgive him, too.. While Neasham got a tremendous level of support during the Schuber trial from industry groups like the Society of Financial Service Professionals, he believes that the insurance companies he represented erred on the side of shunning him. A primary reason behind his decision to drop his field marketing agency, Triumph Marketing, was the way he believes it distanced itself from him during the Schuber proceedings.
That decision to seek a new partner turned out for the best, he says. Neasham received a direct mailer several months ago from Tarkenton Financial, an Atlanta-based insurance wholesaler founded by former Minnesota Vikings quarterback Fran Tarkenton, and decided to give the firm a call.
He was impressed by their pitch to help deliver more clients through his doors, as well as the dedication they promised to give him as he tries to resurrect his image and rebuild his practice. Tarkenton already helped Neasham create his upcoming advertising campaign in local papers. The small advertising campaign with local papers is aimed at rehabilitating his image and bringing in more customers. See: NFL Players Association raises the bar for financial advisors as more RIAs suit up to tackle the bottom lines of underserved sports stars.
"Once people know we're back in business things will pick up," Neasham says.
And he's excited to be working with a firm that has his back. "They said they followed the whole case and thought it was a miscarriage of justice," says Neasham, "They are willing to give me 110%."
Matt Tarkenton, executive vice president of the firm, told a reporter he didn't want to answer questions related to Glenn Neasham.
"We are looking forward to working with Glenn Neasham," he said.
Broken Allianz
Neasham has also been shunned by his former carriers, he claims. Fidelity & Guarantee Life Insurance has flatly rejected his reappointment requests, and Neasham's request to sell Allianz insurance products was denied after getting his insurance license back in 2014, and was again rejected, he says, after he asked Tarkenton Financial to intercede on his behalf with the firm.
Finally, on March 2, Neasham wrote a personal e-mail to Walter White, the president and chief executive of Allianz in North America, asking for another shot.
White responded to Neasham the next day, writing to say he had followed his legal case and that Neasham had given "many strong reasons to reconsider our position, and I will make sure they are duly considered" by Allianz's distribution leadership.
Eight days later, on March 11, Neasham received a brief e-mail and Allianz's final answer on his reappointment: no.
The e-mail didn't specify why Allianz would not be allowing Neasham to sell its insurance again. An Allianz spokesman told RIABiz, "We do not comment on agent appointments."
One track media
Then again, it may not be so difficult to see why Allianz and the greater public is still wary of Glenn Neasham. Compared to the flood of coverage that attended his conviction, the press accompanied the overturning of the case and his recovery of his insurance license was sober and modest. See: Your public relations horror story: It's not as grim as you think.
And it seems some in the media are casting him as a Wall Street villain. On Feb. 25, the International Business Times published a long article titled "Wall Street Captures Billions a Year in Fees on American Retirement Savings" that began with a quick recap of the Neasham case to show exhibit A of a wrongdoer. In the first paragraph he wrote that Neasham showed up, presumably uninvited, on Fran Schuber's doorstep, and then, despite his acquittal, implied he had taken advantage of her for personal gain:
For Schuber, who was in her early eighties and suffering dementia, [the annuity] hardly made sense. In fact, the sale was egregious enough for a California court to find Neasham, who collected more than $10,000 in commissions, guilty of theft. An appeals court overturned the decision in 2013, arguing there was no evidence Neasham had misled or taken directly from Schuber, who is since deceased.
How could someone dispensing retirement advice steer his client into such inappropriate investments?
Neasham wonders how a reporter from a reputable publication who knows he was absolved of wrongdoing could still label his actions "inappropriate."
---
Mentioned in this article:
---
---
---
Glenn
P.S. Fran came into my office.I didn't show up at her house.Her boyfriend Lou was my client for ten years. He made 10% the year before, and she wanted the same type of plan other than the low paying CD.They initiated all contact.
Jeff McClure
Glenn's experience is one from which every "financial advisor" should learn. I have little doubt that Glenn did nothing "wrong" from either a legal or moral perspective, but… and this is a big "BUT," in the court of public opinion what he did was dangerous to the extreme.
Any product that pays a relatively high commission, has a high "surrender-charge" and is highly complex and difficult to understand is a lot like flying a single-engine helicopter at extremely low levels, sooner or later it is going to create an emergent crisis. To a jury or a set of public FINRA arbitrators, there is a very high probability that the mere fact of the high commission will be deadly.
The only surprise I see in this is that there is an element of surprise at the way Glenn is being treated by the companies which employed him as their agent. I was there, and found myself thrown to the wolves by a company on whose "advisory board" I served for years and whose awards decorated my "trophy wall." In the process of the litigation I became aware of a disdain for field agents as "greedy fools" carefully positioned between the public and the company. In literally every case of which I have been aware, the field agents/representatives are carefully kept in the dark about the under-the-table dealings that routinely go on at broker-dealers and insurance companies. From time to time the internal emails and documents are revealed in the discovery process, and when they are the agent can see what a mushroom he or she was.
Glenn, some advice: Since you have already experienced food-stamps and reduced income, you are well prepared to transition to the RIA world. I took a huge paycut to leave the retail insurance/broker-dealer world and establish an independent RIA, in which we really do put the client first. My house is now 1/3 the size and price that I had when I was a "top producer" and I drive an 8 year-old vehicle, but I now know beyond a reasonable doubt that what I recommend and purchase for my clients are the best, lowest cost, highest quality investment products I can find. It is difficult to become an independent RIA? Yes, if you do it right and take the time to understand and write your own disclosure documents and policies. In the end, the conflicts are gone, along with the mind-boggling bureaucrats at the b/d and Insurance companies. Communicating with no-load fund and insurance companies and custodians is refreshing. The assumption is that you are a responsible adult doing your best to act in your clients' best interest rather than a greedy child who is somehow both ignorant and immoral.
Glenn
What about these anonomous posters ruining your credibility, taking shots at our integrity,trust, families,ect. Who cares about the money.These miscarriages have to stop. Identifying themselves is ok if true. Anonomous lies, and derogative posts are not ok….It should be cyber bullying, and a criminal offense. Check out our website for free information about what were doing now. www.neashaminsurance.com