Stuart DePina: All that plumbing is there but it's not what the end investor sees. This Upside technology is the last mile
Brooke's Note: There's a certain logic to this deal. Envestnet doesn't really need a technology lesson from a robo-advisor in serving financial advisors. But it can use a tightening up of its look and feel at the surface. Yet it was hardly willing to pay, in George Foreman's words, "a lot for that muffler." The Upside sellers didn't need a lot, by Silicon valley standards, to sell their fledgling start-up as an addendum to the grand Envestnet body of work. Upside was started on a relative shoestring. But, four years late to the robo party, it needed a catch-up plan. Envestnet seems to embody that plan and more.
In retrospect, Envestnet Inc. had a big problem — countless miles of circuitry that, from a robo standpoint, fizzled where it should have dazzled where it met the end client.
Fast-forward 12 months: the Chicago-based outsourcer of investment management and the owner of RIA software maker Tamarac will complete its technical journey with a big assist from a small deal: Envestnet has purchased Upside Financial LLC, a San Francisco-based startup and a latecomer to the robo-advisor game, in a cash and stock deal.
The plan is to integrate Upside into the core Envestnet platform used primarily by 40,000 IBD reps and also into the Tamarac reporting software used by several hundred RIA firms. See: Envestnet breaks out ENV2 to oohs, aahs and a few groans at its bust-out event in Chicago.
We own that
Joel Bruckenstein, producer of the T3 conferences, imagines that any TAMP would want a robo-advisor as a means to transform itself.
"I always thought robo-advisors were the next great SMA platform and I thought they'd put Envestnet out of business. Now they won't because Envestnet owns one."
Bruckenstein has a point, says Stuart DePina, group president of Envestnet | Tamarac in Seattle. But he adds that the technology encompassed by a robo-advisor is still relatively skin deep compared to what Tamarac and Envestnet have developed over the course of decades. See: Can the new Envestnet-Tamarac Godzilla take on the Advent-Black Diamond King Kong?.

Joel Bruckenstein: I always thought robo-advisors
were the next great SMA platform
and I thought they'd put Envestnet
out of business. Now they won't
because Envestnet owns one.
A robo-advisor is not a substitute for a TAMP's architecture, DePina says, and here's the reason: "What we do is designed for a more scalable solution for advisors including proposal generation, research, rebalancing, reporting etc. All that plumbing is there but it's not what the end investor sees. This Upside technology is the last mile and it allows us to offer the full spectrum."
Robos vulnerable
Still, Bruckenstein contrasts the older architecture of a TAMP to the shiny new technology produced by the engineers at robo-advisors.
"If I was setting up a UMA, I'd do it on a robo-platform. That's what Orion is doing, not coincidentally with Riskalyze for 25 basis points. Why would you go to Envestnet at 100-plus basis points. Envestnet offers more but not enough to justify the extra price." See: Riskalyze debuts website featuring 'worst' wirehouse portfolios to shock and attract clients.
Bruckenstein understates the significance of the underlying technology, in DePina's view. "Where we have the advantage is that I think that [robo-technology] would only be a starting point. It's an enormous task."
Indeed, Tom Kimberly, co-founder and chief executive of Upside, says that as a robo-founder, he is in a good position to understand where his firm and other robo-advisors are vulnerable to legacy providers and that his willingness to sell quickly to Envestnet reflects that need to catch-up.
"When the dust settles, we believe that the winning model will combine the best aspects of the human relationship with the most powerful capabilities of technology," he says in a release. "Joining Envestnet is a big step that will help accelerate and amplify that vision." See: Six ways that human advisors kick robo-advisor butt.
Getting rolled
Upside, which is only two years old and has just $1.5 million of venture capital invested, has already moved to Envestnet's Sunnyvale, Calif. location and its 10 employees are evenly split between there and St. Louis.
Negotiations between Upside and Envestnet lasted about three months. It is the first robo-advisor to get rolled up by an established firm. Neither party in the deal will discuss the sales price, but sources say it was likely less than $2 million.
Kimberly may have made a timely move, Bruckenstein says. "Everybody else is thinking that holding might be a good idea but I'm not sure I agree."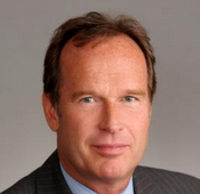 Jud Bergman: This was a better
ROI for our business to buy
this capability and then integrate rather
than build it.
Upside first gained notice when it was chosen by RIA Liftoff owned by the super-blogging tandem of Josh Brown and Barry Ritholtz. The duo remain Upside customers but its advisory board, on which they served, has been disbanded. See: Josh Brown and Barry Ritholtz, masters of the financial Twitter/blogging universe, launch a robo effort to monetize their followers.
Thrill not gone
Brown says he is pleased about the acquisition by Envestnet.
"They've told us that the technological capabilities of Envestnet go far beyond what they were able to do themselves so this would end up being a great upgrade for us and our clients. We're thrilled.
Still, the transaction puts Upside more at arm's length from Liftoff and its blogger-owners, Brown adds.
"Barry and I are not invested anymore nor are we serving on the advisory board, as it's been dissolved. Neither of us have spoken with the acquiring company. Our contract with them is identical to the original and nothing is changing with the service.
Build or buy?
On a Thursday call to Wall Street analysts, Envestnet chairman and chief executive Jud Bergman explained his firm's decision to buy Upside instead of developing its own comparable technology.
"There's always the question of do you build or do you buy. And we've got some 300 engineers that are working very hard on all aspects of our platform. Our clients want more and they want it faster and then they want it now. In this case, given the relatively small purchase price and the human talent that we're bringing on board with the two principals at Upside, [we determined] that this was a better ROI for our business to buy this capability and then integrate rather than build it."
Envestnet clients can use Upside right away but for now they have to deal with the robo-advisor like any other client — as a separate system. Within a year, Upside will be integrated into Tamarac and Envestnet so it has one access point and, if all goes to plan, Envestnet's broad product offerings will flow through Upside's system in appropriately digitally dazzling fashion.
So far so good in putting Upside to use by Brown and Ritholtz.
"Assets went from $500,000 in December to $1 million in Jan to $2 million by end of Feb – so a month-over-month growth rate of 100%," Brown says. "We're talking about small accounts here, obviously, the average account is $37,000, but that's the name of the game. All of these new accounts are linked to the clients' bank accounts and new deposits hit us every month. It'll be a snowball, even though it'll be a snowball that rolls slowly. We're happy with the progress so far and still learning as we go."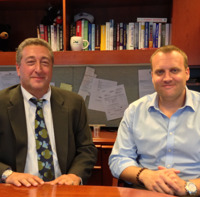 Josh Brown [l.]: It'll be a
snowball.
How to choose
But Alan Moore, co-founder of XY Planning Network, who chose Betterment Institutional after considering Upside, says he sees Upside being limited to big firms that want a robo for 20% of their business rather than as an all-in-one solution for the smaller advisor who wants to be all robo all the time with a younger clientele. One big issue is that Upside is tied to legacy custodians that require $10 million plus of assets — or a big custody fee to make up for it. See: After cutting loose its RIA chief, Scottrade is culling some RIAs and imposing an 'unpublished' $12,000 fee on others.
Kimberly says that Envestnet's relationships with a broad range of custodians may give it greater flexibility in taking on the accounts of start-up RIAs that want to use Upside.
Of course, Moore also said that Betterment just projected a sense of staying power based on the $100-million-plus of VC supports and longer period in existence. Now that Envestnet is in the picture, that concern may have been eradicated.
---
---
Mentioned in this article:
---
---
---
Fiduciary Man
$1.5mm in investment and sold for $2mm? That doesn't appear to be a very successful exit considering the trajectory they appeared to be on. Hopefully there is some kind of earn-out provision.
Mike
This will be a great addition to the Envestnet platform IMHO. Tom and Juney built a really nice robo platform. It will be interesting to see (1) If the full suite of UMA options are overlayed on top of Upside at Envestnet or it's just some simple ETF portfolios, and (2) how Betterment/Fidelity responds to the increased competition. At Hedgeable we have a RIA robo partner platform that is focused on advisors looking for tactical strategies, hedging, and alts – https://www.hedgeable.com/partner
CE
There was no trajectory, that's why they were sold. The cost to build that type of software compared to the revenue coming in from advisors requires deep, deep pockets that Envestnet has. They were smart. Despite what RIABiz and other RIA media outlets portray, the vast majority of advisors will never adopt or create their own robo solution. Money is a relationship business and robos have just jolted many RIAs to realize they need to not be so far behind in their tech.
Craig Iskowitz
Another advantage Upside will have as part of Envestnet is access to their manged accounts products and technology. No robo-advisor currently offers UMA's, SMA's or other managed solutions. But they will need to soon in order to stay ahead of the innovation curve and have some control over the change occurring in the market.
Stifel Financial just launched a client-directed UMA that could be useful in their fight against robo-advisors: http://wmtoday.com/?p=4593