Ajay Gupta: I knew the book was going to be a success. I didn't know that three months later it would be on its ninth printing and still be a New York Times bestseller.
Brooke's Note: This is a happy tale of an RIA windfall. The best part of my interview with Ajay Gupta came when I asked him how it's possible he received all these referrals from a mere mention of his sub-RIA in Tony Robbins' book, considering the thick tome contains no hyperlinks — nary a phone number or a web address. Gupta says that the transmission of good will even is more amazing than that. Nothing resembling a proper landing page for client prospects existed. Prospective clients conducted web searches that led to a link to a link to a link. But such is the power of Tony Robbins' referring voice that despite some negative reviews of 'Money: Master the Game', truly affluent investors from far and wide found a path to Stronghold Financial's door.
Ajay Gupta gets paid to see and manage the future.
Yet the principal of Gupta Wealth Management did not fully foresee the implications of owning the one financial advisory firm that author and self-help guru Tony Robbins heaped unreserved praise on in his 616-page book, "Money: Master the Game: 7 Simple Steps to Financial Freedom" See: 9 ways that Tony Robbins impressed the 'jaded' journalists at RIABiz.
To be sure, Gupta expected a rainfall of referrals, mostly in the form of lower-balanced accounts, in the wake of the book's publication and his firm's mention. Instead, he's received a Nile's worth of referrals and they just keep on coming.
"I knew the book was going to be a success," Gupta says. "I didn't know that three months later it would be on its ninth printing and still be a New York Times bestseller."
Account X-rays
Initially, Gupta planned to manage the windfall of referred accounts using model portfolios and Los Altos, Calif.-based Jemstep Inc. technology and, for a lesser fee of 75 basis points, service them in Stronghold Financial, a second RIA.
Gupta Wealth itself took in many accounts of $1 million or more and the firm's assets, largely on the strength of that tide, swelled from about $540 million at the time of his breakaway from UBS in October of 2013 to near $1 billion currently. See: Schwab wins giant UBS breakaway in San Diego.
Stronghold Financial has more chum with which to lure big fish — an online robo-advisory device called Portfolio Checkup that attracts investors by linking to their current accounts and X-raying them for lousy allocations and hidden fees. Jemstep provides the technology behind the diagnostics and the hook-ups with broker-dealers and custodians. See: Jemstep swipes the spotlight at T3 Enterprise Conference in Atlanta.
Portfolio Checkup charges no fee for the $4 billion of client assets it is constantly diagnosing and aggregating. Portfolio Checkup's service bears some resemblance to what SigFig Wealth Management LLC does for USA Today readers and Yahoo! Finance users. See: Why Mike Sha has a 2015 goal of $1 trillion in robo-assets for SigFig and where Marissa Mayer fits in.
Rapid expansion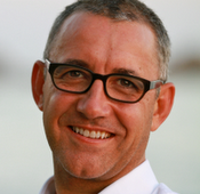 Joe Duran: I think [Robbins] genuinely
wants to make a difference.
Still, it's apparent that Stronghold Financial's model was not fully adequate to handle the clients flocking to its door from all over the United States. "We started realizing these were not the typical clients; they needed guidance and local representatives."
In the three months leading up to the official launch of Portfolio Checkup, over 500 new, discretionary managed accounts were opened through Stronghold, with an average account size of $70,000. Some of those accounts were in excess of $1 million in assets. Jemstep technology melds CRM and portfolio management systems and allows advisors to open accounts in a paperless, full automated customer account transfers (ACATS) and self-service processes. Jemstep Advisor Pro integrates with advisors' current back-office systems and investment processes and Gupta is currently working to add the program to his mother RIA, Gupta Wealth Management.
Windfall for United Capital
To provide a high level of counsel to thousands of potential clients, Gupta has pivoted from being a robo-advisor to being a robo-advisor that refers clients to classic-style RIA offices nationally. Stronghold Financial has already established 100 such offices but it is seeking many more to assure a truly local presence for the majority of potential clients — as many as 12 offices are in the works for major U.S. cities like New York. Firms that receive assets pay 25% of advisory fees to Stronghold annually.
One charter recipient of referrals is currently United Capital Financial Advisers with its 59 offices nationwide. "For now, I'm feeling very good about it," says chief executive Joe Duran, whose Newport Beach, Calif.-based firm has already received referrals. Duran particularly likes referrals that bring in youngish professionals, typically in their 40s, a demographic that he finds desirable. Duran is expecting referrals of about $200 million in assets.
HighTower's involvement in Portfolio Checkup was anticipated early on by its chief executive, Elliot Weissbluth, and Robbins. HighTower is no longer involved in any way.
Fiduciary pledge
Gupta, determined to send referrals to fiduciary advisors, is not accepting firms that earn any revenues from commissions or receive any kickbacks from product companies. Stronghold Financial avoids mutual funds with 12(b)-1 fees and demands that RIAs cap fees at 1% on referred assets and that firms sign a client "bill of rights." See: How the new 12b(1) fee restrictions could transform the financial advisory industry.
Tony Robbins has no ownership in any of the firms that are receiving referrals. His son, Josh Robbins, works for Ajay Gupta but he owns no stake in the firms.
"Tony believes in it and he was the catalyst to help me set this up," says Gupta.
Gupta is not depending on a perpetual windfall of Robbins-related referrals. Stronghold Financial will launch a marketing and PR effort aimed at consumers in coming weeks.
Blessed event
Stronghold is going to great lengths to ensure that its fiduciaries are what they say, according to Duran whose firm was vetted. The review process included Ajay Gupta traveling twice to Newport Beach and spending "several hours" each time at United Capital headquarters. In addition, Gupta had Duran fly United Capital's Dallas-based call-center team to San Diego. The Dallas team handles smaller accounts.
Gupta first approached Duran after the United Capital chief spoke at the MarketCounsel Summit in Las Vegas in December. See: Tony Robbins is set to crash the RIA party with two hours of testosterone. "He said: Is there something you can do to help us?"
Initially, Gupta used Schwab Advisor Services and Fidelity Institutional Wealth Services as RIA custodians. He has since added Pershing Advisor Solutions and TD Ameritrade Institutional. Gupta was particularly impressed with TD's ties with Jemstep. "TD has really stepped forward," he says.
But Robbins is clearly the prime mover behind these referrals. "I think he genuinely wants to make a difference," Duran says.
For Gupta's part, he says feels blessed to have received such a windfall of positive publicity from his high-profile client.
---
---
Mentioned in this article:
---
---
---
Dave Ross
March 18, 2015 — 11:02 PM
Rightly or wrongly the common understanding is if you are with a wire-house you can't be as responsible as an RIA. The RIA is being positioned as a fiduciary that is above the wire-house "brokers'. I cry foul and say it is all false pretence and Anthony Robbins hasn't done his homework and is contributing to a huge misunderstanding. (promoting his son's employer basically-thanks Dad!) Read this article for my evidence:
http://www.financial-planning.com/news/Advisor-income-RIA-Wirehouse-Surprisingly-Close-aite-says-2683758-1.html
"The study also found that commission income is an important revenue stream for both channels. Across the board, revenue from commissions makes up 40% to 47% of total revenue for RIA practices and large wirehouse practices, according to the survey — indicating that the business models are not as different as many believe."
Yes it says commissions—you can't be a fiduciary and earn commissions of any kind and yes a percentage of AUM is still commissions.
The bottom line is what makes the difference is the individual advisor, how he conducts himself and how people perceive you and the relationship they have. Everything else is irrelevant.
But I must say, as usual, nice marketing to Anthony Robbins and his team as usual—spinning the truth to suit his own means and usual ulterior motives.
brooke southall
Hi Dave,
I'm not sure I see much spinning or ulterior motives here. This is a fee-only RIA making referrals to other fee-only RIAs. There may be plenty of brokers out there wearing halos but steering clear of commission-earning advisors doesn't seem to be bad. And as far as I can see, Tony himself is pretty removed from equation.
Brooke
Fiduciary Advisor Advocate
I didn't and wouldn't read the book. It does seem odd for someone to write a book which essentially, as I understand, is intended to be educational and helpful yet at the same time promote a firm his son works at. Not very credible but who cares I betcha his son gets equity any day now. I would agree with the comment that Robbins genuinely wants to 'make a difference'- I just view this as he wants to make a difference for his son and his son's firm.
Aikaterina Mastoropouloy
January 27, 2017 — 8:08 PM
Call me 248 9258758 best way to get a hold of me thanks Aikaterina mastoropoulou