News, Vision & Voice for the Advisory Community
Andrew McFadden started Panoramic Financial Advice out of his Fresno, Calif. home and cut costs to the bone -- except where only retail would do -- and isn't afraid to send micro-accounts to a competitor
March 17, 2015 — 6:49 PM UTC by Guest Columnist Andrew McFadden
Brooke's Note: Too often, we tell people to become an RIA as if its like joining LinkedIn. It's not. Too often an article's author takes a small slice of the challenge of getting going — like compliance or choosing software. See: One RIA's unvarnished views on Advent, Black Diamond, Tamarac, IAS, Orion and Schwab PortfolioCenter after an odyssey of test drives. The implication is that the rest is just putting square pegs in square holes. It's not. So it is a great and helpful act when a recent graduate of the harrowing process downloads an unabridged account of the ground they covered. A big thanks to Andrew McFadden for doing just that.
About a year ago, I read an article about a young financial advisor named Sophia Bera who made the leap to start her own firm (Gen Y Planning), and did so on less than $10,000.
Encouraged by Bera's story of success and thrift, I began to research in detail what I would need to do to start my own registered investment adviser firm in a similar fashion. I'm 31 and have 10 years experience in the financial industry, including four years as a stock analyst for The Applied Finance Group in its Fresno Calif. office. Most recently, I was a client advisor at Regency Investment Advisors, also in Fresno, from 2012 to 2014, assisting other advisors in the office with financial planning projects.
After leaving Applied Finance, I made a series of key decisions on how to operate my firm and what services I would provide to clients. When all was said and done, my startup expenses totaled approximately $7,000. My monthly expenses totaled $2,000 in 2014 (about four months worth), an overhead rate that has risen to about $6,000 in 2015 plus some additional marketing and conference costs.
My Fresno, Calif.-based firm, Panoramic Financial Advice, is another example that it can be done. I wouldn't be where I am today had Sophia not been so generous to share her story, and so, in my effort to "pay it forward," I would like to share with you how I created my dream firm. That includes the ability to spend time with my wife and daughter at odd hours of the day. See: How and why I'm starting an RIA from scratch and what I'm spending to make it happen.
How 'bout some coffee?
I decided to operate from a home office and meet all my clients out and about, either at their office, their home, a quiet local restaurant or coffee shop, a rented conference room or using online video chat. My clients find this really convenient, and it allows me to pass on the savings for not having to lease an office space. As my firm grows and I hire more advisors, I will likely need to get an office but will try to maintain the same model for meeting clients. I have a wife of nearly eight years and a daughter that turns two in a couple weeks. After much discussion, my wife was fully on board with this move. With all the ups and downs along the way, her support has been constant.
After much research, I also decided that the overall value proposition of using a third-party manager for portfolio management was much better than doing portfolio management myself. Clients deserve a team of analysts — not financial planners — managing their money, and as a startup not operating in a big city, hiring and paying for a team of analysts isn't feasible. I chose Frontier Asset Management LLC of Sheridan, Wyo. Frontier uses Fidelity Institutional Wealth Services as its custodian primarily, but can use Schwab Advisor Services, TD Ameritrade, and I believe some others. My clients' accounts are customized at Fidelity and Schwab.
My fee combined with theirs ended up being at the low end of the spectrum when compared to the other firms in my town. See: How the breakaway movement is driving the outsourcing trend.
Get thee to a robo
I also refer clients who are new to saving — and not economical for my business model — to the robo-advising platform, Betterment Inc. The New York-based online advisor builds diversified portfolios for about .25% and its easy to use. I don't see this as an act of sacrifice. An explosive incubator of micro-accounts will only intensify the need for human financial advice, as consumers will have plenty of questions about which robo-advisor to use, how risky their portfolio should be and what to do when the market goes up or down. See: Betterment's Jon Stein talks human-RIA coopetition but breathes fire about fellow online RIAs.
Taking portfolio management services off my desk allows me to focus my best efforts and time creating and perfecting a financial planning process where the sky is the limit to what value I can add. As of now, the average account size for my portfolio management clients is $230,000. That does not include my financial planning only clients. I do not have discretion over the accounts — my portfolio manager does.
Doctors are in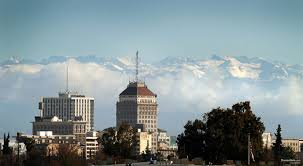 I started Panoramic in my house
in a suburb of Fresno, pictured
here.
As a startup, it is very difficult to limit yourself to working with a specific clientele. Nevertheless, I decided to go by the book and specialize. I had worked with a good handful of medical professionals at my previous firm, and also had several friends starting out in the medical field.
Fresno has long been known as an agriculture town and has access to some of the most beautiful national parks (an hour from Yosemite National Park), which gives us great pride as a city. But now there are basically as many medical professionals as "ag" workers. As I researched that market further, I came to find that there were tens of thousands of medical professionals working in my surrounding community.
So I chose to specialize in that field. It was slow at the start, but now that I have had several months to get the word out I am picking up more clients and seeing the fruits of my labor and patience. In less than a year's time, several medical professionals know that Panoramic is where you should go to get help with your financial needs. See: Why Joe Duran believes that classic RIA firms face extinction.
I charge a lower-cost percentage-of-assets fee for portfolio management. If clients want financial planning on top of that, I charge a flat fee for a comprehensive financial plan along with a reasonable monthly retainer for help implementing and monitoring the plan going forward. This allows clients to have a clear understanding of what they are paying for, when they pay it. It also allows clients with minimal assets and potentially lots of debt (most young medical professionals) to still access and pay for financial advice. My initial clients have embraced this fee model so far.
Lastly, I want people to think of Panoramic Financial Advice as a pioneer in the financial community. Therefore, I try to be forward thinking with my communication with clients, fees, website, document storage, and any other area that I can. As I wrote in my first blog "I didn't want to be part of a firm that claimed greatness over the past 20 years; I wanted to build a firm that would be great over the next 20 years (and beyond)."See: What the RIA Hippocratic oath would look like — in plain English.
Building blocks
Now for more on the startup costs of Panoramic. I demanded the lowest cost but tempered by the determination that financial advising is not a profession for taking shortcuts or try to cut necessary costs for the sole purpose of lowering your price. Certain software, hardware, research and other assistance should be embraced to add value to your client relationships, and ultimately your firm.
• Company name: When you come up with a company name that you like, make sure no one else has taken it. File a fictitious business name statement ($95). Go online to your city or state's website to see how.
• Form a company: If you are starting on your own, you can consider operating as a sole proprietor, LLC or a corporation. Sole props are the easiest to form and cost the least but come with significant liability exposure. Everyone should consult a professional for legal advice on what type of business structure to take (my attorney charged me $339). See: So you're an RIA. Be careful about calling yourself one, says the SEC.
• Form an RIA: You could try to file all the papers yourself. But unless you've done it before, it is not worth the time and effort. There are a lot of options out there to help you with the process. The low-cost ones are pretty boilerplate and from what I heard did not have the greatest reputation for getting you through the filing process in a timely matter. I interviewed several of them, and wasn't happy with what they said. Sophia recommended Comprehensive Securities Compliance Solutions Inc. My search ended there. CS2 was great. Paul and Mary were very personable and knowledgeable and felt much more consultative than the other firms. They also got my filing approved with the California State Securities Board in record time (just over a week). In addition, they helped with my U-4 registration with FINRA ($135). Best of all, their fee came in at a very affordable $1,950.
• Business checking: Open a business checking account separately from your personal accounts. It will help you clearly keep track of your expenses and deposits, which will be very helpful come tax time. Beware of the fees the account charges, and also realize that there are some service limitations with local banks and credit unions. Do your research. See: What they do teach at Harvard Business School that's worth learning even after banking monetary success.
• Get E&O Insurance coverage: I researched a few reputable vendors and also sought the advice of my brother-in-law who works in the insurance industry. CalSurance Associates came highly recommended. CalSurance is very affordable and specializes in RIAs ($1,819 per year for a $1 million policy). I did have a minor headache with customer service when I first signed up, which eventually got resolved.
Scanning on the run
• I decided to make the jump from a PC to a MacBook Air ($1,637). I wanted something lightweight and mobile, and for years had heard raves about the Mac. See: How one RIA is running his practice on a Mac and finding it totally doable. I think it all depends on your personal preference. My Mac took a little getting used to, and I had to install Microsoft Office ($111) because I heavily depend upon Microsoft Excel for a lot of the projections I run. Do what works for you.
• I bought a Doxie Go scanner ($237) because it is easy to take with me wherever I go. And because I try to meet my clients wherever they are, that makes a lot of sense.
• I pay for a UPS Mailbox ($360/year). I work out of a home office so it made sense to have an alternate place to have my business mail sent to. The great thing about the UPS mailbox is that it is not a P.O. Box, but actually gives you a "suite" address.
Shopping for software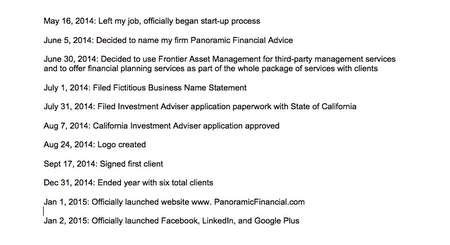 My year of going independent: A
timeline
• Choose a CRM: I've used Redtail Technology a lot in the past, but I didn't like its lack of customization. I demoed several other CRM's as well. The best CRM specifically built for financial advisors I found was New York-based Wealthbox. See: VC-backed RIA CRM firm bursts onto the T3 scene looking to knock off Redtail, Salesforce etc.
• Protect your information: Passwords are a pain to remember. I use LastPass ($80/year, paid in advance) to protect and store my passwords so that I don't have to remember them all. Other services are available, some for free if you have a minimum number of passwords saved. I also got Private WiFi ($10/month) because I am out and about working a lot. Public networks are not secure, and you need to protect yourself. Private Wifi provides bank-level security and encrypts all of your Internet communications. No one can see your Wi-Fi signal.
Lastly, I use Crashplan Pro to back up the data on my computer ($10/month). It's secure and easy to do. See: RIAs get hit with data losses held at small RIA-owned firm that, in turn, blames giant Amazon for lack of backup and for selling its space.
• Social Media archiving: As an RIA, you will need to archive your social media communication. Several people recommended Arkovi to me, and because its price was pretty competitive, I went with it ($39/month). See: Advisor Tested: Arkovi expands and archives a firm's online footprint.
• Paperless document storage: I use Amazon Web Services for all of my document storage (free until I reach a certain storage level — relatively inexpensive after that). I am completely paperless in terms of storage. That is why the Doxie Go comes in so handy, too. Amazon Web Services has very affordable storage and archiving features, both of which are going to be a necessity for you as an RIA if you choose to be paperless. See: RIAs in the catbird seat to leverage straight through processing in 2012.
• Accounting/Billing: I use Quickbooks Online ($10/month) for my accounting software and also to bill my clients. It's robust and pretty simple to use. Their customer service reps are also very helpful.
Brand boldly
• Get a logo: There are plenty of options here. A lot of web designers will be happy to help you design a logo. I worked with a friend who gave me a great deal ($200) and ended up designing an amazing logo that I still love six months later (thanks, Gordon Howell)! It resonates with my "why" story and gives me a great talking point when people ask about it.
• Build a modern website: Squarespace is a great platform to build your own website, and pays for ongoing hosting and a domain for a very affordable price. I would recommend using a web designer that is familiar with Squarespace to help you with the overall design and content of your site ($1,190 for the professional I used, which includes the cost of the website pics —Thanks Bekah Hanson!). The great thing about Squarespace is that it offers great templates, converts seamlessly from a laptop to a tablet to a smartphone, and has access to Getty Images for your photos. I made the mistake of buying my domain and security certificate from GoDaddy ($93) before going to Squarespace, and could not transfer it. So now my GoDaddy domain points to Squarespace, but I have to pay double for the hosting (a total of $22/month). Start and end with Squarespace and I think you'll be happy. Once you've selected a domain, register it with Google to get a professional -email address and Google business apps ($5/month). You may want to consider using Google Voice, too, which gives you one number for all your phones and voicemail. See: Outdated RIA websites risk compliance trouble not to mention credibility .
• Professional photos: I was lucky enough to have a friend who runs an amazing photography business (PearlyHens Photography) up in Napa to take my professional pics for me free of charge (thanks Aurora!). Check your inner circles too. Chances are you know a good photographer who might help you out a bit. See: The one act of image-ination RIAs must undertake before debuting on social media.
• Business cards: There are plenty of options here too. I used a very affordable website called Gotprint.net and was able to create and order 1,000 business cards for about $20 after shipping charges. Moo.com can produce more creative business cards if that's what you are looking for, but it comes at a premium.
• Social media: I would make sure you have Facebook, LinkedIn, Google+, and Twitter pages/profiles, as I have heard this can help boost the relevancy/traffic of your website, depending on how active you are. Keep it professional, because most prospects and clients will visit one or more of these social media pages at some point. Also, stay regular with your posts and make them relevant, as that will help enhance your online presence, which can eventually lead to more clients. See: RIAs fed up with Facebook should hop on the Google+ bandwagon.
• CFP dues: Make sure to pay your annual CFP dues ($325/year). It's one of the best ways to show people how qualified you are to do your job well.
• Free stuff: I mentioned before that MailChimp (free) integrates with LACRM. It also integrates with Squarespace. So when people sign up for your blog, their info gets imported straight to MailChimp, which was a huge plus for me. MailChimp allows you to do all sorts of e-mail campaigns for free, and has some great analytical tools to help you understand who's reading your stuff.
• Start your own blog: I think it is important to develop your own voice and to put yourself out there so that clients and potential clients can see that you have your own opinions that offer value. This can be especially helpful if you specialize in a niche, because your niche will be more likely to sign up for your blog if they know all of the content is specifically geared towards them. It might also morph into an RIABiz article like this one. RIABiz has a high Google page rank and my brand will now pop on Google searches more readily when prospects 'Google' it.
• Sign up for Help A Reporter Out (HARO): You will get three e-mails each weekday with a list of topics professional writers and bloggers are looking for quotes for their article. If they choose you, it's a great way to get recognized and quoted on a high-traffic website in your area of expertise. See: Blogging: The costs and risks of hoarding your thoughts are rising.
Tools for clients
• Financial planning questionnaires: Precise FP LLC, made by Spectrum Input in Alpharetta, Ga. ($240/year) is a convenient, professional-looking online questionnaire that gathers important data from your clients. I love how comprehensive it is. It also stores that info for your client until the next time you request their info. That way, they only have to update the things that have changed, making it really convenient for them. Financial Planning Questionnaires See: Financial advisors need to look at client onboarding in a whole new light.
• Financial planning software: I use MoneyGuidePro ($995/year) to do a lot of the financial planning process. It allows the advisor and client to play with different assumptions, which my clients really like. It integrates with Precise FP and a whole host of other software, making it very useful. It takes a while to really learn the system to be able to use it to its full potential, but well worth the effort in the long run. For custom analysis, I create my own spreadsheets in Excel. Sometimes it is just easier to show clients how something works in a customizable tool like Excel.
• Online video chatting: Skype is great for clients that are out of town or maybe in town but just don't have the time to drive to meet you somewhere. It preserves the human touch of the relationship while leveraging technology. It's the best of both worlds and it's free! See: 19-advisor firm in Santa Monica jumps to LPL with social media-fueled strategy for the underserved under-40 set.
• Electronic signature: I am currently on a free trial for EchoSign by Adobe ($15/month) and enjoying the capabilities and convenience. But there are other good ones out there like DocuSign.
Other recommendations
• Join professional groups and attend conferences: Do some research and find which conferences and groups fit your niche/passions the best and find a way to be a part of them. It will help you stay current and keep your firm feeling fresh. The FPA NorCal conference is one of the best conferences to attend on the West Coast See: At FPA's Norcal event, wary advisors are told how to stop worrying and love the cloud.
The FPA NexGen Gathering is a great landing spot as well (have to be 36 or younger), because there you really get to see all that is changing and thriving in the up-and-coming financial advisor community. These places are great for networking too, and you might form some long-standing professional relationships. See: An advertiser's-eye view of what the new-look FPA looked like in Seattle. The XY Planning Network is a great professional group to join, especially if you are a new RIA looking to serve the future generations of retirees.
• Stay up to date on the latest news in financial planning: I recommend signing up for the daily e-mails that Michael Kitces (Kitces Blog) and Bob Veres (Advisor Perspectives) send out. These are a great source for keeping up with what's going on in the industry on the business side of things, but also keeping up with the latest content in financial planning and portfolio management. They both offer paid-for publications (Kitces' Newsletter & Veres' Inside Information), which are great resources (both come with a membership to the XY Planning Network). RIABiz sends out daily e-mail publications that I find helpful as well. Lastly, there are helpful posts on Wall Street Journal's Wealth Advisor page. See: The RIABiz top 10 industry blogs — and which bloggers they recommend.
• Leverage what you are best at: When I went out on my own I assessed the things I was really good at when it came to picking up new clients. I taught classes at the local adult schools on retirement planning which had led to a handful of clients over the years. I have hosted social security workshops for clients and their invitees at the local country club, which has also led to new business. See: The art and science of how one RIA grew assets 125% by springing for several hundred steak dinners a year.
If anyone was interested in doing business with me, I was typically pretty good at sitting down and showing them the great benefits of the services I could offer. So for me, my strength was in developing good presentations for larger groups, which ultimately led to appointments with prospective clients. Determine what you are best at from a marketing perspective and run with it.
• Don't cast too wide a net or you might not get anything done: This is something I began to struggle with as I got most of my business set-up done and started to move into servicing and marketing mode. There will always be a million possible things to do for your clients and prospects. Take a step back, prioritize those things by what will help make your business most successful in the long run, and then attack three or fewer of those things until you have reached a resolution. I have been guilty of and have seen too many business owners waste time dreaming up great things yet never getting anything done. Don't fall prey to it. See: 5 ways for stressed-out advisors to build a more efficient practice.
• Develop procedures and document them: It's hard enough stepping out on your own, so who has time to develop and document procedures? I know it is much more instinctive as a new business owner to just shoot from the hip with what you know and put your nose to the grindstone without ever thinking about "how" you are operating. See: 6 reasons why RIAS can't — or don't want to — have track records.
But you've probably heard the phrase "work smarter, not harder." If you do this, the result will be that you become more efficient, you will develop better service because you take the time to evaluate your processes, and when you go to hire someone, it will make training them ten times easier. It's a pain and a little more work up front, but pays huge dividends in the long run. A lot of times it makes the difference between the average firms and the great ones. See: Three RIAs, three big-time hires and the story of how it all came together.
Andrew McFadden has 10 years experience in the financial industry, including four years as a stock analyst for The Applied Finance Group. He graduated from Fresno State with a B.S. in Mathematics in 2006, and continued on to get his M.B.A. with an emphasis in finance. He is a Certified Financial Planner and worked as a client advisor at Regency Investment Advisors from 2012 to 2014, assisting other advisors in the office with financial planning projects. He has taught Retirement Planning and other financial planning classes at the local adult schools since 2013. McFadden started Panoramic Financial Advice with only a minimal book of business, consisting of a couple family members and a close friend. In 2015, He expect to surpass 20 total clients.
---
Mentioned in this article:
MoneyGuidePro
Financial Planning Software
Top Executive: Bob Curtis
---
---
Share your thoughts and opinions with the author or other readers.
Robert J. Martorana, CFA said:
March 18, 2015 — 1:17 AM UTC
Andrew,
This is one of the most practical articles I've ever read about launching and running an RIA. It is refreshing to hear how you did so much with so little. And I noticed you didn't skimp when it came to photos, website, and compliance.
Thanks for sharing your experience,
Rob
Mister RIA said:
March 19, 2015 — 6:05 PM UTC
I'd like to hear the author's thoughts on who should start their own RIA and who should not reinvent the wheel and plug into an existing RIA. I own mine, but I started it back in the beginning of the RIA business model and competition was easy… plus there really were very few firms to work in.
Today it is different and, as one who wasted much time as chief cook and bottle washer, I wonder how many people are sub optimizing their career by starting their own RIA. Would you start another kind of company with little or no experience?
John Rourke said:
March 20, 2015 — 1:23 PM UTC
"The best CRM specifically built for financial advisors I found was New York-based Wealthbox. But there were still some limitations in my opinion."
Hi Andrew: Thanks for that compliment about Wealthbox as "best CRM" and attendant feedback. It's been fully 8 months since you tried Wealthbox and we launched this CRM app just 13 months ago. Since then we've added integrations like MailChimp, Google, and MoneyGuidePro, among other integrations, and we've got lots more on the way. Hope you check us out again, and congrats on your launch of Panoramic. #Impressive.
ucodewekuapoz said:
June 13, 2015 — 3:30 AM UTC
[url=http://flagyl-online-buy.net/]Buy Flagyl Online[/url] <a href="http://priligy-cheapest-price-buy.org/" rel="nofollow">Buy Priligy Online</a> http://lasix-buy-online.net/
Ahmad Sizemore said:
November 22, 2015 — 10:08 PM UTC
Thoughtful discussion . I was enlightened by the facts . Does anyone know if my company would be able to grab a fillable CA Form 275-321 document to fill in ?
maynard grier said:
October 22, 2016 — 5:48 AM UTC
---
---