Robert Shapiro: It makes a big difference to us that we're now judging the risks and returns ourselves
Brooke's Note: When an RIA seemingly comes out of nowhere with billions of client dollars, we presume there is a story — especially if it is owned by one of the more august names in law. Yes, that was law, legal, attorneys — the profession everyone loves to hate. It turns out that however much people fear being taken out by a gratuitous lawsuit, they trust members of this profession with their money. It's something a law firm can build a big business around — if they care to jump through some hoops.
Attorneys at Boston-based Ropes & Gray LLP have been serving as trustees for their clients since the U.S. Civil War ended. But for much of the first 149 years of its existence, the law firm was in the awkward position of overseeing billions of dollars in trusts and estates without the ability to sit down with clients to give investment advice.
That changed this year. On Jan 1, the venerable law firm launched its own RIA, Ropes Wealth Advisors LLC, with more than $2.7 billion under management. Virtually this entire amount came via the Ropes & Gray Private Client Group, a 56-person office within Ropes & Gray that handles estate and tax planning, charitable giving and fiduciary services for wealthy clients. By finally registering with the Securities and Exchange Commission, Ropes & Gray has put the finishing touch on what was essentially an old-school family office that outsourced vital decision-making.
By embracing the red tape of SEC registration, the firm is now able to do much more.
"It makes a big difference to us that we're now judging the risks and returns [of client portfolios] ourselves," says Robert N. Shapiro, a partner in the Ropes & Gray Private Client Group. Under the old model, clients had to use Ropes as a conduit to engage in a conversation with the people actually managing their money and assessing their risk. This multi-layer format made it hard for clients to gain insight into what was going on with investments.
"It's a whole new dimension of bringing professionals to the table, literally, in this very important part of people's lives," Shapiro says. Ropes Wealth Advisors currently has 10 employees, four of whom have been hired on from outside the firm, and serves around 500 clients. See: First, own all the risk.
Uncomfortable fit?
But while the Ropes & Gray-branded RIA promises to offer a larger measure of transparency and convenience for clients, there are pitfalls inherent in the move. The RIA will have a different core competency and mindset, not to mention new regulations and the perils of competing with clients. See: Wells Fargo targets tempting but treacherous UHNW market with Abbot Downing launch.
"In general, I don't see an RIA working within a law firm as an obvious fit," says Dan Inveen, principal of FA Insight, a financial advisory research and consulting firm in Tacoma, Wash. "How the two are structured under the parent entity, however, will be influential on the RIA's success. There is potential for cross-selling and more holistic client servicing but there are potential land mines to navigate as well."
Indeed, two other Boston law firms punted on the idea in recent years. In 2012, Mintz Levin Cohn Ferris Glovsky & Popeo PC sold its $1.2 billion RIA, Mintz Levin Financial Advisors LLC, to the Colony Group, a Boston-based subsidiary of New York-based Focus Financial Partners, LLC. And in 2013, WilmerHale sold its RIA, Silver Bridge, to Palm Beach Gardens, Fla.-based Banyan Partners LLC. See: Mintz Levin sells its $1.2 billion RIA, and Focus Financial nabs the assets through a partner firm.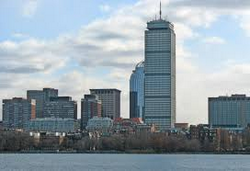 Ropes & Gray take up 17
floors in Boston's Prudential Center with
Ropes Wealth Advisors confined to the
36th floor.
Tricky navigation
But Ropes & Gray wouldn't have made the move unless it was in it for the long haul, says Michelle Knight, chief economist and chief investment officer of Ropes Wealth. To that end, Ropes & Gray is investing heavily in the business to streamline operations and clear hurdles. It will be hiring more portfolio managers and client service support staff, and recently named a new partner to the practice.
"Client response has been overwhelmingly positive," she says.
But keeping that good will and trust among Ropes Wealth's well-heeled clients will be a high maintenance, detail-rich endeavor, Inveen says.
"There are issues regarding how to best manage the client relationship across the various divisions of the firm, internally incentivizing clients to take advantage of the firm's expanded services and who will be compensated for new business development and management of the relationship," he says. And, Inveen adds, the law firm and the RIA must navigate the potential conflicts of interest involved in an advisor potentially recommending services that — surprise! — require more legal services.
"In the end it boils down to whether potential benefits outweigh these challenges," Inveen adds.
Long hauls are something the law firm of Ropes & Gray knows about. John Codman Ropes and John Chipman Gray, Jr. founded the firm in Boston in 1865. At that time its practice largely consisted of acting as custodian and trustee for the assets of local clients. The firm now has 10 professional trustees overseeing the private client business in addition to more than 1,000 attorneys and numerous branches in America and around the world.
The law firm came into media focus as a skilled dispenser of financial advice in 2012 when partner and chair of Ropes & Gray's policy committee, R. Bradford Malt, had to walk the press and public through the byzantine investments, offshore accounts and disclosed tax history of his client, GOP presidential nominee Mitt Romney. Romney's strong connection to Ropes & Gray began in the 1980s when the firm assisted Romney's private-equity firm, Bain Capital, in making deals. The relationship between Ropes & Gray and Romney is detailed in this 2012 article in Am Law Daily.
Ropes & Gray declined to say whether Romney is a client of the new RIA, citing confidentiality. See: What Mitt Romney might not know about blind trusts.
Cordoned off
In order keep separate the state that is Ropes & Gray — where attorneys are constantly privy to potentially market-moving information — and the church that is its newly created RIA, R&G has banished the advisor team to the 36th floor of the Prudential Center, where the Ropes & Gray has been located since 2010. In total, R&G occupies 17 floors.
"We're completely closed off," says Knight, who adds that her team has access only to the Ropes & Gray cafeteria and the firm's bookable conference rooms and isn't even allowed access to the otherwise company-wide newsletters.
These precautions were enacted to head off any conflicts between the clients the two divisions share, among whom are AMG Group; LPL Financial PIMCO; Grantham, Mayo, Van Otterloo & Co. LLC; Harris Associates LP; and Putnam Funds.
In the family
Shapiro says referrals from Ropes & Gray Private Client to Ropes & Gray Wealth Advisors are not automatic and that management is happy to steer clients to outside financial advisors when the case calls for it. "We're perfectly clear on both sides that there are many choices in the world."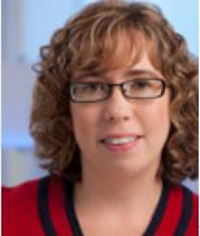 Michelle Knight: As we consider the
future, we'd hope and expect to
have clients come to us directly.
Now we can take a lot
more business.
Keeping those legacy clients happy is job one, says Shapiro. "I don't know how other RIAs do it, but we don't have a growth strategy that involves targeting [de novo] customers. It's about working with and strengthening the relationships that come to us."
Which isn't to say that the new RIA is opposed to new business, says Knight. "As we consider the future, we'd hope and expect to have clients come to us directly. Now we can take a lot more business." See: Part One: Investment Advisers: Is our path toward, or away, from a true profession?.
Knight moves
Knight came aboard as CIO in April 2014, recruited by an executive headhunting team hired by Ropes & Gray as it considered starting its own wealth division. Knight was then the chief economist at Banyan Partners LLC, the $4.3 billion AUM RIA based in Palm Beach Gardens, Fla.
Initially very excited about the "once in a lifetime" opportunity to become chief investment officer for the RIA at one of the largest and most prestigious law firms in the country, Knight's interest increased after meeting with Ropes & Gray management. They "just clicked" she says, and it wasn't long before she was packing up her desk and saying her goodbyes at Banyan.
Since joining the firm, Knight has played a large part in bringing in over two former friends and colleagues. Kristin Fazio, a Silver Bridge Advisors alumna who left the firm in 2013 in order to raise triplets, joined Ropes Wealth last year as chief compliance officer.
Knight also convinced Joseph "J.P." Powers to join her as portfolio manager from Banyan Partners. Banyan was going through a major transition after its July 2014 acquisition by Boston Private Financial Holdings for $60 million, and Knight first got permission from Banyan chief executive Peter Raimondi to recruit Powers. See: As Boston Private and Banyan Partners merge, the Big Three roll-ups become the Big Four
Control issues
Where some see inherent complications between R&G's private client group and the wealth division, Knight sees synergy.
"Many people find the coordinated, integrated approach hard to achieve," she says. "They can give clients great advice on estate planning, but can't actually execute the strategies."
Another plus, according to Shapiro, is that having an independent advisor will lessen the law group's dependence on third parties and any unknowns they bring with them. In the past, Shapiro says, Ropes & Gray trustees always outsourced the management of clients' assets. Thus, the firm was never aware of its outside partners' long-term plans or critical personnel decisions until big decisions had been made. Shapiro hopes that bringing investment capability into the practice gives his employees and partners a clearer and more stable roadmap for the future.
For an AUM-based fee, Ropes Wealth Advisors offers investment advice, tax and estate planning, bill payment, and charitable giving services. Investment-wise, Ropes Wealth Advisors prefer active investing for international securities and for tax-management purposes, but often choose indexes for the domestic part of a client's portfolio. Though the services Ropes Wealth offers make it legally the custodian of its clients assets, the firm's assets are parked at Oaks, Penn.-based SEI. Ropes Wealth charges a 1.25% asset-based fee for the first $1 million and .95% on the next $4 million, with further fee cuts for greater balances.
It's a Northeast thing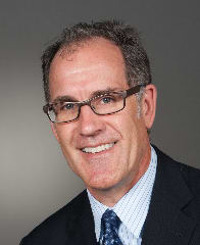 Dan Inveen: There is potential for
cross-selling and more holistic client servicing
but there are potential land mines
to navigate as well.
Ropes Wealth clients are generally concentrated in New England but are also scattered across the country — which means the team frequently hits the road for client meetings. See: A quick take from a Harvard psychologist on how the obscenely rich can think about passing on a work ethic.
Massachusetts is still one of the few states that allow lawyers to serve as trustees, a historical result of the area's maritime economy. When wealthy sea captains embarked on lengthy and dangerous voyages, they would often hire their lawyers to serve as their trustee. Knight says that as a result, law firm RIAs are much more common in the Boston and in the New England area than in the rest of the country,
Peter Flynn, a Boston-based lawyer specializing in broker-dealer and RIA regulations says the RIA trend at Boston law firms took off after Hale & Dorr founded Haldor Investment Advisors in 1988. This move was quickly copied by the lawyers at Nutter McClennen & Fish LLP; Choate Hall & Stewart LLP; Mintz Levin and others.
Small fish eats big fish
After a 2004 merger with Washington, D.C.-based Wilmer Cutler & Pickering, and a 2008 rebranding, Hale & Dorr's original RIA became Silver Bridge. See: How 3 wealth managers at Goldman Sachs parlayed a $1 billion book of business into a $125-million payday — after doing it once before for $217 million
Knight was chief economist and managing director of fixed income at Silver Bridge when Banyan Partners acquired it in 2013. At the time of the sale, industry sources claimed WilmerHale wasn't dedicated to the RIA business, and viewed it as a non-integral part of its legal business. Silver Bridge had cycled through a couple different business models to try to boost its anemic business without success, and the firm had seen a spate of recent defections of top talent in the year leading up to its sale. See: How WilmerHale is positioning its $3.3B-AUA RIA as outsourcer and owner in a $750-billion market
These issues contributed to the RIA's acquisition by a firm smaller than itself. Its purchaser, Banyan Partners, had $400 fewer assets under management and an additional $1 billion less in assets under advisement. See: How Scott Dell'Orfano is helping to double the size of Banyan Partners just six months after leaving Fidelity
---
Mentioned in this article:
---
---
---