News, Vision & Voice for the Advisory Community
In a blistering blog entry, the Wealthfront chief executive expresses outrage at the Schwab robo's ADV contents -- and gets an earful back from the San Francisco giant
March 11, 2015 — 4:16 AM UTC by Brooke Southall
Brooke's Note: In an interview yesterday, compliance consultant Peter Mafteiu asked me to imagine an employee of the Securities and Exchange Commission reading over Schwab's ADV application for its robo-RIA, Schwab Intelligent Portfolios, last year. Imagine, he continued, whether that reviewer walked the Schwab file down the row of cubicles to the supervisor and asked for help. It does not, Mafteiu says, appear that interaction took place. Nature abhors a vacuum. So Adam Nash, more taken aback by Schwab's ADV than the SEC, has started a debate on his blog, causing Schwab to expertly reply on its own blog. Vacuum filled, at least partially. Hopefully this discussion will continue, crowd-source style, in sympathy with that hypothetical civil servant who might have been a wee bit overwhelmed. Little did they know they were seeing the legal innards of a newfangled business model invented by Schwab, even as its old model of revenue flow drapes over it in a way it would take a very smart robot indeed to understand.
"We don't believe we'll kill Charles Schwab. It is a great company, albeit focused on a different customer — the baby boomer. We do believe, however, that we'll force Charles Schwab to become even better." – Adam Nash, chief executive of Wealthfront, October 2014.
That was then.
In a blistering blog post published yesterday, automated advisor Wealthfront Inc. chief executive Adam Nash slammed his massive rival 35 miles up Rt. 280 in San Francisco as a company with "gotcha pricing," a greedy approach and an "almost criminal" ADV-expressed willingness to allocate as much as 30% of a client portfolio's assets into Schwab Bank. See: Schwab tells the SEC its robo-advisor has a 30 basis-point fee and big-time cash allocations held by Schwab Bank.
"I now find myself hoping we never lose our identity the way Charles Schwab has," Nash writes on the heels of the launch of Schwab Intelligent Portfolios. See: Schwab sings 'Blue' as it rolls out its robo — and phono — functions ahead of deadline, with minimums.
Pregnable kingdom
In a rapid-response counterpunch on its blog that same day, Charles Schwab & Co. excoriated Nash for misrepresenting facts and suggested that sour grapes might have been one of his motivations.
"Adam wishes he could build a moat around Wealthfront and protect it against competition," Schwab's post reads.
But Schwab, in the ferocity of its response, may have lowered its own drawbridge and allowed entrance to the castle, according to William Trout, senior analyst of wealth management at Celent, an industry research and consulting firm.
"It is worth noting the vociferousness of Schwab's response," he says. "That is, the bear has lashed out, and Nash need say no more. He's placed his firm (at least from the investing public's point of view) on the same level as the much larger Schwab. In that sense he's just won a large battle."
In an interview yesterday, Nash says that his blog offensive is being waged on a personal level, which is why it appears on his own blog and not on Palo Alto, Calif.-based Wealthfront's.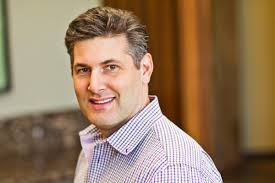 Adam Nash: I grew up out
here. And here, Schwab is legendary.
That's why it's so troubling.
"In some ways, it's a note CEO-to-CEO. I hope Schwab will take the criticism and they'll make changes. It's not too late. There is time to fix this."
Walter Bettinger is chief executive at Schwab but chairman Chuck Schwab, as the face of the company, remains the de facto CEO. See: What Chuck Schwab's talk showed about his complex relationship with RIAs.
'Kick the tires'
Schwab's no-byline blog response to Nash maintains that nothing needs fixing and that a consumer need only apply a method of due diligence familiar to any used-car buyer.
"We're excited about the launch of Schwab Intelligent Portfolios and know that consumers will kick the tires and see the great value that it offers," the blog reads.
But the buyer need beware, says Peter Maftieu, principal of Sound Compliance Services of Gig Harbor, Wash. His reading of the Schwab Intelligent Portfolios ADV is that it is too light on specifics for useful analysis of the merits of the offering.
"How do you kick the tires if you don't know what you're reading?" he asks.
Maftieu adds that Schwab's advertisements touting No advisory fees. No account service fees. No commissions. Period seem misleading in light of Schwab's disclosure that it may earn revenues from ETF trades at third party brokers. See: A charged-up Walt Bettinger slams all non-Schwab robos at IMPACT 2014 with an energy appreciated by RIAs.
The exact language in the Schwab robo disclosure reads: "Revenue may also be received from the market centers where ETF trade orders are routed for execution."
Black mark-up?
"It's not a true statement [of no commissions]," Maftieu says. "Isn't a mark-up of an ETF the same thing as a commission?"
Schwab executive vice president Naureen Hassan, who leads Schwab Intelligent Portfolios, says in a statement that her company gets the big stuff right. "We know there are three controllable variables that have an impact on the long-term success of investors — being and staying invested; having access to quality investment advice and money management; and keeping costs low."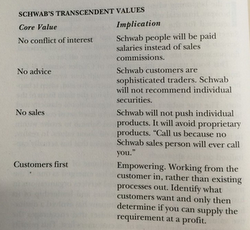 Schwab's original values as charted in
John Kador's 2005 book 'Charles Schwab:
How One Company Beat Wall Street
and Reinvented the Brokerage Industry' and
displayed in the Nash blog.
Nash isn't convinced about Schwab being "low-cost" and points to Schwab's use of smart-beta index funds with fees that are, he says, two-to-three-times higher than conventional index funds. Nash also singles out what he considers to be a wag-the-dog use of Schwab Bank to generate revenues from investors' cash. See: Schwab spills robo-beans to Wall Street, including a Schwab Bank wrinkle, cannibalization rates and the algorithm's distaste for OneSource funds.
"It's a company with a fascination with net interest margins," he says in the interview.
But Schwab ardently defends its cash allocation practices in the blog piece that responds to Nash. "There's no right or wrong answer to how much cash an investor should hold as an investment, it is a strategic decision."
Nash isn't buying it. In his blog entry, he says that Schwab strategically allocating upwards of 30% of a client portfolio to cash, as it discloses in its ADV, is "almost criminal."
Tossing the handcuff-evoking grenade right back, Schwab writes that "using the 30% cash example is, to borrow Mr. Nash's trope, 'criminal' itself, as he knows that a 25 year-old wouldn't be invested that way within Schwab Intelligent Portfolios unless they need that money in a matter of just a few years — in which case cash exposure of that sort is an appropriate choice."
Father figure
Nash says he wrote the blog entry in the context of growing up idolizing Chuck Schwab as a white knight taking on Wall Street's black hats. See: Charles Schwab will speak and his fellow CEOs will listen.
"It's true," Nash says. "I grew up out here. And here, Schwab is legendary. That's why it's so troubling. [Schwab's robo effort] was a real opportunity." That's especially true, he says, because as a new feature it could have been created from whole cloth rather than by patching together old profit centers.
Chuck Schwab's approval has always loomed large for Nash and Wealthfront co-founder Andy Rachleff. Both have described Schwab as a mentor of sorts and his firm as an inspiration for Wealthfront, which was founded in 2007. See: Andy Rachleff is out as CEO of Wealthfront as former LinkedIn star takes his place.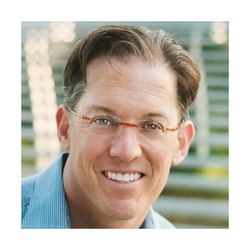 Will Trout: The bear has lashed
out, and Nash need say no
more.
In September, Wealthfront scored a major coup when it announced that it would supply the employees of Google, the Mountain View, Calif.-based search engine giant, with free financial management for non-401(k) assets for employees with balances of less than $100,000. At the time, Nash declined to delve into the specifics of the deal. See: Wealthfront raises a cool $20 million from VCs to pursue a big slice of a $1 trillion market.
According to its latest ADV, Wealthfront has more than $2 billion in assets under management.
Shibboleths be damned
A reporter asked Nash why he is willing to get so public and personal when such direct criticism isn't considered cricket in the financial services industry.
"You want to make it clear what you stand for," Nash replied. "I also think this is the benefit of being an outsider. There are too many [incestuous] relationships" among the legacy players.
Trout says that indeed, the blog broadside is very Silicon Valley of Nash.
"It's generational. Like many of his contemporaries, Nash values efficiency over tradition and is quick to question even the most longstanding industry shibboleths." See: Wealthfront's high-net-worth cat leaps out of the bag — keeping it one robo 'pivot' ahead of Schwab.
---
Mentioned in this article:
Wealthfront
Portfolio Management System
Top Executive: Andy Rachleff
---
---
Share your thoughts and opinions with the author or other readers.
Jason Lahita said:
March 11, 2015 — 4:59 AM UTC
Here's the actual link to the Schwab response. . . link above is non-functional. http://www.aboutschwab.com/press/statements/response-to-blog-by-wealthfront-ceo-adam-nash
PR people must have been up all night on this one. I think they had to respond, as the attack went for the jugular and questioned Schwab's moral compass and ethics. Also credit Wealthfront's PR strategy. Going from 0 to 2 billy in less than three years clearly instills confidence and begets a gutsy media approach.
Who needs the movies when you have the financial advisory realm in 2015? We got your drama right here.
Stephen Winks said:
March 11, 2015 — 8:16 PM UTC
The recriminations on whose approach to advisory services is best at this early stage emergence of Robo Advice are to be expected. Both Schwab and Wealthfront innovations are in the best interest of the investing public.
We are just now beginning long overdue innovation. The brokerage industry which wishes to avoid the rendering of advice to advert fiduciary duty and responsibility, has evaded innovation to great detriment of its competitive market position. The fiduciary leakage is immense, as is the bloated cost structure and ineffectiveness of conventional brokerage and the unsuitability of expensive packaged products that will not allow real time holdings data which makes the continuous comprehensive counsel required for fiduciary duty possible
The Schwab/Wealthfront counterpoint just scratches the surface of the advance of modernity in advisory services from the perspective of the best interests of the investing public. The reason why it may sound odd is that it outdates conventional thinking on brokerage, advisory services and todays outmoded technological capability. Investment methodology becomes the determinant of superior performance as it should, because it is truly an art form. But process, procedure, work flow and task are the key to making advisory services safe, scalable, easy to execute and manage as a high margin business at the advisor level. Expensive ad hoc sales outside of the context of all the client's holdings (essential to adding value) are rendered obsolete.
Neither Schwab or Wealthfront are there yet, but with prudent process, they are the catalyst of a renaissance in advisory services which render an unprecedented level of investment and administrative counsel (true individualized advice) at a cost far lower than today's packaged products. This is what the early stages of continuous comprehensive counsel (required by statute for advice) looks like.
This discussion is simply evidence that the other shoe is about to drop which outdates the old brokerage format and introduces modernity and advanced innovations which are indisputably in the client's best interest. Process and technology preempt product. It is what one does with investment products (process) that adds value, not the product in and of itself.
SCW
Brian Schreiner said:
March 11, 2015 — 8:34 PM UTC
It's amusing to see Wealthfront and Schwab join the debate over which passive, low-cost portfolio management robot is better. Meanwhile, the elephant in the room is that the robos are going to have a very hard time keeping their clients when year after year of volatility and low returns show up on customer statements.
Asset management isn't a commodity and all of the robos are treating as such. We believe the future of online investing – especially given the low return projections for the next decade – is a model that incorporates high-level thinking, professional advice on a technology platform that allows efficient communication with clients. We believe, when faced with the realities of high volatility and low returns from stocks and bonds, investors will demand professional, active portfolio management and liquid alternative investments.
We built a robo advisory service – technically, it's an "online advisory service" because we don't want robots (kid programmers in Silicon Valley) managing our clients' money. We use real live human beings – seasoned portfolio managers. Our platform brings together professional active and alternative investment portfolio construction, one-on-one client services and low fees (0.50% per year).
I think firms like ours and Personal Capital have it right. In the end, all Schwab and Wealthfront have is a buy-and-hope robot and a sales pitch that sounds exactly like the old Wall Street axiom, "Don't worry about your losses, Mr & Mrs. Jones, you're invested for the long-term, remember?" But they never speak directly to their clients, so how will they feed them that line? On Facebook?
Jack Waymire said:
March 12, 2015 — 12:44 AM UTC
Frank Underwood would be proud of the spin-masters at Charles Schwab. All investors will see is Schwab (the brand name) and the free advisory service in their ads. Schwab is being disingenuous when it compares investors to used car buyers. There is no Carfax and no investor is going to review Schwab's ADV at the SEC. It will be interesting to see what Schwab discloses in its service agreement. Chances are it will use vague language to disclose it derives revenue from its ETFs, third party products, and Schwab bank. It will be up to investors to read the document and understand what they are reading. It is too bad they did not use the Vanguard strategy.
Jeff Harrison said:
March 12, 2015 — 9:01 PM UTC
I think it is very hard to say that "...innovations are in the best interest of the investing public." I respect Mr. Wink's judgment, and personally agree with him, but I would argue that what is clearly and not clearly in the public interest is a standard that is at best no longer clear. Schwab's innovation, and it really is an innovation, is new and needs to be evaluated through a public discourse. When I started on "Wall Street" in the 70's it was very clear what was right and what wrong. But the culture today is very different, far more complex and the regulatory structure is based on disclosure. Disclosure is not the same thing as right and wrong. We have yet to see how well it works for clients and for Schwab as they balance investment decisions with the ever-present pressure to continually increase profits in the short term. My point here is that as an industry we have a responsibility to collectively decide what is right and wrong, to define the point of going "to far". We, and only we, can determine our collective ethics and morality. Regulators can guide us and even tell us when we gone too far subject to the restraint of the resources and political will.
Please excuse this if you find it pedantic but I do think we should focus on defining and doing what is "right" rather than what we can do.
Investor1 said:
March 16, 2015 — 9:08 PM UTC
March Madness!! Schwab and Vanguard are the Kentucky and Duke in this space…they will always have the best talent, technology, and will always find a way to win. Wealthfront, Betterment, Personal Capital, etc. were your Mercer, Gulf Coast, Cinderella teams trying to pull the ultimate upset…yet to fall short. Now for Fidelity to turn emoney into a robo and TD Ameritrade to find/buy one? Envestnet jumped in with Upside. Who's next? Eventually all the custodians, wires, IBDs, and maybe even the Banks will have their own robo-advisor. This is not a trend. It's here to stay. Now who can do it the best?
---
---