Where Virtus stands after F-Squared seemingly led it astray, to mutual benefit
The Hartford, Conn. firm is raising no alarms with investors but a handful of Virtus ex-employees are expressing confusion about how it all went down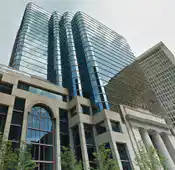 The downtown Hartford headquarters of Virtus Investment Partners
---
Related Moves
November 18, 2022 at 2:56 AM
---
February 28, 2020 at 11:09 PM
---
---
---
Mentioned in this article:
---
---
---
Virtus
February 10, 2015 — 5:30 AM
You have to love how the Virtus PR person said that all 4 former employees are disgruntled and not credible. Almost every former employee confirms in this article that senior management knowingly marketed a track record as live performance, when it was known by senior management to be backtested, to fraudulently raise $13 billion in assets. Virtus should take a hard look in the mirror and question the credibility of their senior management team. Karma is always going to get you in the end.
Truth
February 10, 2015 — 1:00 PM
Does anybody really raise $12 billion and not know the true story of the history of that product? The Copeland Dividend Fund(CDGRX) run with Newfound was actually the mastermind of 2 former Virtus wholesalers(Don Evans and Jim Kriess) who left Virtus in January of 2010 to start up and distribute a competing mutual fund to the Virtus/F-Squared Fund. Those two former Virtus wholesalers saw the inner workings of F-Squared, after the 2009 partnership with Virtus on the AlphaSector Rotation Fund, and reached out to Newfound to form a partnership. The Copeland Dividend Fund was a competing fund to the Virtus Premium AlphaSector and AlphaSector Rotation Fund. The Copeland Fund was sold showing a similar track record to the Virtus Premium AlphaSector Fund, HOWEVER, the BIG difference was Copeland was very honest in saying that their fund was backtested with their backtested performance numbers similarly going back to 2001. Virtus, on the other hand, claimed that their track record going back to April of 2001 was a live track record with actual client money managed going back to 2001. How did 2 former Virtus employees do their own due diligence in 2009/2010 on F-Squared and Newfound that the Virtus legal and compliance team seemed to miss?
Performance
February 10, 2015 — 4:07 PM
The Virtus Premium AlphaSector Fund(VAPAX) and Virtus Dynamic AlphaSector Fund(EMNAX) are both a consistent bottom performer as ranked by morningstar.com. Both funds fall into pretty much the 98th-99th percentile in performance on the YTD, 1yr , and 3 yr time period. That means out of 100 similar funds these 2 funds both rank roughly 98-99 out of 100. This performance is absolutely horrendous.
Steve K
February 13, 2015 — 6:04 AM
The arrogance on the part of Virtus is absolutely unbearable. To say that the AlphaSector performance is right in line with their expectations says a lot about the CEO and his firm. Hopefully the SEC does the right thing and not only slams Virtus with a significant fine taking back profits they unfairly obtained due to their securities fraud but also bars all those in senior management who knew of this enormous fraud scandal from this industry.
Jim-ML
February 13, 2015 — 12:50 PM
This story has a lot of similarities to another familiar name in Madoff. Willful blindness? It appears more to be willful fraud. The regulators must get rid of the scum in the business.
fraudchaser
February 17, 2015 — 1:00 PM
lots of trouble ahead for virtus management.
The Achilles Heel of Virtus
February 17, 2015 — 1:43 PM
Greed and their negligent handling or lack there of with their Fsquared and Newfound Research partnership
The Virtus Cover Up
February 18, 2015 — 7:59 PM
If Virtus owned Newfound Investments, it appears pretty obvious that they knew everything about the fake track record and signals Newfound provided F-Squared. Virtus has never once let our clients know about this whole situation. We got the run around from Virtus over the last 2 years and now it all makes sense. We are done doing business with this firm
Industry Results with this situation
February 19, 2015 — 3:02 PM
Folks, It is the behavior of firms like FSquared and Virtus that give this industry a bad name. Clients lose confidence in the financial system and regulators because of these happenings. This is totally unacceptable and shareholders are the ones who lose out here. Top executives still get paid millions and only get a slap on the wrist at best. The amount of time that this fraud went on for is incredible. There has to be accountability here.
virtus
December 15, 2017 — 8:09 PM
Jeff Cerutti and John McCormack should both be investigated by the SEC. SEC should piece together when they knew of this fraud, how they continued to push all of the Regional Directors at Virtus to knowingly sell a fake track record, and the SEC should look at those 2 for stock gains if they sold based on insider information which could be insider trading