The downtown Hartford headquarters of Virtus Investment Partners
Brooke's Note: This was an article that took an extraordinary amount of work. The parties involved either didn't want to say much to us or what they said they wanted said without attribution. In the case of Virtus, the inside PR counsel referred us to outside PR counsel and vice-versa. Then the outside PR counsel suggested we talk to Virtus general counsel and then that offer was withdrawn. Virtus made a couple of comments on the record. We initially had one off-record ex-employee source but that number grew to four as we did our reporting, giving us more confidence in what the first had to say. Virtus may be the victim here — as well as the beneficiary of F-Squared. But the former Virtus employees we spoke to don't believe it's a straightforward matter.
It's apparently still clear sailing for Virtus Investment Partners despite its using returns that were subsequently deemed largely concocted by a chief subadvisor.
The Hartford, Conn.-based mutual fund company has thus far signaled to investors that there's nothing to be unduly alarmed about, despite the fact that the publicly traded firm (NASDAQ:VRTS) partnered with Wellesley, Mass.-based ETF manager F-Squared to sell mutual funds based on the now discredited historical investment performance of the latter's index. See: How Howard Present parlayed an intern's algorithm into a small fortune — and when the SEC says he knew of a mega-disconnect.
In Virtus' latest 10-Q, filed on Nov. 7, 2014, the firm seemed to like its chances of coming out of the F-Squared matter relatively unscathed. Virtus stated for the record that the "outcomes of its legal or regulatory matters are not likely, either individually or in the aggregate, to have a material adverse effect on its consolidated financial condition."
Virtus spokesman Joe Fazzino told RIABiz that firm's position has not altered since then. "If there's any reason to update [that statement], we'd do that at the proper time," he said.
Fazzino declined to comment on whether or not his firm has received a Wells notice from the SEC. A Wells notice is a letter in which a securities regulator notifies a firm or individual of the substance of charges that the regulator intends to bring, and allows the recipient an opportunity to submit a response to the ultimate decision maker.
Meanwhile, on Jan. 29, Virtus chief executive George Aylward told analysts on the company's fourth-quarter conference call that "we're not going to answer any questions related to the subadvisor or any regulatory matter."
Watchdogs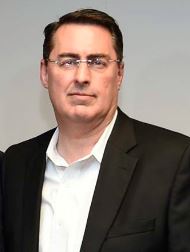 George Aylward: We're not going to
answer any questions related to sub-advisor
or any regulatory matter.
Virtus runs five mutual funds subadvised by F-Squared. Morningstar Inc., the Chicago-based research and ratings company, has never assigned an analyst to any of these AlphaSector mutual funds or given the fund company a "stewardship" rating.
Morningstar does, however, give the fund company a "neutral" rating under the "parent pillar" for the handful of Virtus funds with analyst coverage. See: Morningstar explains its new forward-looking rating system — and tosses in some hot fund picks for good measure.
This rating that has not been updated since Sept. 24, 2014, three weeks after F-Squared's Wells notice was made public and almost three months before the SEC released its case against Howard Present and F-Squared. See: Big brokers take action on F-Squared funds and Virtus shares reel as SEC actions sink in.
Morningstar notes that "Virtus has not been implicated [in the SEC investigation], but some brokerage firms have instructed their financial advisors to avoid Virtus' F-Squared offerings."
Plausible disguise?
According to the SEC documents released on Dec. 22, F-Squared's impressive historical investment performance was created by former chief executive Howard Present in 2008 based on investment algorithms that were applied retroactively — and very inaccurately — to the period of time between April 2001 and September 2008.
But sussing out what Virtus knew and when is likely a difficult undertaking, according to Brian Hamburger, chief executive of MarketCounsel, an Englewood, N.J., compliance firm. If the SEC investigates, he says, it will seek to determine whether Virtus "knew or should have known after reasonable due diligence" that there were improper issues with the extraordinary returns claimed by F-Squared; that Virtus did not exercise "willful blindness" toward the investment methodology.
If F-Squared was able to disguise how it derived the returns that it allowed Virtus to use, then Virtus may have a reasonable defense after showing a sound due- diligence process, Hamburger says. "But if they didn't ask the right questions and document their due diligence properly, it could be a problem," he adds.
He says Virtus may have an easier time meeting its burden of proof since it was not dealing directly with Boston-based Newfound Research, the firm that produced the supposedly market-beating signals. That left f-Squared in between Virtus and Newfound Research to potentially shroud or mislead the due- diligence results.
Backtesting bombshell
In trying to better understand how Virtus and F-Squared worked together, a reporter spoke to four former employees of Virtus Investment Partners' wholesaling arm, VP Distributors LLC, who sold its mutual funds.
They all declined to be named but were adamant that Virtus learned before the SEC did that F-Squared's historical returns were based on data derived from backtesting. Two of them claimed to have been present at a 2012 meeting where they were warned to be wary about these issues by a senior manager—as at least two officers of the company, executive vice-presidents Jeff Cerutti and Frank Waltman, looked on.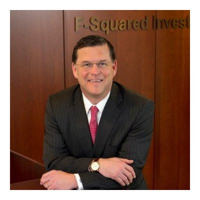 Howard Present, then chief executive and
president of F-Squared, spoke to the
Virtus sales force and touted his
firm's now-infamous returns in 2012.
The warning, they say, came at a conference for Virtus wholesalers at the Boca Raton (Fla.) Beach Resort and Club on Dec. 14, 2012. On the first day of meetings, Howard Present, then chief executive and president of F-Squared, spoke to the Virtus sales force and touted his firm's now-infamous returns. Present's hour-long talk that day included the language, "The AlphaSector Premium Index is based on an active strategy with an inception date of April 1, 2001. Inception date is defined as the date as of which investor assets began tracking the strategy."
Present spoke for all of his allotted time, and by the time he left the room the conference was running slightly behind schedule. Peter Batchelar, head of product management at Virtus, then stood up to give the customary recap of the presentation.
According to two people in the room at the time, Batchelar told the wholesalers not to heed the portion of Present's remarks relating to F-Squared's allegedly "live" track record. F-Squared's incredible returns were, he said, based not on actual client assets but on the backtesting of hypothetical assets.
According to one Virtus ex-employee present, members of Virtus's senior management were stone-faced at the announcement as everyone else looked around the room in shocked surprise.
But then it was on to the next sub-advisor's presentation. Batchelar's comments were never brought up again or acknowledged by the company or it's management. According to wholesalers interviewed for this article, neither they nor anyone else on the salesforce confronted management about the disclosure. Business at Virtus continued as usual. Virtus did not change how it sold F-Squared subadvised funds to clients until late October 2013, after the SEC began its investigation into F-Squared.
Hard to quit
These F-Squared sub-advised AlphaSector products were blockbusters for Virtus, and the former employees say it was difficult to stop selling them even after they knew the historical returns weren't "live" as claimed.
"We were just raising a ton of money," says one former wholesaler who continued to sell AlphaSector funds. See: Following serious questions about how it calculated returns, F-Squared hires a new CEO after the old one leaves.
The Virtus wholesalers interviewed for this article worked distribution territories from coast to coast, and each has since left the firm. Two say their departures related directly to concerns about the handling of the F-Squared, and three of them expressed displeasure with Virtus's senior management.
Sources close to Virtus who asked not to be named say that the firm views these employees as "disgruntled" and not credible. See: Secret recordings reveal 'regulatory capture' at Goldman Sachs by NY Fed examiners capitulating to the corporation — before they were even asked.
'Uncomplicated approach'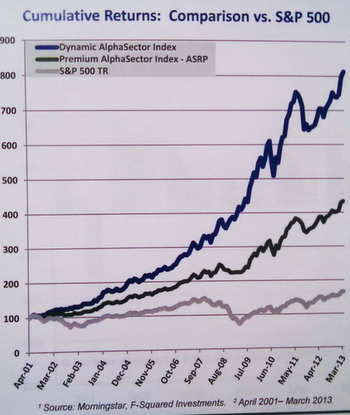 Incredible performance of the Dynamic AlphaSector
Index as presented by F-Squared for
dissemination by Virtus wholesalers in April
2013
F-Squared has been a subadvisor for some Virtus mutual funds since September 2009, although the firms' relationship began months earlier.
The SEC complaint against Howard Present filed in the U.S. District Court of Massachusetts on Dec. 22, 2014 shows him assiduously courting Virtus between February and September 2009.
It seemed like the right fit for the two firms. Virtus has a strong network of wholesalers and has succeeded by elevating the strategies of niche asset managers to a national audience of RIAs, brokerages, and wirehouses. F-Squared, meanwhile, claimed it could deliver market-beating returns with a wonky, quantitative strategy geared toward minimizing downside in bear markets. As the financial markets began to find their footing after the crisis, F-Squared's strategy practically sold itself.
Virtus was an important relationship for Present and F-Squared to land. The company had been burning through cash since launching the original AlphaSector index in 2008 and had little revenue to show for it. The SEC says F-Squared was struggling to meet payroll even in 2008, and its cumulative losses had mounted into the millions by mid-2009.
At the end of September 2009, F-Squared finally caught its big break. Shareholders for two Virtus funds approved a change in strategy and accepted F-Squared as new subadvisors. The $75 million Virtus Wealth Builder Fund became the Virtus AlphaSector Rotation Fund, while the $35 million Virtus Wealth Guardian Fund became the Virtus AlphaSector Allocation Fund. The substitution meant big business to Virtus after investors saw the stupendous returns F-Squared had delivered since 2001; the AlphaSector Rotation Fund mutual fund currently has $937 million in assets.
A press release from Oct. 5, 2009 quotes Frank Waltman, executive vice president of product management at Virtus, as saying "AlphaSector Index-based funds offer an uncomplicated approach to equity investing that is designed to control risk in down markets, while participating or outperforming in up markets."
Indeed, four months afterward, F-Squared claimed that its AlphaSector strategy had beaten the S&P 500 by 11.8% per year for the last seven years. See: Smelling blood on Wall Street, genteel family offices are using the 'S' word, study shows.
Crossed signals
The penultimate paragraph of Virtus' press release discussing F-Squared's business model says the AlphaSector index "is based on the monthly signals generated by F-Squared's proprietary quantitative model that identifies which sector(s) may be a drag on future performance."
Newfound Research, the Boston-based company feeding F-Squared its supposedly market-beating trades, was largely based on the work of a then 20-year old former intern, Corey Hoffstein. It was Hoffstein who created the proprietary quantitative investment engine between 2007 and 2008. To market the AlphaSector product line, F-Squared had repackaged the signals from Newfound Research into a model portfolio of ETFs based on investment rules devised by Howard Present during the summer of 2008. See: How Howard Present parlayed an intern's algorithm into a small fortune—and when the SEC says he knew of a mega disconnect
F-Squared's first two funds were a big hit with Virtus clients. After their success, Virtus quickly pushed out four more funds with its new partner. The Premium AlphaSector fund was launched July 1, 2010, while the Allocator Premium AlphaSector and the Global Premium AlphaSector funds were started on March 15, 2011. The then-underperforming Virtus Market Neutral Fund became the Virtus Dynamic AlphaSector fund in the first quarter of 2012. These four funds currently have $5.4 billion, $609 million, $147 million, and $1.62 billion in investor assets, respectively.
Joint venture
But according to the ex-employees of Virtus interviewed for this article, concerns about F-Squared's tremendous historical returns were persistent throughout 2010 and 2011 — so persistent that Virtus organized a conference call with Howard Present to clear the air in December 2011. The call unsettled some listeners because Present was combative and seemed to cut the call short. Ex-employees surmise that call was the genesis behind Virtus Investment Partners' decision to reach out to Hoffstein, then chief investment officer at Newfound Research.
A little more than 10 months later, on Oct. 4, 2012, a joint venture between Virtus and Newfound Research was announced.
Newfound Investments, as it was called, launched three mutual funds in December 2012, which were seeded with a few million dollars from Virtus. Given the current size of those funds, there is scant evidence to Virtus ever attempted to sell these mutual funds to clients. As of Jan. 27, the Disciplined Equity, Disciplined Select Bond, and Disciplined Select Country funds had a combined total of just $5.33 million under management. Virtus sells 50 different mutual funds and Newfound Investment's funds are the three smallest.
Virtus has claimed that it generally takes a three-year track record of returns in a new fund before clients feel comfortable purchasing shares. Nevertheless, all seven newer funds in the Virtus stable are larger than Newfound's line, and the five funds started by Virtus in September 2012 now have $25 million or more in assets and an average AUM in excess of $60 million.
The Virtus Disciplined funds managed by Newfound Research have a slightly different strategy than F-Squared's AlphaSector funds and have performed fairly well, though not spectacularly. In the absence of marketing hype from F-Squared and Howard Present, however, investors have shown little interest in the kind of quantitative strategy that Virtus previously used to attract more than $12 billion.
Reversed flow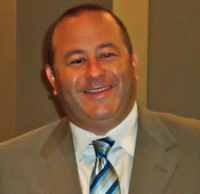 Brian Hamburger: if they didn't ask
the right questions and document their
due diligence properly, it'll still be
a problem.
Two months after officially partnering with Newfound, Virtus told its wholesalers the truth about F-Squared's backtesting. Nevertheless, a change in marketing materials for the AlphaSector cash cows didn't come until late October 2013.
A Wealth Management magazine profile of Howard Present published July 31, 2013 (coincidentally the same day the SEC was conducting it's fateful inspection F-Squared offices) said F-Squared was "averaging $700 million in net new flows per month."
And, according to a Virtus document filed with the SEC on Feb. 2, for the fiscal year ending Sept. 30, 2013, Virtus earned net advisory fees of $70 million for its AlphaSector funds, out of which F-Squared received around $36 million. For the most recent fiscal year, Virtus earned $137 million in net advisory fees out of which it paid almost $70 million to F-Squared.
These days, however, money is flowing the other way. The five AlphaSector funds now have just $8.56 billion, down from $12.5 billion in September 2014. On a quarterly conference call on Feb. 5, Aylward admitted to analysts that outflows could be attributed to "developments at the fund's sub-advisor, and the related announcements and resulting media coverage," but also said that large capital gains distributions in AlphaSector funds at the end of 2014 and their muted performance in a sustained bull market were other primary reasons for outflows. See: Big brokers take action on F-Squared and Virtus shares reel as SEC action sinks in.
Performance issues
Thus far, executives at F-Squared and Virtus have assured the investing public that, investigations aside, there's nothing wrong with the products they've sold — AlphaSector investments have performed according to expectations since their launch.
In a press release announcing their Dec. 22 settlement with the SEC, F-Squared wrote, "F-Squared's primary objectives are to deliver strong risk-adjusted returns in rising markets and mitigate losses in substantially declining markets. Since F-Squared first had assets invested pursuant to the AlphaSector strategy in October 2008, the performance has been consistent with these expectations and the firm's clients have seen the results in their portfolios."
And during an Oct. 28, 2014, conference call with analysts, Aylward downplayed the significance of the SEC investigation into F-Squared by saying, "Again, the product is doing what it should be doing. The performance is — would be in line with — our expectations of what a risk-management strategy would do, particularly in what has been up until now a prolonged bull market." See: Six boxes RIAs should check to lock in the windfall of Dow 14,000 without a full dismount of the bull.
That might be news to advisors and clients with money in AlphaSector products. As mentioned earlier, Virtus' executive vice president of product management said in a 2009 press release that the AlphaSector Index-based funds were designed for "participating or outperforming in up markets." Furthermore, a December 2009 supplement to the Virtus's mutual fund prospectus, says "The AlphaSectorSM Rotation Index (ASRX) is an active public index published by Nasdaq and designed to outperform the S&P 500® Index while also seeking to manage downside risk and lower overall volatility." This exact language about outperforming the S&P 500 index was included in Virtus' prospectuses as recently as June 11, 2013.
When the funds' "definitive materials" were filed with the SEC on Oct. 4, 2013, this language relating to outperforming had been removed.
SEC-ond act?
The SEC started an investigation against F-Squared in July 2013 after that company couldn't justify its returns during a routine examination. F-Squared settled with the SEC on Dec. 22, 2014, for $35 million, although the case against Howard Present, who resigned from his post as CEO in November 2014, continues.
With the F-Squared settlement, the SEC left the door open to prosecution of other parties, ambiguously saying that investigation into the case was "continuing."
Andrew Ceresney, the director of the SEC division of enforcement, may have made a comment to that effect In a Nov. 21 speech before the American Bar Association. He said, "our pipeline of cases is as strong as ever. I expect significant cases in all aspects of our program in the next year, including … asset management cases, including misrepresentations of fund performance and failures to disclose conflicts of interest."
---
Related Moves
February 28, 2020 – 11:09 PM
---
---
---
Mentioned in this article:
---
---
---
Steve K
February 13, 2015 — 6:04 AM
The arrogance on the part of Virtus is absolutely unbearable. To say that the AlphaSector performance is right in line with their expectations says a lot about the CEO and his firm. Hopefully the SEC does the right thing and not only slams Virtus with a significant fine taking back profits they unfairly obtained due to their securities fraud but also bars all those in senior management who knew of this enormous fraud scandal from this industry.
Truth
February 10, 2015 — 1:00 PM
Does anybody really raise $12 billion and not know the true story of the history of that product? The Copeland Dividend Fund(CDGRX) run with Newfound was actually the mastermind of 2 former Virtus wholesalers(Don Evans and Jim Kriess) who left Virtus in January of 2010 to start up and distribute a competing mutual fund to the Virtus/F-Squared Fund. Those two former Virtus wholesalers saw the inner workings of F-Squared, after the 2009 partnership with Virtus on the AlphaSector Rotation Fund, and reached out to Newfound to form a partnership. The Copeland Dividend Fund was a competing fund to the Virtus Premium AlphaSector and AlphaSector Rotation Fund. The Copeland Fund was sold showing a similar track record to the Virtus Premium AlphaSector Fund, HOWEVER, the BIG difference was Copeland was very honest in saying that their fund was backtested with their backtested performance numbers similarly going back to 2001. Virtus, on the other hand, claimed that their track record going back to April of 2001 was a live track record with actual client money managed going back to 2001. How did 2 former Virtus employees do their own due diligence in 2009/2010 on F-Squared and Newfound that the Virtus legal and compliance team seemed to miss?
The Virtus Cover Up
February 18, 2015 — 7:59 PM
If Virtus owned Newfound Investments, it appears pretty obvious that they knew everything about the fake track record and signals Newfound provided F-Squared. Virtus has never once let our clients know about this whole situation. We got the run around from Virtus over the last 2 years and now it all makes sense. We are done doing business with this firm
Jim-ML
February 13, 2015 — 12:50 PM
This story has a lot of similarities to another familiar name in Madoff. Willful blindness? It appears more to be willful fraud. The regulators must get rid of the scum in the business.
fraudchaser
February 17, 2015 — 1:00 PM
lots of trouble ahead for virtus management.
Industry Results with this situation
February 19, 2015 — 3:02 PM
Folks, It is the behavior of firms like FSquared and Virtus that give this industry a bad name. Clients lose confidence in the financial system and regulators because of these happenings. This is totally unacceptable and shareholders are the ones who lose out here. Top executives still get paid millions and only get a slap on the wrist at best. The amount of time that this fraud went on for is incredible. There has to be accountability here.
Virtus
February 10, 2015 — 5:30 AM
You have to love how the Virtus PR person said that all 4 former employees are disgruntled and not credible. Almost every former employee confirms in this article that senior management knowingly marketed a track record as live performance, when it was known by senior management to be backtested, to fraudulently raise $13 billion in assets. Virtus should take a hard look in the mirror and question the credibility of their senior management team. Karma is always going to get you in the end.
The Achilles Heel of Virtus
February 17, 2015 — 1:43 PM
Greed and their negligent handling or lack there of with their Fsquared and Newfound Research partnership
Performance
February 10, 2015 — 4:07 PM
The Virtus Premium AlphaSector Fund(VAPAX) and Virtus Dynamic AlphaSector Fund(EMNAX) are both a consistent bottom performer as ranked by morningstar.com. Both funds fall into pretty much the 98th-99th percentile in performance on the YTD, 1yr , and 3 yr time period. That means out of 100 similar funds these 2 funds both rank roughly 98-99 out of 100. This performance is absolutely horrendous.
virtus
December 15, 2017 — 8:09 PM
Jeff Cerutti and John McCormack should both be investigated by the SEC. SEC should piece together when they knew of this fraud, how they continued to push all of the Regional Directors at Virtus to knowingly sell a fake track record, and the SEC should look at those 2 for stock gains if they sold based on insider information which could be insider trading