John Drachman: Can it now be said -- if a robo-advisor could speak to its human counterpart -- 'I can do anything you can do?'
Brooke's Note: Reading this column, you can't help but feel a little sorry for robo-advisors — especially if a regulator ever asks them to show how they exercised due care as fiduciaries. It's not easy being a classic advisor facing the robo threat but this article shows how it really goes both ways.
Matching their advances in on-line publicity with impressive gains in assets under management in 2014, robo-advisors continue their campaign to add "registered investment advisor" to the list of obsolete occupations that includes "alchemists" and "lamplighters."
Client service research firm Corporate Insight Inc. of New York tracked the progress of the 11 leading robo-advisors and recently reported that their total assets under management spiked 65% to $19 billion over an eight-month period ending in December. Firms covered included AssetBuilder, Betterment, Covestor, Financial Guard, FutureAdvisor, Jemstep, MarketRiders, Personal Capital, RebalanceIRA, SigFig and Wealthfront. See: How to hold 1,000 hands: Robo CEOs lay out a stark choice for traditional advisors at MarketCounsel Summit.
Even allowing that the amount represents a tiny fraction of the wealth management marketplace, it can't be denied that robo-advisors have found acceptance among a growing number of tech-friendly investors. See: April Rudin taxis in to Betterment HQ to see how the robo-advisor will fare.
Human vs. robo
If robo-advisors have proven they can deliver personalized portfolios to customers, can it now be said — if a robo-advisor could speak to its human counterpart — "I can do anything you can do?"
According to Jeff Kelley, senior vice president and chief operating officer at Equity Institutional Co., a passive custodian for alternative investments in Westlake, Ohio, who has been following the robo-advice industry since Betterment's founding in 2007, the rejoinder to that statement is still a defiant "No, you can't." See: Betterment's bad-news play at getting in good with RIAs and investors.
Kelley has been spearheading efforts to respond to investment advisor concerns about the rapid expansion of robo-advisors into their traditional territory. As part of that effort, he recently assembled the following list of six ways RIAs can still outperform robo-advisors. See: Bill Crager: I've got your back against the attack of the killer robo-advisors.
1. Apply a fiduciary standard to all recommendations
Advisors associated with an RIA firm are held to a fiduciary standard that obligates them to place a client's interests ahead of the firm's. RIAs must attest in writing that they are adhering to this fiduciary standard. They must disclose their licenses and provide a copy of form ADV, the registration form required by the Securities and Exchange Commission and state regulators. Robo-advisors do what their algorithms program them to do, Kelley says, whether or not it's in the best interest of their clients. See: Do 401(k) assets require all fiduciary care all the time?.
2. Evaluate client priorities against the dense background of family histories
Longevity, extended families, business succession and other factors complicate the advice picture.
As a person ages, financial needs change, depending on where the person is in his or her life cycle. An investment that's appropriate for a 20-year old with a long investing timeline may not be appropriate for a retiree whose top priority is preserving capital.
When families grow, so does complexity. Clients need to determine whether children from previous marriages should be treated the same as children from the current marriage, and whether arrangements should be made to provide financial gifts to grandchildren. RIAs can advise them and ensure they are fully aware of all of the implications of their decisions.
In the case of a business succession, there may be multiple owners and they may have to buy out the ownership shares of the person who is dying. Hopefully, their RIA advised them to have a properly funded buy-sell agreement in place and they listened. If they relied on their robo-advisor, they may not have recognized that they needed one.
Many people, especially those with a high-net worth, need an advisor who can work as part of a team with an attorney and an accountant, or with a family office. The skills and experience of an RIA are well suited for those financial discussions, which may have an impact across multiple generations. See: How RIAs describe exactly what they do in a few choice words.
3. Show investors how to gain control of unexpected life events or major transitions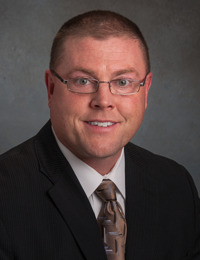 Robo-advisors do what their algorithms program
them to do, Jeffrey Kelley says,
whether or not it's in the
best interest of their clients.
Financial advisors need to help their clients plan ahead, but they also need to be able to help them adjust to unforeseen life events. Career changes, unemployment, marriage, divorce, moving to a new home, the addition of children, family members with special needs, severe illnesses, accidents and the need for long-term care are some of the events that can cause dramatic changes in a person's financial needs. See: How a suddenly wealthy, young Bay Area widow found her RIA after months of fruitless efforts.
Clients may plan for some of these events, but even with the guidance of an experienced RIA, no one can plan for everything. Financial advisors are equipped, though, to answer tough questions and help clients make difficult, time-sensitive decisions when something unexpected happens. See: She's the boss: Keeping assets means keeping the power of the family matriarch fully in focus.
Professional advice is about more than investments. Certified and licensed, advisors can recommend the tools and strategies needed to guide clients through life's most trying — and most exhilarating — moments. They may, for example, advise clients to have the insurance coverage they need in case of emergencies and the liquidity to draw on their financial resources for uncovered expenses.
4. Help investors build a legacy that will last
A robo-advisor can't consult on the complex issues that arise when life is ending. A person whose life is ending is likely to be concerned about issues such as the most efficient way to leave assets to survivors, how to minimize taxes and the best way to make charitable contributions. See: How Vanguard Group's robo-countering effort got to $1.3 billion of AUM so easily and why its future seems bright.
Robo-advisors are speechless when it comes to advising on strategies for leaving a bequest to a client's community, college or religious institution. RIAs, on the other hand, can quickly reflect an individual's specific wishes, while shielding an estate from unnecessary and unintended costs.
For example, only a traditional advisor can counsel a client on the desirability and differences between philanthropic tools such as charitable trusts, donor-advised funds and gift annuities. Explaining the advantages and disadvantages of each can help clients achieve clearly defined philanthropic goals. See: Advisors: Help protect precious nonprofits by avoiding these four mistakes.
5. Build relationships
The most obvious advantage the RIA has over the robo-advisor is the ability to build relationships. An advisor based in a computer won't ask clients about their kids, take them out to lunch or chat about their favorite sports team. Conversations may not add to total return, but they build relationships and relationships build trust. When clients trust their advisors, they have peace of mind, even when markets are volatile. See: RIAs grapple with a rising threat to retirement: Adult kids that move back in with mom and dad.
6. Offer investors access to more asset classes
While robo-advisors may offer ease, convenience, cost-efficiency and a large number of products, they don't offer very many asset classes. Index-based investments are required for most robo-advice portfolio constructions to stay on track. Actively managed mutual funds, which represent the single largest investment category, are left out of most robo-advice models.
Many RIAs have added alternative investments to their retail clients' asset allocation in recent years, for increased diversification. Because many alternatives have low correlation, no correlation or negative correlation with equities and bonds, alternatives may reduce volatility. See: How the alternative investments category got bastardized and why that's a shame.
In his research, Kelley could not identify any robo-advice firm that is offering alternative investments to clients. Insight Advisors of Los Angeles aims to apply automated separate account management to the alternative investments business, but its program is still in development.
Remove actively managed mutual funds, precious metals, real estate, managed futures, private investments and other alternative investments from the list of potential investments and the investor have far less flexibility with a robo-advisor than would be available from an RIA. See: How and why I'm starting an RIA from scratch and what I'm spending to make it happen.
Given these advantages, Kelley believes that RIAs who say, "No you can't" in response to the challenge are likely to see the perceived persona of the robo-advisor shift from a machine-age "Terminator" to a kindly caretaker of client assets destined for an RIA's more experienced and capable hands.
John Drachman, a Series 7 Registered Representative with 20 years of experience developing marketing communications initiatives for RIAs, is the founder of AlphaSegment. He can be reached at john@alphasegment.com.
---
---
FAA
February 9, 2015 — 1:33 PM
Two great comments- a few of our thoughts:
The challenge of the 'robo advisor' to many mainstream advisors is very real. So, in order to stay relevant in the marketplace everyone has to 'up their game'. That will take resources, processes, definition, demonstration, documentation etc. And, as importantly will take a different mindset-
Advisors also, it seems, need to 'up their game' in a scalable manner in order to build the quality and character of their business. Not so easy but definitely achievable.
Finally, advisors could develop scalable, distinguishing, defendable, repeatable and ultimately transferable processes (if/when they want to sell, merge, or acquire). Sound tough but it's not…same kind of transformation the money management business went through in late 80's and 90's.
So, in our view the challenge for the advisor is to evolve into a process orientation which 'ups their game, is scalable, and away from a people centric business built on great seats and thick steaks!
LCD
February 6, 2015 — 10:14 PM
Well said Dave.
Another point is obviously there is very little to write about in this industry, the press slobering over ROBOs they get reminds me of the technology line " it is always overestimated in the short term and underestimated in the long term". I would think the most interesting story about ROBO advisors is with several of the biggest of them starting back in 7 years ago and with 1/2 Billion of VC money behind them why is 19B AUM so impressive. Particularly with Vanguard raising $4B in a year long pilot program and they haven't even moved down market yet. Probably because the trade press has little imagination to find out what is really going on as Dave discussed. As Dave said we are reaching a tipping point where the tide is going out on the industry that offers investment "advise" that is nothing more than marking up a TAMP and VC backed ROBO advisors whose technology is easily replicated by major brands like Vanguard and Schwab. But in the short term I am sure that TAMPS, Active Mutual Funds, Smart Beta and Liquid Alts as well as ROBOs will all continue to be good advertisers.
Dave Ross
February 6, 2015 — 8:56 PM
I believe that some human advisor can and will kick the Robos butt. Unfortunately most don't have a well defined value proposition, and systems and processes to make sure they can back up what they are saying. Today most advisors fall short on professionalism and are focused on closing a client as opposed to the long term relationship. And if they do have long term relationships they aren't focused on the 6 things that are highlighted above.
Lets be honest, the advisor has been told for the last 20 years that they are "asset gatherers" and they should outsource the management of the money and all they should focus on is the relationships they build—tickets to ball games, dinners, etc. This era is officially over and the number of advisors that can adapt will be interesting.
As a consultant to this industry and speaking to hundreds of advisors a month, I routinely ask them if things got tough how many of the advisors in their office would survive. The answer is typically about 20%. I predict in 5 to 8 years this is the reality.
Those that do survive will thrive.