News, Vision & Voice for the Advisory Community
Flow, buzz and frenzy were constrained by the multi-floor set-up but new players in the RIA space celebrated the event and its value proposition
February 4, 2015 — 4:41 AM UTC by Frank Noto
Brooke's Note: Most people can agree that the TD Ameritrade Institutional's national conference succeeds every year before it sees its first advisor walk in the door. It is a high-quality, high-attendance event held in a snow-free locale at a time when such environments are at a premium. Frank Noto has probably spent more time marketing to RIA businesses than anybody in the industry, so he is uniquely qualified to uncover the reportable nuggets beneath the glitz and blitz of the exhibition booths.
When 3,200 people ventured to downtown San Diego last week for TD Ameritrade Institutional's 2015 National LINC event, about 3,199 of them went with vision of an outdoor environment of temperate blue skies reflected by a resplendent bay with a bridge crossing it to Coronado that doubles as a work of art. See: New marching orders issued at TD Ameritrade's conference in San Diego: Don't join'em, beat'em!.
Yet, as dedicated conference-goers know, the reality is that vendors and advisors alike spend the vast majority of their hours in sunless environs, in this case in the city's Manchester Grand Hyatt where exhibit booths proliferated in an atmosphere of investments-related, business-to-business commerce.
Mirror to life
Alas, marketing to RIAs never gets quite that exciting — the closest thing to edgy irreverence was John Hancock Financial Services presenting mustachioed A's legend Rollie Fingers. PIMCO and Janus did exhibit, but sans fantastical trash talking. See: An advertiser's-eye view of TD Ameritrade's cram-packed RIA conference.
Yet a close look at the marketing of marketers by TDAI at this conference and the marketers themselves illustrate the niche the newly branded LINC confab filled. Although it's still no Schwab IMPACT, the advertising still opens a window on what is happening in the industry.
I was there both as the marketing representative of RIABiz and observing the marketing phenomenon as a reporter. My views were colored by both job descriptions. As RIABiz marketing guy I came away pleased to take one short flight and catch up with a long list of people very important to RIABiz —either as prospective RIABiz staff or contractors or as advertisers or sponsors. Like many people there, I labored with a cough but my experience was good for business and good for the soul.
Lost in space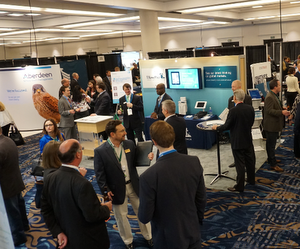 Ballroom had the most action including
T. Rowe Price and Aberdeen.
Again, TDAI has chosen to pack a conference big enough for a conference hall into the labyrinth of a hotel and a number of exhibitors remarked that it could have been done to better effect. Two years ago, the VEO Village was front and center, flowing from the lobby to main exhibition ballroom. This time it got shunted up to the fourth floor. Exhibitors appreciated the more spacious place to show their wares but pined, too, for the lost spontaneous foot traffic. See: An advertiser's-eye view of TD Ameritrade's cram-packed RIA conference.
The major overflow area was on the second floor and this year, unlike two years ago and despite record-breaking attendance, it did not nearly fill up. Many VEO Village people thought that the whole hamlet might easily have fit on the second floor where there was plenty of unoccupied square footage and also plenty of big-time advertisers like Voya, Franklin Templeton, Matthews Asia and Westcore Funds. The traffic in that exhibition area was relatively robust, helped along by the fact that registration was conducted on that floor.
Youth, hustle, no frenzy
The price of having exhibitors fragmented into three areas was summed up by Brian Hamburger, chief executive of MarketCounsel, the regulatory compliance firm in Englewood, N.J.
"You lose that flow, buzz and frenzy," he says. "There was no frenzy at all." Still, Hamburger emphasized the conference's utilitarian strengths. He could touch base with assorted industry leaders and he got a lift from seeing that advisors at the TDAI event seemed to be a full decade younger than at similar events — an encouraging sign. See: An advertiser's-eye view of what the new-look FPA looked like in Seattle.
Frenzy, buzz and flow were more than on display at Schwab IMPACT in Denver this year by all accounts. Still, Ken Kaltman, executive with National Compliance Services Inc. in Delray Beach, Fla. commented that you need to be careful what you complain about. Schwab is afflicted by its own challenges with its exhibit hall that resembles a small city. "It's like the final scene in 'Raiders of the Lost Ark'" where the ark ends up in a box in a cavernous warehouse. TD Ameritrade's event achieves a sense of intimacy and the venue has a measure of soul as the old Jack White first called advisors to congregate there.
Newbies pleased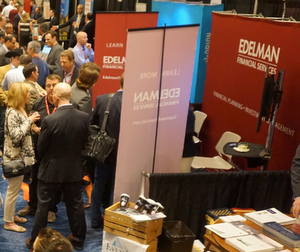 Ric Edelman may have set a
trend by recruiting advisors at his
booth.
Another downside to critical mass for its own sake is the sense of lost control, Hamburger adds.
"People see you before you see the people you want to see," he says.
It was the advertisers new to marketing to RIA segment that were most visibly pleased with their marketing experiences at TDAI LINC. Philly-based Franklin Square Capital Partners only debuted their RIA marketing efforts in April, and kicked in to sponsor the Steve Miller Band that played Friday night. There were little-known boutique firms like Shafer-Cullen and firms well known in their countries like, Croesus of Quebec, making their U.S. debut. Another happy TDAI booth renter was RiXtrema, a first-timer, that depends utterly on getting advisors to do its demo and the booth format was perfect for that.
A few good advisors
T. Rowe Price Investment Services Inc. is in its fifth year as a diamond sponsor and the firm is confident enough in its RIA marketing-dollar ROI that its expenditure will only rise in 2015, its execs said. As a first-time diamond sponsor, Aberdeen executives were also pleased about their conference experience. Both these firms were stationed in the main exhibit hall — a ballroom — where an egalitarian booth environment held sway, i.e. — most were about the same size — a positive.
Another "first-timer" booth was that of RIA Ric Edelman who used a booth for a novel purpose: recruitment.
"As you know, we are actively seeking advisors to join our firm. We thought that having a booth at the TDAI conference would make it easier for advisors to talk to us to learn more about us," he says. "We feel it worked very well. We had many great conversations with lots of advisors." See: Wanted: New CEO for Edelman Financial whose name is not Ric Edelman.
Finally, how did the dress-casual mandate from TDAI go over as a marketing move? It was perfectly fine but a walk through exhibit land did not reveal appreciably more casual dress than in other years. It was not a silly idea but the world is so dressed-down that when ordered to do so, you need to strain to see a difference. I didn't see one. See: A Levi's-clad Tom Nally answers 9 questions as TD LINC gets going in San Diego.
---
Mentioned in this article:
MarketCounsel
Regulatory Attorney, Consulting Firm, Specialized Breakaway Service
Top Executive: Brian Hamburger
---
---
Share your thoughts and opinions with the author or other readers.
---