News, Vision & Voice for the Advisory Community
In the wake of the aborted NestWise effort and a quieter robo rollout by his firm, the LPL Financial CEO doesn't buy the economics of the opportunity
February 26, 2015 — 12:15 AM UTC by Brooke Southall
Brooke's Note: When I talk to a robo-advice believer, I come away with belief myself. But when I talk to a non-believer, I lose some faith. Both sides are incredibly convincing. Mark Casady is the most recent skeptic who speaks with an impressive authority.
When LPL Financial started up NestWise in San Francisco, it took the lead in addressing mass-market investors in a way that is now associated with the robo-movement. See: NestWise is starting to take shape and take flight under LPL's wing — and from under Schwab's shadow.
Now the Boston- and San Diego-based broker-dealer giant is taking the lead again — this time by proclaiming the robo-advisor opportunity unappealing in its current form.
The staunch take by LPL became evident during the Feb. 19 earnings call when Citi analyst William Katz asked LPL Financial chief executive Mark Casady for his thinking on the robo-phenomenon.
Casady's answer provided clarity both about where his firm is headed and what exactly was behind the quick hook he gave to NestWise at a time when it seemed to hold such promise. See: Why exactly LPL Financial nixed NestWise and how OSJs, once again, may be wagging the big dog.
Couldn't figure
"There certainly is a generational shift that's occurring," he said. "We did have NestWise, which is really our work in trying to figure out how to train advisors new to the industry. That part worked. We also did some of what would now be now called robo-advice although we didn't call it that. That part didn't work; it turned out to be enormously expensive to generate leads and enormously expensive to build the kind of staff you had to have and the technologies."
Casady continued: "And so we couldn't figure out a way to make it make economic sense so we withdrew and so while I think one or two of these robo-advisors will survive and be quite prosperous because that's the way the world works." See: A departing NestWise advisor tells what he learned from the whole experience.
The remarks came a day after Casady's CEO counterpart at The Charles Schwab Corp., Walter Bettinger, told analysts that his firm saw robo-advice as a $400-billion opportunity that was ripe for the plucking. See: Schwab spills robo-beans to Wall Street, including a Schwab Bank wrinkle, cannibalization rates and the algorithm's distaste for OneSource funds.
One macro difference between Schwab and LPL is that Schwab has always geared its offerings and brand primarily to retail investors. LPL has always sold the LPL brand to financial advisors or other like financial firms. Schwab has a culture of self-directed advice.
No real counsel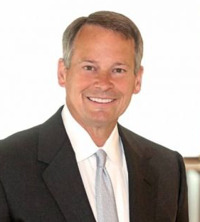 Casady's comments came on the heels
of Schwab CEO Walt Bettinger [pictured]
telling analysts that his firm sees
robo-advice as a $400-billion opportunity ripe
for the plucking.
Casady gave a vivid example of what "real counsel" looks like in his estimation.
"Now, remember, robo-advisor generally don't, at this stage, provide real counsel in a sense of saying to someone, 'look, you want a new car but the car you have is perfectly fine and therefore, don't lease the next new car or don't write a check for one. Instead, put that money away for long-term retirement so what I would describe is behavioral work is really the value of an advisor and particularly one that's face to face.'
"There just is nothing like sitting with somebody and saying, let's talk about your financial goals, what money means to you and how we can help you have better outcomes, that's really what financial advice is, robo-advisors don't offer that. See: Six ways that human advisors kick robo-advisor butt.
He continued: "One may figure out a way to do that, one of them may do that over the phone, we think we have a unique value proposition by our advisors being the local markets, incredibly connected to their communities, offering that kind of financial counseling in which there is value and there's a fee that can be charged for that. So we feel very good about our prospects versus robo-advisors for that reason alone." See: The documented RIA threat, 'phono-advisors' and their nearly $300 billion of assets.
Empowered advisors
But though Casady doesn't want to own a robo-advisor per se, he does want to provide a like service in terms of value proposition.
"I do think we'll want a response to robo-advice where we can empower advisors with some technological capabilities to help them with the next generation, their client's children if you will or we have some practices that are focusing on millennials and some of our technologies today already cover what they need," he says.
"But we can do some more work the so-called robo-advice as a competitive response but we don't see that as a major threat. We see it as an interesting development in the industry. And one in which, it really drives towards lowering your cost as being the right answer."
Seven or eight years
One major response to mass-affluent investors has been LPL's recruiting of big branches known as offices of supervisory jurisdiction that have dozens or hundreds of sub-reps.
Casady spoke positively on Friday about OSJs.
"It's really has happened significantly over the last seven or eight years for LPL as we changed our production bonus payments that created an opportunity for these larger practices to bring together a number of advisors and benefit from synergies at the local level that we couldn't provide," he said. See: LPL reaches hard-won agreement to rein in bonuses to big advisors that had proved to be overly generous.
"Simple example would be space, training, just camaraderie, marketing and so forth that occurs at that level that is really a local advisor's activity and you're seeing economic and market response to that need. So these practices are joining because they see a value to that scale and to the activities those branches are providing and we're absolutely here to help everybody grow in doing so."
---
Mentioned in this article:
---
---
Share your thoughts and opinions with the author or other readers.
Kartik Srinivasan said:
February 26, 2015 — 2:42 AM UTC
Schwab called it a $400 Billion opportunity, not million.
brooke southall said:
February 26, 2015 — 3:38 AM UTC
---
---