Sheryl Garrett poses with DOL's Phyllis Borzi and the Fiduciary Oath from the Committee for the Fiduciary Standard.
Brooke's Note: Wall Street's lobby to maintain the status quo in the financial advisory business is legendary. RIAs have of necessity relied on actions speaking louder than words to make their point to politicians. Now those actions have caught the eye of President Obama. But like most things that appear to come out of nowhere there is a quite a backstory here, and the front story is good, too. An RIA has pitched the RIA case to the president of the United States and now she has been quoted by him extensively to a national audience.
On Friday morning, Sheryl Garrett received a phone call that shocked and pleased her so much that she placed a call of her own — to her dad.
The 52-year-old founder of Eureka Springs, Ark.-based Garrett Planning Network told her father that the White House had called to tell her that her presence was requested by President Obama. The White House demanded confidentiality, which created a surplus of giddiness that needed venting.
"I just couldn't contain myself on Friday. I had to call my dad and tell him. We're very close," Garrett says.
In Bruce Chatwin fashion (Chatwin wrote the famous note: Gone to Patagonia), she merely left a note on her staff's calendar saying she'd be out of the office Monday and would explain later.
The cloak and dagger preparations were in place because Garrett was attending Obama's pivotal speech in front of the AARP on Monday to announce that after years of work his administration was sending the fiduciary rule to the Office of Budget and Management. Obama is convinced the fiduciary rule is key to improving the $11 trillion retirement space. See: As President Obama takes the gloves off, pro-broker groups throw up 'sledgehammer' response.
'Sheryl, stand up'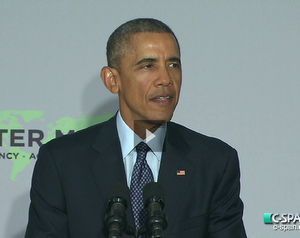 President Obama: There are a lot
of hardworking men and women who
got into this field to help
people — folks like financial advisor
Sheryl Garrett from Arkansas.
Early last week, a speechwriter's from Obama's office called Garrett to pick her brain about the importance of the fiduciary rule.
A few days later, Garrett got the call asking if she could fly to D.C. She quickly lined up a flight out of Arkansas, even though the area had just been hit with an ice storm. Ever the frugal RIA, Garrett booked a room at a Best Western in Arlington, Va. See: Ron Rhoades, a lawyer, asks: Has Sheryl Garrett invented an RIA future of attorney-like comp?.
Garrett founded the Garrett Network 15 years ago and currently has 320 advisors who work with about 25,000 clients. Most of the advisors don't manage assets. See: Ron Rhoades, a lawyer, asks: Has Sheryl Garrett invented an RIA future of attorney-like comp?.
Garrett had no idea until Monday morning that Obama might mention her by name in his speech. Although the prospect was exciting, she still didn't think it was likely.
Not only did Obama mention Garrett, but he asked her to stand up and then proceeded to quote her.
"I want to emphasize once again there are a whole lot of financial advisors out there who do put their clients interests first," Obama said in the speech. "There are a lot of hardworking men and women who got into this field to help people — folks like financial advisor Sheryl Garrett from Arkansas who says the role is … Sheryl are you here? There she is. Sheryl, stand up. We're proud of Sheryl. So, I'm quoting you Sheryl. Sheryl says: 'The role of a financial advisor is one of the most important jobs. But there is a segment of the industry that operates like the gun slinger of the wild west We don't have the rules and regulations to protect those we're supposed to be serving.' I couldn't have said it better myself which is why I quoted you."
View the president's remarks here.
Big deal for RIAs
When Obama spoke those words, he made direct eye contact with Garrett, who was standing about 10 feet away from him. She wore a beige pants suit with a red sweater. Garrett confessed to spending a few minutes selecting the right outfit. She even bought a pair of pantyhose for the event, an item she didn't own.
Also at the event was Elizabeth Warren, the Democratic Senator from Massachusetts and a champion for the middle class. See: How Time magazine's 'Sheriff' article about Mary Schapiro, Sheila Blair and Elizabeth Warren misses the mark.
When a reporter talked to Garrett on Tuesday, she was still on a high about the unexpected shout-out. "It happened so fast. I'm very giddy."
Garrett didn't get home to Arkansas until 2 a.m. Tuesday morning. That's when it all finally sunk in. "I'm sitting in front of the fireplace and it's surreal. This is surreal. It was the first time it dawned on me that I was quoted by the president of the United States," she says.
But in the larger picture, Garrett obviously realizes that the president's reference to her is a huge deal for the RIA industry. So did the RIAs watching — and live tweeting — the speech.
Advisor Jean Keener of Keener Financial Planning based in Keller, Texas tweeted: "Sheryl Garrett quoted by the President of the US … another proud day to be a Garrett Planning Network member!"
Brent Burns, president and co-founder of Asset Dedication LLC with locations in San Francisco and Cambridge, Mass., posted this tweet. "@SherylGarrett helping to shape Obama's view of planners as fiduciaries. https://www.c-span.org/video/?c4528879/potus-quoting-sheryl."
Proud moment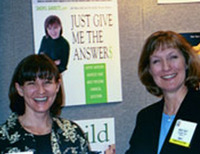 Marie Swift [r.] with Garrett: When
President Obama asked Sheryl to stand
up and be recognized — and
I realized she was in the
audience — I teared up with
pride and love for this remarkable
human being.
Hearing Garrett's name uttered by the president was emotional, says Marie Swift, president and chief executive of Impact Communications Inc. in Leawood, Kan. "I actually got goose bumps and sucked in a little wind when I first heard President Obama mention Sheryl's name during the press conference. I mean, seriously, it is a pretty big deal to be called out on national TV by the president of the United States. But when President Obama asked Sheryl to stand up and be recognized — and I realized she was in the audience — I teared up with pride and love for this remarkable human being."
Swift, who has known Garrett for years, particularly admires her ability to build her business with the middle class. See: Eavesdropping on the Garrett retreat: A white-knuckle drive; why independents aren't winning assets as fast as they should be; and six steps to building client trust.
Swift recalls many accolades Garrett has received from the industry including numerous awards. Swift points out that Garrett has been acknowledged by National Association of Personal Financial Advisors (NAPFA).
But this moment when Garrett was recognized by Obama was the best moment of them all, she adds.
"This is an important moment for the RIA community, to have Sheryl recognized by the president of the United States for the current administration to take such a strong stance on fiduciary duties. I am sure Sheryl was honored and moved, but humbly so, during the president's remarks," Swift says. "While Sheryl has been a media magnet for over 20 years, this most recent press really takes the cake. I guess the lesson to be learned is that if you do and say the right things long enough, and surround yourself with the right people, that not only might you be the recipient of some really good PR, but you could even be recognized by the president of the United States."
Long crusade
For years, Garrett, as a member of the Committee for Fiduciary Standard, has traveled to Washington D.C. periodically to meet with various committees concerning her interest in fiduciary matters. In September Garrett spoke with DOL and White House staffers about the proposed fiduciary rule. She is convinced that her comments resonated with the White House and Labor Department because she was able to adequately describe those investors hurt by the lack of such a rule. See: FINRA's scandalous litany of failures and its efforts to redefine the true fiduciary standard out of existence.
Garrett has seen many such cases as an expert witness in court cases where advisors are accused of wrongdoing.
"I've got some color on when things don't happen the way SIFMA thinks they happen to very trusting Americans," she says. "I have testified in many lawsuits. I was brought in to represent the interests of the retirees who had been taken advantage of and I've tried to tell their stories. The court cases are an open book. I've got lots of days worth of transcripts." See: An X-ray of one affluent, educated and sophisticated investor's portfolio shows how it was chewed up by fees.
Face time with Borzi

Sheryl Garrett: It happened so fast.
I'm very giddy.
Garrett is convinced that her experience with victims of retirement scandals helped give the Department of Labor some real insight into why this fiduciary rule is so important.
"I talked to them a lot about what happens when you don't have a fiduciary duty," Garrett says.
At Obama's speech Monday, Garrett chatted with Phyllis Borzi, assistant secretary for employee benefits security for the Department of Labor.
"I sat right next to DOL's Phyllis Borzi and I told her and everyone in the room about the victims in these situations. I was able to share stories and bring a face to the financial abuse. They've heard statistics and they'd heard what the opposition had to say but they hadn't heard from the victims." See: A Q&A with Phyllis Borzi, the DoL powerbroker aiming to remake the retirement market.
Unscrupulous advisors
In the past, Garrett has stressed to Borzi and the DOL that advisors cheat investors out of their retirement savings with their charismatic patter and by calling themselves "retirement specialists."
"There is no clear difference between a broker and a transactional broker. One advisor in the lawsuits referred to herself as a retirement specialist," Garrett says. "Well, doesn't that sound like someone you want to be handling your retirement distribution. It's insanity. I met one of these advisors and I thought she was likable and friendly and easy to talk to. Everyone said how nice she was and that's why we need a fiduciary duty, because investors couldn't tell that she wasn't putting their interests first. That is one of the reasons I feel so strongly that we've got to have a fiduciary duty for all advisors."
Some brokers have persuaded clients to retire early simply so they can rollover the money and earn a commission on an annuity, Garrett says. In one of the court cases, the advisor even admitted to encouraging clients to retire and put the money in an annuity because that was the only way to get paid.
"Because the advisor only earned commissions, they had to retire for the advisor to make money. It all should have stayed in the employers' plans," Garrett says.
Scare tactics
Garrett realizes that there is still a lengthy and bitter battle to be fought before a fiduciary rule is adopted. After Obama's speech, groups such as Washington-based Financial Services Roundtable, which represents banking and insurance interests and has, with a combined $92.7 trillion in assets, as well as the Financial Services Institute and Securities Industry and Financial Markets Association, sent out releases proclaiming their opposition to a fiduciary rule. See: New York conference: SIFMA wants members to be like RIAs — minus the same rules of accountability.
Garrett is hopeful that the tactics of the opposition will be crystal clear to consumers. "These groups are making threats. They're using scare tactics and saying that you little people won't get any help and we'll abandon you. They're threatening them. I'd like to see one of these firms fighting against this come out and do a commercial explaining their rationale on why they're against it."
And, oh yes, Garrett will probably not be recruited by CIA covert ops anytime soon. In addition to confiding in her dad, she spilled the beans to her daughter, perhaps forgivable given that Claire is four years old.
In true toddler fashion, she cared little about the president.
But then Sheryl Garrett explained the significance of the event by referencing the popular Disney movie "Frozen," comparing President Obama to Queen Elsa's dad, the king.
After that Claire delivered a wide-eyed "wow."
---
Mentioned in this article:
---
---
---
Dick Purcell
This White House contact gives Ms. Garrett a special opportunity — and obligation — to raise promotion of the fiduciary standard above pious generalities to include procedures that are actually fiduciary, which requires application of specific fiduciary rules and regs to the outfits that sell investment advisor training-and-certification.
Don Trone is right in his reply to Ron Rhoades's flowery abstractions when he says: "Real people, such as advisors, trustees and investment committee members, want to know in plain English what they need to do on a step-by-step basis to be able to demonstrate that they have met a fiduciary standard of care."
Unfortunately, the mathematics of long-term investment probabilities is not Mr. Trone's cup of tea, and the system he launched at fi360 excels at misleading investors in favor of mis-trained and mis-armed investment advisors and Wall Street. Worse, fans of that system are now attempting to make it accepted as "best practices" for investment fiduciaries. See fiducio.com.
It's an ominous sign that the fiduciary oath that Ms. Garrett carried to the White House event was, I've been told, hatched at the offices of fi360. It certainly features flowery generality, lacking specifics for or even mention of the obligations of the training-and-certification sellers.
But I hope that Ms. Garrett and other leaders in this field will stand up and demand that the fiduciary standard be applied, with specifics reflecting comprehension of the relevant math, to the training-and-certification sellers as well as brokers and advisors. If they don't, robos will come in and do it for them, with highly adverse effect on the whole community of financial planners and investment advisors, including the best.
Stephen Winks
February 25, 2015 — 10:49 PM
Congress had bought the egregiously false brokerage lobby narrative (it is in the consumer's best interest that the broker not act in the client's best interest). The only way to overcome this false narrative was Presidential Action. Against all odds, the best interest of the investing public has actually prevailed !!!!.
Congratulations to Sheryl Garrett and the long fought battle of all fiduciary advocates. I was beginning to think, in my life time, that "doing the right thing" in acting in the consumer's best interest was just an aspiration never to be realized.
Now Wall Street must choose to adapt and compete on the depth and breadth of investment and administrative counsel and the cost and pricing of its services. At this moment it seems like there is a lot of catching up to do for brokers, as presently they are the high cost low value added option to advisors which do not acknowledge or support their brokers render advice.. Harvard's Clayton Christenson tells us the biggest mistake firms make when facing industry redefining innovation , is to look at innovation in the context of their existing business model when a new business model is in order. There has never been an instance in a free market since Adam Smith introduced the "invisible hand" (1776) that the consumer's best interest did not prevail.
SCW
Stephen Winks
Josh Sorensen
February 27, 2015 — 6:34 PM
King Obama. Sounds about right.
Mister RIA
February 25, 2015 — 9:37 PM
Andrew Ghezzi
February 26, 2015 — 2:09 PM
Accolades and recognition for Sheryl and her team that is long long overdue.