Advisors found ample room to spread out at a packed event.
Brooke's Note: Like everyone else, I thought the idea of heading to San Diego mid-winter to see a major swath of the RIA business was a pretty easy decision. I had my flight booked on Southwest. But alas, the bug in my chest did not agree and I stayed home to cough. So more than ever I appreciated Tim Welsh being able to cover the event and make all the needed observations. As was the case at the recent Schwab IMPACT, robo-advisors were the attention-grabbers at the event. See: A charged-up Walt Bettinger slams all non-Schwab robos at IMPACT 2014 with an energy appreciated by RIAs. The difference was that TD did not announce it will release a robo someday. Rather, it talked about the deals it has with a number of third-party players today. It even featured RIAs who are building a business by making automation a part of it. In that spirit, a lot of people who typically wear fine wool over their legs wore stiff, blue cotton. It was that kind of an event.
Disclosure: Tim Welsh has consulted with several of the companies, including TD Ameritrade, Wealth Access and FinanceLogix, mentioned in this article.
The big blizzard of 2015 may have stopped the Northeast dead in its tracks but advisors of that region had no intention of missing the three-day event that is now TD LINC in San Diego. Though Juno touched virtually everyone's travel plans, people made it — sometimes six or eight hours late. There were 3,300 attendees, up from last year's 2,800 causing a registration cut-off and hotel overflow. Jersey City, N.J.-based TD Ameritrade Institutional swamped the San Diego Grand Hyatt with extras taking refuge at the Marriott next door.
These financial advisors and vendors were lured by the magnet of palm trees and sun in the winter. For that they would be mildly disappointed as San Diego was actually overcast the whole time, Wednesday through Friday, with a bit of periodic rain!
Yet the New Yorkers reserved their disgust for how over-hyped Juno caused them delays. Boston people were able to get out of Logan Airport on Wednesday — big believers in the storm but not buying Deflategate.
Channeling the new reality in financial advice — that Silicon Valley is emerging as a force of culture and thought — TD tried to inflate the spirits of everyone by rebranding its annual conference as "LINC" for Learn, Inspire, Network, Collaborate.
Prep school look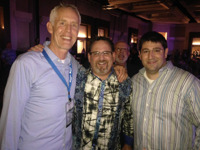 Mark Richards of Jemstep, David Westerhout
of TD and Spenser Segal of
ActiFi
Symbolic of bridging to a world of hoodies and jeans, TD Ameritrade asked advisors to dress casually and led the way with a blazer-on-top, jeans-on-bottom look that lent a note of fun to the proceedings. The crowd seemed to roll with the prep school look. The only uncertain ones were the TD execs themselves, who confessed to feeling a conspicuously casual.
The sartorial wrinkle reminded advisors that they were not at Schwab IMPACT — the industry's grand event but one, too, that is subject to criticism as being "corporate" in feel — a mixed blessing for a gathering of entrepreneurs.
"We have a new name for the conference, but the same great experience," said custody chief Tom Nally in his welcoming remarks in casual attire. See: A Levi's-clad Tom Nally answers 9 questions as TD LINC gets going in San Diego.
"This is a record year in terms of attendance, making it one of the largest gatherings in the RIA industry and representing nearly a trillion dollars in assets."
TD kicked off the first morning's sessions was the high-energy NFL drum line with homage to the upcoming Super Bowl that set the tone and energy for the event.
Gaining on wirehouses
Nally fed off of that energy in a tight, kinetic opening speech that hit upon the key agenda items for TDA's custody business. "The big macro trends remain the same," Nally said. "The steady movement to independent advice shows no signs of slowing. RIAs remain the fastest growing segment in wealth management, with a growth rate of nearly 2-1 for the other employee channels. So much so, that in four years, independent advisors [RIAs, IBD reps, hybrids) will overtake the wirehouses for industry leadership."
Tom Bradley, president of retail distribution at TD Ameritrade, mingled but did not have any role in the sessions, nor was he onstage at any time. TD Ameritrade chief executive Fred Tomczyk did a Q&A general session after Nally, with celebrity CNBC anchor Mandy Drury, but kept his comments dry — mentioning that there will be "volatility" in the markets and that he s proud of six years of record growth under his leadership. See: Tom Bradley answers 10 questions about TD Ameritrade's competitive stance in his 25th year.
It's a robo thing — get used to it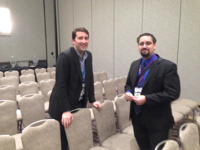 David Benskin of Wealth Access and
advisor and blogger extraordinaire Mike Kitces

As with all conferences lately, robo technology remains the key topic of interest. But discussion on the topic has evolved from defending against the encroachment of robos onto RIA turf to how advisors can embrace the best of the robo technology in their businesses thereby beating the robos at their own game. See: What exactly are robo-advisors, why did they steal the 2014 show and what will a 2015 repeat take?.
With an assist from TDA's head of vendor relations, Marcel Tsai, Bruckenstein assembled an all-star panel of advisor-friendly robo platform executives, including Simon Roy of Jemstep Inc, Brad Mathews of Trizic, Eric Clarke from Orion Advisor Services, LLC and social media-savvy advisor Josh Brown. Brown and his partner Barry Ritholz were one of the first RIAs to launch, with great fanfare, a robo offering through Upside Advisor and TD Ameritrade.
Over 40 and online
Brown shared the results of what they are seeing in the first three months of their experience. "While it is not even the early innings — more like spring training — our AUM on the product has gone up 100% from month to month, with the average account size of $30,000, our biggest at $300,000, and we have $1 million in total." See: Josh Brown and Barry Ritholtz, masters of the financial Twitter/blogging universe, launch a robo effort to monetize their followers.
Roy had even more compelling numbers for the firms that are using Jemstep integrated into TD Ameritrade. "We launched just two months ago with our Jemstep Advisor Pro platform and have seen over 600 new accounts at TD Ameritrade, with a run rate of $100 million, average account size is $70,000, with some accounts in the millions."
"And by the way, it is not the next generation of investor. The average age is over 40," Roy noted, countering the common perception that only younger investors will adopt an online advice offering.
Act now!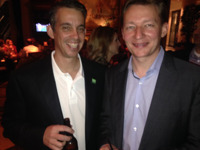 Jon Patullo of TD and Oleg
Tishkevich of FinanceLogix
Bruckenstein pointed out that these examples are extremely compelling, but that advisors need to have a strategy in mind before they launch themselves into the online world. As an advisor, do you want a slew of low-asset accounts that you can profitably service and groom for the future into your full service offering like Josh Brown, or do you want to integrate the best of robo technology into your business and scale what you are doing now with Jemstep? See: How RIAs can compete with super-RIAs, robo-RIAs and the 'phono'- and faux-RIA market of 2015 and beyond.
"We created a wealth management business model over the last 30 years that isn't scalable, therefore we need to automate it," Bruckenstein said.
Eric Clarke of Orion probably summed it up the best. "You have a website, you have an online presence, but do you allow your prospects to do business with you online? Why not?"
The message from this groundbreaking panel discussion is that advisors need to come up with an answer to these strategic questions quickly, or risk being disintermediated. The good news is that there is a surging renaissance in advisor friendly robo technology and TD Ameritrade is running ahead of the crowd by making multiple options through open architecture and it is available now.
Bruckenstein echoed the importance of this inflection point, by saying that robo technology will have as big an impact on the industry as online trading did in the 1990's. The robo discussion will continue, no doubt in spades, at Bruckenstein's T3 technology conference next week in Dallas. I'll report from there with the latest.
How to crack the Barron's Top 100
Another over-subscribed session (five rows of standing-room-only in the back of a 400-person capacity room) and a barometer of advisor interest, was led by Sterling Shea of Barron's, in which he laid out the criteria for becoming a "Barron's top advisor" as well as the results of research as to what the top Barron's advisors were doing to continue to grow their firms. See: Getting inside Barron's Top-100-Advisor lists with some help from Sterling Shea.
Shea stuck to the dark suit, tie, pocket square, cufflinks — the whole Wall St look — and pulled it off!
The audience members commented that Barron's had 10 criteria — but no weightings. The perennial hung in the air of how asset and revenue levels can be more important than putting the client first, clear record, credentials, etc. The expressed concern was that it seemed to favor firms with a growth bias over professionalism, etc. See: Getting inside Barron's Top-100-Advisor lists with some help from Sterling Shea.
Shea said that "large asset totals, strong revenues, and asset growth" were the top criteria, with "clean regulatory record, multiple designations and acting in the client's best interest" pulling up the rear.
He advised four focus areas for advisors trying to grow their firms: a clear message on the volatility in the markets, a client selection process, team focus and a multi-generational wealth view. Top advisors, Shea said, are re-crafting their investment language and approach to better communicate what is happening in the markets. They are developing a written process for maintaining discipline in accepting the "right" clients. Top firms are also incorporating a team focus and making a concerted effort to connect with the children of their aging clients to ensure they keep the assets when the family patrons move on.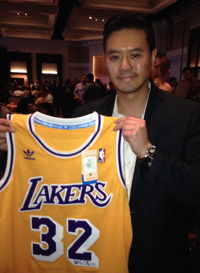 Marcel Tsai of TD with Magic
Johnson-signed jersey
"The retention rate for the next generation of assets is only 2%, so you have to have a multi-generation approach," Shea noted.
Multi-level exhibit hall
TDA's LINC conference also had an impressive lineup of keynote speakers, including former Secretary of Defense Leon Panetta, NBA and business superstar Magic Johnson, X Prize Foundation leader Peter Diamondis and Harvard Business School professor Amy Cuddy.
Due to the sheer size of the RIA crowd, the vendor community showed up in record numbers as well. In a mixed-bag result, due to the space constraints at the massive San Diego Grand Hyatt, the exhibit hall was chopped up into four levels. See: An advertiser's-eye view of TD Ameritrade's cram-packed RIA conference.
Exhibit booths were found in out-of-the-way corridors, alcoves, and, it seemed, even in elevator lobbies. This made it somewhat difficult to navigate, however once advisors found their way to the fourth floor, they found a bustling Veo Village of 64 technology companies showcasing their systems and how they were all integrated into the TDA Veo platform.
Nally, in his introductory speech, had touted the strategic enhancements to the TDA platform, highlighting the launch of TD's new dashboard. The single sign-on Veo One platform brings together all of an advisor's software in an open-architecture approach encompassing CRM, portfolio management and financial planning to simplify workflows and integrate data across multiple systems.
Loving the '80s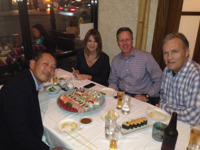 American Century dinner: Kelli Cruz with
Matt Beck to her left.
Innovation was on display at the exhibit hall and there were dozens of new technology vendors on hand and a bunch of new announcements such as First Rate partnering with Grendel CRM to create a new wealth management client and performance reporting platform.
As part of its stated mission bringing the fun back, TDA hosted a packed dinner reception on the final night with pool and foosball tables, '80s video games and an incredible concert with aging rocker Steve Miller. Miller played all of the crowd favorites and brought back fond memories for many of the baby boomer advisor crowd.
There were a variety of sponsored venues such as Advent Software offsite event at a local craft brewery. Orion, Redtail Technology and MoneyGuidePro — all first movers on the Veo One platform — hosting the biggest after hours gathering at a luxury skyscraper with amazing views of downtown San Diego and its harbor.
To learn more about what went on at the 2015 TDA LINC conference, check out the many Tweets on the #NationalLINC hashtag on Twitter.
Timothy D. Welsh, CFP® is President and founder of Nexus Strategy, LLC, a leading consulting firm to the wealth management industry, and can be reached at tim@nexus-strategy.com or on Twitter @NexusStrategy.
---
---
Mentioned in this article:
---
---
---
Stephen Winks
February 3, 2015 — 9:33 PM
I am glad that Robo Advice is finally being viewed as an adjunct in rendering advice essential to providing continuous comprehensive counsel required for professional (fiduciary ) standing. Advanced technology and a more modern approach to portfolio construction is required to manage a broad range of investment and administrative values (risk, return, cost structure, tax efficiency, liquidity, time, etc.) in real time (continuous comprehensive counsel), that enables the diagnostics that accord and reward professional standing. This is the difference between disjointed unrelated transactions and the rendering of advice or the difference in managing money which is client agnostic and client specific advisory services.
TDA is to be congratulated in advancing this message, lost in a brokerage culture. Embrace innovation in the client's and advisor's best interest, don't fight it.
SCW