Naureen Hassan's revenue weapons for robo-accounts include one howitzer.
Heads up: Since yesterday's publication of this article, we added a critical comment from Betterment Institutional's Steve Lockshin and Schwab's response as delivered by its spokesman, Greg Gable.
Brooke's Note: Naureen Hassan deserves an immediate raise for the work she must have done in creating Schwab Intelligent Portfolios out of so many bits and pieces of her corporation as to boggle the mind — and then explain it all to the SEC. The ADV shows that the head of this robo-effort has made a newfangled 2015 service profitable using a bank model that dates back to at least the Medicis in the 15th and 16th centuries. But Hassan, no doubt with help from lawyers and accountants, has also found a way to tell the SEC that the venture is virtually charging customers .3% in fees — but not actually, at least not yet. Thank you to Schwab's Greg Gable for spending significant time helping us to understand all this better.
The Charles Schwab Corp. will charge a fee of 30 basis points to clients of its robo-advisor, but those investors will not pay it out of pocket because Schwab affiliates will reimburse the client behind the scenes, according to SEC documents relating to Schwab Intelligent Portfolios. See: Schwab spills robo-beans to Wall Street, including a Schwab Bank wrinkle, cannibalization rates and the algorithm's distaste for OneSource funds.
One of the two primary ways in which the San Francisco-based broker-dealer will fund these reimbursements is by steering as much as 30% of a clients' portfolio in Schwab Bank where it can earn a spread, according to its own brochure filed with the Securities and Exchange Commission on Jan. 22.
"Schwab and Schwab Wealth Investment Advisory expect that Schwab Bank will earn more income from the deposit accounts than Schwab or Schwab Wealth Investment Advisory will earn from their services or activities in the program, although Charles Schwab Investment Management will also earn income from the Schwab ETFs in program accounts," according to the company's description. "A significant portion of the revenue contributed to the Schwab entities from the program will result from the profit earned by Schwab Bank in offering the deposit accounts."
Because of ERISA regulations, Schwab needs to disclose a fee even though it is not being levied on clients. That's why the fee must be spelled out. The fee is actually closer to 75 basis points, according to a Raymond James analyst, quoted in this article.
Truest ballast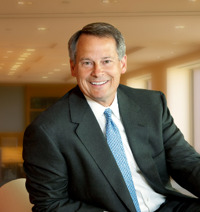 Walter Bettinger said that just one
Schwab ETF OneSource had met the
criteria for ETFs in the portfolio,
but the SEC document says there's
no limit on the portion of
assets allocated.
Schwab plans to put more cash in its robo clients' accounts — anywhere from 7% to 30% of a clients' portfolio into cash — which Schwab allows in its robo's ADV is high relative to how much it allocates to cash in its other managed money.
"Because Schwab Bank earns income on the sweep allocation for reach investment strategy, [Schwab Intelligent Portfolios] has a conflict of interest in setting the parameters for the sweep allocation. In most of the investment strategies, this results in a sweep allocation which is higher than the cash allocation would be in a similar strategy in a managed account program." See: Can Schwab, six years late to the robo party, 'freeze the market', catch up and blow doors?.
Steve Lockshin, chief executive of AdvicePeriod and investor in competitive robo, Betterment, says he questions Schwab's decision to contort itself in order to maintain its ability to call its service 'free." [This Lockshin comment was added after original publication.]
"I would have had so much more respect for Schwab's approach had they simply said that they were going to provide a competitive service for a fair and clearly stated fee. Instead they are over-allocating to cash and pretending that it doesn't matter. Where do they draw the line on allocation? ... What's the probability that Walt or Chuck have 30% cash as an investment? Duh…."
Greg Gable, spokesman for Schwab responds to Lockshin by saying: "Taking the largest cash allocation [30%] and suggesting it is the norm is disingenuous. For someone saving for a goal in a very short timeframe who is highly conservative, a 30% cash allocation makes lots of sense. That is at one end of a continuum and not the norm. Today, Registered investment advisors hold between 8-10% of client assets in cash on average."
Most RIAs use money market funds, bonds or bond funds as the vehicle of choice for loose cash in portfolios.
Gable says money market funds will not be utilized in the Schwab robo portfolios because cash is safer. Safety is of particular concern here because investors may use this program as a stand-alone savings strategy rather than as part of several buckets of savings.
"We've done a lot of analysis and we believe based on research we've done that cash is the one true ballast for the portfolio. It's the one stable part of the portfolio. Any other asset carries risk," Gable says. "Cash is FDIC insured and money markets aren't."
Low-interest fix
Still, the Schwab spokesman allows that making large allocations to the bank is also vital to Schwab's efforts to reimbursement of the robo-product fee.
"Cash allows us to earn some revenue on the spread. We earn revenue and that enables us to provide a program that has no program fees."
With interest rates in the dumps, Schwab has been forced to waive much of the fees charged in money market funds. Bank deposits continue to be a source of revenues because deposits can be gathered relatively cheaply. Schwab Bank lends out money for mortgages at 3.4% and 4% for home equity lines of credit. Schwab Bank has already been a dramatic growth story for the firm. Charles Schwab Bank's balance sheet grew to $111.2 billion at the end of 2014, up 11% from the previous year. There are currently $11.1 billion in outstanding mortgage home equity loans.
Fees, what fees?
The 30 basis-point fee corresponds to two robo advisory efforts, Wealthfront Inc., with $1.8 billion of assets and Betterment with $1.4 billion of assets charge. It's also the fee charged by Vanguard Group's in-house RIA. See: Wealthfront responds with force to Schwab CEO's robo announcement.
The language Schwab uses to explain the fee it is charging reads this way:
"Even though the sweep allocation provides a source of profit to Schwab Bank and its affiliates, an annual fee of .30% of client asset might still apply to reflect the value and cost of these services," the SEC document explains.
In the next line, the company has written in bold: "However, clients are not charged a program fee."
In fact, Gable says that the firm is required to disclose the fee because if Schwab didn't have other sources of revenue, it would certainly have had to charge that fee. But the fee is technically non-existent, he explains.
"You have to describe what an advice fee would be and if you're receiving revenue, then rebate back against that revenue," Gable explains. "We're crediting back revenues we receive elsewhere and we're effectively charging clients nothing. There are no advisory fees and no commissions."
'Indirect compensation'
Still, that .3% fee disclosed to the SEC points to potential rich revenues for Schwab. Its chief executive Walter Bettinger said last week the company sees a $400 billion opportunity for its robo effort. At 30 basis points, its assets would directly or indirectly throw off at least $1.33 billion in revenues. Schwab's 12-month revenues for 2014 were about $6 billion.
Clients, the ADV explains, are not charged a program fee because the RIA effectively credits the "indirect compensation" its affiliates receive from ETF transactions in clients' accounts. These credits include advisory fees for managing Schwab ETF and fees earned for providing services to third party ETFs participating in the Schwab ETF OneSource. If the indirect compensation exceeds .3% then the RIA will refund the additional amount of client accounts or use it to pay account administrative expenses.
"What we think is the uniqueness of what we're offering is we have a business model that has a range of different affiliates — there's banking and ETF management and for all of those together that allowed us to construct this together with no advisory fees and no commission," Gable adds. See: Why ETF sponsors are ponying up big fees to get on Schwab's ETF OneSource in a bid for access to ticket-averse RIAs.
Bank profits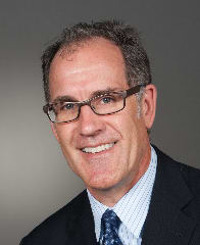 Dan Inveen: My guess is they
can generate a significantly higher return
than 12 basis points on these
deposits.
Using a bank to make profits isn't outside of industry norms considering banks own wirehouses and wirehouse brokers make significant profits by selling the products of their mother banks.
The bank will certainly gain revenues, says Dan Inveen, principal and director of research at FA Insight.
"The set-up will generate revenue for the bank, particularly if the portfolios achieve a large volume of inflows," he says.
It appears that Schwab will generate more income than if that cash were sitting in a money market, Inveen adds.
"As I understand it, Schwab will pay investors the going money market rate, described by Schwab [in the ADV] as 'the national average of money market deposit account rates as calculated by RateWatch.' At most this is about 12 basis points or one-tenth of a percent. My guess is they can generate a significantly higher return than 12 basis points on these deposits."
Cash on hand
Schwab discloses, too, in its ADV that its customers can't eliminate the cash option of the program.
"The deposit balances at Schwab Bank will not be used to purchase securities for a client's account unless those balances exceed the sweep allocation for the selected investment strategy," the document says. See: Schwab adds $2 billion of assets from Windhaven, with RIA help, and another $2 billion of assets from 41 new RIAs.
It makes perfect sense to hold a certain part of a person's portfolio in cash, according to Gable.
"I don't believe there are any current online offerings that have a bank," he says. "Cash-like allocations of their portfolios would be invested in other ways, such as fixed income ETFs (even though modern portfolio theory suggests asset allocation should include a component of cash — it has advantages which we can discuss). Because competitors don't have the ability to include an FDIC insured cash component, they put that money in an ETF someone else produces and the ETF earns the revenue. The advisor in that case has to charge a fee. That is why we don't believe others can easily match this low-cost offer."
No limits on ETFs
Bettinger said last week that just one Schwab ETF OneSource had met the criteria for ETFs in the portfolio. But the language in the SEC document does say there is no limit on the portion of assets allocated to Schwab ETFs in a client's portfolio.
"Charles Schwab Investment Advisory has discretion to allocate any portion up to 100% of an investment strategy into Schwab ETFs (excluding the portion in the sweep allocation)."
It's not likely that a person's portfolio would be comprised of 100% of Schwab ETFs, Gable says.
"It's conceivable all of the ETFs could be Schwab but we don't expect that," Gable says. "As we see from the beta tests, there will be a variety of sources of ETFs and it'll constantly change as it re-balances." See: How Fidelity is locking arms with BlackRock and appealing to RIAs to fend off a Schwab ETF threat.
Revenue
Meanwhile, The SEC document spells out how Schwab Bank can limit its exposure to paying high spreads to receive bank balances from robo-customers. Schwab Bank has agreed to pay an interest rate to depositors participating in the program that will be determined by reference to an index.
Currently, that index is the national average of money market deposit account rates as calculated by RateWatch. However, the documents explain that under the agreement, Schwab Bank can adjust the method of determining the interest rate by giving 30 days notice to Schwab or upon regulatory approval. This rate could be higher or lower than the interest rates available on other deposit accounts at Schwab Bank.
That means the key to Schwab Bank's profits is affected by the interest rate negotiated with Schwab.
"Schwab expected that Schwab Bank will earn more income from the deposit accounts than Schwab or Schwab Wealth Investment Advisory will earn from their services or activities in the program, although Charles Schwab Investment Management will also earn income the Schwab ETFs in program accounts. A significant portion of the revenue contributed to the Schwab entities from the program will result from the profit earned by Schwab Bank in offering the deposit accounts."
The minimum investment required too open an account is $5,000.
---
---
Mentioned in this article:
Wealthfront
Portfolio Management System
Top Executive: Andy Rachleff
---
---
---
Tal
February 22, 2015 — 12:03 PM
Wait, is it up to 0.30% (30 basis points) held in cash or 30.00% (3000 basis points) held in cash? The article is not clear at all.
Rich
February 20, 2015 — 2:09 PM
This is unfair competition to Betterment and Wealthfront who do not own banks plus it deceptive to the investing public to say the least. I'd rather keep the cash portion of my portfolio in Capital One 360 at 0.8% – why would I want Schwab to allocate any of my portfolio to cash at 0.1% if they will not have all my assets. It's unlikely that any investor is going to turn over all their investments and cash to Schwab. Schwab is going to give robo investing a black with this one.
The SEC should kill this deal, if not them, the FTC.
Peter Mafteiu
February 25, 2015 — 11:09 PM
Interesting that the Form ADV Part 2 A is required to be written in plain English. Here, it took an experienced reporter a lot of time to understand what the Schwab Robo ADV says. Simply, this is counter intuitive to any prospective client of the Schwab Robo IA.
Seems to me that the SEC can and should require a simple explanation of how the funds are allocated and ALL the direct and indirect conflicts of interest – including the payment by ETFs to be blessed to be on the platform. This includes the amount ETF's pay to be put on in and on the platform. Seems like gross profit to me (net of legal fees).
Payment to play or participate is not the same as due diligence no matter how you wrap it up.
Overall interesting. Trust me and Schwab – the amount of money Schwab will make with assets in the affiliate AND using Schwab's own ETFs could boggle the mind!
Dave Ross
February 19, 2015 — 4:58 PM
Fantastic overview of Schwab offering. A great example of how companies don't get it. Clients want something that is simple clear and precise. This is nothing like that. It will be interesting to see exactly how they promote this to the public in an understandable format and how vulnerable they will be to advisors mockery.
Schwab Spokesperson
February 20, 2015 — 3:20 AM
30% is the extreme end of a continuum, not the norm. Most long-term investors will have a much lower cash allocation . . . as they should. But some cash is always an important component of a healthy portfolio as it provides some insurance against volatility and the impact market declines. Most investors seek return and some risk management.
brooke southall
February 22, 2015 — 7:39 PM
30 basis point fee and up to 30% cash allocation…two different things
Grant
February 18, 2015 — 10:12 PM
Nicely done, Lisa. Thank you for getting behind the curtain and sharing with the world.
Mike
February 19, 2015 — 7:16 PM
I hope they are kidding with this product offering, 30% in cash? 5 pages of fee disclosures, really??? It is time for the Robo 2.0 to take them out-
https://www.hedgeable.com/blog/2014/12/we-dont-need-robots-introducing-the-digital-wealth-manager-2-0/
Jack Waymire
February 25, 2015 — 5:41 PM
Schwab's offering may test the ethics and business practices of RIAs who have to explain "free" robo services to their clients.
RR
February 22, 2015 — 8:10 PM
Schwab is the best at speaking transparency. Once you did in, you can see it's anything but. That's what attorneys are there for: To protect at all costs, a brand message of transparency. Until you read the fine print. Excellent article Lisa. Smarten up RIAs. They'll be exciting, more transparent robos coming that will deviate from efficient market theory misleading dogma. Be patient.
Schwab Spokesperson
February 20, 2015 — 2:52 AM
A 43-year-old who signs up for Schwab Intelligent Portfolios saving for a college education for his child and needs the money in just a few years — how much cash do you think he should have? We say about 30%. Sounds perfectly reasonable, wouldn't you agree? #stoptwistingthefacts