Edmond Walters: We are going to kick the crap out of the B-to-C robos.
Brooke's Note: In the T3 three-ring circus that is a proxy for the state of advisor technology right now, we have the old hands like eMoney, Orion and Black Diamond procuring deals that assure them of a future of elegant maturity. "Mature" is this instance refers to increasing absolute growth of assets and advisory relationships, and a big, well-systematized strategy for building out capabilities that lock in that annual growth. In the second ring are the robo-advisors that are prepared it seems to disrupt everything and anything in their path and win the percentage growth game hands down. Then you have the former old hands incorporating some of the latter. Then you have everyone else hitting niches hard [like Blu Giant, Grendel, Vestorly, Wealth Access] — none of whom look any too shabby. Tim Welsh captures all of this activity under the big tent without being confused by the blur. A few things really jumped out and he jumped on them with full attention and description.
If selling your firm to Fidelity Investments for $250 million-plus is the road to complacency, Edmond Walters was showing none of it.
The founder and chief executive of eMoney Advisor LLC, who took the stage second at the 10th annual T3 conference in Dallas at the Hilton Anatole hotel Friday, sounded more like the fighting ex-advisor and entrepreneur that he is known to be — albeit one with a financial superpower standing behind him in the wake of last week's deal. See: What to make of Fidelity Investments paying $250 million out of the blue for eMoney.
"We are going to kick the crap out of the B-to-C robos," Walters crowed as he gave the crowd a demonstration of the software that has created a category all its own: the super dashboard. In case you have been on sabbatical in Peru, the Conshohocken, Pa.-based firm has stealthily leapfrogged the industry by developing a means of aggregating assets across technologies and custodians. See: Advisor Tested: eMoney's automation adds the biggest benefit; account aggregation still building.
TD Ameritrade Veo 1 has its own bi-directional data integrations. It just has the drawback of being limited to assets held at TD. So it was going to take a third-party to come along and get multiple custodians on board.
Using eMX, an advisor can change a mailing address or information in one application using bi-directional data integrations, assuring that the information flows to other applications such as CRM, portfolio management and financial planning.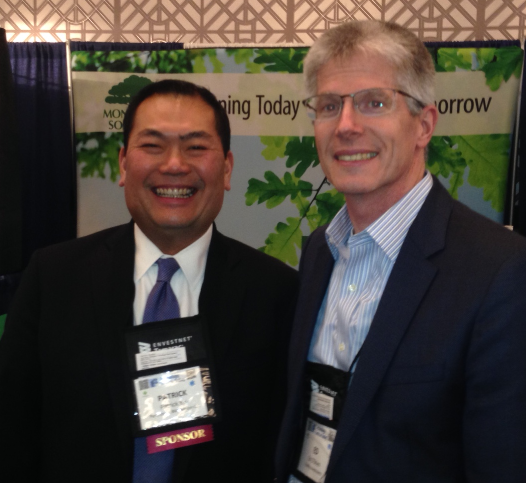 Heads of advisor technology for Pershing
and Fidelity, Patrick Yip and Ed
O'Brien
Scout's honor
As Walters showed the discerning crowd just what he has been working on behind the scenes for the last few years, there was palpable recognition that he's achieved a breakthrough. The platform is as much about Walters having a summit a few years ago with 27 key chiefs of firms like Junxure, Redtail Technology, MoneyGuidePro and Orion Advisor Services LLC to gain their trust and support, as it is about superior engineering.
And now, Fidelity is going to own it this groundbreaking technology — and the data that comes with it!
Feeling the Fidelity-phobia in the room among advisors and compatriots, Walters made his case for why the technology is owned by the firm that can be entrusted not to pull a fast one.
"Fidelity is a bunch of Boy Scouts," Walters said. "They wouldn't be in business if they used advisor and client data inappropriately."
Hathi takes the podium
That comment followed the conference's opening keynote delivered by Schwab Advisor Services' head of RIA technology, Neesha Hathi. As she took the floor for her 45-minute slot, the crowd leaned forward in hopes of hearing details of her company's poised-to-launch robo-advisor.
But Hathi declined to even mention Schwab Intelligent Portfolios, despite the subject getting a thorough tilling the day before in San Francisco during her bosses' presentation to Wall Street. See: Schwab spills robo-beans to Wall Street, including a Schwab Bank wrinkle, cannibalization rates and the algorithm's distaste for OneSource funds.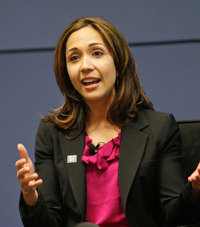 Neesha Hathi declined to even mention
Schwab Intelligent Portfolios, despite the subject
getting a thorough tilling the day
before in San Francisco.
After 44.4 minutes, Hathi asked if there were any questions. Considering that her speech was a rehash of her November speech at Schwab IMPACT where the vast majority of the T3 crowd had listened in, there wasn't a single question. See: A charged-up Walt Bettinger slams all non-Schwab robos at IMPACT 2014 with an energy appreciated by RIAs.
She also declined to answer a rhetorical question tossed out by Walters: "Speaking of Schwab, how come you never do business with me?"
On Jan 20, Schwab announced its plan to integrate with Advicent, which includes the NaviPlan, Advisor Briefcase and Profiles financial planning tools.
The truth is that the RIA business has moved on to robo-advice as an intellectual focus. "Robo," in this sense, can be translated to automation, sure, but what that two-syllable word really translates to is self-service. See: What exactly are robo-advisors, why did they steal the 2014 show and what will a 2015 repeat take?.
On the robo-panel, Steve Lockshin spoke the words that captured the mindset. The founder of Betterment Institutional (and formerly Convergent, Fortigent LLC, Advizent and AdvicePeriod) put it this way:
"Things like account opening, asset allocation, investment selection, rebalancing, planning, etc. — these processes will be completely automated. If on a scale of one to 10, with one as the first meeting of a new client and 10 being playing golf with that client, then steps two through nine will all be automated."
Don't look now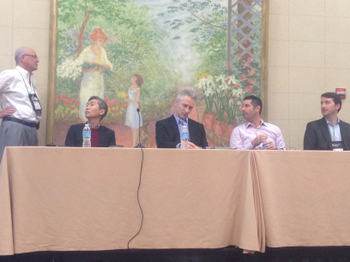 Joel Bruckenstein presided over an uber-robo
panel: Upside's Juney Ham, Jemstep's Simon
Roy, Betterment's Steve Lockshin and Wealth
Access's David Benskin.
Simon Roy, president of Los Altos, Calif.-based Jemstep Inc. agreed and offered a warning. "Client expectations are shifting way faster than advisors realize." See: Jemstep swipes the spotlight at T3 Enterprise Conference in Atlanta.
David Benskin, chief executive of Nashville, Tenn.-based Wealth Access Inc, explained the fire burning under the feet of RIAs. "Only 16% of advisors [a stat from Hathi's presentation in the morning session] have a relationship with their clients' children. Thus, those assets are at risk and advisors need to incorporate an aggregated, multi-generational wealth view in order to maintain relationships.
Deals aplenty
In other words, a server-based, hard-coded-, manual-, spreadsheet- and Microsoft Office-driven back office are giving way to an online, aggregated, mobile and self-service world — a new paradigm that the business-to-consumer, competitive robos have already perfected.
Given the three high-profile deals happening in the 10-day run up to T3, most notably the $2.8 billion SS&C acquisition of Advent Software, the $250 million gobbling of eMoney Advisor by Fidelity and the TA Associates purchase of a majority stake in Orion's parent NorthStar, that paradigm would seem to be the big-money, big-technology way of jumping aboard a world where RIAs dominate, if Cerulli is to be believed SS&C muscle might be just what the Black Diamond and Advent Software doctor ordered":https://www.riabiz.com/a/4931776963149824/how-ssc-muscle-might-be-just-what-the-black-diamond-and-advent-software-doctor-ordered.
New robos are being formed as well; case in point, the high-profile launch by CLS Investments, the sister company to Orion, that provides ETF-managed portfolios, and Riskalyze, a risk-tolerance measuring company, of Autopilot, which will offer automated asset management and risk measurement embedded into an advisor's existing website, enabling them to offer a robo-platform. AutoPilot is intriguing because through CLS's already existing selling agreements with over 250 independent broker-dealers, it has tremendous distribution advantages with which to gain immediate access to hundreds of thousands of IBD reps.
The aforementioned robo-panel discussion led by Bruckenstein featured the top executives of in-demand, advisor-friendly robo platforms, such as Jemstep, Betterment Institutional, Upside and Wealth Access.
Now hear this

Greg Friedman, Eric Clarke, Bob Curtis
and Tony Leal
In the pressroom and e-mails, I counted nearly 40 different announcements from the 80-plus vendors gathered at T3 this year.
Some of the more notable include:
Fidelity launched a "WealthCentral Technology Bundle" to help new and breakaway advisors get their businesses started by identifying a recommended set of tech products that include External IT's Cloud Desktop, Redtail Technology's CRM and Advent's Black Diamond wealth management platform.
Total Rebalance Expert (TRX) introduce the new TRX Edge platform, which is a completely rewritten portfolio rebalancing system that has been optimized for web delivery and mobile devices, along with enhanced functionality.
Grendel, an advisor focused CRM software and First Rate, a performance-reporting product announced a "Performance Dashboard" to streamline many of the workflows involved in preparing client reports as well as being able to see in their CRM, on one screen, their client's asset allocation and performance.
Orion and Vestorly announced the integration of Vestorly content curation technology into Orion's client portal to automate client marketing for advisors.
Blu Giant Advisor Studios, a financial services creative firm, launched Nova, a brand-centric packaged web product that provides affordable website templates for advisors as well as new video-embedding capabilities.
Other announcements came from dozens of other firms, including Advicent, AdvisoryWorld, Advizr, RedI2, Retire Up, Vanare, Laserfiche, Cities Digital, E-Valuator, Marketware, Panoramix, Pocket Risk and many more. Even mutual fund purveyor T. Rowe Price was onsite with a booth and new investment planning technology for RIAs.
!https://images1.riabiz.com/i/5026352948314112/o(Martine Weinhold, Mike Kitces and Aaron Klein at the Cloud Party)!!
It knows when you're awake
To help with conference navigation, Fidelity introduced the "T3 Vendor Tracker" as part of the conference mobile app, designed by Finance Logix Oleg Tishkevich. The Vendor Tracker showed on Finance Logix's mobile app where attendees were gathering to provide a barometer of which vendors were the "hot spots." The gizmo yielded less data then hoped because attendees had to opt into being tracked and most declined. After all, it knew if you were painting the town red at 3 a.m. as well as your visit to the Orion booth. See: What marketing truths emerged from the exhibit booths at TD Ameritrade's LINC event in San Diego.
In one of the cleverer tech vendor marketing initiatives, Wealth Access "branded" the Hilton Anatole elevators by completely wrapping the elevator doors with the Wealth Access logo. Redtail branded the hotel keycards and Oranj sponsored the only T3 reception during the conference.
Flowers for the significant other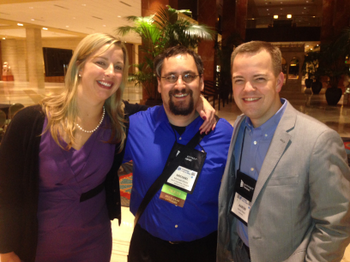 Martine Weinhold, Mike Kitces and Aaron
Klein at the Cloud Party
As a bare-bones event, T3 leaves plenty of room for tech vendors to host parties, dinners and offsite events. Leading the way was Advent Software's onsite cocktail reception, followed by Schwab's offsite party at a local museum. Junxure Orion and Riskalyze all combined to throw the "Cloud Party" on the second night, attracting the majority of the conference to wrap up a busy day with cocktails, conversation and connections.
If there were any complaints about T3, they had to do with the timing on the calendar. Spilling over to a Valentine's Day Saturday on a three-day holiday weekend left many vendors and attendees scrambling to get home and avoid the significant other Valentines' doghouse. TD Ameritrade made the best of it by having a flower sent home to anyone who would do a Veo demo.
In a final, touching moment, Bruckenstein announced the retirement of his long-time partner David Drucker. Drucker will sail off to the sunset to "do other things" and received a well-deserved ovation from the crowd.
To learn more about what went on at T3, check out the many tweets on the #T32015 hashtag on Twitter.
Timothy D. Welsh, is president and founder of Nexus Strategy, LLC, a leading consulting firm to the wealth management industry, and can be reached at tim@nexus-strategy.com or on Twitter @NexusStrategy.
Disclosure: Welsh has consulted with several of the companies mentioned in this article like TD Ameritrade, Advent Software, TRX and Wealth Access. Welsh is an ex-employee of Schwab Advisor Services.
---
---
Mentioned in this article:
---
---
---