News, Vision & Voice for the Advisory Community
Calling Schwab Intelligent Portfolios a $400-billion opportunity, Walt Bettinger boasts of his own four-minute sign-up
February 12, 2015 — 10:49 PM UTC by Lisa Shidler
Brooke's Note: Schwab's robo-effort remains a subject of some fascination for us. See: Can Schwab, six years late to the robo party, 'freeze the market', catch up and blow doors?. The San Francisco company has started an RIA that charges no fees but tells the SEC tha it does and jumps into such an underserved niche that it won't compete materially, so it's said, with either the RIAs who use Schwab as a custodian or the other RIAs Schwab owns. That is a venture with moxie, especially considering that it will need to take on some great Silicon Valley [geographically or spiritually] efforts that have head starts, momentum and who charge fees. So as Bo Lu says in this article, this is the first act of a play and the suspense builds as details emerge.
The Charles Schwab Corp. is anticipating that its robo-advisor effort will attract $400 billion of assets and steamroller the competition in the bargain.
The San Francisco-based broker used its four-hour call with Wall Street today as a means of both touting its new RIA's power and minimizing how many toes it may step on.
Most adamant about how Schwab Intelligent Portfolios at the company's marathon update will flatten the competition was its new retail chief, Terri Kallsen. See: Schwab promotes relative newcomer Terri Kallsen to head retail, with John Clendening getting the golden parachute and Andy Gill transitioned.
"Our competitors can't do this in a way we can. We've got a bank to help people with cash. We've got OneSource and we've got the scale to get to market quickly. This will disrupt our competitors. They may try to copy us as we've seen in the past."
Meanwhile, it fell to Schwab chief executive Walter Bettinger to assure listeners that Schwab's free online advice platform will not make back the missing fees on the back end through its OneSource revenue platform.
"If Schwab ETFs justify that criteria, then they'll be used but if someone else's justify that list, they'll be used," Bettinger said. "It's sophisticated yet simple and the ETFs selected are through a rigorous criteria."
Self-vetted
So far, just one Schwab OneSource ETF made it through the screening process, he added without disclosing which ETF made the cut. Nor did he reveal any of the specific funds that will be available. See: Why ETF sponsors are ponying up big fees to get on Schwab's ETF OneSource in a bid for access to ticket-averse RIAs.
Bettinger added that the automated advisor is a registered investment advisor and true to RIA rules it will use objective criteria to select funds including expenses, bid-ask spread — i.e., liquidity — and how well the ETF has performed over time.
He was elaborating on Schwab Intelligent Portfolios and the products contained therein as a means of clearing the air.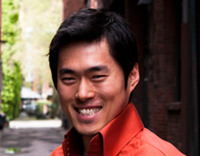 Bo Lu: It won't compete with
the bulk of RIAs, but you
have to wonder what the last
act of the play will look
like
"There's a lot of misinformation out in the marketplace and I suppose that's to be expected when you're doing something as disruptive as we are," Bettinger says.
Yet Bo Lu, chief executive and founder of FutureAdvisor, a startup that has Fidelity's parent company, FMR, as one of its investors, says that he is still hearing a bifurcated message coming out of Schwab about its value proposition as a robo-advisor.
Bifurcated message
On the one hand Schwab's CEO is touting a "super open architecture" that has such objective criteria that Schwab's own funds have been vetted out. On the other hand, Kallsen is touting the company's advantages as lying in its proprietary capabilities, such as Schwab Bank and Schwab OneSource platform.
"If you can say in one breath that you're competing because of your own bank, you can't say in the next breath: we'll get the best banking products for our clients."
Lu added that his firm does not have banking capabilities currently but that it may in the future.
So far, 20,000 people have expressed an interest in Schwab Intelligent Portfolios, says Kallsen, newly named executive vice president of investor retails.
Of that group, 46% are new to the firm, she says. "Prospects are coming in and saying, 'I want to learn more.'" Schwab has a Schwab Intelligent Portfolios tab to click at the top of its retail website right next to the log-in boxes.
Kallsen thinks the robo RIA will appeal to a wide range of potential clients, including millennials — i.e, people in their 20s and 30s. "They want everything mobile. We've done everything we can to reduce paper," she says.
Of the existing clients who have asked about the online RIA, 53% of them have more than $200,000 invested and of that group just 16% are in an advisory relationship, Kallsen added. Schwab is targeting clients ages 25 to 55 with at least $100,000 in annual income. Clients will have access to 20 asset classes and also receive automated rebalancing and tax loss harvesting, Bettinger added.
"We also know our current clients want to get information about this," Kallsen says. "The cannibalization right now looks pretty minimal."
Bettinger says it's all so simple that even a CEO can onboard himself.
"It's a unique RIA account and there is no brokerage account fee. It's extraordinarily sophisticated and far more sophisticated than anything I've ever seen. But it's also incredibly simple to enroll. I've already opened my account and it took me four to five minutes to sign up and move money."
Lu says that four or five minutes is pretty much the standard for any robo-advisor.
No channel conflict
One of the first questions that a Wall Street analyst asked Bettinger about Schwab Intelligent Portfolios was whether it poses a channel conflict to RIAs.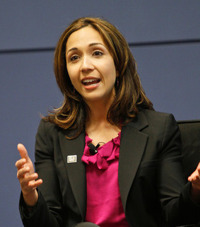 Neesha Hathi: There aren't a lot
of RIAs who are effective playing
in this space.
Bettinger dismissed the possibility.
"The vast majority of RIAs are providing a whole array of services — a pyramid of services that starts with planning, goal setting. And, there's a slice of asset allocation, and rebalancing and ongoing planning, and they're playing psychologist. There are very few RIAs who are only doing rebalancing and asset allocation. If you're one of the few who are only doing that, this could be a threat, but most aren't."
Lu says that Bettinger is accurate based on present circumstances but he doubts that Schwab's robo-capabilities will remain static.
"It won't compete with the bulk of RIAs, but you have to wonder what the last act of the play will look like," he says.
Later, Neesha Hathi, senior vice president of advisory technology solutions for Schwab Advisor Services, added that RIAs are eager for Schwab to offer the robo effort.
"Many RIAs have referred this type of business away and they tell us that they want solutions to help serve these clients more. There aren't a lot of RIAs who are effective playing in this space," she said.
Bernie Clark, the head of Schwab Advisor Services, echoed those comments. "There won't be cannibalization. There's a lot of accommodation that goes on for friends and family of the largest clients."
But Kallsen says that at heart it does deliver key RIA attributes.
"Schwab Intelligent Portfolios is a great example of driving down costs while increasing transparency," she added. "This is a fiduciary account. We want people to look at this account and say how does this fit my needs better. People get it."
Lu says that RIAs and existing robo-entrepreneurs should regard Schwab as a serious competitive threat. In fact he says that Schwab's efforts are more likely to make him lose sleep at night than the venture-backed efforts of his current competition.
Crunch
The difference is that if Schwab is right that scale, brand and proprietary capabilities like having your own bank prove to be difference makers than there is not much he can do about it. On the other hand, if the successful startups gain an edge, he has the ability to raise more capital and invest in more engineering to hang tight, Lu says.
Still, just because Lu sees Schwab as a threat doesn't mean he sees it as a very big one, something he expounds on in a TechCrunch column
---
---
Share your thoughts and opinions with the author or other readers.
kyle said:
February 13, 2015 — 3:56 PM UTC
Sooo… When will it be released to the public?
Jay Healy said:
February 16, 2015 — 3:33 PM UTC
I think Schwab is more likely to cannibalize itself rather than well positioned RIA/wealth managers.
Mike said:
February 19, 2015 — 7:14 PM UTC
Haha, $400 Billion, they must be joking? The Robo-Advisor 2.0 movement will wipe them out! https://www.hedgeable.com/blog/2014/12/we-dont-need-robots-introducing-the-digital-wealth-manager-2-0/
---
---