Brooke Southall: My fake ordeals for this Christmas trip were the high airfares and limited flights that obliged me to fly into Manchester, N.H.
You know the old maxim that defines madness as doing the same thing over and over again but expecting a different result?
It resonates with me — especially at this time of year.
I try to do a thoughtful job of Christmas shopping for my three siblings, six nieces and nephews and a very precious mom. Always on the afternoon of Dec 24. Followed by frenzied wrapping process that involves paper, tape, scissors and lots of cursing. See: RIABiz counts down to Christmas in Maine, Oregon, Indiana, New York, Seattle and San Anselmo, CA.
Now, some people counsel that I start my shopping earlier. These people seem to know little about human nature in general and about my gift-buying challenges in particular.
The problem as I see it relates to big data. See: The 6 biggest trends affecting the RIA business.
Living three time zones away in California has me out of touch with the material needs of my relatives and this can result in inefficiency — even when your family lives in Freeport, Maine, which is a retail mecca but which draws few crowds on Dec. 24 other than other hunted-looking men combing the aisles in search of elusive gifts.
Good staffing
But this year, while keeping to my Christmas Eve shopping ritual, I made one executive decision that got me in and out of L.L. Bean in 45 minutes flat — a record by orders of magnitude.
The trick was convincing my two 13-year-old nieces to make the L.L. Bean pilgrimage with me. See: Column: Advisors should be 'heroically available' during a crisis.
After throwing in a deal-sweetener involving a hot chocolate stop, we were on our way. Not only did Robbie and Sadie know the color of all my mother's turtlenecks and the sock preferences of their parents but they possessed more esoteric knowledge — for instance where the invisible line between progressive and tacky is drawn. They knew which size boxes and how many to ask for of the box lady at Bean. They knew which items, across pods of family, had worn out or gotten moldy during the year.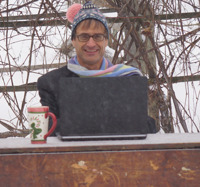 When it finally snowed today, I
wanted to get out in it.

Cleared for drone landing
Meanwhile, Maine remains the same — except for the notable lack of snow and ice [until hours before publication]. Squirrels rush madly up and down the oak tree in front of my mother's house, making the best of every non-snow minute. Big fat turkeys forage boldly and goose-like black ducks float just offshore in case hunting season breaks out all over again.
The new sled under the Christmas tree looks like an act of deluded optimism, the gleaming blades on the front of parked pick-up trucks around town suggest a fully loaded army that's been asked to stand down. See: Merry Christmas: A nor'easter makes life interesting as RIABiz heads up to Maine.
The October state of the lawn did, however, prove optimal for our first drone landing thanks to a Radio Shack gift to my nephew, which actually worked better than you might expect.
Not so tragic
I'm reading Paul Theroux's latest book, Deep South: Four Seasons on Back Roads with its amazing first chapter about how all American travel writing can be summed up as the relating of fake ordeals.
My fake ordeal for this Christmas trip were the high airfares and limited flights that obliged me to fly into Manchester, N.H. rather than Portland, Maine.
Scale-worthy
But high-quality annoyances notwithstanding, these times have created a fertile environment for reflecting on 2015 and the good fortunes of myself, RIABiz and the RIA community of advisors, advisor helpers, vendors and appreciators.
The stock market and the economy were a little slack this year leaving us to find purchase in other measures of success. See: How RIAs can compete with super-RIAs, robo-RIAs and the 'phono'- and faux-RIA market of 2015 and beyond.
Advisors strained to find ways to segment. It is still an adventure to bring on a very large client with tens or hundreds of millions in assets. How do you price it, service it properly and stay true to who you are and to your other, poorer clients?
Even if you can bring on all trust fund types, do you really want to be divorced from "real" people? See: MarketCounsel event opens window on race to first $100-billion RIA and why a new round of 'destruction,' 'blunder,' culture wars, tech disillusionment and SRO jockeying must play out.
Taking inventory
Taking on the hoards of the mass affluent remains a task for RIAs who are bold of heart, regardless of which robo you align with or combat — again so many questions about service levels and pricing. See: NextCapital raises $16 million as its founder goes where Financial Engines' 401(k) robo strategy didn't.
Such management questions give rise to more existential ones about whether, during a slack time, the seeds of measurable success can be planted by the doing of the smaller, immeasurable things in larger quantities.
Did I increase my credibility, my knowledge, my efficiency, my backlog of hard conversations and deliver as much love as I received? Did we do those things as an organization. Do we continue to refuse to cut corners? Was I approachable enough to receive the criticism to know the difference between the good and the bad?
I don't know. I do know there is ample room for 2016 resolutions.
I also know that I got out of L.L. Bean in 45 minutes, that a dubious-looking drone took flight and that a transplanted Californian can learn and be grateful under the gun-metal gray skies of Maine. See: Christmas comes early in Maine and a veterinarian reminds our family of the highest professional conduct.
---
Mentioned in this article:
RIABiz.com
RIA Publication, Blog/Social Networking Tool
Top Executive: Brooke Southall
---
---
---
Bill Winterberg
December 29, 2015 — 10:08 PM
Brooke, next year, try Watson Trend.
It actually exists – big data for gift giving!
https://itunes.apple.com/us/app/ibm-watson-trend/id1055413681?mt=8
Maria Marsala
December 30, 2015 — 10:04 PM
Well Brooke.
Now you've gone and done it.
Next year the bribe to your niece is going to have to be much bigger. :)