Brian Hamburger: Compliance is an operational standard of care that as long as firms don't drop below that, they will be successful.
Brooke's Note: My thought after reading Tim Welsh's article: I hope MarketCounsel can get a refund on whatever it paid to Karl Rove and David Plouffe. It appears that Bush's surrogate brain has gone soft and Plouffe's is like a pillow that needs plumping. But their exchange was symptomatic of a wider problem with the conference — a total lack of disagreement. That's a little scary among a group of opinionated people known as the insurgents of financial advice. I raised this issue of vapidity when Schwab held its annual love-fest in Boston last month and my frustration spilled over into a set of questions. See: 9 questions to ask Schwab execs when you buttonhole them in Boston at IMPACT 2015. Brian Hamburger clearly tried to play gracious host and rouse the rabble by calling out some big-shot RIAs for cowering before compliance challenges while others thumb their noses, equally unadvisedly. But an event like this needs more tension and that requires a village of advisors willing to risk saying something idiotic or even offensive. We have compliance standards, investing standards and fiduciary standards. Let's also set a content standard at conferences: If all heads nod up and down, harder questions ensue. Our time is precious, especially at this juncture for financial advice, which is on the precipice of a new paradigm and maybe even a new culture. If we gather, let's challenge each other. I hold the MarketCounsel event to the highest standard because it has traditionally been the premier event RIA event in terms of emotional energy flowing from electric ideas. See: Persecuted Mark Cuban prosecutes the SEC and wins some mea culpas from Christopher Cox. It's something we'll never be able to explain to Karl Rove and David Plouffe, but that Mark Cuban and Tony Robbins seemed to get last year.
"Compliance today is definitely a bipolar experience," said Brian Hamburger, speaking about RIAs' relationship with industry regulation in a private sit-down at his industry-defining MarketCounsel Summit this week.
"On one end of the spectrum you have extreme apathy, head-in-the-sand approach of advisors who don't care, and on the other end you have firms that see it as such a scary environment that they are too paralyzed to make any business decisions." See: Social media can turn regulatory exam into fiery wreck.
These remarks set a sober tone for MarketCounsel's annual confab held this year at the rococo Fontainebleau hotel and resort in Miami, a city where bipolar is business as usual. Unseasonal rains drenched conference-goers on the heels of an only-in-Florida moment at the world-famous Art Basel, where gallery-goers calmly looked on as a man was stabbed — they thought it was performance art.
The mandate for RIA industry circa late 2015 is to stop fearing fear itself, Hamburger said, especially when it comes under scrutiny by the men with the clipboards, black cars and alarming governmental stationery.
"There really is nothing here that should be holding firms back from growth. Compliance is not a silo. Regulatory compliance, if it is done right, can be empowering and provide you with a foundation to scale for growth. Ultimately, compliance is an operational standard of care that as long as firms don't drop below that, they will be successful." See: What not to do during a state or SEC audit.
Afterglow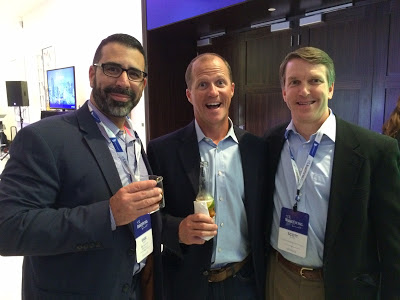 Former Schwabbies Gabe Garcia of Pershing,
Dave Welling of Advent and Scott
Slater of Fidelity.
The MarketCounsel Summit, which wrapped up yesterday, featured senators, ex-SEC officials and academics pontificating on the latest regulatory trends and attended by 530 RIAs and a slew of technology and custodian vendors. All told, it's Hamburger's vision of what a gathering of the RIA industry should be.
"The Summit is not just a centerpiece, rather it is our attempt to bring everyone together and have the key conversations that will continue to shape the industry," he said.
And yet, this year's Summit had a hangover feel, perhaps due to last year's hard-to-top conference that featured Tony Robbins, Mark Cuban, Eliot Spitzer and other high-profile speakers on the Left Coast in Las Vegas. See: The MarketCounsel Summit gets the RIA business out of its shell.
The MC Summit organizers were able, however, to bring some of that star power to Miami.
Recruiters vs. custodians
Kicking off the second morning, a panel of eight executives divided, in a never-before-seen format, into two teams with noted recruiters Mindy Diamond, Ryan Shanks, Danny Sarch and Mark Albers lobbing softball questions to Pershing Advisor Solutions' Mark Tibergien, Fidelity Institutional Wealth Services' Bob Oros, Raymond James Financial's Bill Van Law and LPL Financial's Andy Kalbaugh.
But despite the unusual structure, the audience seemed most intrigued with a notable absence from the stage: a representative from Schwab Advisor Services and any mention of the huge custodian in the ensuing conversation. See: 9 questions to ask Schwab execs when you buttonhole them in Boston at IMPACT 2015.
The back-and-forth from the custodian heads did, however, give the audience a glimpse into the various size and styles of the RIA platforms — even if they were couched in the usual platitudes.
"Being a private company is a big advantage," said Oros, to which Tibergien countered: "Being a public company provides transparency and accountability."
Catching up with M&A
The topic of growth through mergers and acquisitions was a leitmotif at the Summit. Big RIA executives active in M&A activities provided their insights on multiple panel discussions — though again, the comments were bland and moderators showed little stomach for pressing the luminaries for specifics.
Panelists also covered post-deal implementation issues and canine logic was dispensed.
"RIAs looking to do deals are like a dog chasing a car," Tibergien noted. "What happens when you catch it?"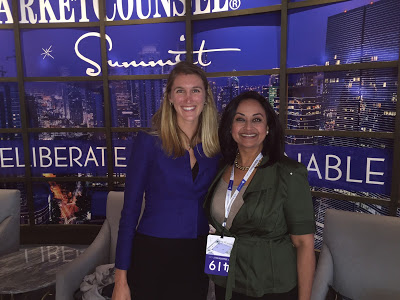 Christina Riley Eaves of Envestnet and
Sheetal Brown of Fidelity.
Oros advised the audience to have a plan ahead of time. "A common mistake we see is that firms don't have a vision for what they are trying to accomplish. To be successful, you need to define what that success looks like before you embark on M&A."
As to overall M&A industry trends, there was general agreement that one-third of breakaways start their own RIA, one-third plug into an existing RIA and one-third become employees with a competing broker-dealer.
We're all outsiders now
On the tech front, Joel Bruckenstein, producer of T3 conferences, moderated a panel that featured Lowell Putnam of data aggregator Quovo Victor Fetter, chief technology officer of LPL; and John Rourke, owner of Wealthbox CRM.
Putnam offered his perspective as an "outsider" in the RIA industry.
"The only other industries that have a higher median age than financial advisors are funeral home operators and postal workers," he said. See: Quovo rakes in $4.75 million from VC backers and a triumvirate of angel RIAs: Carson, Bicknell and Lockshin.
"Right now everything is changing from service delivery to regulations, to methods of delivering advice and, of course, the technology. This change is so fast and dramatic, that ultimately we are all outsiders to what's next." See: McKinsey: Robo-advisors have a cloudy future but 'virtual advice' delivered by 24-hour super-centers with experts and algorithms will win the day.
Bruckenstein also lamented the sad state of advisor technology adoption. "Even today, 40% of advisors still don't have a CRM," he said citing his recent tech survey.
Beware Facebook and debit cards
Rounding out the second day was a sobering keynote speech from Frank Abagnale, the famous fraudster turned FBI agent played by Leonardo DiCaprio in the movie "Catch Me if You Can." Abagnale lectured the audience on the growing threat of identity theft.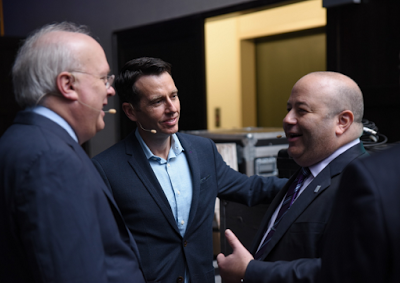 Brian Hamburger chats with political strategists
and ideological opposites Karl Rove and
David Plouffe who, alas, lapsed into
bland accord in their panel discussion.

"Last year there was over $994 billion in white-collar fraud. Compare this to the entire military budget of $700 billion and it is remarkable to me that we are allowing this to happen." See: Beware: RIA privacy breaches aren't always high-tech.
Abagnale advised advisors to be extremely careful with what information people put on Facebook — a gateway site for identity theft. He is also concerned about the identity theft of children; as it is often not detectable until many years later when the child matures and goes to apply for a job, get credit, etc.
He is not a fan of debit cards, as those can be easily cloned from ATM machines, giving thieves access to your bank account. "Always use credit cards for everything, because you are not liable if there is a breach."
The main event on the first day featured Karl Rove, Bush's former political strategist, along with David Plouffe, Obama's former campaign strategist, and now Uber executive. See: Upper-crusty Napa Valley retreat brings together top family office execs, New Age VCs and top VCs — at least locationally.
Captains Obvious
But the audience, hoping for a verbal slugfest of ideologies, was in for a letdown. Instead, Rove and Plouffe were collegial and banal as they handicapped the upcoming presidential election.
"The interesting aspect of the election coming up is that we have never had this many candidates before," said Rove, demonstrating a firm grasp of the obvious. "As a result, we will see a very muddied approach in the primaries, with no real key leader identified until June."
Plouffe agreed by saying the crowded roster Republican hopefuls would prove an advantage for Democratic frontrunner Hillary Clinton. See: Testy words pass between advisors and regulatory panelists at MarketCounsel conference.
Of course, the requisite Donald Trump bashing ensued. Rove and Plouffe adamantly agreed that Trump was a real distraction, not good for the country and not Presidential. See: What cheap lessons Donald Trump and Bernie Sanders are teaching RIAs about the dangers of trying to institutionalize their practices.
"Unfortunately, due to the multiple candidates, I believe Trump will go far in the election," Rove said.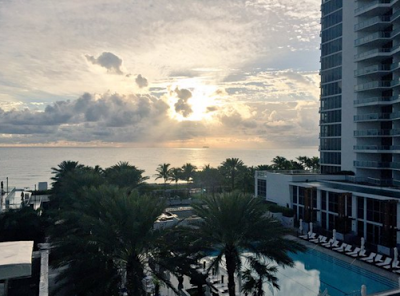 The sun made a welcome, if
belated, appearance on the final day
of the Summit at the Fontainebleau.

The key to winning the race will be the disenfranchised and "undecideds" in the key battleground states. According to Plouffe, the ability to harness big data through massive polling will provide the intelligence to strategically manage the campaign.
"Our massive sampling database is why we sent Obama to Tallahassee, Toledo and Reno," Plouffe said, recapping the ground game of Obama's two successful presidential campaigns.
Rain dates
The MC Summit's busy exhibit hall was the site of multiple receptions, meals and even a live charity auction. Taking advantage of the Miami Beach locale, Fidelity and Pershing held dueling evening events, with Pershing hosting several dozen advisors at a top Italian restaurant while Fidelity, a premier sponsor, moved its rooftop soiree into its expanded exhibit space due to escape the soaking rains.
As the Summit wound down, Hamburger waxed optimistic about the future of RIAs as he put in a plug for his firm.
"Our pipeline for new firms is the biggest in our history. We look forward to welcoming them next year to the MC Summit which will again return to the Fontainebleau." See: MarketCounsel launches legal hyperspace button for breakaways who get fired by Merrill Lynch (and friends) before the 'go' date.
To learn more about what went on at the MarketCounsel Summit, check out the many tweets on the #MSum15 hashtag on Twitter.
Timothy D. Welsh, CFP® is president and founder of Nexus Strategy LLC, a leading consulting firm to the wealth management industry, and can be reached at tim@nexus-strategy.com or on Twitter @NexusStrategy.
---
Related Moves
---
September 10, 2019 – 10:52 PM
---
---
Mentioned in this article:
---
---
---